Instagram:
@kuzunoyuji
1. What's your story? Where are you from?
Hello, this is Yuji Kuzuno. I live in Nara, Japan and there are many deers here. At first, I was a designer at various companies, but now I'm a freelance illustrator. I've been doing it for a long time. こんにちは、葛野裕二です。日本の奈良市に住んでいます、鹿が沢山います。 最初の頃は色々な会社でデザイナーをしていましたが今はフリーのイラストレーターです もう随分長くやっています。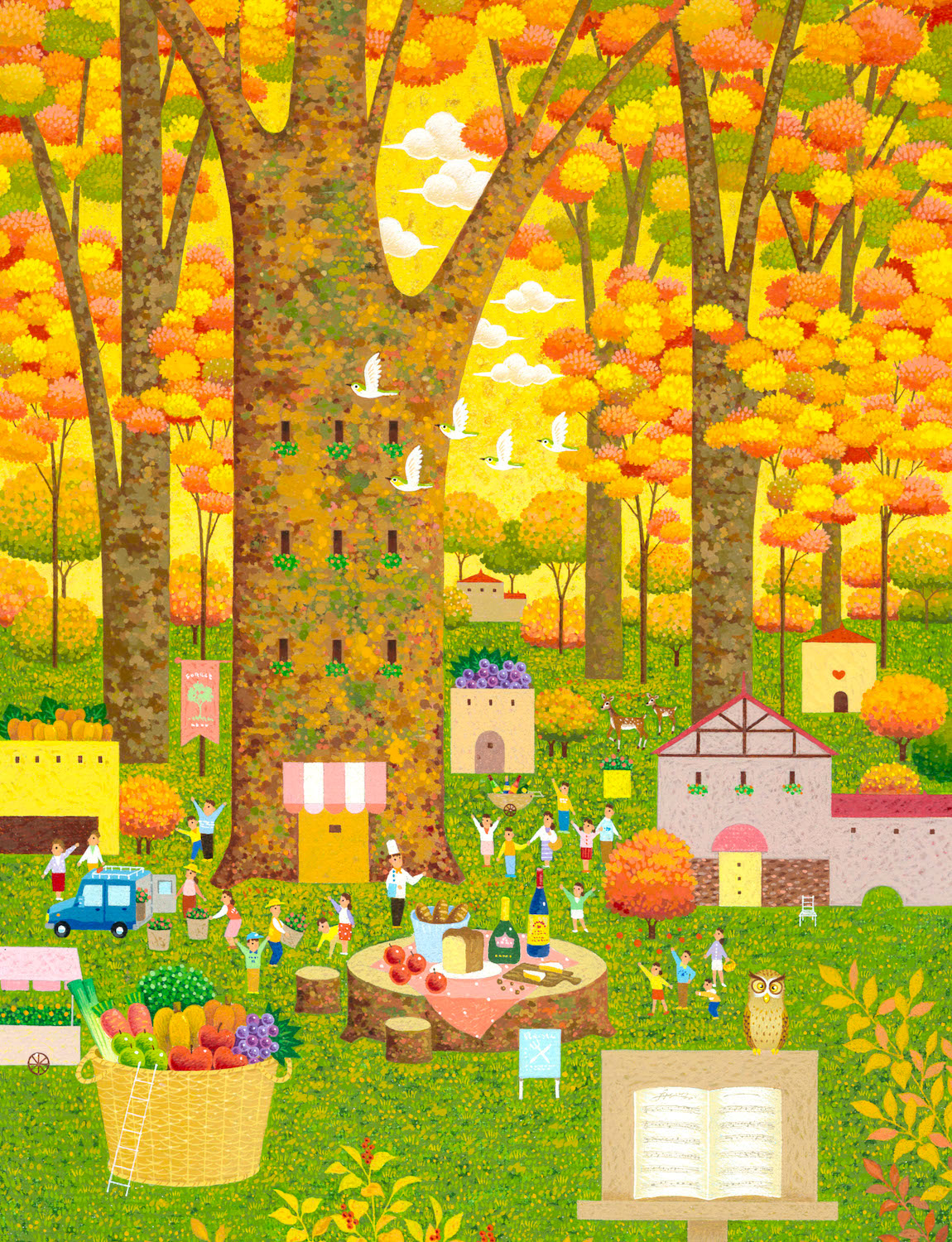 2. Tell us about your aesthetic.
I am particular about one original picture, so it takes time to produce. The sea begins with a drop of water, the forest begins with a tree, and the blue sky and clear air are born. Feeling the changing seasons, feeling the colors, feeling the wind, feeling the clouds, It depicts a dreaming world where nature, the city and people are in harmony. 一枚の原画にこだわって書いています。だから制作に時間がかかります。 一滴の水から海が始まり、一本の木から森が始まり、青い空と澄んだ空気が生まれる。 移りゆく季節、色を感じ、風を感じ、雲を感じ、 自然と街と人が調和した夢降る世界を描いています。
3. What is your favourite medium and why?
I hand paint on the canvas. It's fun and fulfilling to add the colors stroke by stroke. キャンバスに手描きです。ひと筆ひと筆色を付けるのが充実して楽しいです。
4. What is your artistic process like?
Make a bag by mixing acrylic paint and Japanese paint on canvas. I will trace what I've imagined on it and create something. Sunsets, spring mountains, autumnal forests, etc. When you look at it, you will get an image. キャンバスにアクリル絵の具と日本画の絵の具を混ぜてバックを作り その上にイメージしたものをトレースして制作します。夕焼けや春の山、紅葉の森など 見るとイメージが湧いてきます。
5. Who and/or what inspires your work?
Toshio Arimoto, Togyu Okumura, Katsura Funakoshi, etc. The change in the color of the seasons in Japan. Also, when I see a wonderful piece of work, I also get inspired. 有本利夫、奥村土牛、船越桂などです。 日本の季節の色の変化です。又素敵な作品を見たらやはり刺激を受けます。
6. What role does art play in your life? How does it change the way you view the world?
It's just for living, just thinking about doing creative work, so that people who see it can feel something. I try to make work with dreams. 生活するためです、ただせっかくクリエイティブな仕事をするならと思い、見た人が何か感じてもらえるような 夢のある作品を心がけています、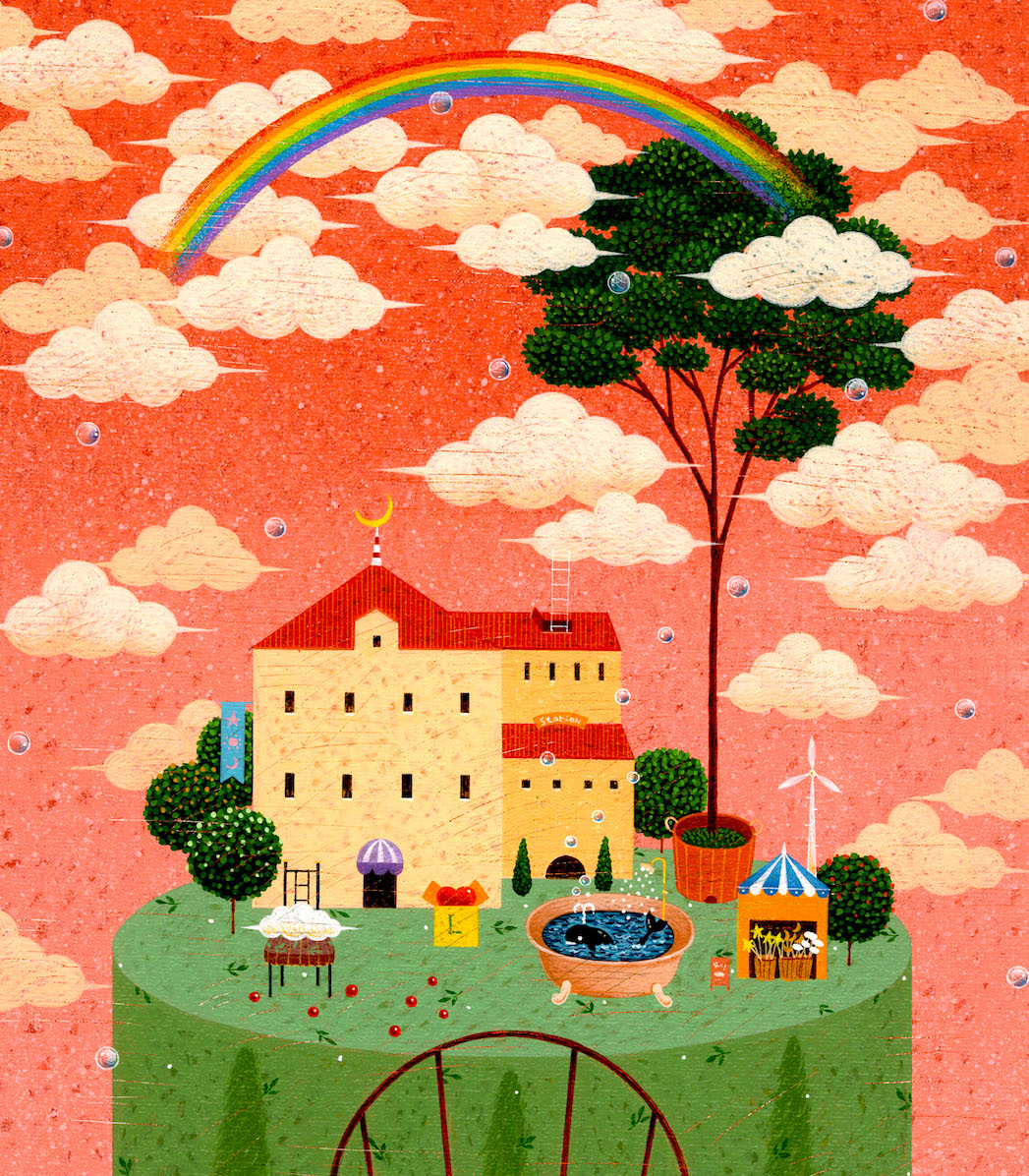 7. Where did you study?
Kyoto art school 京都のアートスクールです
8. Where do you see yourself in five years?
I think I'll be in Nara. I really want to live in the countryside where I can see the mountains and sea. 奈良にいると思います。本当は海や山の見えるような田舎暮らしがしたいです。
9. What about in ten?
I still want to make artwork. まだまだ作品を作っていたいです
10. What do you hope to achieve with your art?
For my audience to stop and look, to propose a lifestyle with a sense of comfort. ふと立ち止まって、心に余裕のある暮らしの提案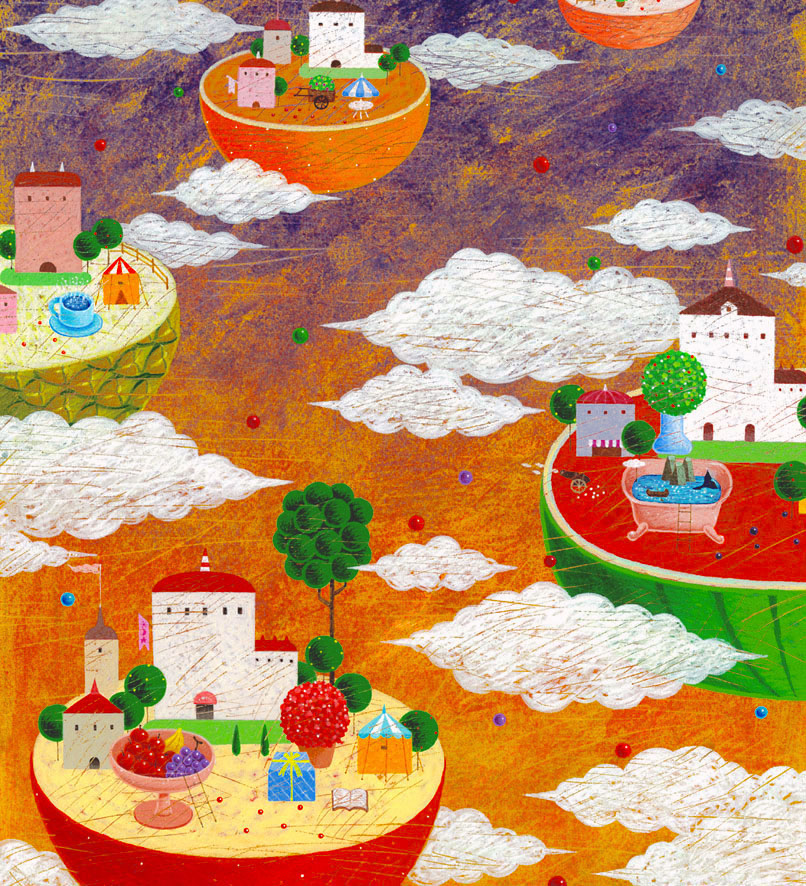 11. Now, tell us a little more about you as a person: what is your favourite food?
It's sushi. 寿司です。
12. Favourite book?
A book on the history of Japan and China. 日本や中国の歴史の本です。
13. Favourite genre of music?
I listen to various genres. I also like classical, Bob Dylan, Ry Cooder and Andean music. 色々なジャンルを聴きます。クラシックからボブディラン、ライクーダー、又アンデスの音楽も好きです。
14. What are your hobbies?
It's fishing 釣りです
15. If you weren't an artist, what would you be?
I'll be a monk because my family is related to a temple that has lasted for about a thousand years. お坊さんです。私の家柄が千年ぐらい続くお寺関係だから