Instagram:
@kwonsenart
Website:
www.kwonsena.com
1. What's your story? Where are you from?
I am originally from a small town called Jeon-ju, South Korea and then lived all over the world since I was a little kid, from Osaka, Japan, Sydney, Australia, to Ottawa, Canada. Living in new environments with unfamiliar languages and cultures doesn't give you a lot of chance to hang out with friends. However, I was a still mischievous kid, happy to throw dirt around the air while my sister was more introverted. Her hobbies were watching movies, reading books, and visiting museums, all of which gave me a deeper appreciation of the arts. Now looking back, art and film were the only accessible window for us to see the world lived in and to learn their culture. My sister used to write a movie diary (she still does) and I drew next to her all the time. My sister is now film critic and I am an illustrator.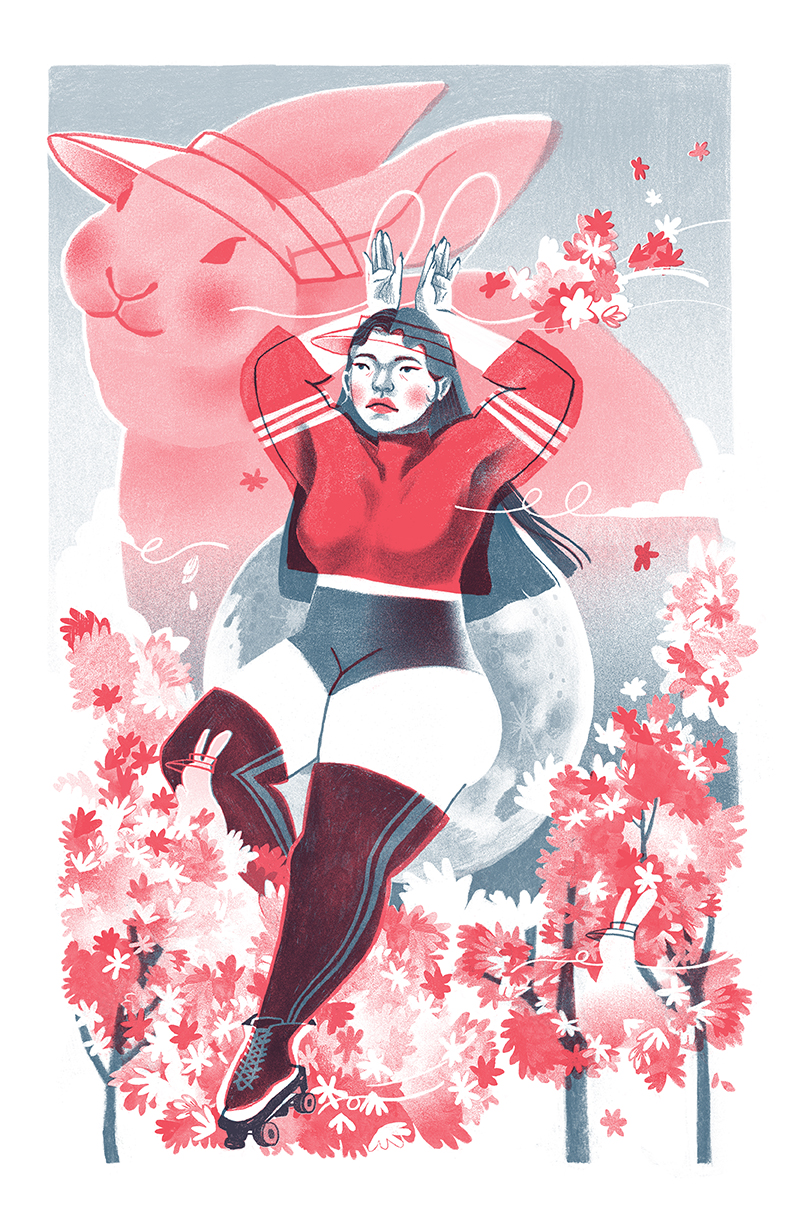 2. Tell us about your aesthetic.
Feminine, curvy, highly detailed, sensual, tranquil, storytelling. I was a tomboy when I was young. The first time I tried make-up was in high school, and it was so clumsily applied that my classmates laughed and said like a drag queen. I used to be ashamed of myself, but hey! Now I take it as compliment; the celebration of femininity and masculinity is the beauty I pursue and want the ladies in my drawings to be strong, feminine, sublime and still playful.
3. What is your favourite medium and why?
I am still in the middle of a journey trying to find out my preferred media. I used to work with ink and brushes but am fond of dry media such as graphite or conte crayon. These days I go back and forth. From my background in graphic design, I feel very comfortable of using Adobe Creative Suite but my best creative moments happen when I can hear the sound of pencils singing quietly on paper.
4. What is your artistic process like?
Walking in the park everyday helps my brain wake up and think about what I will draw that day. With a cup of coffee by my side, I scan my black and white drawings and colorize them in Photoshop. I like playing around with different color palettes on the screen and building up colors little by little.
5. Who and/or what inspires your work?
I was going to say Henri de Toulouse-Lautrec is my hero, but I owe that influence to my sister, Semi (that's her name). My sister once bought me a secondhand book about Lautrec and his drawings inspired me immediately. I want to capture those moments of joy and vibrancy on paper just like him. These two people make my world more colorful and fill me with intellectual curiosity everyday.
6. What role does art play in your life? How does it change the way you view the world?
Art gives me confidence. It allows me to believe that like a migratory bird, I can fly toward my dream wherever I am. Through Art, I am able to keep my composure through difficult times and bring out the romantic and beautiful elements of life.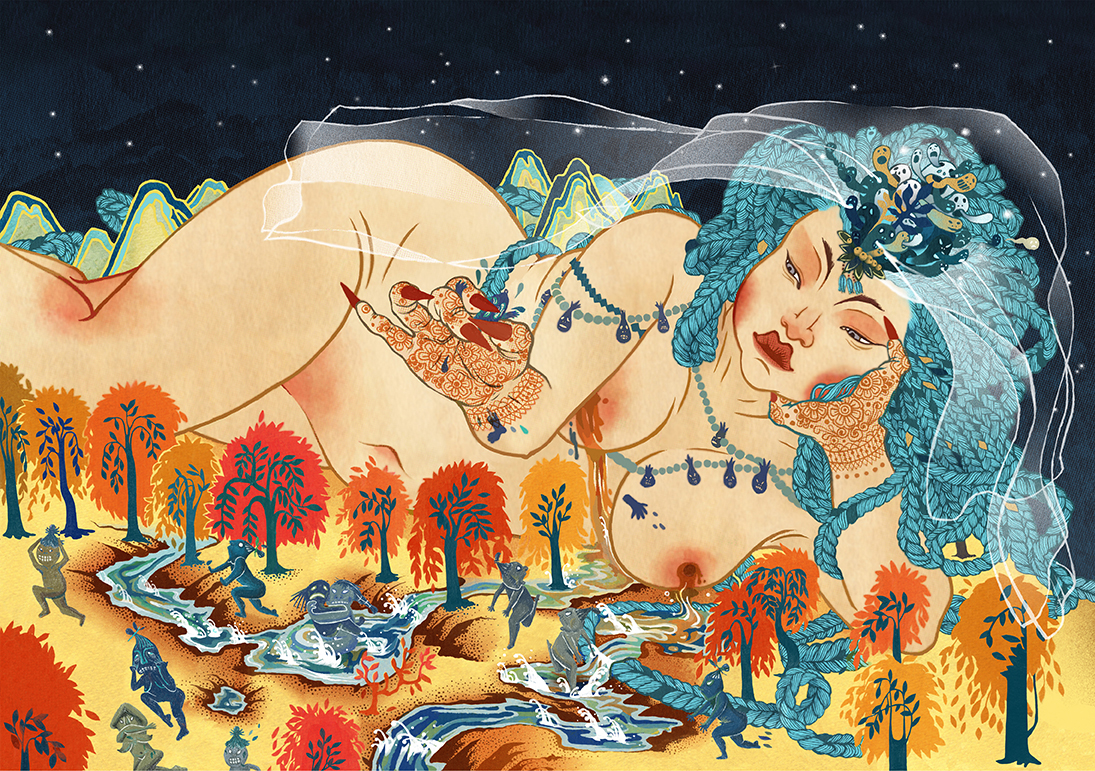 7. Where did you study?
I completed my undergraduate degree in Graphic Design in Korea and then moved to U.S. to further study of illustration. I spent 2 years in Baltimore pursuing a MFA from the Maryland Institute College of Art. It was one of the best times of my life and I loved being surrounded by such talented colleagues and great faculty.
8. Where do you see yourself in five years?
An illustration freelancer in Brooklyn, making dinner for family and friends in both Korea and the US. Oh, also being a professional cat mother (I don't have a cat yet. Very soon)
9. What about in ten?
Hmm. Ten is tough. Both my parents and sister teach in a college, so perhaps I'll teach while freelancing? Besides that, my life would be probably the same; walking in parks alone, watching movies, drinking beers with people I love. Not sure where I will be in 10 years. I might settle down in one place or move to another country and learn new languages like I've been doing since I was so young.
10. What do you hope to achieve with your art?
Keep bringing newer and stronger feminist voices to challenge the conservative hierarchy found in Asian society. We are blessed and privileged to have a good education and a high quality of life, but there are still many children and women whose voices and rights are suppressed by various social pressures. I hope that my drawings serve as a vessel and medium for gender equality.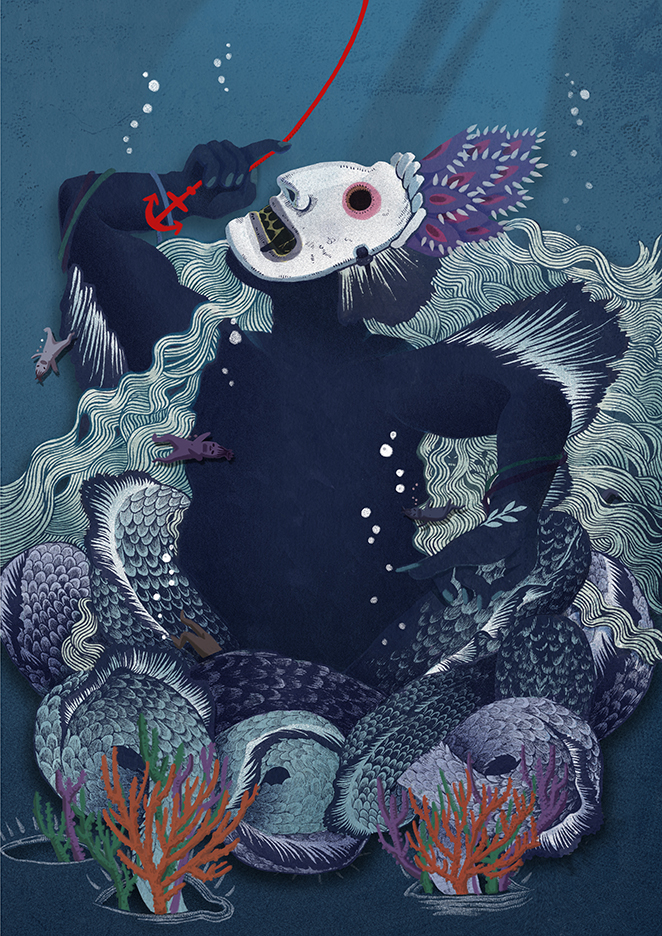 11. Now, tell us a little more about you as a person: what is your favourite food?
I like dark beer, grilled fish and rice, and broth-based cuisines (ramen, Jjigae, cold noodles, etc.).
12. Favourite book?
Female authors such as Jane Austen, Virginia Woolf, Agatha Christie, Marguerite Duras, Sarah Waters, Kyungli Park
13. Favourite genre of music?
I like listening to soundtracks of movies. For example, I love the soundtrack for the movie 'Talk to her'(directed by Pedro Almodóvar) composed by Alberto Iglesias
14. What are your hobbies?
Watching movies and drag shows mainly. Walking in the park alone with music. Cooking dinner for people I love and rolling them home with their bellies full.
15. If you weren't an artist, what would you be?
I see myself being a curator, if I weren't illustrator. I would still orbit around Art or Movies, the two distinct yet connected worlds I currently inhabit.