Instagram:
@lacy_barry
1. What's your story? Where are you from?
I come from a tiny cowtown embedded in the forests of the Canadian Rocky Mountains. When I was a kid I drew, painted & crafted a lot because my dad was a sign-painter and my mum a crafter, so it just seemed very natural to do it too. More into my childhood my mum was worried about how shy I was and enrolled me in dance classes. I picked it up quickly some years into it, I was scouted by a contemporary dance company that had me and a handful of other dedicated young dancers performing and training all over North America. I loved to dance but after a couple years, I wanted a normal childhood again. Not long after, early into my adolescence, I joined my father on western film sets to apprentice him as an assistant sign-painter. He worked on films such as 'Unforgiven' or as Wikipedia states 'a 1992 American revisionist Western film produced and directed by Clint Eastwood and written by David Webb Peoples. The film portrays William Munny, an aging outlaw, and killer who takes on one more job years after he had turned to farming." It was cool cuz I was able to tell all my friends at school I met Clint Eastwood, though most kids in 1992 only cared about Home Alone 2 and Wayne's World. When I became a young adult and graduated from school forever, I had an ever persisting dream of becoming a fashion designer and did for a while before moving to London then Los Angeles to work in wardrobe and prop styling for film & TV. On my exit from LA to Montreal, I took a little time off to reinvent myself and pursue work as a set designer and eventually paper artist on smaller commercial projects in New York and then Berlin. Now almost a decade later I am inventing myself again, in the paper arts … if you said I've lived a whole lifetime in the arts, you would not be wrong.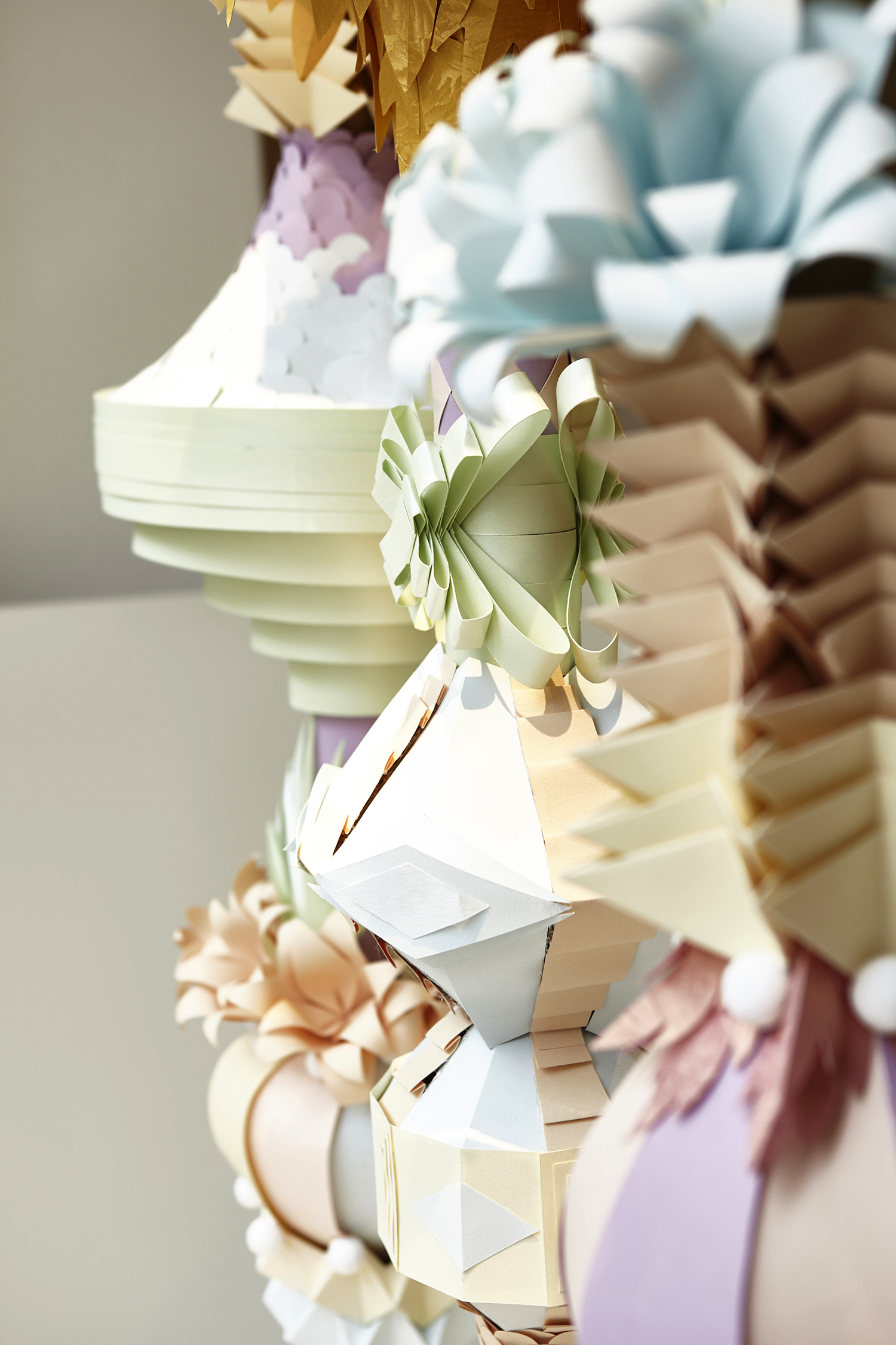 2. Tell us about your aesthetic.
I remember during my New York days I was at a party in the Soho Grand for the musical group Twin Shadow. A director friend and I were about to work with a new musical artist on the Plug Research label. On meeting Guillermo E. Brown of Pegasus Warning he told me 'Your work looks like growths & explosions'. Since then I sort of held onto that. I mean it described what I was doing perfectly without me actually saying it and I don't think my work has gone too far from that exterior description from 2012, always retaining a bit of 'sharpness' and expanse of color. I really do my best to make the most genuine work that suits my artistic language, of course, I get distracted but always come back to myself and my own capabilities.
3. What is your favourite medium and why?
For the past 10 years, it's been cardboard & paper, before that fabrics and wools, (which I still like) but I mix paper with various other natural and processed materials, especially in projects where I am wanting to get a certain kind of lustre or texture I cannot get from paper. However, I use a lot of cardboard because I like how much I can shape it and there is an excess of it due to our increasingly consumeristic culture…. a theme I am exploring more in-depth even in my own involvement with the commercial arts. I am happy though when more of useful material such as cardboard can make it into an art form than end up on a landfill pile...
4. What is your artistic process like?
I do a lot of sleeping, I found out after a massive burn-out earlier 2019, working for some very demanding commercial clients, that this was the factor I lacked most of… and things that are necessary like eating or bathing or staying warm, it was too often I let such a vital part of survival fall by the wayside. So my process starts with sleep, it is when my mind and body are relaxed I get the most exciting ideas, and from there I start to develop the questions I must ask myself to lead every unique process of each individual project. That said, no two projects are really ever the same, some start with a sketch, while others dive face first into working with the material,… and others start with eating a pretty good bowl of cereal while starring blankly into space.
5. Who and/or what inspires your work?
Nothing in particular, but I like nature and being in nature, that always rekindles some wonder and induces calm feelings. Being present is pretty important, oddly something I must remind myself to do quite often, it's in these moments I feel most human and connected to life. The good company of others, finding a new fruit on a tree and told repeatedly by that company not to eat it, I am happy I have friends in my life who don't want to see me get poisoned… being alive allows my work to be made, being present while making it gives it a soul.
6. What role does art play in your life? How does it change the way you view the world?
Haha, Art is pretty much my life! (if you couldn't tell from question 1) but I've thought about this question a lot before and what I can honestly say is that Art is the vehicle that allows me to make the most sense of the world around me when it mostly makes no sense at all. It's the language aside from the English and sometimes French and German language I can communicate in and sometimes the best language to really explain what I am thinking & feeling… visually of course. I am certain I would not function properly if I couldn't make art.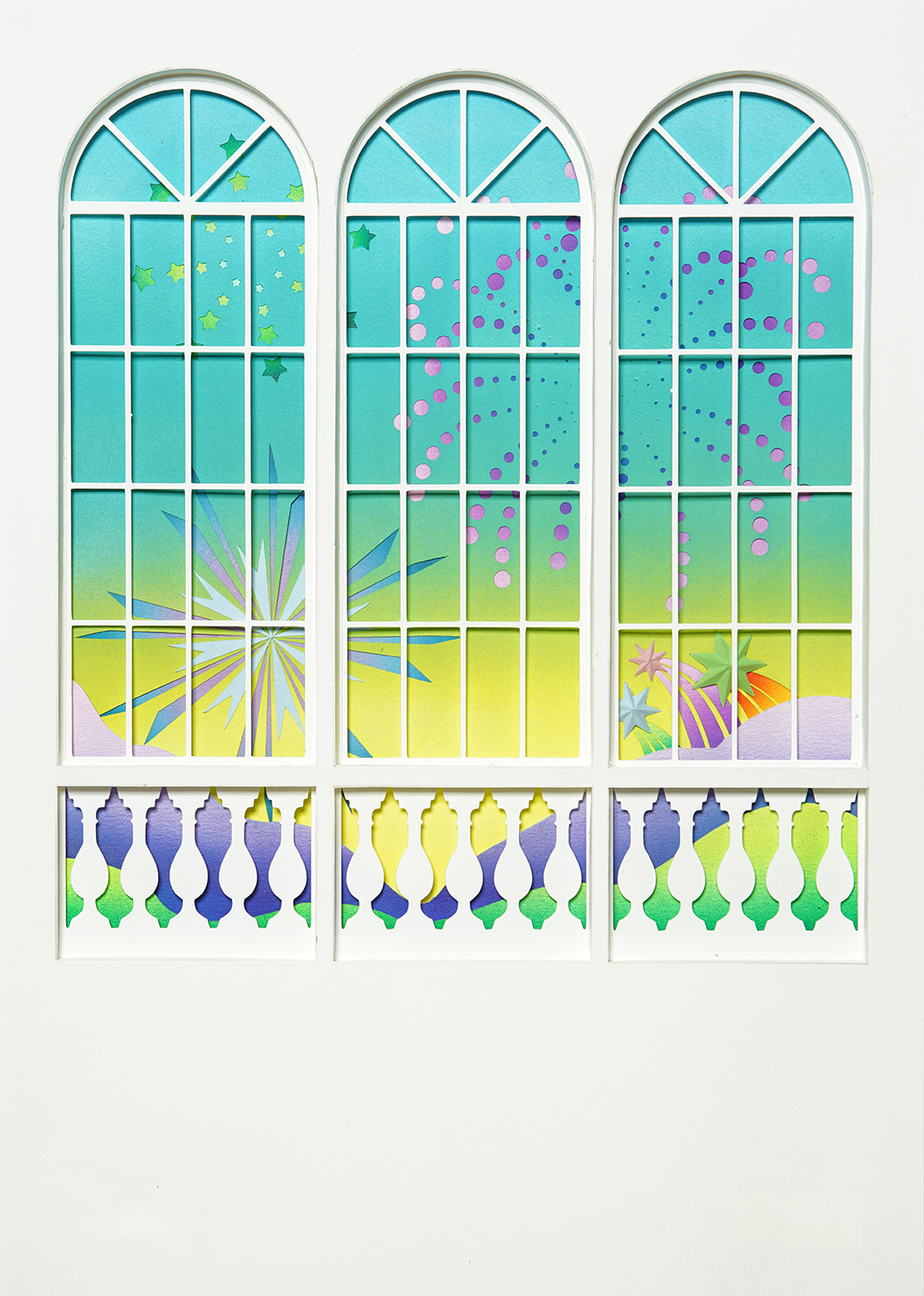 7. Where did you study?
I took a few short courses in graphic design, business, of course, dance school when I was a kid, apprenticing my father but when I started in the paper arts it was relatively new and unknown so I had to be self-taught.
8. Where do you see yourself in five years?
I have a few ideas, but right now they are secret.
9. What about in ten?
Not dead… and probably living in the countryside in an antique re-architected house with friends.
10. What do you hope to achieve with your art?
Many things; more well-being, less consumerism, more dreams, fewer screens, "A world beyond my own"... or how they say in film trailers.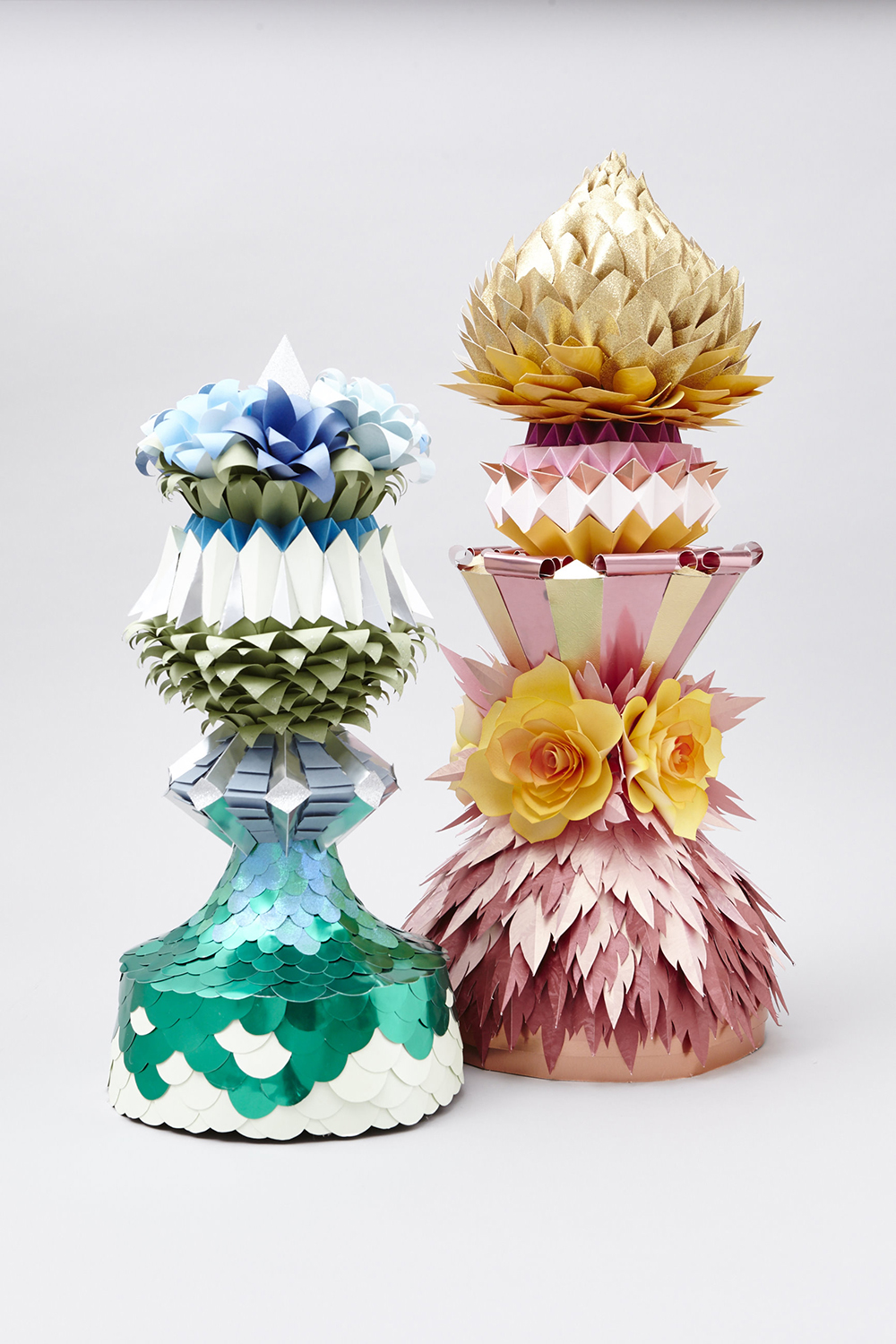 11. Now, tell us a little more about you as a person: what is your favourite food?
I like ice cream in the summer and hot chocolate in the winter, I just became a pescatarian…
12. Favourite book?
That changes pretty often since there is so much good literature out there. At present, I am reading a book my boyfriend gave me called Lost Connections by Johann Hari, a book about why depression and anxiety run rampant in our society and how we have lost the ability to really interact fully with each other and the world around us… a great sociophysiology book everyone must read. But the book I just finished and recommend to EV-RY-ONE is 'Invisible Women; data bias in a world designed for men' ... I started a new sketchbook too and I like that a lot too.
13. Favourite genre of music?
Recently, I've been acquainted with 'left field pop'? Yea I had no idea what that was before either but it seemed to be the genre describing most of the mixes I've favourited over the past 6 months. I've always been attracted to the secret or mildly unknown music that consists of mainly a symphony of twinkles and crescendos. And of course! The jingles I heard for a train arriving or departing at stations in southern Japan. I recorded some on my phone so I can nostalgically listen back with sparkle eyes.
14. What are your hobbies?
I cycle to and swim in as many natural lakes and historical pools Berlin can offer... you will find me at either at any given time depending on the weather.
15. If you weren't an artist, what would you be?
A cat.