Instagram:
@larkrising
Website:
www.larkrisingembroidery.com
1. What's your story? Where are you from?
I'm a full-time stay at home mom with a creative spirit, always wishing there were more hours in the day. I love being able to raise my sweet 3-year old son, but soon after I became a mother, I realized that both he and I would benefit if I had a creative outlet and an identity outside my role as a mother. I've been crafty all of my life, but when I stumbled on embroidery everything clicked into place and I went wild with it. Embroidery is a form of art that fits my personality (and schedule) perfectly. I find the methodical, controlled movements of embroidery very soothing, and I love how much creative license I have with it—if I can think of it, I can stitch it! I was born in, and spent most of my life in Oregon, but now we're building a life in Seattle, Washington. I love the Pacific Northwest and how much joy and inspiration it brings me.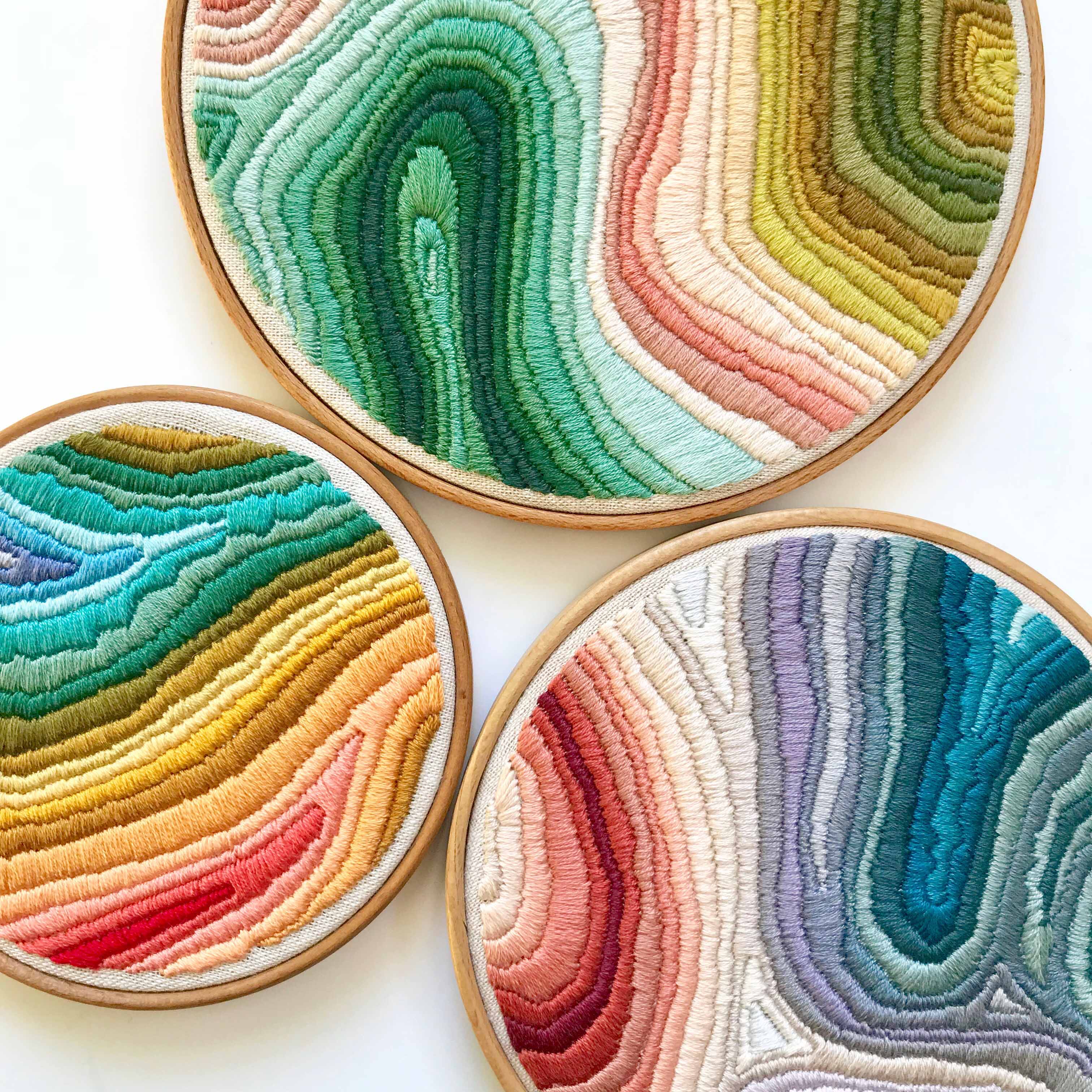 2. Tell us about your aesthetic.
The number one thing I think about when putting together my pieces is color. Sometimes I wish I was one of those minimalists with a black and white wardrobe and a timeless interior space—but that just isn't me. If I'm anything, I'm a highly organized maximalist. I have a young son, so I keep breakables and clutter to a minimum, but I love to surround myself with vibrant colors, soft textiles, and a freshness that comes from light and plant-life. My work incorporates all of these, bringing eye-catching color combinations and a softness due to the nature of working with fiber. My favorite subject matter includes florals, houseplants, landscapes, and fresh/bohemian interiors.
3. What is your favourite medium and why?
I specialize in hand-embroidery, so my medium is centered in fabric and cotton embroidery thread. I love working on linen-cotton blend fabrics and stitching with DMC brand thread. I also love incorporating a bit of beadwork into my pieces when I get the chance.
4. What is your artistic process like?
My favorite part of the creative process is dreaming up ideas for new content. I have an active imagination and am constantly coming up with new ideas for pieces I want to bring to life through embroidery. I spend a lot of time turning ideas over in my mind, then eventually sketch them out—either on paper or on my iPad. Once I'm happy with my drawing, I transfer it onto fabric by tracing with an erasable fabric pen, set it into a hoop, and begin stitching. Some pieces take me a few days to finish but sometimes I work on things over the course of a few months.
5. Who and/or what inspires your work?
Nature is my biggest inspiration. I am inspired by the flowers in my garden, sweeping mountain views, and even the shapes I find in layers of rock and the movement of water.
6. What role does art play in your life? How does it change the way you view the world?
My home is filled with art—I have a huge gallery wall full of original art and prints by family, friends, and many of my personal favorite artists. I have beautiful weavings, macramé, pottery, and several other wonderful pieces of original art displayed throughout our tiny home in Seattle. I make a particular point of supporting other women in the arts, both locally and globally. I have met some really amazing women artists through social media and love having the opportunity to connect through creativity. Being surrounded by so many beautiful pieces of art makes my home feel so special, colorful, and happy. Creating art is great for my brain. It helps soothe my anxieties, keeps my hands busy, and gives me an identity outside of my role as a mother. I love that I can bring so much joy to the people who purchase my work and to the many, many people who create their own pieces of handmade art with my DIY embroidery patterns.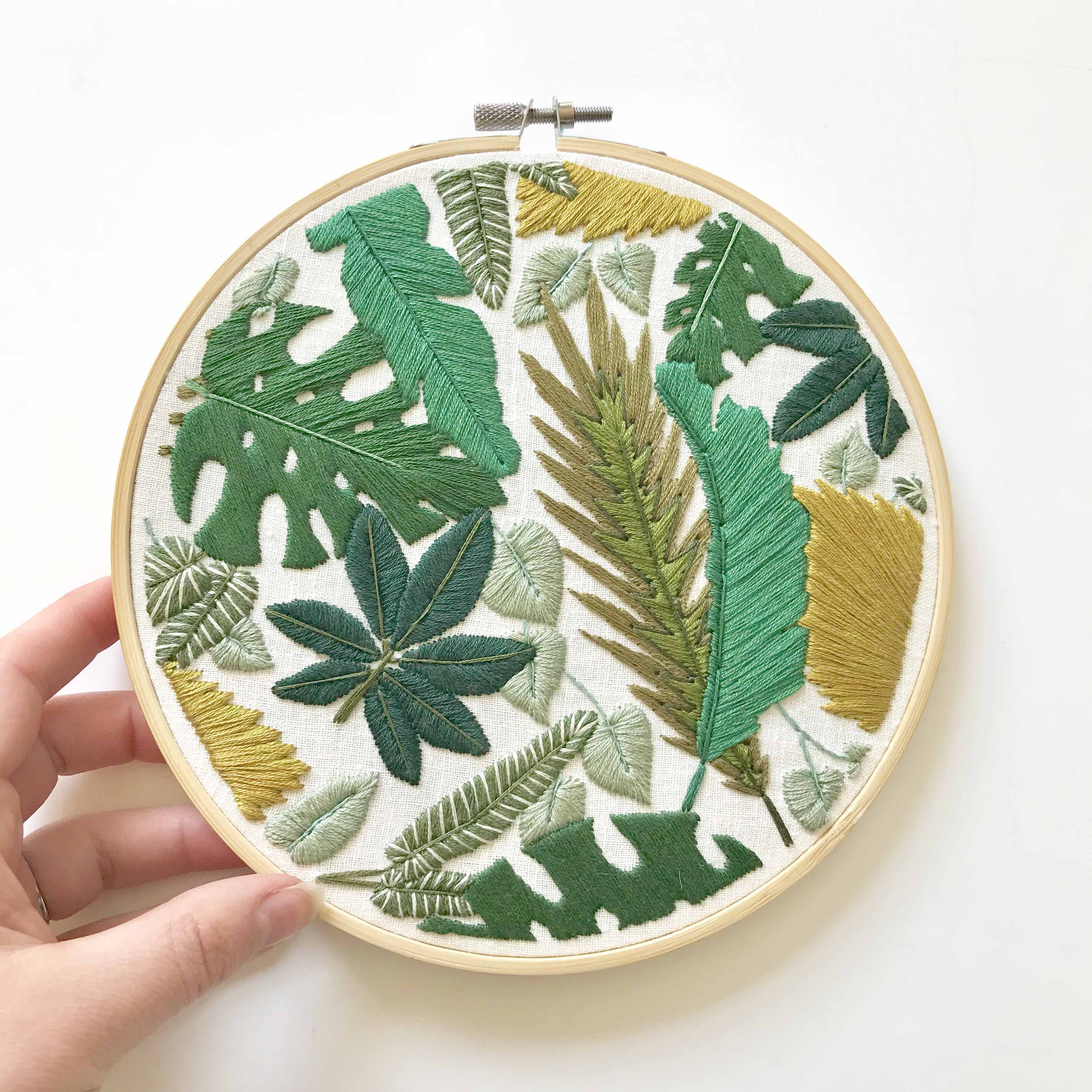 7. Where did you study?
I have a BA in Environmental Studies from the University of Oregon. I never anticipated that I would end up as an artist but am so happy about my background and where it led me. I am a completely self-taught embroidery artist, which means that the style and techniques I have developed are truly my own.
8. Where do you see yourself in five years?
In five years I would love to have added another sweet baby to our family and to have grown Lark Rising Embroidery in some really big ways. I hope to be able to reach more people with my patterns and to teach more budding embroidery enthusiasts through workshops.
9. What about in ten?
I won't pretend like I have any idea what my life will look like in ten years. I hope that embroidery is still a big part of my life, but mostly I just hope that my family is healthy and happy.
10. What do you hope to achieve with your art?
I love the way that creating makes me feel. I feel both energized and refreshed when I am able to transfer my ideas out of my brain and into the world. One of my biggest hopes is that I can continue to transfer my love of embroidery to others through my monthly pattern program, video tutorials, and workshops. love knowing that other people are learning a new skill that enhances their own lives.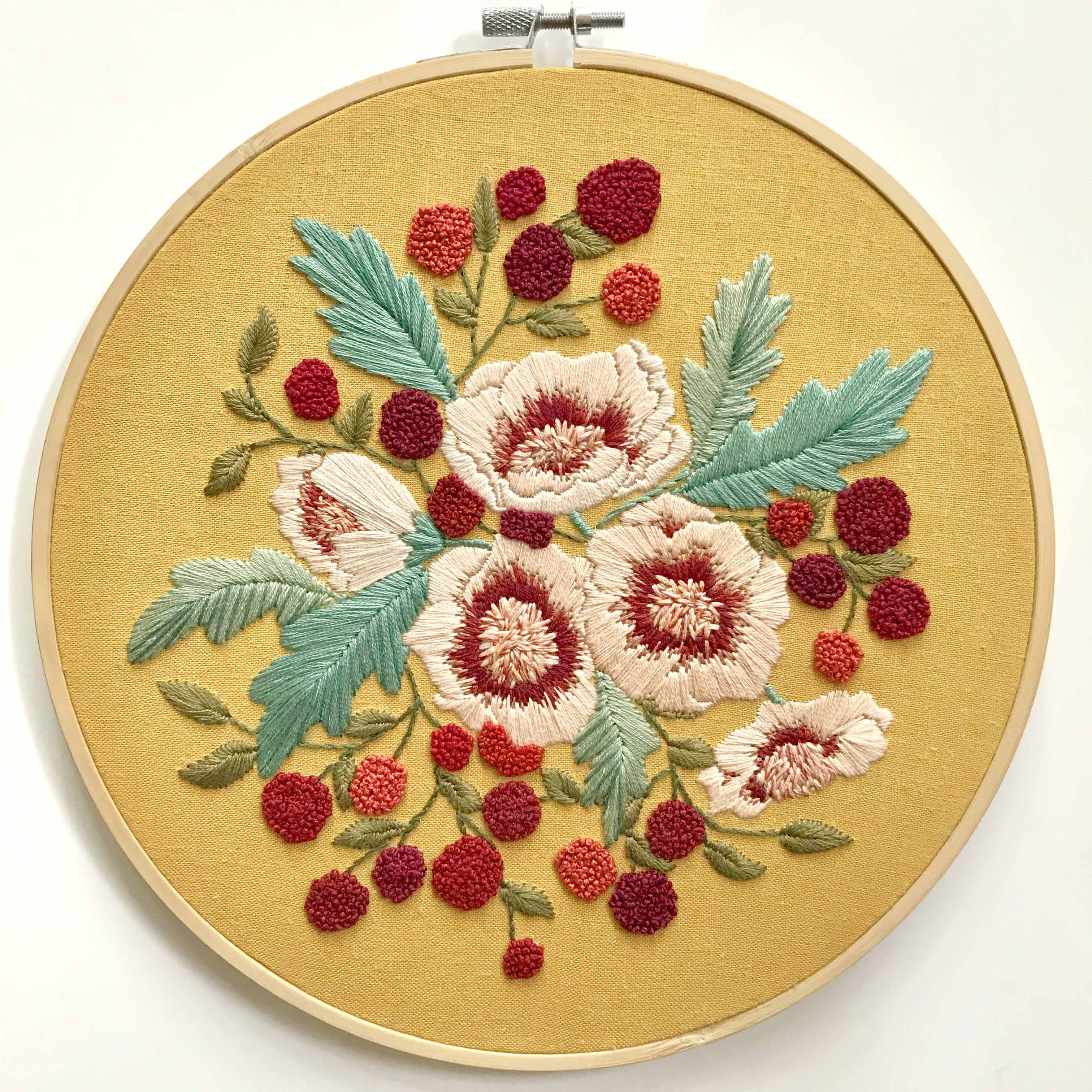 11. Now, tell us a little more about you as a person: what is your favourite food?
I'm a total foodie—it's difficult for me to pick a favorite of anything, but I'm always up for tacos with guacamole, fancy cheeses, and dark chocolate.
12. Favourite book?
I'm a huge Harry Potter fan, but I am an avid reader and love reading everything from fantasy, dystopian future, sci-fi, mysteries, and non-fiction.
13. Favourite genre of music?
I feel pretty out of the music scene these days, but I always love jazz (think Ella Fitzgerald, Billie Holiday).
14. What are your hobbies?
I love making music. I've played the piano and sung since childhood and have continued to sing in choirs as an adult. I picked up ukulele last year and, while I'm not very good yet, I love the simplicity and portability of it. My family and I also really enjoy hiking, camping, and enjoying time with close friends.
15. If you weren't an artist, what would you be?
If I hadn't found my way into a career in art, I likely would have pursued a career in wildlife sciences (and still might someday). I love the idea of being out in nature, monitoring wildlife, restoring habitats, and educating people about wild places and animals. Fortunately, I like to think that life is long and that I'll have the opportunity to be and do many different things before mine is over.