Instagram:
@laura_pssl
1. What's your story? Where are you from?
I was born in Toulon, in the South of France, on November 18, 1998. I've been drawing since I knew how to hold a pencil. As a child, I wanted to be an artist even if I didn't know it could really be a true job. I went to Paris when I was 17 to start studying Animation. I like Cinema, I like drawing so I wanted to make movies with drawings. Since the beginning of my student life, I have made some (very) short films at school and on my own. Also, I make illustrations for pleasure, to work on colors and composition. Je suis née à Toulon (dans le sud de la France) le 18 novembre 1998. J'ai toujours beaucoup dessiné. Dès la petite enfance je me rêvais artiste même si je ne savais pas que ce métier existait pour de vrai. Surtout je ne pensais pas qu'il pourrait m'être accessible, venant d'un milieu qui n'est pas beaucoup en lien avec les Arts ou la Culture. J'ai découvert plusieurs œuvres qui ont fait grandir ma passion. Je suis montée à Paris quand j'avais 17 ans pour entamer des études de Cinéma d'Animation. Un peu naïvement je me disais « j'aime le cinéma, j'aime le dessin donc je veux faire des films avec des dessins ». Depuis j'ai réalisé des (très) courts métrages à l'école et en stage. Je fais aussi des illustrations par plaisir, pour travailler la couleur et la composition.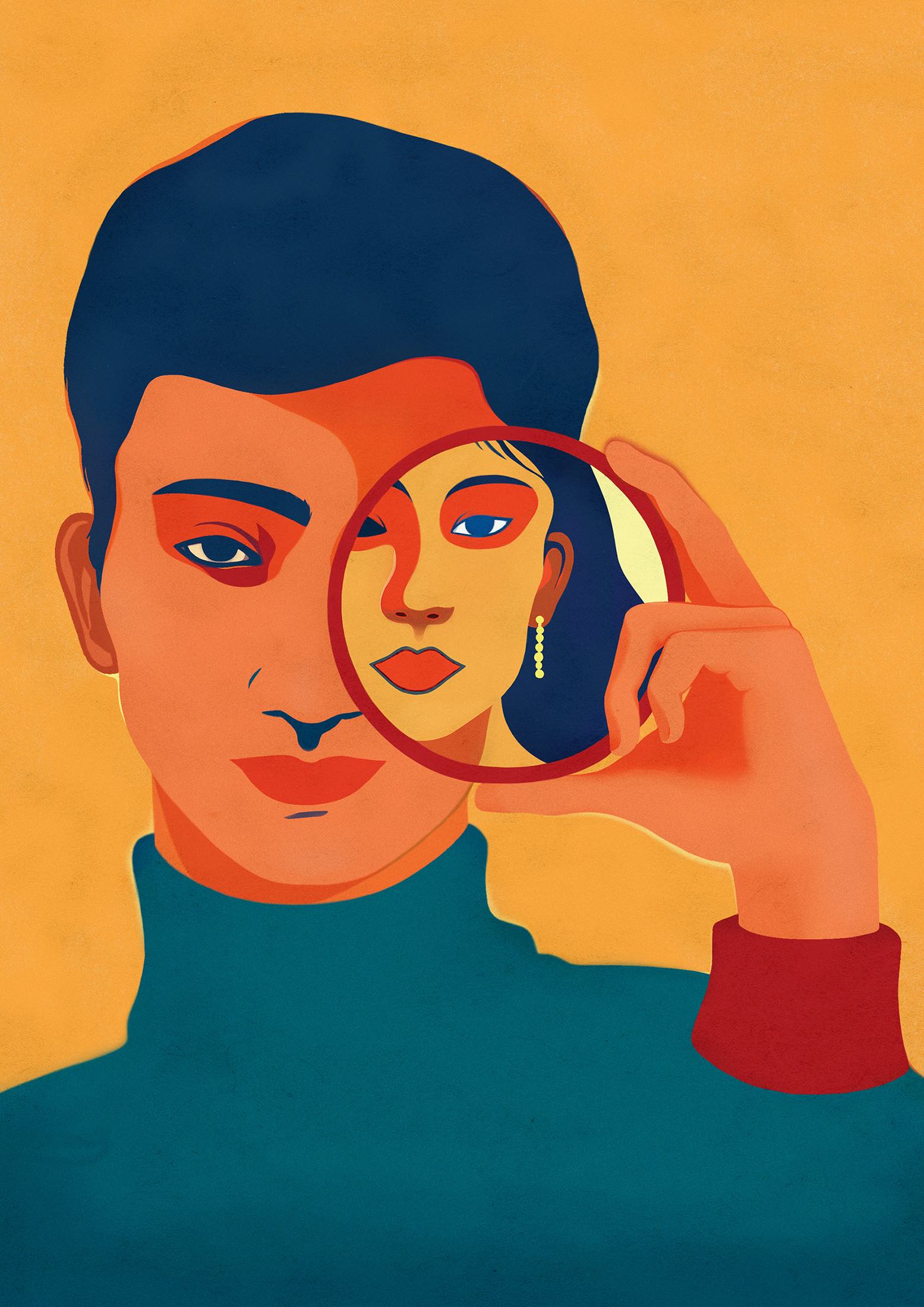 2. Tell us about your aesthetic.
I use a lot of bright or aggressive colors. There are a lot of details in my drawings even though currently I work to have a simpler style. I draw mostly "realistic" portraits and flowers. I like the Absurd and the Surrealism, anything that can be poetic and natural. J'utilise beaucoup de couleurs vives voire agressives. Il y a pas mal de détails dans mes dessins même si je travaille pour avoir un style plus épuré. Je dessine surtout des portraits « réalistes » et des fleurs. J'aime l'absurde, le surréalisme, ce qui peut être poétique et naturel.
3. What is your favourite medium and why?
I use colored pencils and wax pastels. The first is practical for making gradients, the second for making large solid colors. I prefer traditional mediums because I feel freer on paper than on a screen, it's perhaps related to my childhood. J'utilise des crayons de couleur ainsi que des pastels à la cire. Le premier est efficace pour faire des dégradés, le deuxième pour les grands aplats unis ou texturés. Je privilégie des mediums traditionnels car je me sens plus libre sur une feuille que sur un écran, c'est peut-être aussi une préférence liée à l'enfance.
4. What is your artistic process like?
Currently, I work mostly in flat colors. So very rarely with thin lines. I don't know why but I'm more productive when night falls than in broad daylight. Aujourd'hui je dirais que je travaille surtout en masse, en aplat de couleurs (donc très rarement au trait). Pour une raison que j'ignore je suis le plus productive lorsqu'il commence à faire nuit.
5. Who and/or what inspires your work?
It depends on what mood I am. At the moment I particularly like David Hockney's drawings and Henri Matisse's paintings. Otherwise, I think my cinematic references inspire me the most in my work! For example, I love directors who have very aesthetic approaches like Edward Yang, Éric Rohmer, Tsai Ming-Liang, Wong Kar-Wai, Gregg Araki and many others. Mes gouts changent très souvent en matière de dessin. En ce moment j'aime particulièrement ceux de David Hockney et les peintures de Henri Matisse. Sinon je pense que mes références cinématographiques sont celles qui m'inspirent le plus dans mon travail! Par exemple j'adore des réalisateurs qui peuvent avoir des approches très esthétiques comme Edward Yang, Éric Rohmer, Tsai Ming-Liang, Wong Kar-Wai, Gregg Araki et pleins d'autres.
6. What role does art play in your life? How does it change the way you view the world?
It's a very cheesy answer but I believe that art plays the most important place in my life. I don't know if it changes the way I see the world, but it certainly changes the way I live in it. I think I have a relationship of protection and comfort with Art but I also like that it can disturb (probably because I do not know how to do the same yet). Réponse très cheesy mais je crois qu'à ce jour l'art joue la place la plus importante dans ma vie. Je ne sais pas s'il permet de changer la manière dont je vois le monde, ce qui est certain c'est qu'il change la manière dont je l'habite. Je pense avoir un rapport de protection et de confort avec les arts mais j'aime aussi qu'ils puissent ne pas être sages, qu'ils dérangent (sûrement car je ne sais pas encore en faire autant).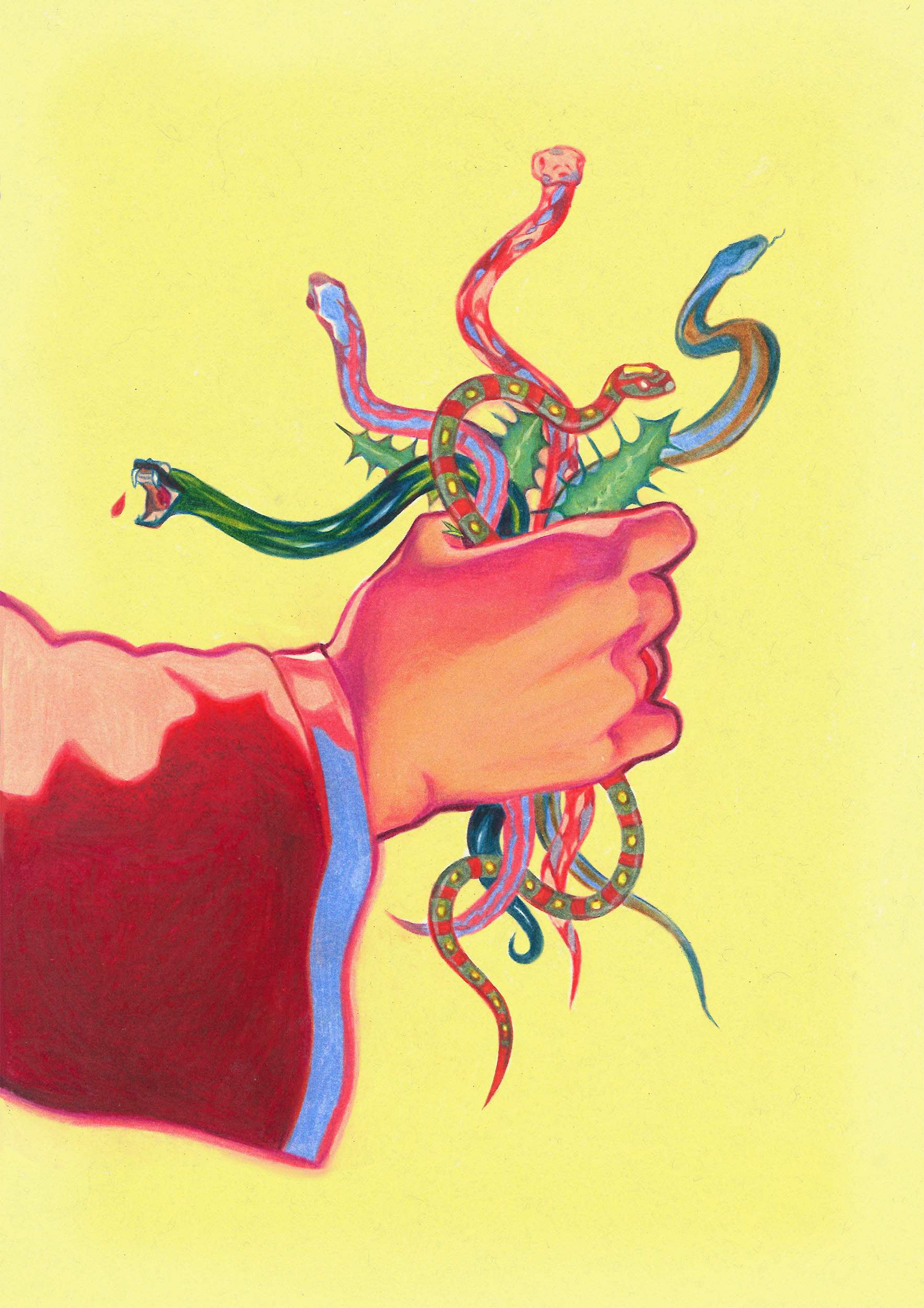 7. Where did you study?
I studied literature and history of Arts in High School. Then I went to "L'Atelier de Sèvres" for one year of preparatory class in Animation. Now I'm at "L'Atelier Superieur d'Animation" (ASA) which is a 3-year program. Presently I am in my graduation year, directing a 5 minutes short film for my diploma. J'ai un baccalauréat Littéraire avec option et spécialité Arts plastiques. Je suis ensuite rentrée à l'Atelier de Sèvres pour une année de classe préparatoire en Cinéma d'Animation, suivie de trois autres à l'ASA (l'Atelier Supérieur d'Animation). Actuellement je finis ma dernière année d'étude en réalisant un court métrage de 5 minutes pour mon diplôme.
8. Where do you see yourself in five years?
I will certainly still be drawing but I don't know where. I'm going to work a lot to make my professional life as cool as possible in the future. Toujours en train de dessiner. Où, pour qui et pour quoi je ne sais pas, mais je vais justement travailler dur pour que ma vie professionnelle soit le plus proche de ce que j'aime.
9. What about in ten?
I'd rather not imagine to not be disappointed. Je préfère ne pas imaginer pour ne pas être déçue.
10. What do you hope to achieve with your art?
Becoming a professional illustrator! I would love to draw movie and festival posters. Also making illustrations for magazines and the fashion industry. I want to do visual development in animation, video clips. Me professionnaliser en illustration! J'adorerais dessiner des affiches de film, de festival. Aussi faire des illus pour la presse, pour de la mode. Je souhaite faire de la direction artistique et/ou de la réalisation pour des courts, des clips animés.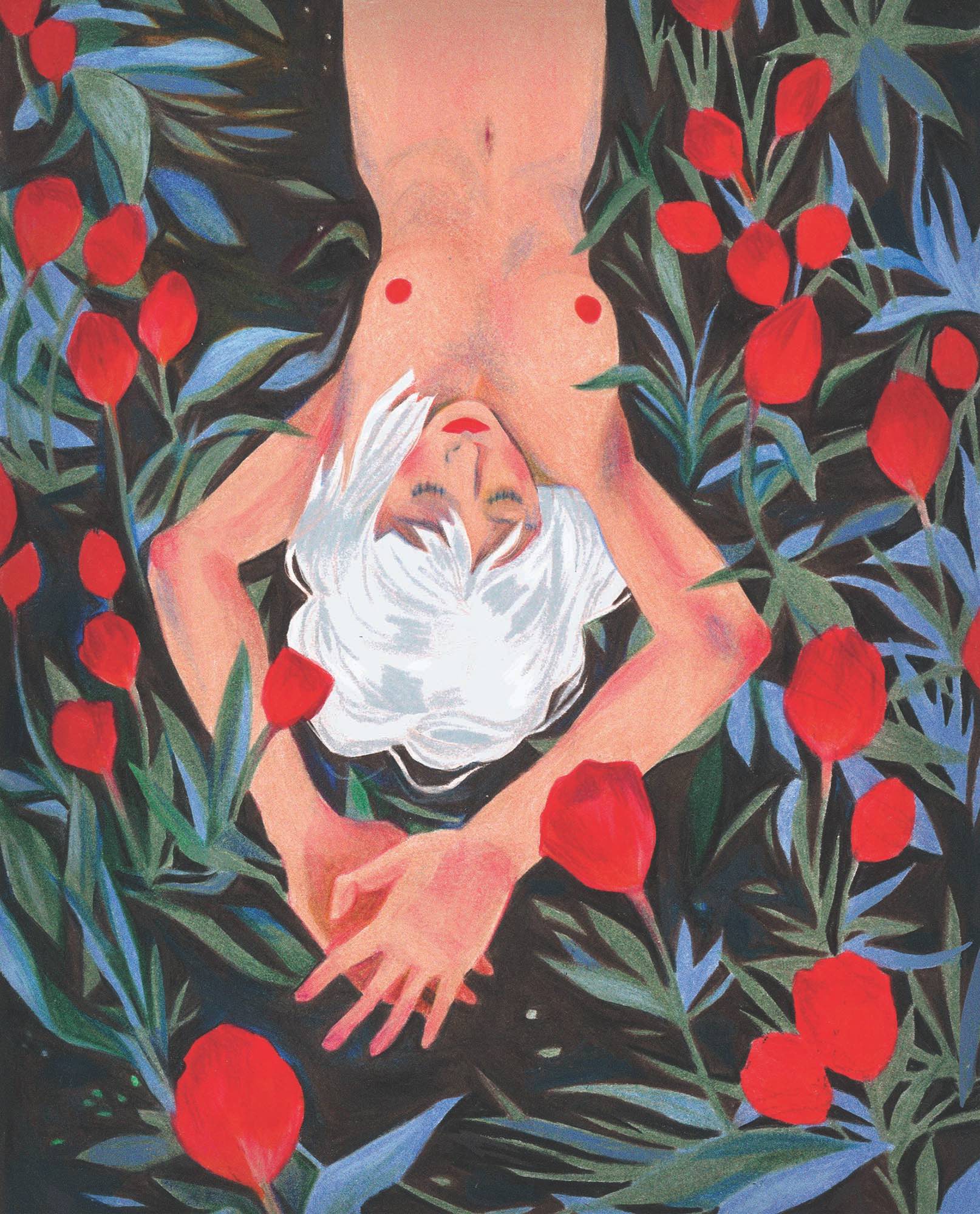 11. Now, tell us a little more about you as a person: what is your favourite food?
I'm addicted to anything that involves sugar or chocolate. Tout ce qui peut être très sucré ou chocolaté.
12. Favourite book?
The catcher in the Rye by J.D. Salinger and Lorenzaccio by Alfred de Musset made a strong impression on me when I was a teenager. Recently the book I liked the most is La confusion des sentiments by Stefan Zweig. I love flipping through Art and Photobooks. My favorites books I own are Tadanori Yokoo's work for Issey Miyake and another one about Yves Saint-Laurent's sketches. J'ai été marquée par L'Attrape Coeur de J.D. Salinger et Lorenzaccio d'Alfred de Musset lorsque j'étais ado. Le livre que j'ai le plus aimé récemment est La confusion des sentiments de Stefan Zweig. J'aime énormément feuilleter des livres d'Art et de Photo. Mes préférés que je possède: un sur le travail de Tadanori Yokoo pour Issey Miyake, un autre sur les croquis d'Yves Saint-Laurent.
13. Favourite genre of music?
I gained more curiosity, I'm still a little bit insecure about my musical culture. So don't make fun of me ahah. I often listen to French variety (Francoise Hardy, Gainsbourg, Christophe...) Otherwise here are random bands or artists that I listen to a lot: The Smiths, David Bowie, Patti Smith, The strokes, T-Rex, Air... Pendant longtemps je n'écoutais pas spécialement de musique. Même si aujourd'hui j'ai acquis plus de curiosité dans ce domaine, je suis toujours un peu complexée par mes gouts, mon niveau de culture. Donc ne vous moquez pas. J'écoute souvent de la Variété Française (Francoise Hardy, Gainsbourg, Christophe...) Sinon voici au hasard des groupes ou artistes que j'écoute beaucoup: The Smiths, David Bowie, Patti Smith, The strokes, T-Rex, Air...
14. What are your hobbies?
Watching and studying movies. I recently found an interest in decorative objects. I try to consume in a more eco-responsible way for example by finding vintage objects and second-hand clothing. Regarder et étudier des films. J'aime de plus en plus la décoration d'intérieur, je privilégie le vintage, la seconde main.
15. If you weren't an artist, what would you be?
Probably a Literature teacher. Probablement professeure de Lettres.