Instagram:
@lauracmoyer
Website:
www.lauracmoyer.com
1. What's your story? Where are you from?
My name is Laura, and I am from the US. I live outside of Lancaster, Pennsylvania, among rolling hills, cornfields, and Amish farms. I am a beach girl at heart though, having grown up along the Jersey shore. The open water is something I will always crave. I studied Graphic Design at Philadelphia University. After a handful of years working as a full-time graphic designer, my husband and I had our second child and I decided to become a stay-at-home mom. During the quiet moments this past year, I explored my passion for illustration. Having nailed down my workflow and found my style, I'm very excited to dive into the world of illustration. I've finally found what I'm truly passionate about and know what I want to be 'when I grow up' (whenever that is).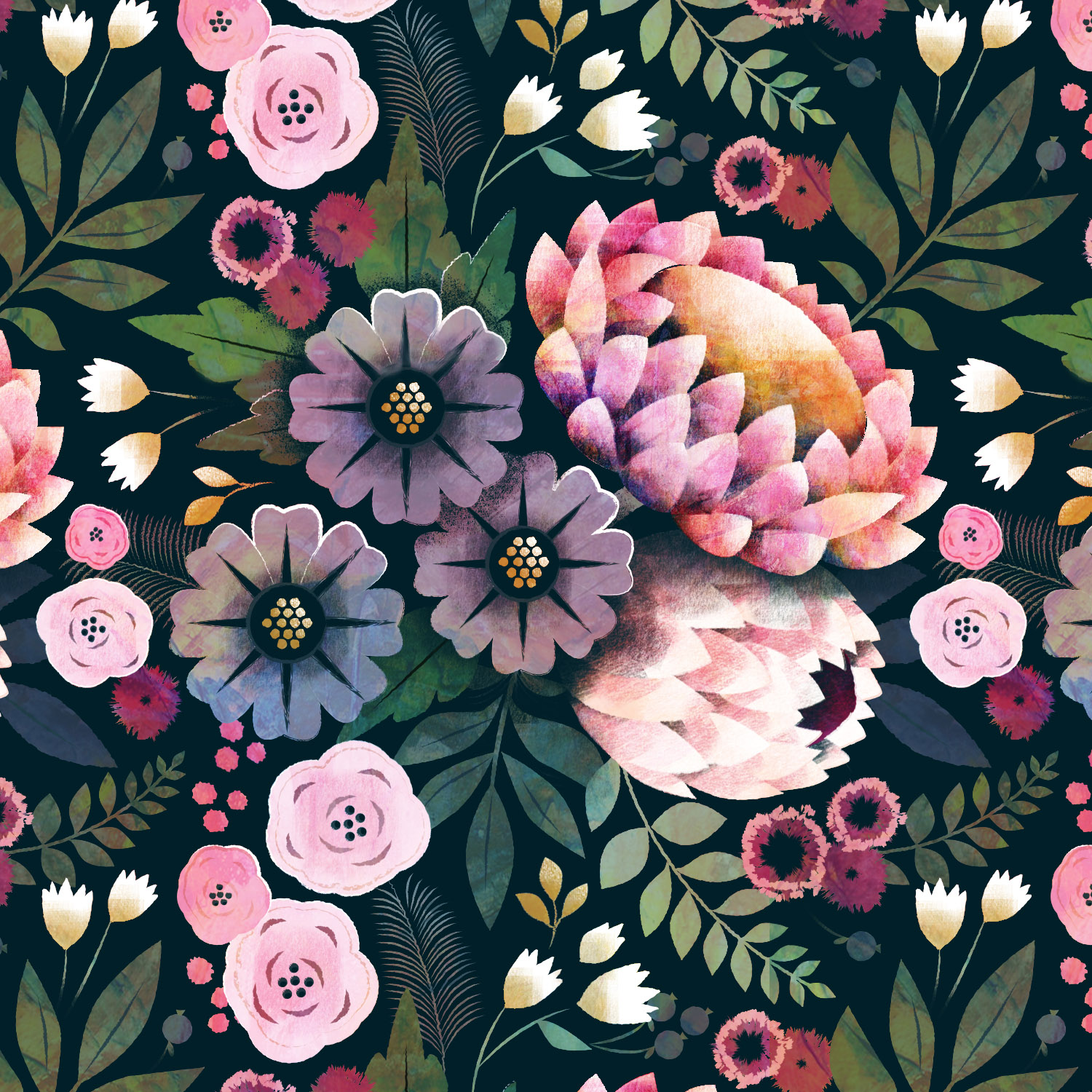 2. Tell us about your aesthetic.
My style is reminiscent of mid-century illustration, with a modern and feminine twist. I love simple shapes, enhanced with light, shadows, and textures. I will always be in love with bright colors, along with finding balance in a piece...kind of like putting a jigsaw puzzle together (another hobby of mine).
3. What is your favourite medium and why?
While I was trying to 'find myself' as an illustrator, I dabbled a lot with watercolor and gouache paints. I thought maybe that was my route, being that I loved and excelled in fine arts in high school and college. However, the designer part of my brain always wanted to scan things in and perfect them. This made me realize digital is the way to go because no one likes a weird, non-intentional mash-up of the two. I found a way to work between illustrator and photoshop that gives me the control that the designer side of my brain needs, but enough freedom to feel creative and inspired.
4. What is your artistic process like?
Continuing from the previous question, I work simultaneously between illustrator and photoshop. Illustrator for the shapes/layout, photoshop for the light, shadows, and textures. Sometimes I sketch first (mainly if there is lettering involved), but most often I work from a vision that lives only in my brain. Then as I get going, I often 'air-sketch' (is that a thing?) as I go. I just want to note here, it is incredibly liberating knowing my artistic process. It took me a while to find it, and now it feels like I can finally bring to life all the images in my mind. So if you're in that phase, keep chugging along and you will find what works for you!
5. Who and/or what inspires your work?
Mid-century illustrators really inspire my work, when colors were bold yet unexpected, and shapes were simple. Despite being a designer and digital illustrator, I'm really averse to technology (hypocritical, I know.) I have my tools and don't really want anything else (although I can be persuaded with good reason). I hate downloading apps, I still use a mouse and want a simple life. So the fact that they created their work without any of this is so inspiring to me, along with the overall aesthetic. I'm also just so inspired by the fact that I have the ability to create anything I can imagine. I constantly have ideas popping into my head at the oddest times, and it is just the most amazing thing to me that I can bring those to life.
6. What role does art play in your life? How does it change the way you view the world?
Art is my sanity. I'm a stay-at-home mom with a 1-year-old dramatic girl and an energetic 3-year-old boy. I love them dearly, but my time at the computer with my headphones in, getting lost in an illustration is my meditation. I feel the angst when I don't have this creative outlet. It changes the way I view the world because it gives me common ground between people all over this world. I've made connections via social media and illustration communities with people from so many different places and cultures. It's made the world a smaller, and more relatable place. It has also made me feel like I have something to contribute to the world...that I could, in fact, leave a lasting impression on the world through my artwork.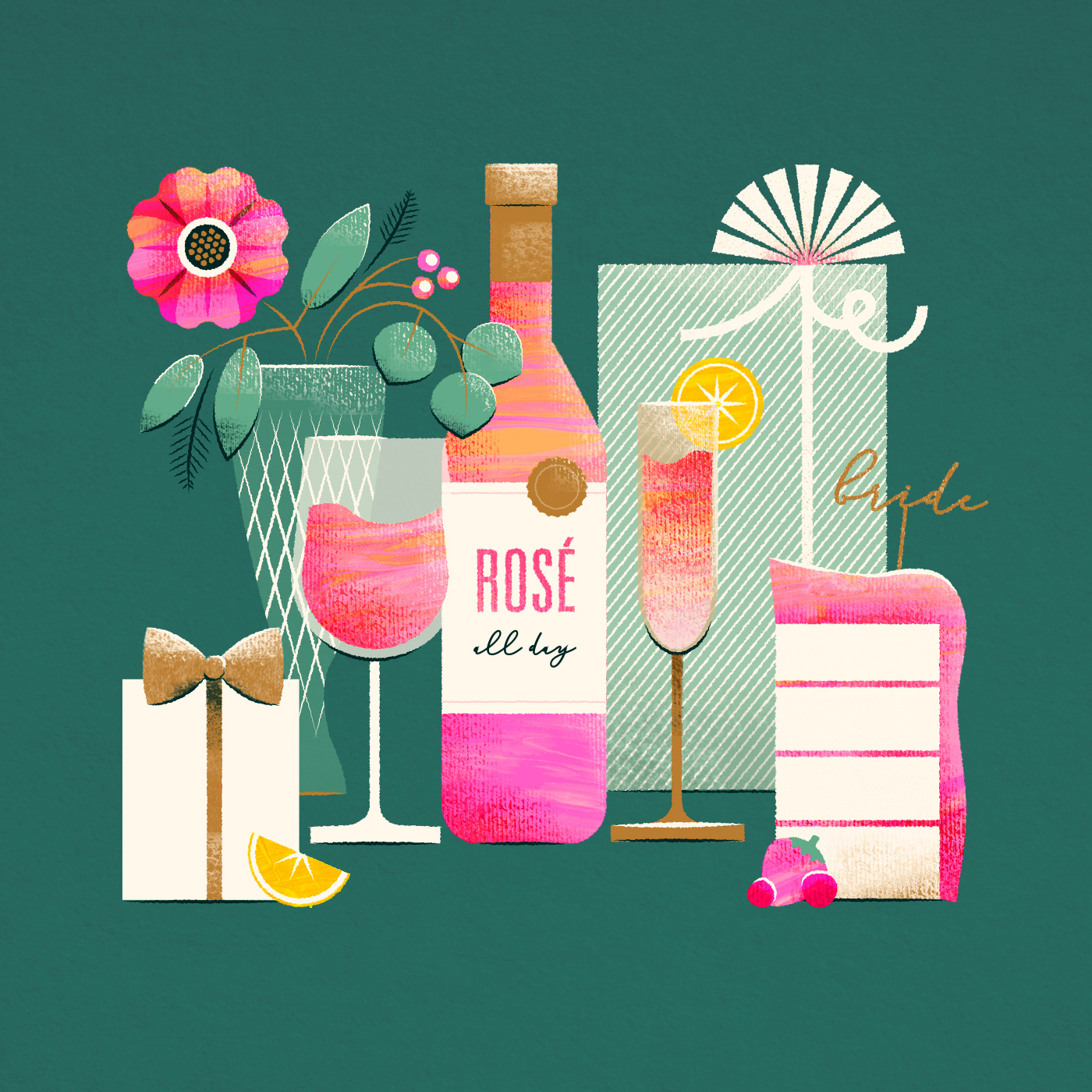 7. Where did you study?
I studied Graphic Design at Philadelphia University.
8. Where do you see yourself in five years?
In 5 years, I see myself as a full-time illustrator, creating pieces for magazines, editorial, and home decor, and possibly a children's book or two in there. I also see myself as a great mother to my young family, which is a constant balancing act between the two.
9. What about in ten?
Ten years is hard to say. I'm at the beginning of this journey and there are many paths to take and forks in the road. So in 10 years I just see myself feeling accomplished, as a well-known and successful illustrator, wherever I am in the industry. And still a great mom.
10. What do you hope to achieve with your art?
I hope to be able to take the ideas in my head and make them resonate with someone else. I want to be able to spread positive thoughts and appreciation for this crazy thing called life. Whether it be a deep, meaningful piece, a sweet children's book, or something that is just appealing to the eye and makes someone feel good.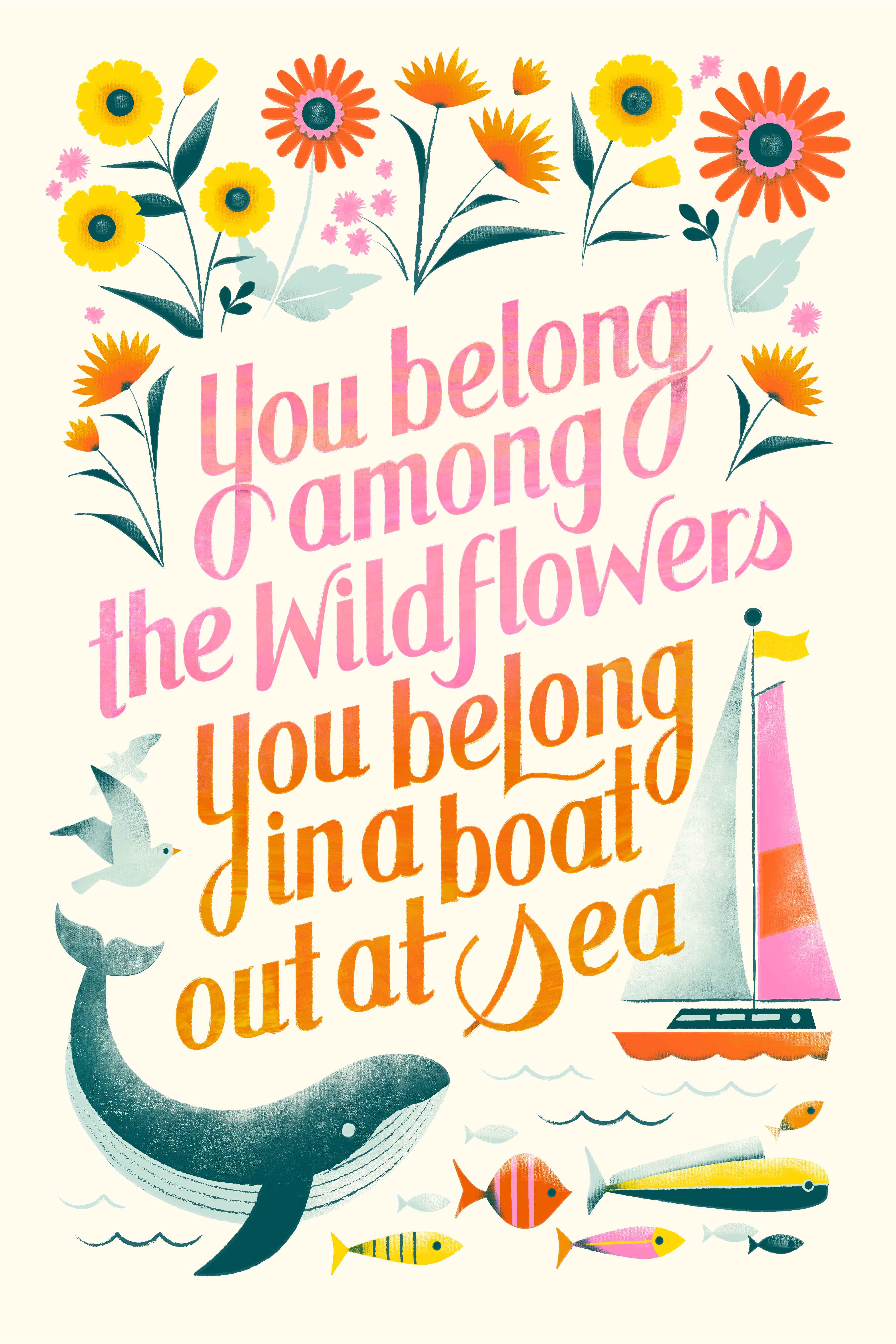 11. Now, tell us a little more about you as a person: what is your favourite food?
If it were my last meal on earth, I'd want filet mignon, crab legs, buttery mashed potatoes, and lots of wine. My normal answer would be any fresh seafood, especially a fresh tuna steak. And at home, my favorite food is microwave nachos.
12. Favourite book?
I love any book illustrated by Alain Grée. To me, his work is what it means to be an illustrator. Friendly yet sophisticated. As far as actual reading, I wish I had a good answer to this. A piece of literature. But honestly, I really love beach reads, and for that, Emily Giffin is the queen. I love Something Borrowed, Baby Proof, and really anything she writes. I don't read at the beach anymore though. I'm heavily in the 'chasing toddler and digging for sandcrabs' era.
13. Favourite genre of music?
Bluegrass, dance, lots more. I've also been known to like tropical house.
14. What are your hobbies?
Anything outdoors. That's where I feel alive. Going to the beach, the Adirondacks, being out on a boat on any body of water (saltwater is preferred though), gardening, camping, exploring. Pretty much can't go wrong with a family-oriented outdoor activity. I also love cooking, baking and being in cozy jammies watching a movie.
15. If you weren't an artist, what would you be?
Definitely a florist.