Instagram:
@laurakientzler
Etsy:
www.etsy.com/shop/LaPetiteJungle
Cargocollective:
www.cargocollective.com/laurakientzler
1. What's your story? Where are you from?
I come from the east of France, where winters are a little rude and summers suck. I moved to Strasbourg to study illustration and decided to stay in this nice human scale city. I work as a freelance illustrator in a studio with six artists that are also my friends. Je viens de l'est de la France, là où les hivers sont un peu rudes et les étés pourris. Je me suis installée à Strasbourg pour mes études et j'ai décidé d'y rester car j'aimais bien son ambiance de petite ville à taille humaine. Je travaille comme illustratrice freelance dans un atelier avec six artistes qui sont aussi mes amis.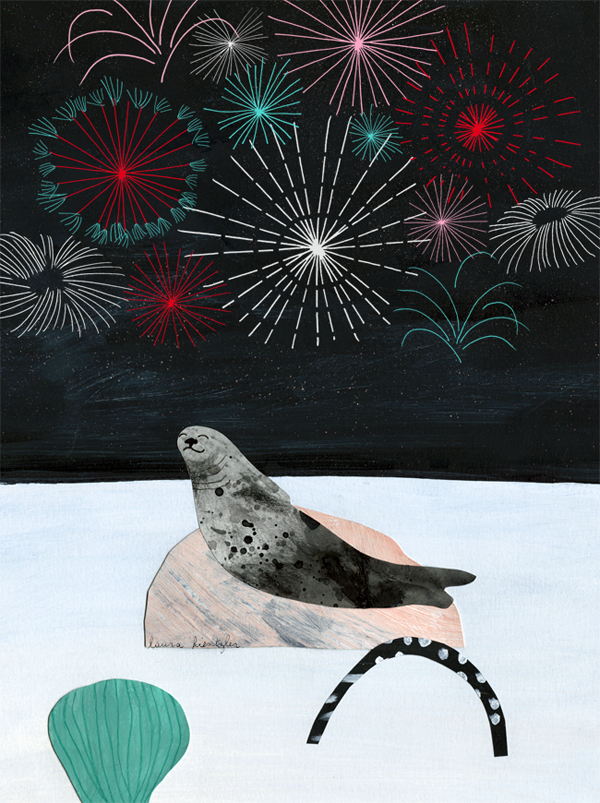 2. Tell us about your aesthetic.
My visual style is a mix between reality and a naive way of representing it. I mean, recognizable objects, plants or living being, but without any respect of the rules of perspective or proportions, and a certain freedom with colors, forms, and scales. Mon style visuel est une représentation assez libre et naïve de la réalité, sans respect des règles de la perspective ou des proportions par exemple, et une certaine liberté avec les couleurs, les formes ou les échelles.
3. What is your favourite medium and why?
I like collage because I can let random play with forms and colors, even if sometimes it is quite endless. Mix it with colour pencils drawing and watercolor painting, then you will get my favored medium. J'aime le collage car je peux laisser le hasard jouer avec les formes et les couleurs, même si parfois c'est carrément sans fin. Mélangez ceci avec du dessin au crayon de couleur et de l'aquarelle, et vous obtiendrez mon medium privilégié.
4. What is your artistic process like?
Each illustration always comes from doodles in my notebook. Then I try differents techniques, I test a lot before I start the original illustration, I draw, I play with my paper cut and my textures for hours, and voilà! The computer comes at the end to scan and edit colors if needed. Chaque illustration vient toujours de croquis plus ou moins rapidement esquissés dans un carnet. Puis j'essaie différentes techniques, je teste beaucoup avant de me lancer, je dessine, je joue avec mes papiers découpés et mes textures pendant des heures, et voilà ! L'ordinateur vient en dernier pour scanner et modifier des couleurs si nécessaire.
5. Who and/or what inspires your work?
Actually, every little thing is favorable to inspire me : ideas come from observing people living around me (I'm a very observant people !), from words I read in a book, from a detail I saw in a movie, from a pattern on the dress of my friend, from a tree beside the road… the list goes on and on. En fait, la moindre petite chose est propice à inspirer mon travail : les idées viennent quand j'observe les gens autour de moi (j'adore regarder les gens), de mots que j'ai lu dans un livre, d'un détail que j'ai vu dans un film, d'un motif sur la robe d'une amie, d'un arbre au bord de la route… la liste est longue !
6. What role does art play in your life? How does it change the way you view the world?
To me, art is a way to force myself to think, to be clever and conscient about what goes on in the world and what surrounds me, to share with any kind of people… Pour moi l'art est un moyen de me forcer à réfléchir, à être un minimum intelligente et consciente de ce qui se passe dans le monde et ce qui m'entoure, à partager avec tout type de personnes…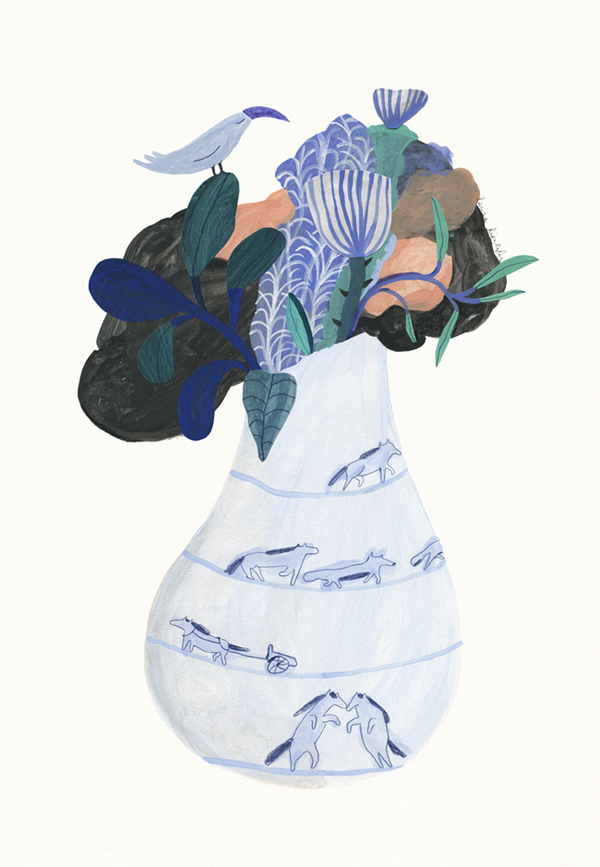 7. Where did you study?
I studied illustration at Haute Ecole des Arts du Rhin in Strasbourg, France. J'ai fait mes études en illustration à la Haute Ecole des Arts du Rhin à Strasbourg, en France.
8. Where do you see yourself in five years?
I would love to still work in freelance and have differents clients in many fields of illustration: publishing, press, stationery, pattern design… and of course to stop chasing after contracts and money for good. J'aimerais travailler encore à mon compte, et avoir des clients dans plein de domaines différents de l'illustration : édition, presse, papeterie, design textile… et, bien sûr, arrêter de courir après les contrats et l'argent pour de bon.
9. What about in ten?
I hope I will have published at least one or even five children books! J'espère que j'aurais publié au moins un livre, ou même cinq !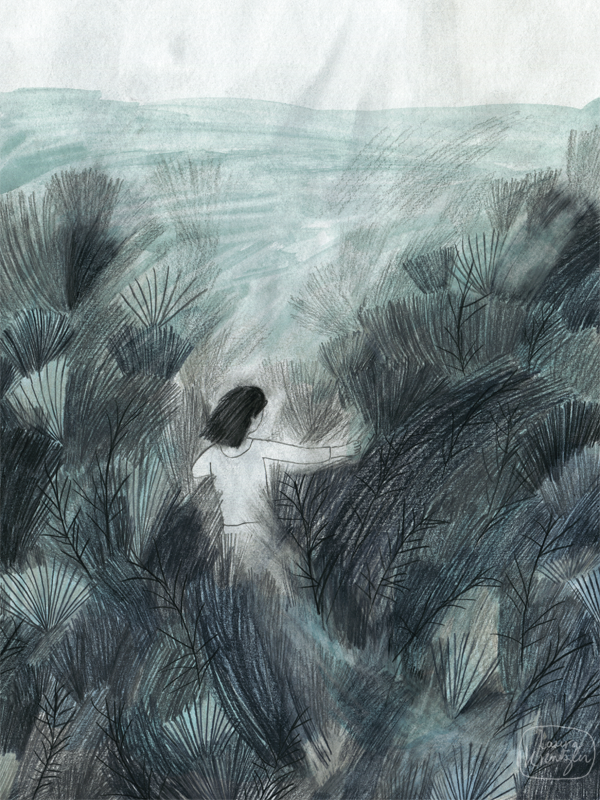 10. What do you hope to achieve with your art?
I don't want that people find my illustrations only pretty. I would give to them another way to see the world, call them on important matters or just give them something to think about with my pictures and my stories. I don't know if I succeed in it for the moment, but I work on it each day of my life. Je ne veux pas que les gens trouvent mes images juste jolies. J'aimerais que les gens qui regardent mes illustrations s'interrogent sur leur manière de voir le monde et sur la façon dont il évolue, que mes histoires et mes images les fassent réfléchir ou évoquent quelque chose en eux. Je ne sais pas si j'y arrive pour l'instant, mais j'y travaille chaque jour de ma vie !
11. Now, tell us a little more about you as a person: what is your favourite food ?
My favorite food is definitively the goat cheese: everywhere, all the time, in every meal except breakfast. Mon aliment préféré est de loin le fromage de chèvre : j'en mets partout, tout le temps, dans tous les repas excepté le petit-déjeuner.
12. Favourite book?
My favorite children book author ever is Beatrice Alemagna. Each of her books is my favorite, but my favorite of all the favorites is Un Lion À Paris. Mon auteur de livre pour enfants préféré de tous les temps est Beatrice Alemagna. Chacun de ses livres est mon préféré, mais mon préféré de tous les préférés est Un Lion À Paris.
13. Favourite genre of music?
I enjoy bands like Patrick Watson, Beirut, Wild Beasts… but I'm really terrible with the exact name of music genres, there are tons of them! I also listen to a lot of radio broadcasts while I'm working. J'aime bien les groupes comme Patrick Watson, Beirut, Wild Beasts… mais je suis vraiment nulle avec les noms exacts des genres de musique, il y en a des tonnes ! J'écoute aussi beaucoup d'émissions de radio quand je travaille.
14. What are your hobbies?
Taking care of my indoor garden, biking, reading, sewing clothes, buying treasures in second-hand shops (definitively my favorite !)… Prendre soin de mon jardin d'intérieur, faire du vélo, lire, coudre des vêtements, acheter des trésors dans des magasins de seconde main (de loin mon activité préférée !)…
15. If you weren't an artist, what would you be?
I would certainly work for an animal protection association. Je travaillerais certainement pour une association de protection des animaux.