Instagram:
@laurendupps
1. What's your story? Where are you from?
I'm Lauren Dupps and I'm from Cincinnati, Ohio. Art hooked me early, from taking drawing classes after school to watching my grandpa carve. Despite school, on and off support of my endeavors, and the rest of life, art has always been important to me. If I took a break from making, I'd throw myself back into it frantically, even when it felt less like making and more like banging my head into a wall. And while that may sound heavy, it's worth remembering I came back from my last vacation with a cactus named Marjorie. (She and my cats do not entirely get along.)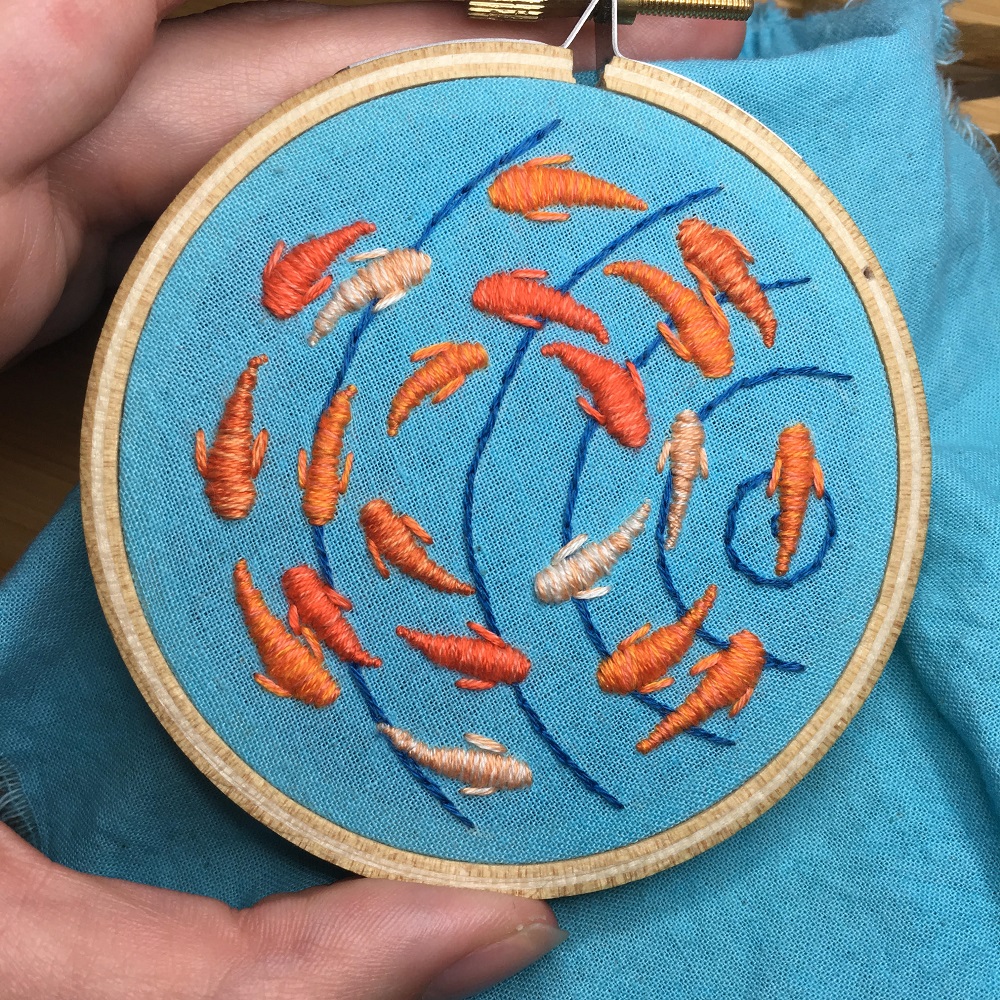 2. Tell us about your aesthetic.
Color and nature figure into almost everything I make. I'm obsessed with both and embroidery adds a special tactile sense to exploring them. The idea of embroidery as feminine drives me to combine it with nature, which can mean anything from a frog to the night sky, and denies any easy labels or blunt categories.
3. What is your favourite medium and why?
Paint – oil, acrylic, or gouache. That might seem odd since my current focus is embroidery, but painting has fascinated me since I was in the single digits. And it has never stopped. I couldn't work in only one medium though; I would lose my mind. There's too much to play and experiment with.
4. What is your artistic process like?
Regardless of medium, and always with embroidery, I start with a pencil sketch. It may be so rough I'll never let another person see it, but there's always a shape or idea at the start I need to get down in pencil. After that I refine the sketch until I'm happy with it. From there I will draw embroidery designs that I only need a simple guide for onto fabric. For more complicated designs I go over my pencil in ink, cut out the drawing, and then use a lightbox to transfer the drawing to an already stretched hoop. At this point or earlier I choose thread and fabric. I lay out every color I think I could use and then start to organize them into potential color schemes, pulling out colors I no longer think will work. If I want a fabric color besides undyed cotton or the dark navy – which I was lucky to find in a store – I dye the fabric myself by hand. Then I stitch and listen to podcasts, sometimes with the aid of a magnifying lamp I call Gloria because I may be a bit obsessive (and watched The Brave Little Toaster enough as a kid that I had to name the lamp).
5. Who and/or what inspires your work?
Other artists, nature, and colors are the big three sources of inspiration for me. I try to consume the world around me like I'm starving whether that means searching through thousands of images or walking through an art museum then a park. The way Sarah K. Benning fills her hoops with scenes of people and plant life led to me thinking of the hoop as a frame or window, not only a tool. That in turn influenced the way I compose my work – and her nontraditional approach motivated me to experiment and stitch right away.
6. What role does art play in your life? How does it change the way you view the world?
Art helps me be me. I deal with depression and anxiety and while medication helps it doesn't "fix" things. It's difficult to explain how art affects my mental health because it touches so many parts of me. Art can be an escape, embroidery especially lets me focus and in a way rest. It helps me process and understand the world around me as well. I'm a curious person, taking in the world around me and questioning what I find. I don't know how I would do these things without art in my life.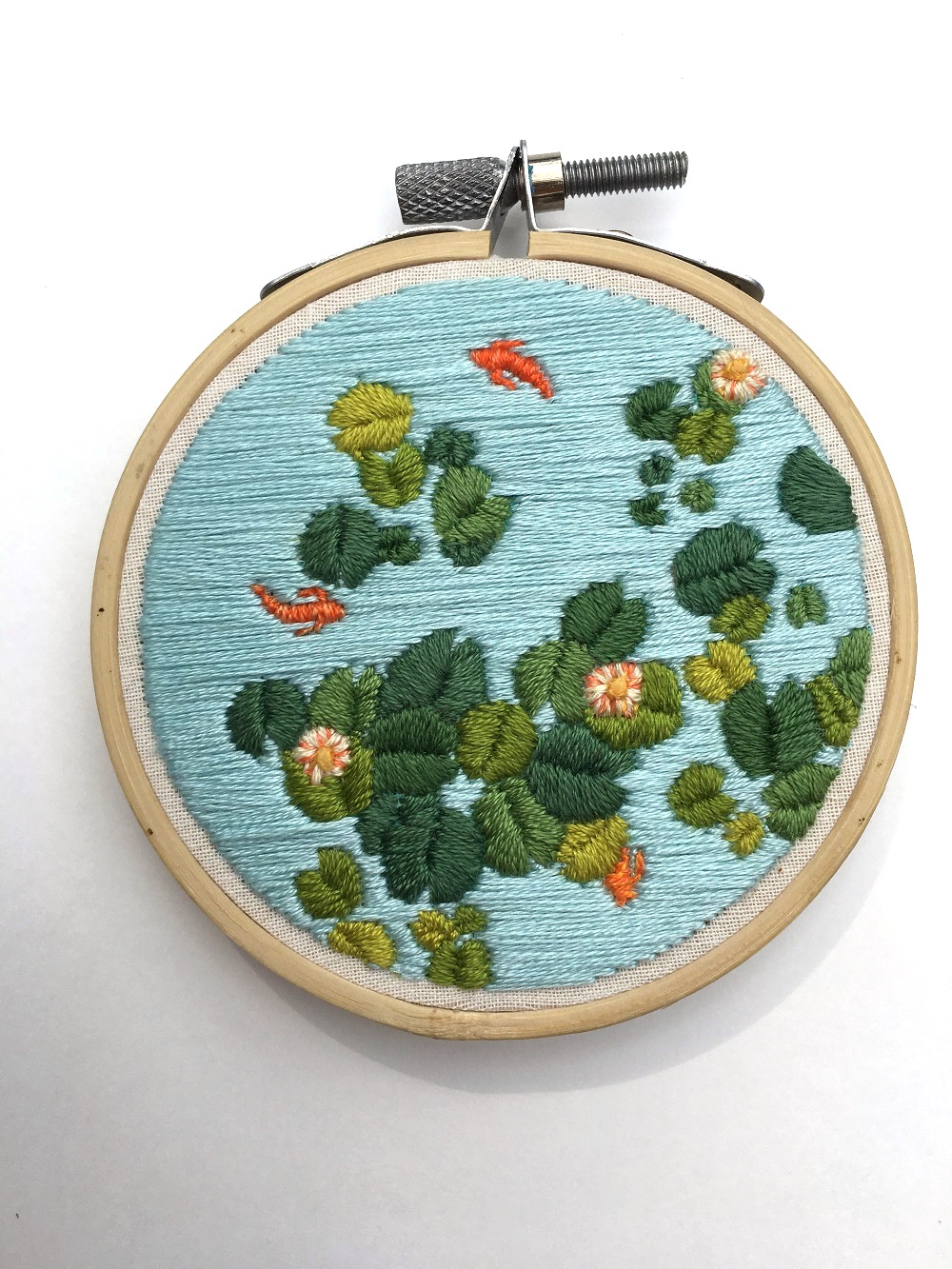 7. Where did you study?
I have a BA from Ohio University in Athens, Ohio, but it's in English Literature not art. I learned a little about embroidery in a high school art class, but that was it until I taught myself more earlier this year.
8. Where do you see yourself in five years?
Hopefully I'll still be making art. If everything goes how I want, I'll be working full-time for myself as an artist and writer.
9. What about in ten?
Ideally ten will look a lot like five but I'll have explored more media.
10. What do you hope to achieve with your art?
What I want to achieve varies and I think that's okay. Some pieces I set out to make with a certain narrative or message in mind. Others I make because the making itself is a pleasure and I can then share that with other people. I love complex stories, but I value simple sources of beauty and calm just as much. And both are ways to communicate with other people.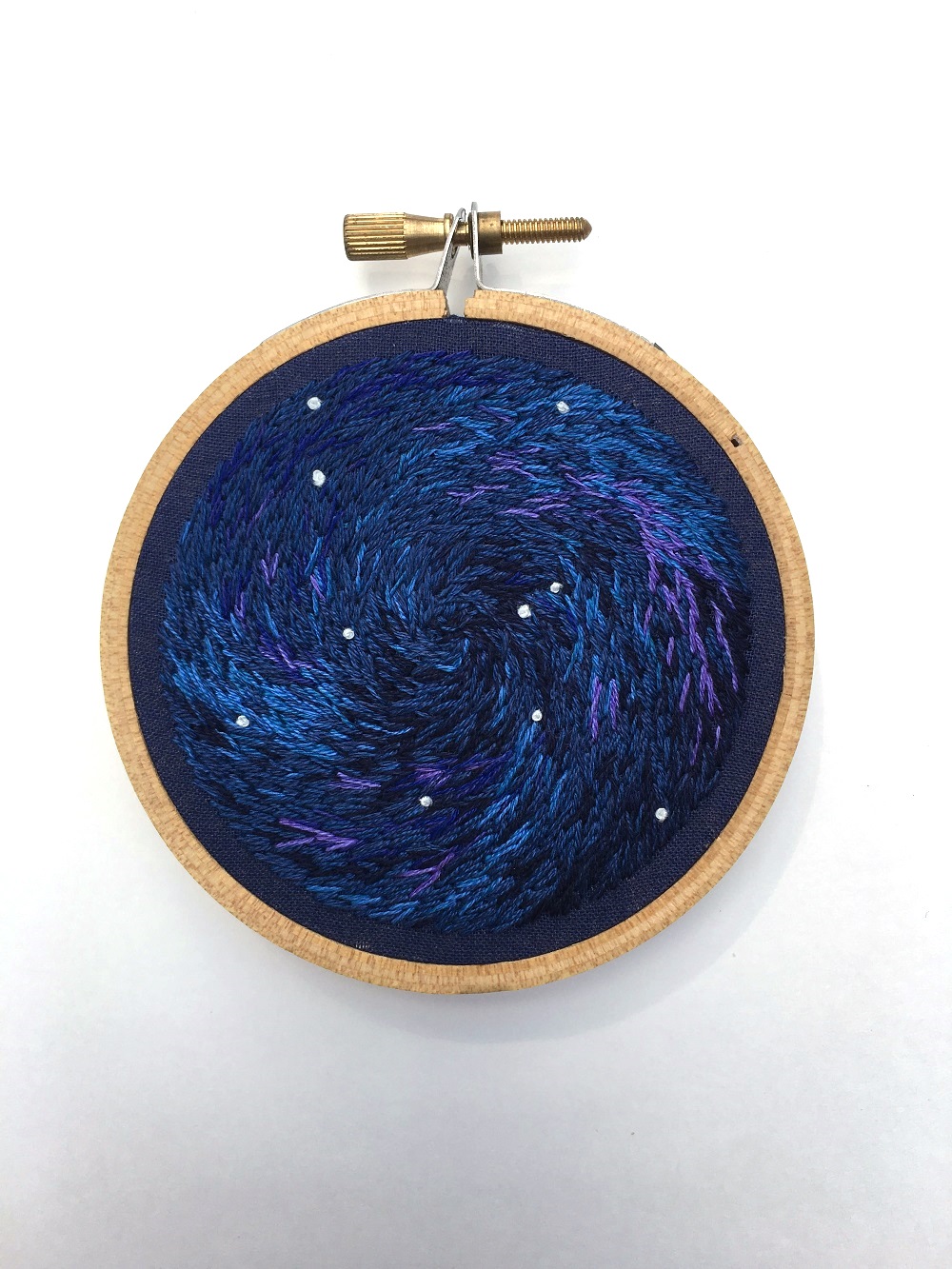 11. Now, tell us a little more about you as a person: what is your favourite food?
Matar paneer, incredibly spicy – easy question. It's an Indian dish of cheese and peas in a sauce. I eat it at home with loved ones because I sweat and sneeze like crazy when I eat it, which is perfect.
12. Favourite book?
I choose to believe I can say it's a tie and name two. I love both Jhumpa Lahiri's Interpreter of Maladies and Neil Gaiman's American Gods. They're two incredibly different books by authors with phenomenal imaginations who write full, human characters.
13. Favourite genre of music?
I'm not too picky about music. I listen to a lot of whatever my partner or friends listen to. Most of it falls under alternative rock at the moment, but that could change tomorrow.
14. What are your hobbies?
I'm obsessed with stories, reading them, watching them, listening to them, and then talking about them with friends. Experimenting with different media is up there as well. I'm a curious person and at the moment have supplies on hand for papermaking, bookbinding, and stone carving, to name a few. I do try to go outside too and love hiking and backpacking.
15. If you weren't an artist, what would you be?
Hermit. Honestly if art had an even slightly smaller role in my life, I believe I would be living in a cave in a national park avoiding bears and moose.