Instagram:
@lemonpepperstudio
1. What's your story? Where are you from?
I was born and grew up in rural Oxfordshire, moving to Melbourne, Australia with my family for 2 years when I was 8. We lived right on the beach, which was awesome, and we used to do trips into the Outback and down the Ocean Road. When we moved back to the UK we lived in a mill on the River Yare in Norfolk where I spent the majority of my time at the bottom of the garden or swimming in the river. We used to canoe and fish and there was a swing over the river which I think all my friends fell off at some point. I now live in North London but head back to my family home in Wiltshire as often as possible! I feel very lucky to have lived in such contrasting places because I have so many amazing memories and I love travelling. In terms of LemonPepperStudio, the beginnings of the idea were conceived when I was working on a biodynamic farm in California last year. My favourite place to go was a hammock overlooking the orchard on a lane called Lemon Pepper Lane because it had lemon trees on one side and Pepper trees on the other, the sunsets were magical there. My time there made me appreciate what really matters and the importance of our environment.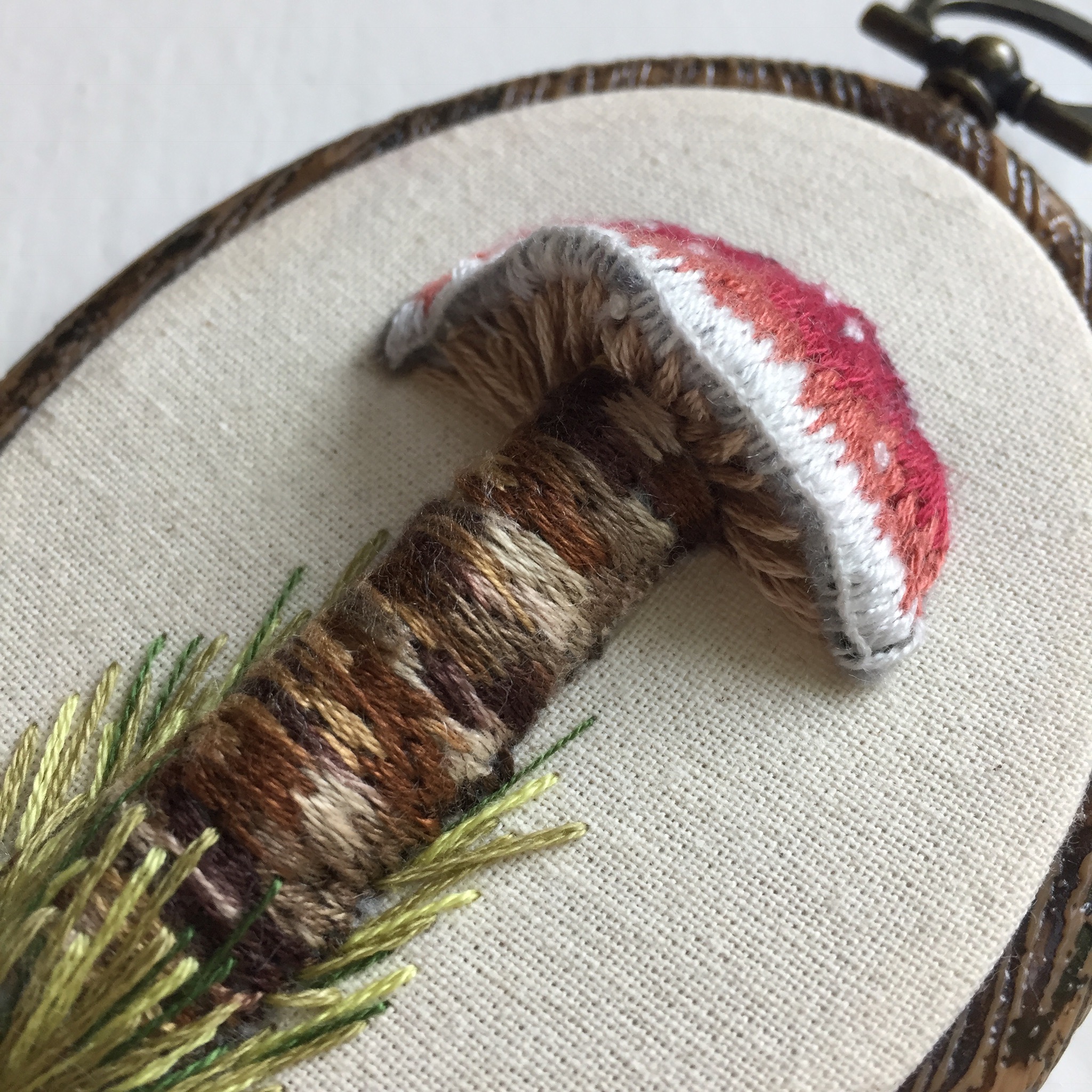 2. Tell us about your aesthetic.
My aesthetic is very much inspired by nature so a lot of my work uses quite organic colours and designs. I like to feel like my pieces have grown themselves rather than been made as they are. I try to use thread in a painterly way, using colour to create depth and using the texture of materials to evoke the textures of nature. I like to sew by hand because it feels so much more intimate and part of me and my creative process, it's a translation of how I view what I'm seeing. I also love reading and learning about new things and how they work; at first it's just a mushroom and then you begin to look at its structure and a there's a whole new way of looking at it.
3. What is your favourite medium and why?
I don't have a favourite medium, though of course I always using thread and fabrics in my embroidery work. I like creating in paper and fabric, and I paint – one of my Etsy lines is painted and embroidered cards. I work as a florist and a Set Designer too so my contact with different materials is hugely varied from day to day. I think it's really important never to stop experimenting with new things because you never know where it will take you! I do love the uniqueness of embroidery and fiber arts though.
4. What is your artistic process like?
My artistic process is very naturally evolving and I don't practice any specific things in order to reach a final piece, however, I do like to sketch out a lot of my ideas to begin with to give me a visual prompt for when I might feel a bit lost. Als,o I know when I'm coming to the end of a project because there's always a moment when I begin questioning what I've been making, just before I turn the corner and see the light at the end of the tunnel. I think that moment of doubt is part of a natural process though because you invest so much of yourself in what you're creating. I've definitely learned that it's good to leave a project even if only for a couple of hours and then come back to it, doing that allows me to get a fresh perspective and not get so immersed in the process that I feel like I've lost the end point.
5. Who and/or what inspires your work?
Since I started doing embroidery and created my Instagram account I have discovered a whole world of really talented and creative artists that I never knew existed. I love following fine artists, florists, designers, illustrators and other embroidery artists and seeing all the different techniques and skills they use. In a more traditional sense I grew up loving the work of Georgia O'Keefe and the natural, organic feeling of her paintings but I have also always loved the Rothko Room at the Tate modern. I think the fact that grew up in the countryside and my love for being outdoors, accounts for the natural aesthetic of my work. Another thing that helps to keep my work fresh and exciting is the process of my commissioned work and the challenges set for my by the people who ask me to help make the ideas they have a reality. Working alongside other people always helps to give you an extra perspective.
6. What role does art play in your life? How does it change the way you view the world?
Art has always been a natural form of expression for me; I feel like a lot of the time it gives me the ability to process what I'm thinking and feeling – more than words probably. This doesn't necessarily translate itself into the final pieces that I make but the journey from start to finish of a project always helps me learn something new about the way I work and think. I think the fact that you are always observing and subconsciously storing ideas and images, which you may use later, it makes you alive to the world around you and liable to spot things other people may walk past. Art has a wonderful way of bringing people out of their shell and some of the most unassuming people can create the most amazing things. I love that it allows you to connect with people on a much more personal basis when you both have a shared interest.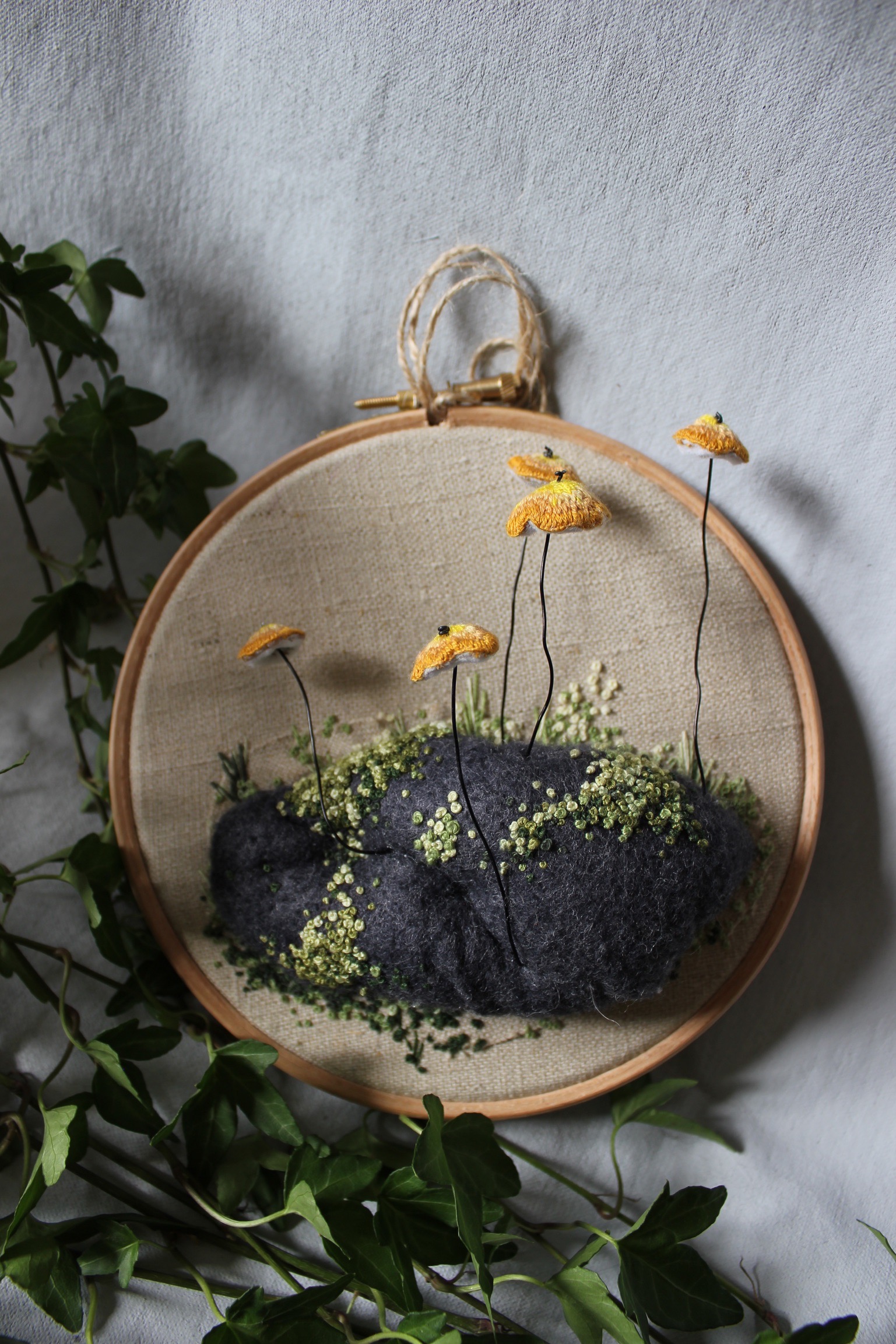 7. Where did you study?
I did an Art Foundation and Brighton City College, where my tutor guided me towards 3D work. I had been very lucky at school because I had access to printmaking, etching, glasswork and ceramics as well as drawing and painting. Inspired by a tutor I discovered 3D and went on to study Performance Design at Leeds University.
8. Where do you see yourself in five years?
I think I love doing my own thing too much to ever work for an agency and I like being able to work in such a variety of areas and materials – floristry, 3D set design and, of course, embroidery art. I always remind myself how lucky I am to be able to do what I enjoy. Ultimately, I would like bring all my creative worlds together under one roof, expanding LemonPepperStudio to cover a broader range of ventures and products but in the end, I would just like to keep creating works of art that make people happy!
9. What about in ten?
I'm not sure I've even thought that far ahead! I am a maker and I am happiest when I am creating so I just hope that's what I'll be doing - and maybe even have my own little shop.
10. What do you hope to achieve with your art?
Since I started LemonPepperStudio I have realised how much of a resurgence there is of people wanting handmade products and I love it! I hope I can become a part of bringing back the authentic individuality in design and moving away from mass-produced products or at least reminding people of the skills and time that often go into making things. There's something pretty special about owning something that was created just for you.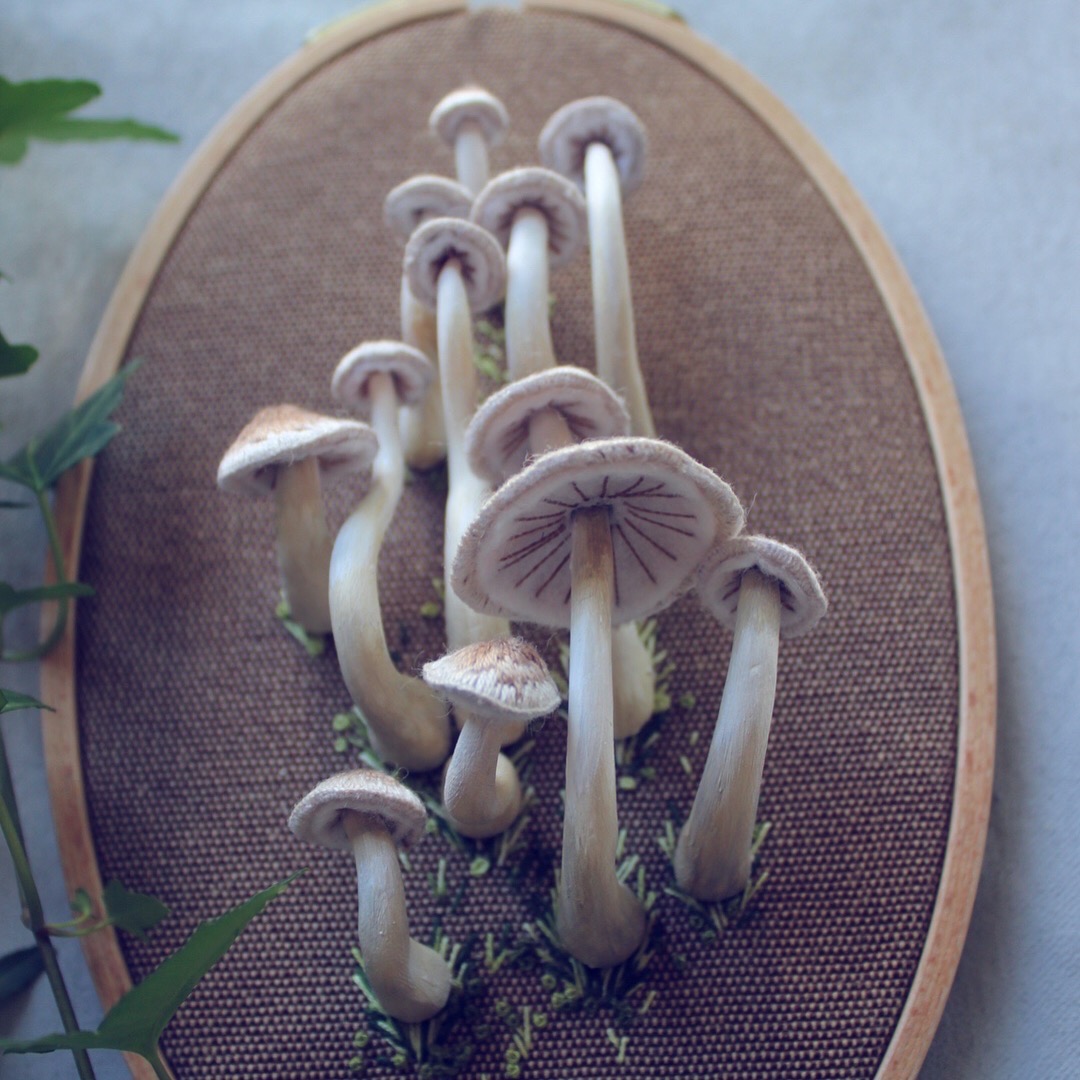 11. Now, tell us a little more about you as a person: what is your favourite food?
I really enjoy cooking and on the farm in California we ate fantastic organic food, straight from Farm to Table, which was such an eye opening and brilliant process. My favourite food has to be Peanut Butter and Jam Sandwiches from when I was younger though.
12. Favourite book?
I love My Family and Other Animals by Gerald Durrell because it reminds me of my own family, particularly my grandparents who lived with a West African Wood Owl. A book that has stayed with me since I first read it is Atonement by Ian McEwan, also any Bill Bryson book because I love his sense of humour and turn of phrase. I know that's not one but I couldn't choose!
13. Favourite genre of music?
Pretty much anything, it just depends what mood I'm in at the time! My library is full of music my dad has introduced me to from the 70s and 80s as well as stuff from my generation, classical, jazz, country and modern. Peter Green, Buddy Guy and Tracy Chapman are some of my favourites.
14. What are your hobbies?
I'm lucky that my job is my hobby but I love being outdoors and hiking. I also play the piano and flute and I would love to keep chickens and bees one day.
15. If you weren't an artist, what would you be?
Probably a farmer, either of free range chickens or flowers.