Instagram:
@leoniebosss
Twitter:
@BosLeonie
Facebook:
www.facebook.com/leonieboss
Behance:
www.behance.net/leoniebos
1. What's your story? Where are you from?
I grew up on the countryside of the Netherlands. I studied fine arts, after graduation I moved to Amsterdam to become 'An Artist'. Things looked promising, I had the required poverty, lived in a squat, dated a musician. But then I got pregnant and had to review my plans. The following 5 years I earned my money as a web designer, magazine designer and Art Director before switching to full-time illustrating.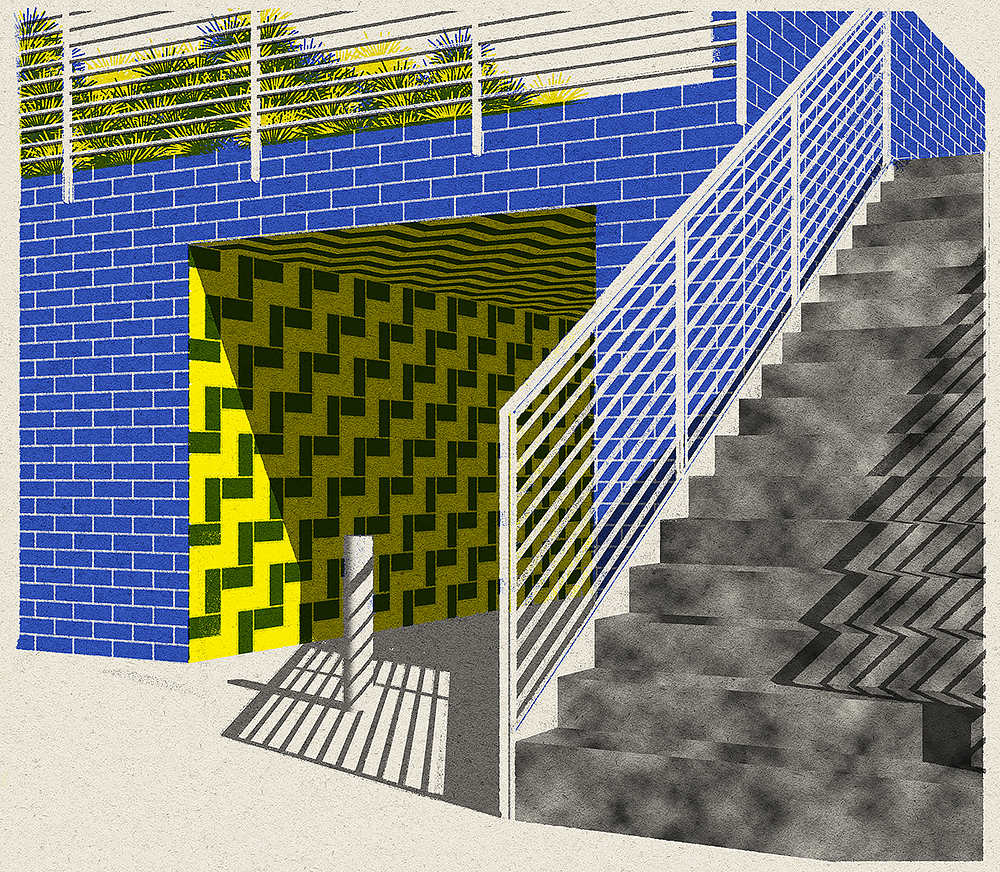 2. Tell us about your aesthetic.
I like to approach my subjects from a constructive angle. I literally build up my images. Stacking layers of colors, structures and patterns. Although my work has become fully digital by now, I think my method is still quite similar to traditional painting with its assembly of corrections. Leaving these repairs partially visible is a characteristic aspect of my work. Since I also have a compulsive need for accuracy, working on a computer suits me really well :)
3. What is your favourite medium and why?
Not so much a medium, but a program; SketchUp. It's pretty accessible 3d modelling software I recently started using to construct the base of my drawings. It offers a lot of possibilities. For instance it allows me to view a setting from different angles. But I want to use it as little as possible, I have no ambition to become an architect. And I don't want my work to look like architectural renderings neither. It just has to serve me to produce the best perspective or the most dramatic shading.
4. What is your artistic process like?
After I've prepared the understructure I proceed in Photoshop and Illustrator. I start to determine the focus of attention. I like to leave this part untouched, using color exclusively for the surrounding elements. My best illustrations, I feel, are the ones where the negative areas contribute to the composition. But it doesn't always work out. It's not a flawless formula, it's a good kickoff though. Then I decide on what colors to use, keeping them to a minimum. Often the condition is they have to be able to blend, creating additional colors. So if I want the image to contain green, there has to be a transparent layer of blue over a layer of yellow. It's like screenprinting or mixing paint.
5. Who and/or what inspires your work?
Amsterdam, basically. We're actually sort of considering moving somewhere to the countryside, but I just don't see myself painting meadows or sunsets, yet. I still get really inspired observing this city. Just to see the solutions people come up with, the stuff they throw out on the street, the ways they try to distinguish themselves. It can get exhausting sometimes, but it's never boring.
6. What role does art play in your life? How does it change the way you view the world?
Because of my art I always experience my surroundings as a motive. It's easy to get over-stimulated, but I can't shut it off, especially when living in a big city.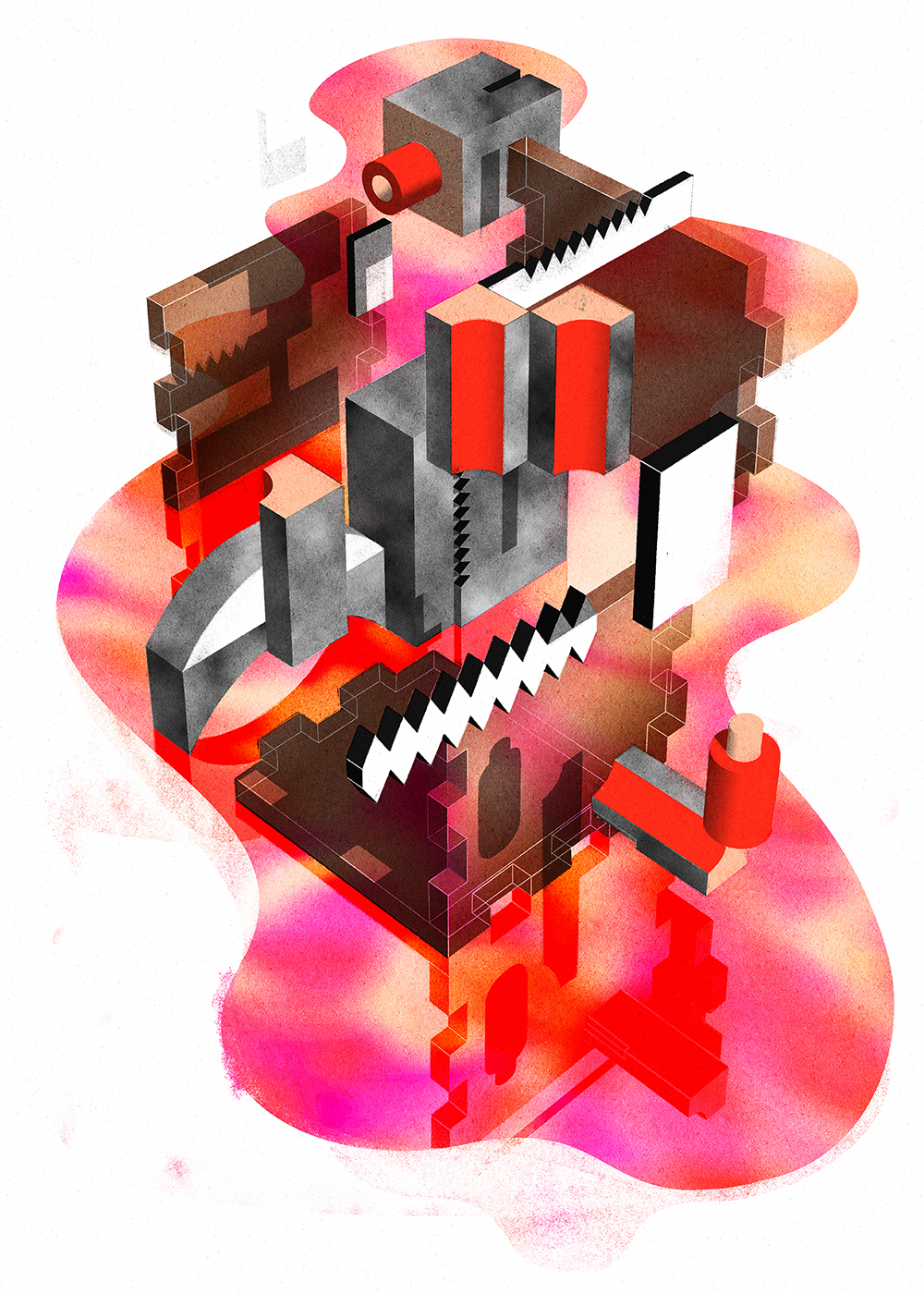 7. Where did you study?
I studied fine arts in Maastricht, in the south of the Netherlands. At my graduation I showed large paintings, small objects and a 25m2 wall pierced with hundreds of plastic french-fries-forks. Not one drawing though :)
8. Where do you see yourself in five years?
Cleaning up after my teenage son.
9. What about in ten?
Living in an old house in Burgundy. I will eat 'baguettes de tradition' every day and my handsome man will be wearing the same tracksuit all day. We'll have a vegetable garden, goats and two messy, sunlit studios. We will take turns in being the most successful artists of our time.
10. What do you hope to achieve with your art?
I never started out expecting to achieve anything else but fulfilling the need to draw. It's been like that from the moment I was physically able to hold on to a pencil. The fact that I'm able to provide for my family and even buy my own house is mindblowing to me still. But honestly, I am really ambitious and have been working my ass off from the day I started. Now that I'm becoming mildly successful, I feel challenged and super excited to see if I can reach the next level.
11. Now, tell us a little more about you as a person: what is your favourite food?
Mushroom lasagne with Gorgonzola sauce.
12. Favourite book?
Legend of a Suicide by David Vann.
13. Favourite genre of music?
I listen to all kinds of music, from. It just depends on my mood. As long as no one yells 'funky' in a song.
14. What are your hobbies?
Drawing, eating, listening to crime podcasts, spying on my son.
15. If you weren't an artist, what would you be?
A food critic.