Instagram: @leonore.renahy
Facebook: www.leonorerenahy.com
1. What's your story? Where are you from?
My name Léonore was given by my mother. She was inspired by the artist Leonor Fini. I'm a Cancer person, it means that I'm really sweet but don't annoy me or I will absolutely cry (a lot ahah). I'm currently an illustrator/graphist design living with my boyfriend, my newborn son and my cat Newton in Chantilly (like the creme). So my goal is to manage my life to find a good rhythm between work and family!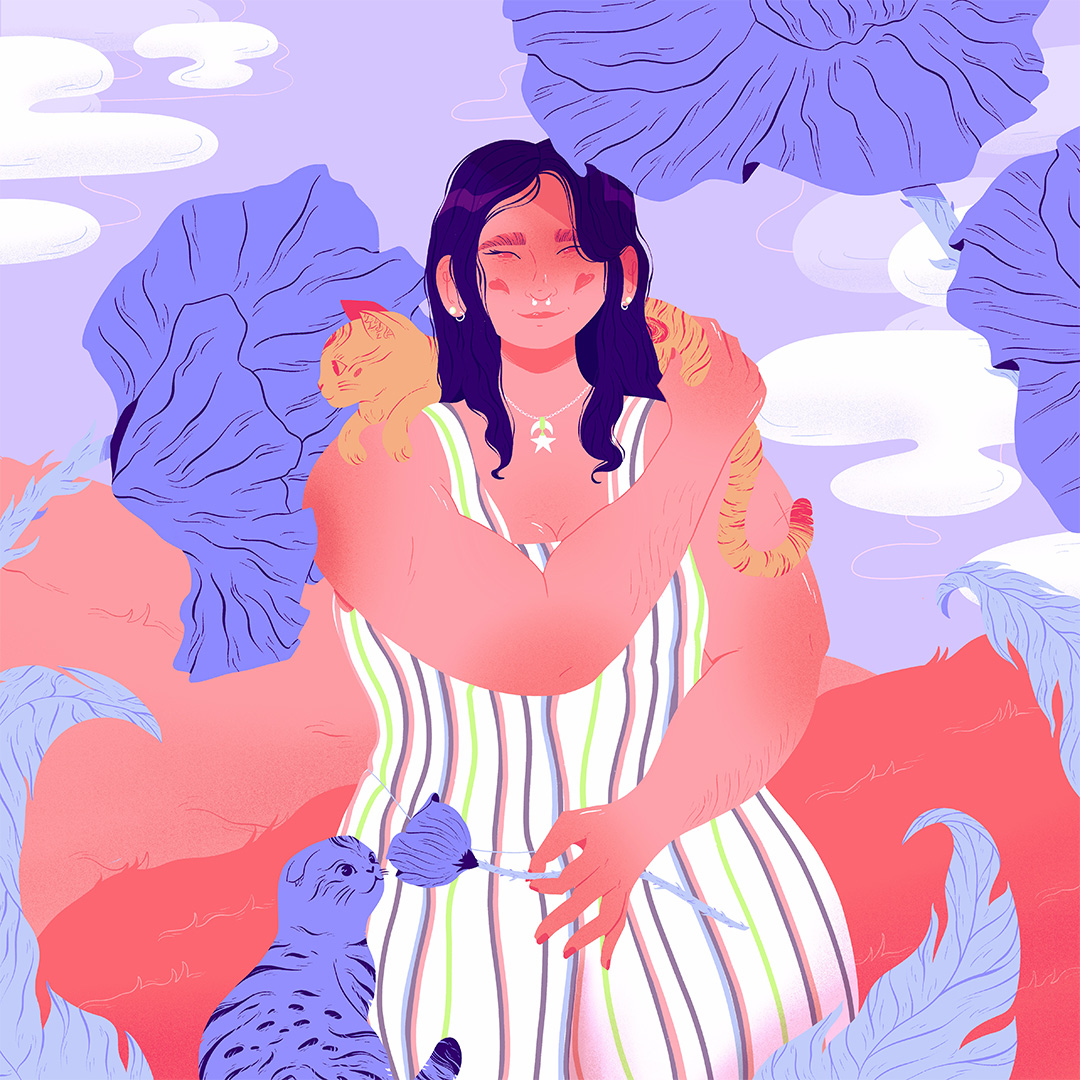 2. Tell us about your aesthetic.
Women and cats! In blue and pink tones usually. I try to convey sweetness and serenity in my illustrations. I love love and sorority. I can't see myself living without love.
3. What is your favourite medium and why?
For now, it's Procreate on my iPad! It's the easiest and fastest way for me to illustrate. The app is always updated thanks to that, I managed to make up with 2D animation.When I'm not drawing with my tablet, I often doodle in my sketchbook with a blue pen. I also love to draw instinctively with china ink and a pen. And I'm discovering gouache since a few months.

4. What is your artistic process like?
I don't think I have one. Inspiration can struck me in the middle of the night, which causes me insomnia. I force myself to sleep, but I will most of the time, I think about it until morning.I do a lot of small sketches for my ideas, but I often end up with the first idea and finish my illustration within the day. 50% I draw 50% I watch my work back and forth thinking "Is it really good enough?".
5. Who and/or what inspires your work?
I am mostly inspired by comic books. Recently, L'Âge d'Or of Cyril Pedrosa and Roxanne Moreil took a big place in my heart. I admire a lot of other authors such as Manon Spénale, Timothée Le Boucher, Mirion Malle, etc. But my favorite illustrator stays James Jean!

Top 3 Internet Artists: Samantha Mash, Sarah Kipin and Faith Schaffer.
6. What role does art play in your life? How does it change the way you view the world?
It's my job and my passion. We are surrounded by art. It seems impossible to live without it or ignore it. I'm convinced that art is mainly what make us grow and feel strong emotions. We can see ourselves in various characters while watching a movie, reading a book or playing a video game. It might help us understand some aspects of the life.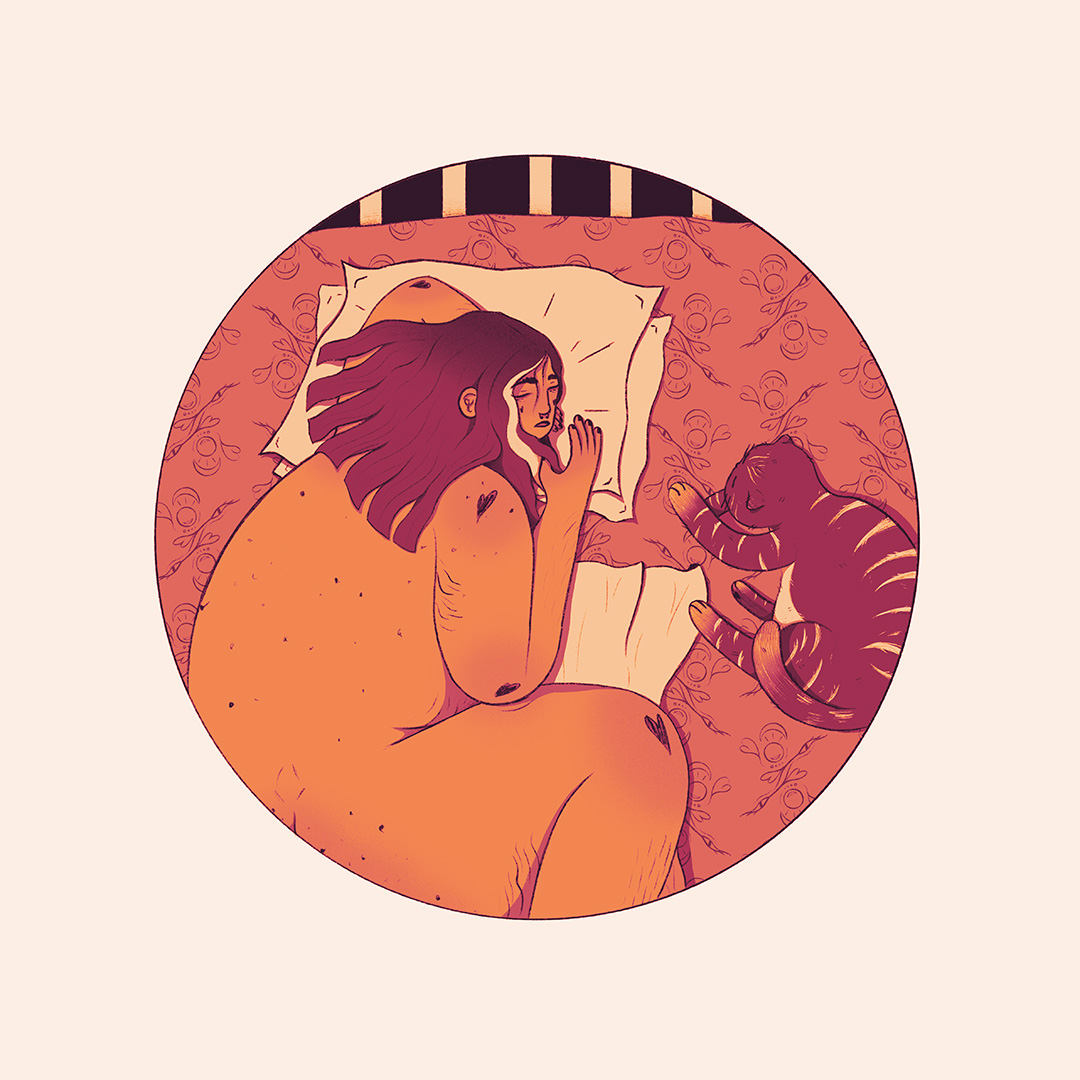 7. Where did you study?
I studied in the Paris area for approximately 6 years. I began by 1 preparatory year in drawing at l'Institut de l'Image et du Son (3iS) and I carried on for 3 years in the same school. I learned about animation and specialized myself in 3D. Then, I changed a bit and went for graphic design at l'École de Communication Visuelle (ECV). I spent 2 amazing years there.
8. Where do you see yourself in five years?
It might sound simple-minded, but I wish to work fully at home with my little family. By then, I would have done ceramic stages in order to expand by business online. People will be able to find unique handmade creations and reproduction of my illustrations on format like paper, stickers, etc.

In the meantime, I also do hope I'll finish my 72 tarot deck! Watch out for the project, maybe you'll see me struggling on Kickstarter soon!
9. What about in ten?
Still as a freelance! In a house this time, with my own office and a big library. Hopefully, I'll manage to launch the collectif zine I'm thinking about and also my comic book. I also wish to illustrate books and mags.
10. What do you hope to achieve with your art?
I'd like people looking at my work to identify themselves with what I'm conveying in my illustrations. Feel the same way as I feel when I draw. But I also want to let them the possibility to read my piece the way they wish, since I think my drawings are kinda opened.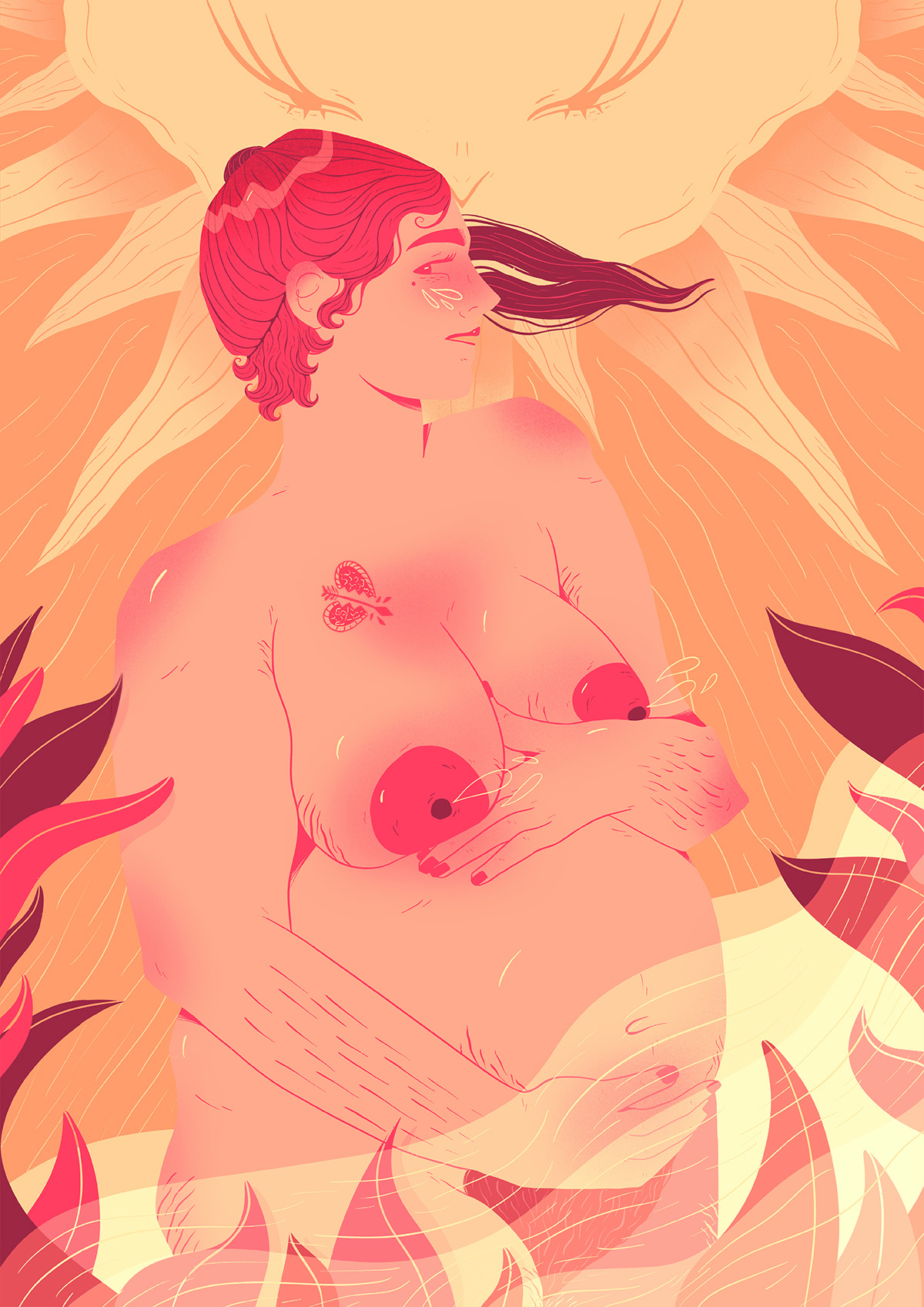 11. Now, tell us a little more about you as a person: what is your favourite food?
Potatoes… Without hesitation. Well except in puree. I could eat potatoes at every meal. But my Proust's Madeleine is my mother's vietnamese ribs along with white rice.
12. Favourite book?
Hard question, choosing one seems impossible. I love thrillers and fantasy. But there is indeed one book I could read again and again: "And Then There Were None" of Agatha Christie.
13. Favourite genre of music?
OST from video games! For example, Kingdom Hearts, Zelda, Supergiant Games' songs, etc.
14. What are your hobbies?
Once again, I'll talk about video games. It's a very growing field that I know since my childhood. It goes so fast, there is so much variety, I can't play every game I have noticed these last years.
15. If you weren't an artist, what would you be?
I wish I were Clarice Sterling from Hannibal. I love investigations and to find out what's in people's mind. I also thought about working in forensics but I was not ready for long studies when I graduated from high school.