Instagram:
@liebana_illustration
Facebook:
www.facebook.com/LiebanaGoniIllustration
Web:
www.liebanaillustration.com
1. What's your story? Where are you from?
I was born in 1986, in a small city called Pamplona. I had a happy childhood and a somewhat complicated adolescence (who doesn't?) When I finished high school, I wanted to study Advertising and Public Relations, but finally, my intuition led me to choose Fine Arts, and I think I got it right. Sometimes I love my intuition, it never fails! I've been immersed in illustration for several years and I'm not going to stop. I like to finish what I start ;-)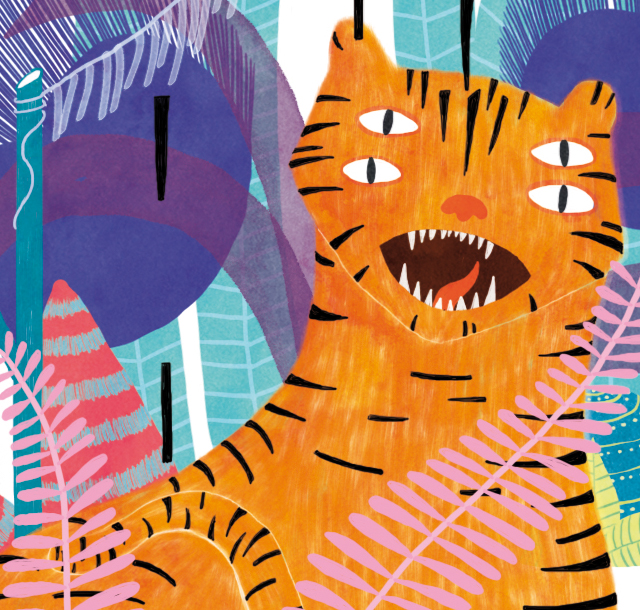 2. Tell us about your aesthetic.
Although my illustrations are better known for illustrated children's books, I have a very extensive record. I am used to create simple line illustrations, mostly figurative. I like to give the power of several stories in a single image. Apparently, my creations are essentially beautiful, but beyond what you see, they always hide darker and deeper messages.Right now I'm in a very colorful phase, but I love drawing in black and white. I start to build my illustrations using regular elements, my 'fetish elements', such as boxes, plants, hands, houses... And then I combine them with everyday situations mixed with magical, fantastic and energetic elements.
3. What is your favourite medium and why?
I use digital drawing out of necessity. When I finished the university, I didn't have a place to work with paintings. This lack of space, in which being able to stain and to leave the materials: like brushes or cans of paintings... Forced me to focus on digital design. So until now, I started with a graphic tablet that someone lent me. I always give my personal touch to this tool, like creating brushes by myself and giving them different textures which help me to create organic feeling. I don't know if it's my favourite technique, but now is the one I most enjoy. I admire friends who create their works with more than one technique, that let them keep it fresh and develope more what they learnt.
4. What is your artistic process like?
Before acquiring more practice I used to start with sketches in a notebook, now I start directly in the computer. I try to take care of the composition a lot, so I take note previously. Most of the time I don't care about those notes because I let myself going during the process. I like to surprise myself and that the creation itself surprises me too. What I have clear is what I want to express, but I never know how it will emerge.
5. Who and/or what inspires your work?
I would say... Everything! From a song, to a little gesture of someone close, a photograph, a sentence on the wall, a conversation with friends... I like to soak up and being informed of the projects of my colleagues and also what's going on in the different artistic disciplines. In the end, everything counts!
6. What role does art play in your life? How does it change the way you view the world?
For me it's essential, as a therapy. Without art, I think it would be a gray person. Art is like looking at life with the eyes of a child. For me it's the living proof that there is something beyond the established. Unfortunately, how society, art and culture are not within our priorities. And I think it would be vital to change this and create an authentic, critical and self-sufficient society.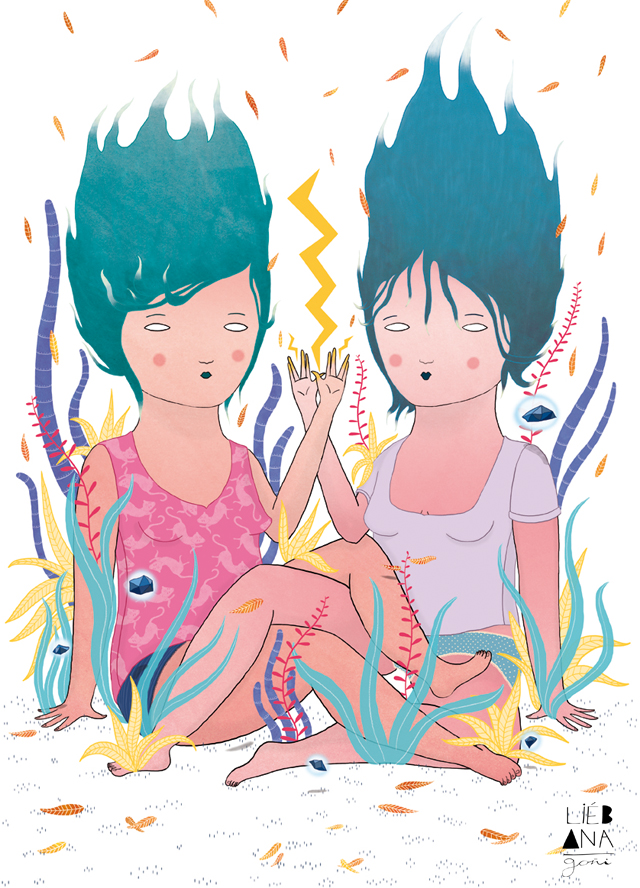 7. Where did you study?
When I finished high school, I went to study Fine Arts to the University of the Basque Country (UPV-EHU Bilbao). They were incredible years... After graduating, I returned to Pamplona and I got specialized in Graphic Design. In the meantime, I had several work experiences related to graphic design and animation. With the idea of embracing everything I learnt, I did the Postgraduate in Art Direction in Interactive Advertising by the Polytechnic University of Catalonia. All this, gave me a very important basis, but all I learnt about illustration was by myself, sharing knowledge with colleagues and having eyes wide open.
8. Where do you see yourself in five years? Working in an agency?
Well, it's an option. To tell the truth, I've never considered myself working in an agency, I think I still have a long way to go. Of course I would like to work as a full-time illustrator. For me it would be a dream come truth! But for now I prefer to go slowly. Projects are to come, and I have to strengthen myself little by little. I want to climb the mountain, but enjoying the scenery, not climbing the mountain just to reach the summit.
9. What about in ten?
Wow! I can't predict my future in such a long term. The truth is, that I try to live day by day. We will see... And if there're many changes I will keep you informed :-)
10. What do you hope to achieve with your art?
I always try to generate feelings or recover some memory... Maybe it's too much to ask? I don't know! I admit that first, my work has to like me and If I lived very conscious of the other's opinions my creative process would be harmed.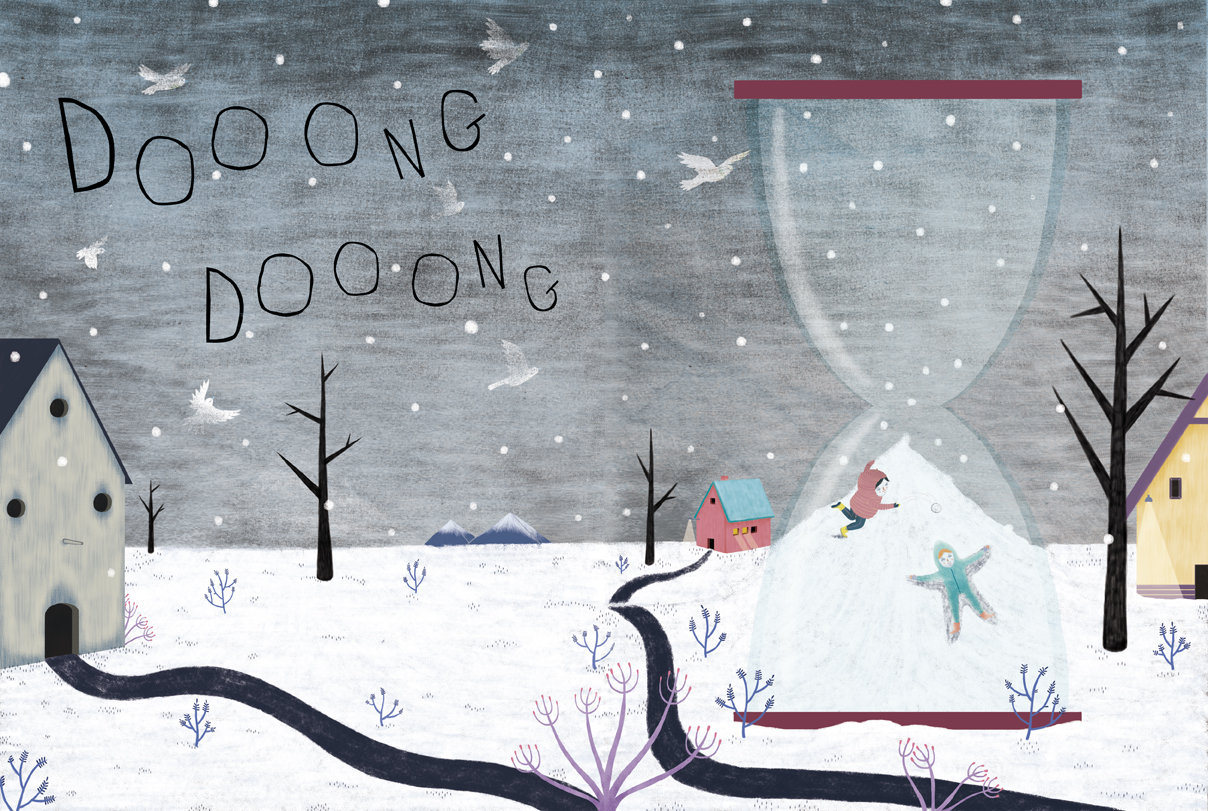 11. Now, tell us a little more about you as a person: what is your favourite food?
Difficult answer! It's like if I had to choose who I love the most, Dad or Mom? The truth is that I like eating everything, since I was young. I like to try all kind of food, although I have to admit that the local food in my region is the top!
12. Favourite book?
To be honest, I don't have a favorite book. I can say one of the last I read is 'El curioso incidente del perro a medianoche'. I really love 'Fantasmas', edited by 'El verano del cohete', It's super cool! Lately I'm hooked on self-editing. One of the last titles I have re-read is 'Mi vida sin ti', written and illustrated by Miju Lee and edited by 'Belleza infinita'.
13. Favourite genre of music?
I am a crazy music lover and it always depends on the moment I'm living. I'm not huge fan of any particular genre. But when I'm drawing I always have background music. It helps me concentrate and is often a source of inspiration. Drawing without music would be strange... Because it's actually my only company! Particularly since many artists create in absolute solitude. Thats the price that has to be paid! (hahaha)
14. What are your hobbies?
I would love to say that my hobbies are windsurfing, paragliding, diving... But further than that, I like dancing, traveling, enjoying a good dinner with my loved ones, going to concerts... I don't know, It's pretty simple. I guess I thought my life was more interesting (hahaha) but the thruth is, all that makes me really happy.
15. If you weren't an artist, what would you be?
I don't know! Well that's difficult to say... But to say something, I could be publicist or primary school teacher. And if I were clever in maths and physics, I would have loved to be astrophysics or meteorologist. Also maybe tornado hunter, but I would go in the last car of the convoy, not in front line. Although I'm a huge passionate about tornadoes, I feel a deep respect for their destruction capacity.