Instagram:
@linneaandast
1. What's your story? Where are you from?
I'm Linnéa, an illustrator and print designer based in Gothenburg, Sweden. Originally from a small summer town surrounded by fields and great shores. I grew up in a big nuclear family, with seven siblings of all sorts, with me somewhere in the lower middle. Already as a kid I got fascinated by colors, and I had my favorite combinations of crayons neatly organized in their box. I was one of those kids who'd rather spend my time indoors drawing, than outdoors climbing a tree.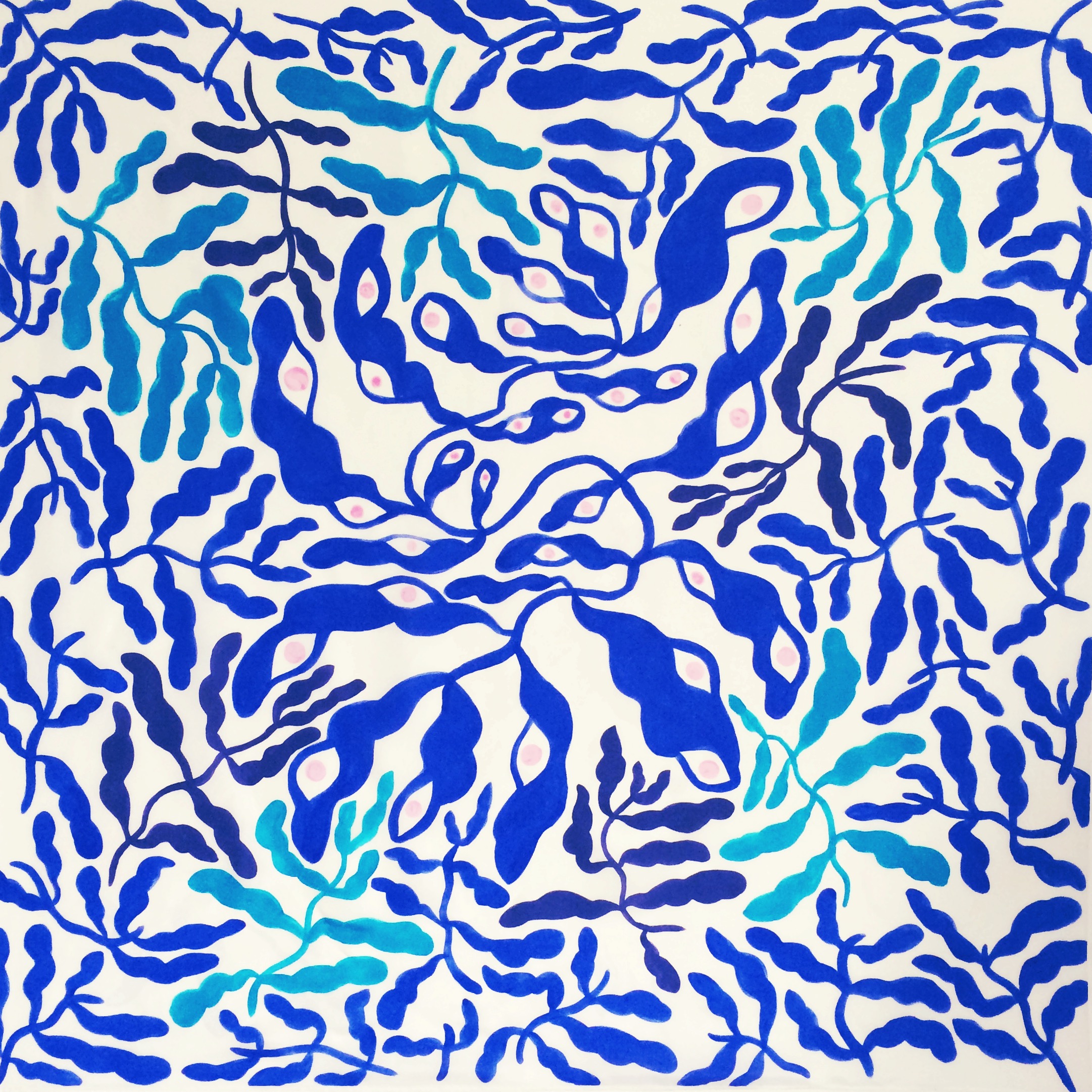 2. Tell us about your aesthetic.
Rich color combinations shaped organically either as leaves, fruits or blobs. For me personally it's important to try to communicate feelings through shapes and lines without using words and face expressions. My paintings is more or less my diary, trying to communicate what I've been through.
3. What is your favourite medium and why?
Right now I'm mostly using gouache. With the gouache I'm enchanted with the feeling of the brush to the paper, but also that the colors have this matte look that I'm so fascinated by. Before that I have a long history with using silk screen on textiles, but right now I dont have the space for that, working from my small studio. Reactive color on silk fabric is something that I will continue with in the near future, the depth of the colors is just…so amazing.
4. What is your artistic process like?
I rarely sketch. I have a thought, or an experiment, that I want to try and I just start. It could be a shape or a bend that I want to try, or a color combination. I put on one of my favorite records (lately it have been a lot of Kate Bush and early Depeche Mode), start painting and then I continue until the paper is filled. No rest, no break, only full attention. Maybe some sing-along with the music.
5. Who and/or what inspires your work?
I can get really inspired by weird things I find in the street. It could be a ugly sign for a hairdresser, a smashing color combination of a graffiti tag, a painted house or just a blooming tree in a concrete neighborhood. Small things in the city that not everyone notices if they are not watching. Talking about other artists I'm really inspired by Hilma af Klint, Matisse, Josef Frank and Tove Jansson. All of them are simple but having such a personality when it comes to colors.
6. What role does art play in your life? How does it change the way you view the world?
Art is everything for me, and everything is art. I look at everything really close, never missing a detail. It brings me a feeling calm, I can't really describe it. Nothing makes me as happy as a unexpected, good color combination. I collect them!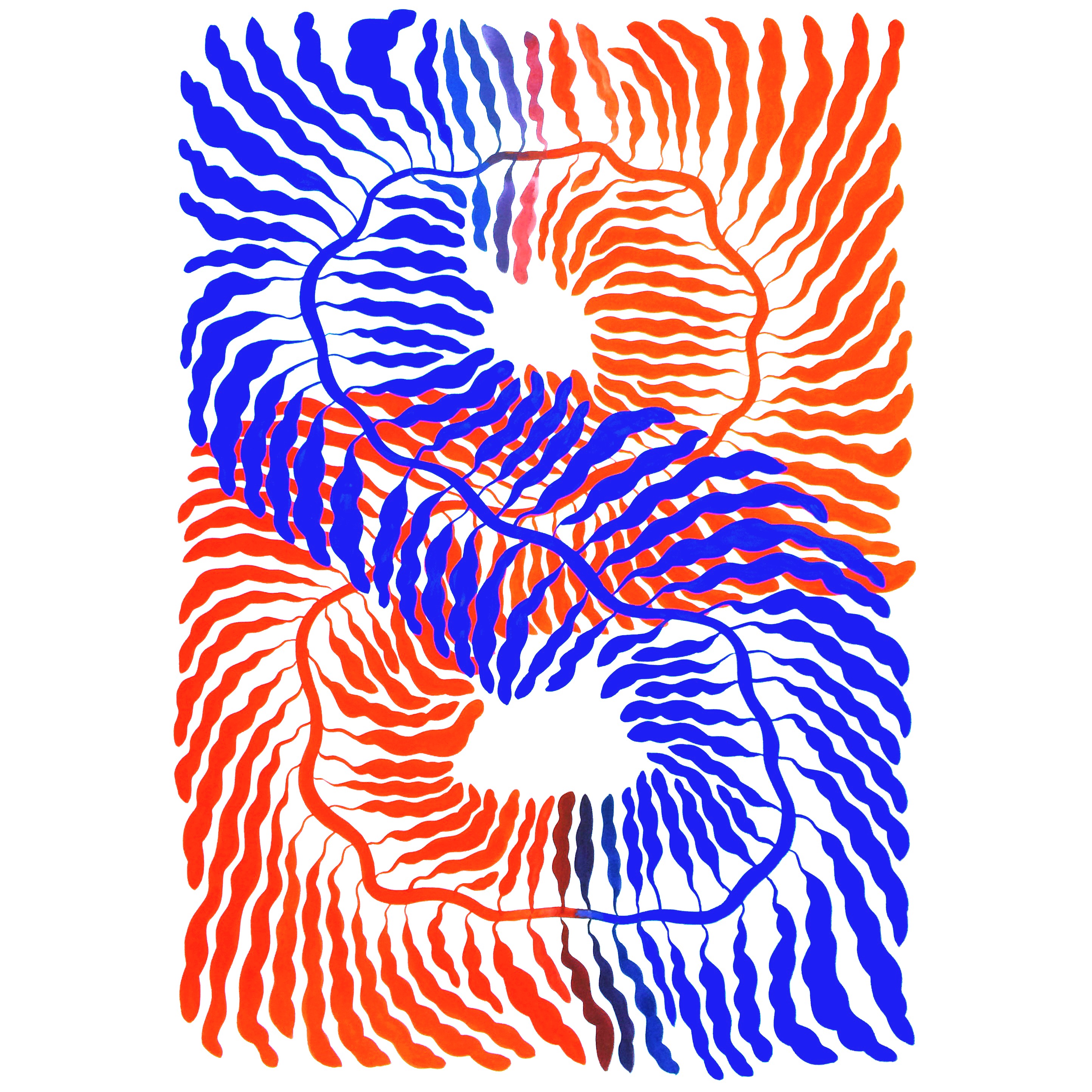 7. Where did you study?
I took my bachelor degree at the University of Crafts and Design in Gothenburg, Sweden. Before that I was taking courses in textile, art and design on a pre-university level.
8. Where do you see yourself in five years?
In five years I'm working as an illustrator full time, having a nice studio with some friends, drinking too much coffee and having a vacation once in awhile.
9. What about in ten?
Still hanging out with my friends in the studio, working, drinking coffee. Maybe we have got ourselves some interns!
10. What do you hope to achieve with your art?
I hope that I could make people feel something. Personally my worst feeling is feeling blend. I want to make people giving their attention to the small details, the things that for me is the most important.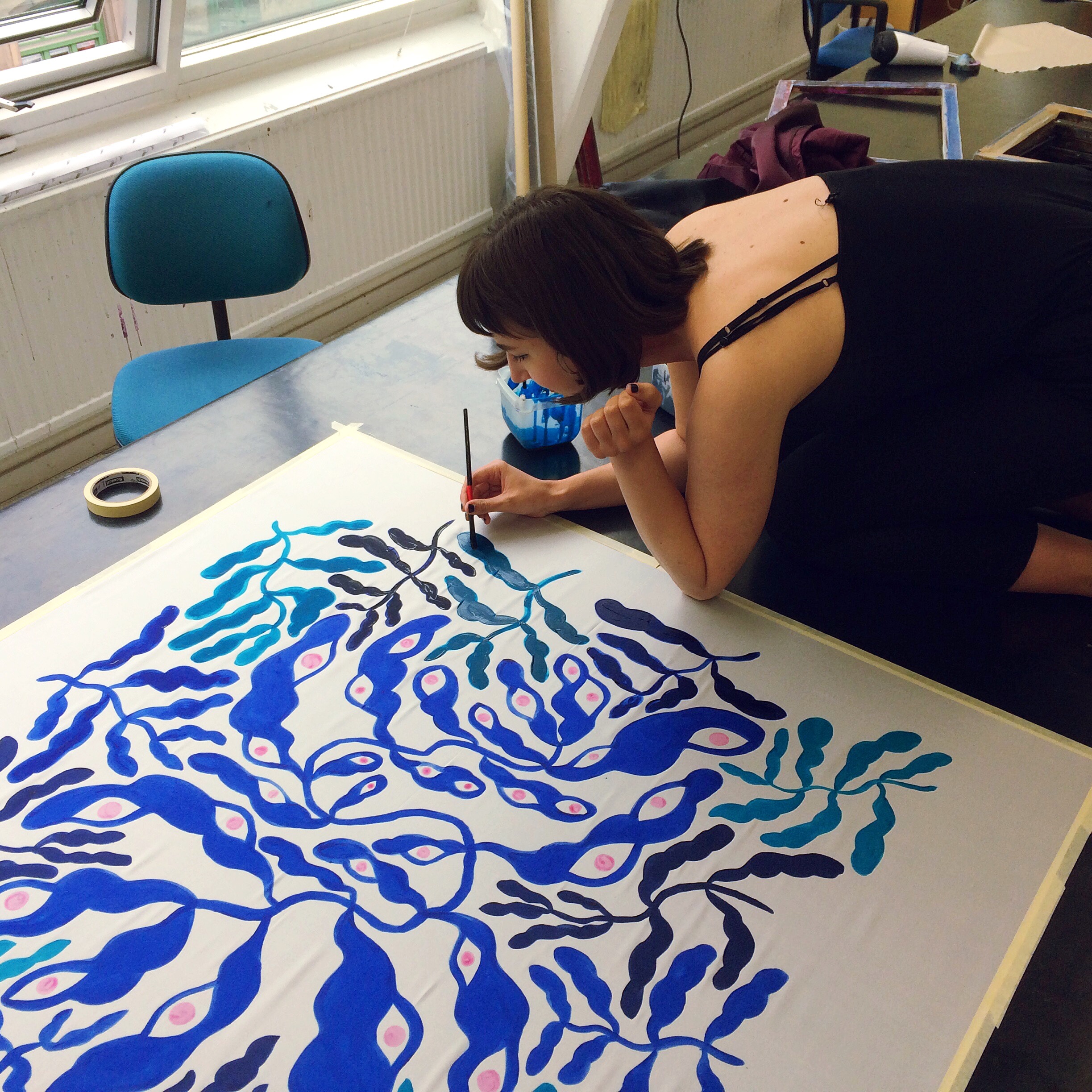 11. Now, tell us a little more about you as a person: what is your favourite food?
I'm a vegetarian since 10 years, and I like simple food. Fresh baked bread is one of my favorite things on earth. Or some pasta with parmesan. Or just a pizza. I love carbs. I often say I'm not that picky, but I really am since I make a lot of food myself. I love cooking! I love eating out!
12. Favourite book?
To be honest, I've never been a great reader. I'd rather look at pictures. Often I just buy books for their covers, but I rarely finish reading them.
13. Favourite genre of music?
Mostly indie, electronica and 80's-music. Like Tennis, The Smiths, Siouxsie and the Banshees, Kate Bush, Cocteau Twins, (early) Depeche Mode, Kraftwerk, DAF and much more. Either it has to be old or just sound old. Important is that I could dance or sing a long! I'm always listening to something when I'm painting. It helps me concentrate a lot.
14. What are your hobbies?
If there is any time left after school, day job and painting I just like hanging out with my friends, eating good food, watching series (Game of thrones right now!), drinking, dancing and just having a good time.
15. If you weren't an artist, what would you be?
I wish I had a talent for programming, it seems like so much fun! Everything is nice, neat and in order. That's something I already are trying to learn, but it's a slow progress. Still trying though!