Instagram:
@liriosbou
Facebook:
www.facebook.com/liriosbou
Website:
www.liriosbou.com
1. What's your story? Where are you from?
I was born in Alcoi (Spain) in 1988 but I live in Valencia since 2009. I studied Illustration, a Fine Arts degree and also a master's degree in Teacher Training. During this 9 years of studies I combined University, part-time jobs and illustration commissions (and I survived!). I think I could say I'm "truly" working as a professional illustrator from 4 years ago, although this is the first one I'm living just from my drawings. Between projects and commissions I also do illustration workshops for children and I write stories that (sometimes) become picture books. 
Probably you'lI be happy to read that I've been drawing since I was a child, I always wanted to be an illustrator and I cannot imagine myself doing anything else... but no, not at all. 
Unlike many of my colleagues, I was never 100% sure that I wanted to become a professional of illustration. Of course I liked art, drawing, everything related to creativity, but the truth is that I considered many other options: journalism, advertising, teaching, writing... At the age of 18, when I had to choose "the way", art won and I'm really happy with that, but I cannot deny that there are some days in which I regret (a little bit) that decision. It's a long and hard way, there are days of insecurity, disappointment... but it's also true that when you receive your published work, when you read a good review or you see people (in my case, specially kids) enjoying your illustrations, I have a satisfaction that I cannot feel with any other thing. 1.¿Cuál es tu historia? ¿De dónde eres? Nací en Alcoy (España) en 1988 pero vivo en Valencia desde 2009. Estudié Ilustración, la licenciatura en Bellas Artes y un máster en Formación de Profesorado. Durante estos 9 años de estudios, combiné la universidad, los trabajos a tiempo parcial y los encargos de ilustración (y sobreviví!). Creo que podría decir que realmente trabajo como ilustradora profesional desde hace 4 años, aunque este es el primero en el que estoy viviendo únicamente de mis dibujos. Entre proyectos y encargos, también hago talleres de ilustración para niños y escribo historias que (a veces) se convierten en álbumes ilustrados. Probablemente os gustaría leer que he estado dibujando desde que era una niña, que siempre he querido ser ilustradora y que no me imagino haciendo ninguna otra cosa... pero no, para nada. Al contrario que muchos de mis compañeros, nunca estuve 100% segura de querer convertirme en una profesional de la ilustración. Por supuesto me gustaba el arte, dibujar, todo lo relacionado con la creatividad, pero lo cierto es que barajé muchas otras opciones: periodismo, publicidad, docencia, literatura...
A los 18 años, cuando tuve que escoger "el camino", gano el arte y estoy muy contenta por ello, pero no puedo negar que hay días en los que me arrepiento (un poquito) de esa decisión. Es un camino largo y duro, hay días de inseguridad, de decepciones... pero también es verdad que cuando recibes tu trabajo publicado, cuando lees una buena crítica o cuando ves a la gente (en mi caso, especialmente niños) disfrutando con tus ilustraciones, siento una satisfacción que no consigo alcanzar con ninguna otra cosa.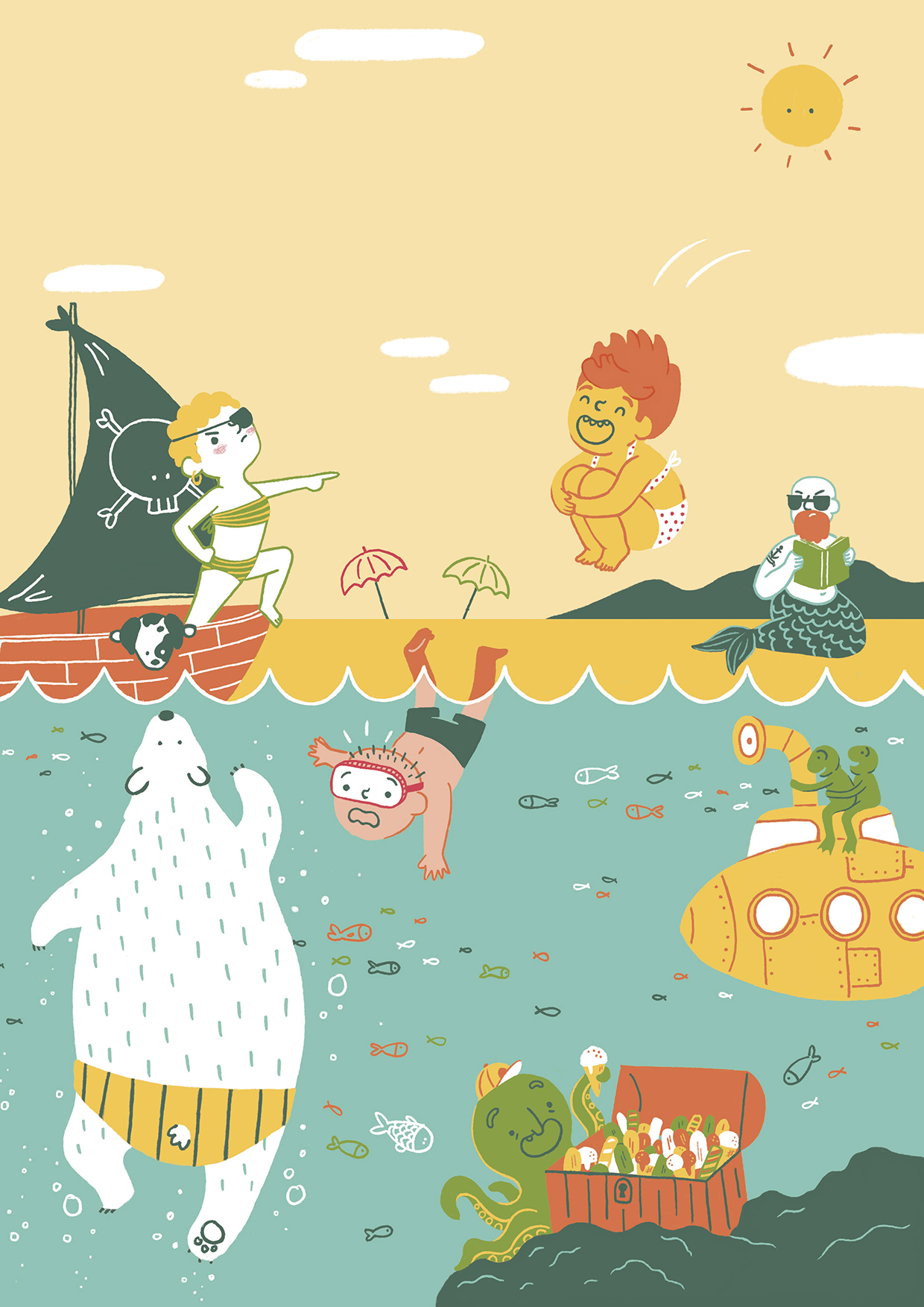 2. Tell us about your aesthetic.
I use to work for children and I always try to give them funny and colourful images. I use plain colours, rounded shapes and simple compositions. I think keeping me away of complicated perspectives, textures or more realistic anatomy, lets me play freely and have more fun. And I'm sure if I have fun drawing, kids will also enjoy the illustration. 2.Háblanos de tu estética Suelo trabajar para niños y siempre intento ofrecerles imágenes divertidas y llenas de color. Utilizo colores planos, formas redondeadas y composiciones sencillas. Creo que mantenerme alejada de perspectivas complicadas, texturas o anatomías más realistas, me permite jugar libremente y divertirme más. Y estoy segura de que si yo me divierto dibujando, los niños también disfrutarán con la ilustración.
3. What is your favourite medium and why?
I use to work with Photoshop when I'm working on my commissions, but when I draw just for fun, I really enjoy all kinds of pens and markers (I specially love Posca). I like digital colour because it gives you the chance of trying many options very quickly and, the best thing, lets you fail. I think that's specially important because without the pressure of mistakes, I work much more relaxed and that's always reflected in the result. Of course, drawing in a sketchbook with pens and markers have that magic of spontaneity, let you draw everywhere, improvise, and laugh with the ugly sketches :P 3.¿Cuál es tu medio favorito y por qué? Suelo trabajar con Photoshop cuando trabajo en mis encargos, pero cuando dibujo simplemente por diversión me lo paso genial con todo tipo de bolis y rotuladores (los Posca me gustan especialmente). Me gusta el color digital porque te da la oportunidad de probar muchas opciones de una forma muy rápida y, lo mejor de todo, te permite cometer errores. Creo que esto es especialmente importante porque sin la presión de no poder equivocarme, trabajo mucho más relajada y eso siempre se refleja en el resultado. Por supuesto, dibujar en un cuaderno con rotuladores tiene esa magia de la espontaneidad, te permite dibujar en cualquier sitio, improvisar, y reirte de los dibujos feos :P
4. What is your artistic process like?
It depends a little bit on the project. When I work on textbooks or educational material, I like to print the layout and sketch directly over the pages. Usually I have very specific spaces to draw in and that way I can make the illustration fit perfectly from the beginning. Then I ink the line by hand with a light box, I scan it and start working on the colour. I use to work with limited palettes that I prepare previously mixing layers in Photoshop and playing with opacity. When I'm happy with the tones, I start colouring.
When I illustrate children's book or my own projects, I work more freely. Sometimes I start designing the characters, sometimes I start thinking of the colour or the composition, playing with the text... depends on what inspires me. 4.¿Cómo es tu proceso creativo? Depende un poco del proyecto. Cuando trabajo en libros de texto o materiales educativos, me gusta imprimirme la maqueta y bocetar directamente sobre las páginas. Normalmente tengo un espacio delimitado muy concreto y de esta forma puedo hacer que la ilustración encaje perfectamente desde el principio. Después entinto la línea a mano con una mesa de luz, escaneo y empiezo a trabajar en el color. Suelo trabajar con paletas limitadas que me preparo previamente mezclando capas en Photoshop y jugando con la opacidad. Cuando estoy contenta con la gama, empiezo a colorear. Cuando ilustro libros infantiles o proyectos propios, trabajo de una forma más libre. A veces empiezo por el diseño de personajes, a veces empiezo pensando en el color o en la composición, o jugando con el texto... depende de lo que me inspire.
5. Who and/or what inspires your work?
I'm super lucky because I have a big part of my inspiration at home. I live with my partner Pau Valls, who is a great illustrator and comic author and helps me a lot when I'm blocked or insecure with my works. Other illustrators that I admire and inspire me are Benji Davies, Jon Klassen, Marta Altés, Magali Le Huche, Laurent Moreau, Marina Hernández Ávila, Teresa Bellón, Sandra de la Prada... I'll need another interview just for naming all the illustrators I love :P 5.¿Quién o qué te inspira en tu trabajo? Soy súper afortunada porque tengo una gran parte de mi inspiración en casa. Vivo con mi pareja, Pau Valls, que es un gran ilustrador y autor de cómic que me ayuda mucho cuando me bloqueo o me siento insegura con mi trabajo. Otros ilustradores e ilustradoras a quien admiro y que me inspiran son Benji Davies, Jon Klassen, Marta Altés, Magali Le Huche, Laurent Moreau, Marina Hernández Ávila, Teresa Bellón, Sandra de la Prada... necesitaría otra entrevista solo para mencionar todos los ilustradores e ilustradoras que me encantan.
6. What role does art play in your life? How does it change the way you view the world?
I'm sure I would be a totally different person if I wouldn't study arts. I know it's a topic, but it's absolutely true that the best thing about studying or making art is the way it opens your mind. I'm always the weirdo when I'm with my childhood friends, I'm usually who has the different point of view, who questions everything, who can't understand the traditions... Apart from that, getting close to art, has made me get a job that I really enjoy and be able to laugh just making a doodle on a paper. 6.¿Qué papel juega el arte en tu vida? ¿Cómo cambia la forma en que ves el mundo? Estoy segura de que sería una persona totalmente diferente si no hubiera estudiado Bellas Artes. Sé que es un tópico, pero es totalmente cierto que lo mejor de estudiar o hacer arte es la forma en que te abre la mente. Siempre soy la rarita cuando estoy con mis amigas de la infancia, suelo ser la que tiene el punto de vista diferente, quien se cuestiona todo, quien no entiende las tradiciones... Aparte de eso, acercarme al arte me ha hecho tener un trabajo con el que disfruto y ser capaz de reirme simplemente haciendo un garabato en un papel.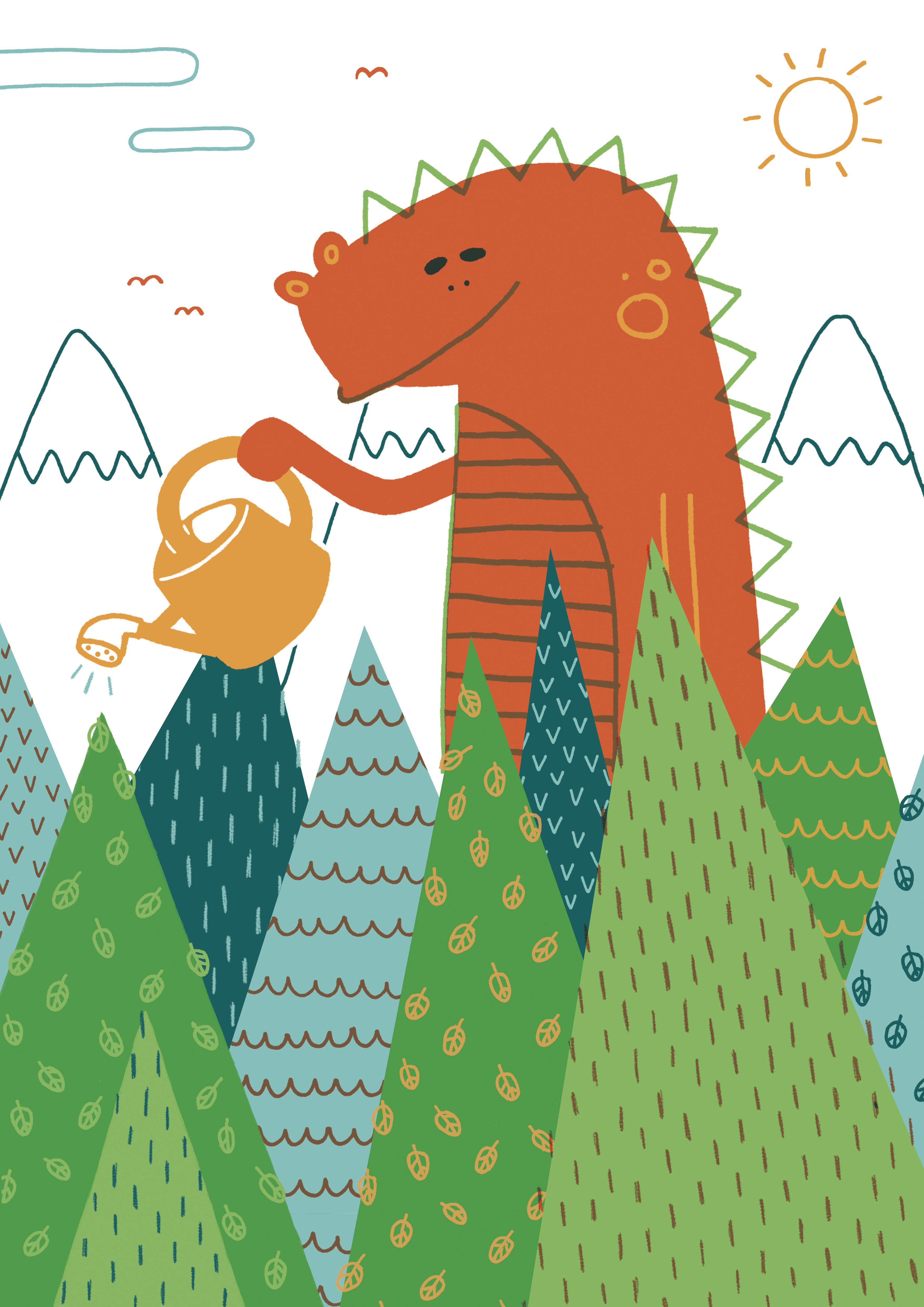 7. Where did you study?
I started my illustration studies in Alcoi, my home town. Then I studied a Fine Arts degree and a master's degree in Valencia and I did some specific illustration courses in Tallinn (Estonia). 7.¿Dónde estudiaste? Empecé mis estudios de Ilustración en Alcoy, mi pueblo natal. Después estudié la licenciatura en Bellas Artes y un máster en Valencia y también hice cursos específicos de ilustración en Tallinn (Estonia).
8. Where do you see yourself in five years?
I was always interested in education, so I would like to combine my work as a freelance illustrator with teaching. In five years, it would be nice to be explaining the few things I know about illustration in an Art School. 8.¿Dónde te ves en cinco años? Siempre me ha interesado la educación, así que me gustaría combinar mi trabajo como ilustradora freelance con la docencia. En cinco años, estaría bien estar explicando las cuatro cosas que sé sobre ilustración en una escuela de arte.
9. What about in ten?
Copy and paste the previous answer... haha 9.¿Y en diez? Copia y pega la respuesta anterior... jaja
10. What do you hope to achieve with your art?
First of all, I hope to achieve my own happiness making what I like. It sounds a bit selfish, but if I'm not happy doing this, I won't be able to make happy images. 
My other goal is to make children (and adults) laugh, learn and grow with my books. My biggest dream is being a granny and meet someone who remember my drawings from childhood. 10.¿Qué esperas alcanzar con tu arte? Primero que nada, espero alcanzar mi propia felicidad haciendo lo que me gusta. Suena un poco egoísta, pero si yo no soy feliz haciendo esto, no seré capaz de crear imágenes felices.
Mi otra meta es hacer que los niños (y adultos) rían, aprendan y crezcan con mis libros. Mi mayor ilusión es ser una abuela y encontrarme con alguien que recuerde mis dibujos en su infancia.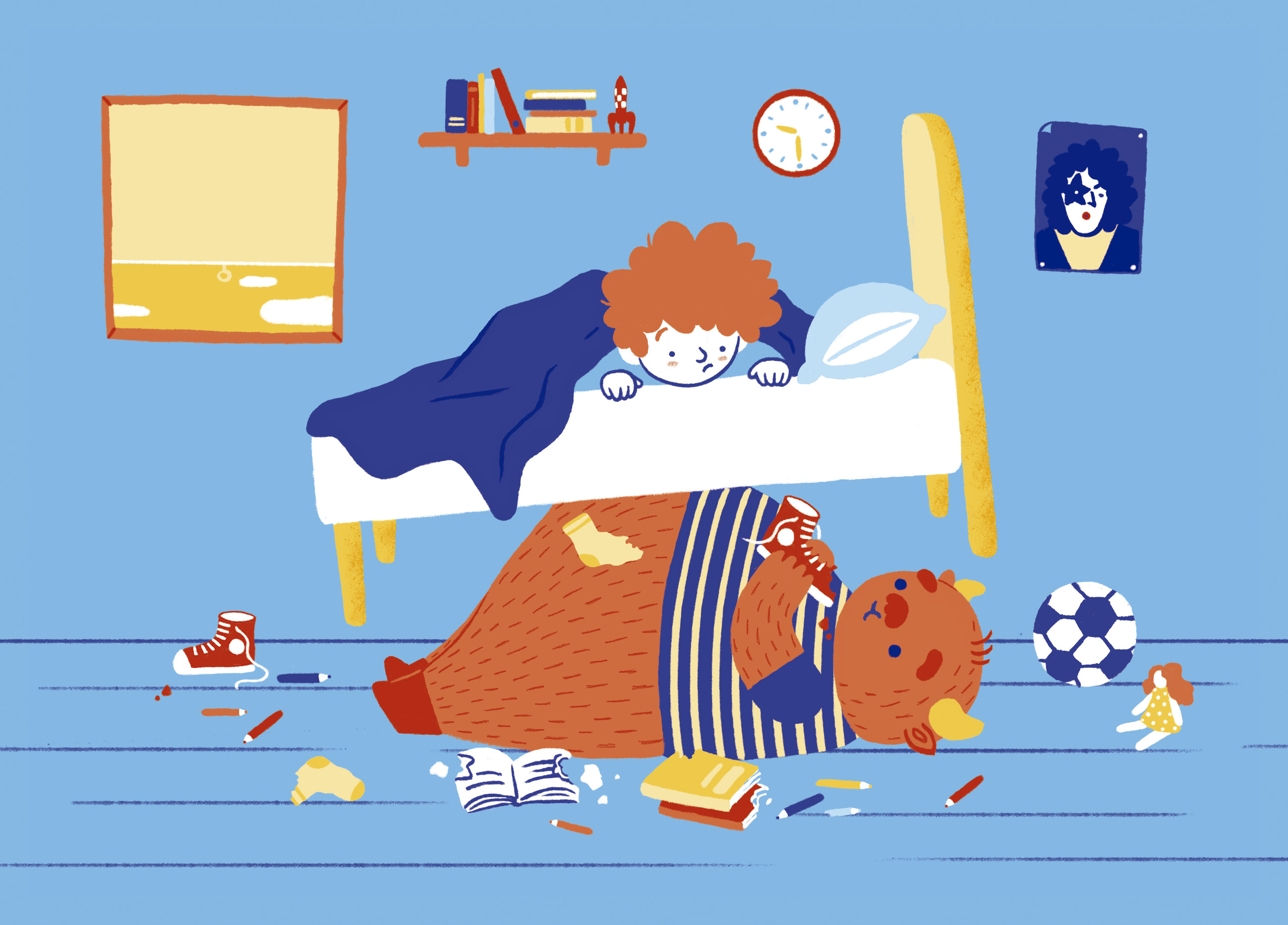 11. Now, tell us a little more about you as a person: what is your favourite food?
I love eating, so maybe this is the most difficult question for me :P
I'll break the rules and I'll say two dishes cooked by two of the people I love the most in my life: my mum's oven baked rice and Pau's artisan pizza. 11. Ahora, dinos algo más sobre ti como persona: ¿cuál es tu comida favorita? Me encanta comer, así que esta es probablemente la pregunta más dificil :P
Romperé las reglas y diré dos platos cocinados por dos de las personas que más quiero en mi vida: el arroz al horno de mi madre y la pizza casera de Pau.
12. Favourite book?
I also love reading and I've been working in a bookshop for 6 years so... this is the second most difficult question!
I'll break the rules again and I'll say three titles: "The grapes of wrath" by John Steinbeck, "The confederacy of dunces" by John Kennedy Toole and "The catcher in the rye" by J.D. Salinger. I also love Margaret Atwood books. 12. ¿Libro favorito? También me encanta leer y he trabajado en una librería durante 6 años, así que... ¡esta es la segunda pregunta más difícil! 
Romperé las reglas otra vez y diré tres títulos: Me quedo con "Las uvas de la ira" de John Steinbeck, "La conjura de los necios" de John Kennedy Toole y "El guardián entre el centeno" de J.D. Salinger. También me encantan los libros de Margaret Atwood.
13. Favourite genre of music?
I love classic rock but lately I'm enjoying a lot american indie-folk. 13. ¿Género musical favorito? Me encanta el rock clásico, pero últimamente disfruto mucho el indie-folk americano.
14. What are your hobbies?
I like writing stories, playing the guitar, singing... but two years ago I adopted a puppy and I spend most of my free time walking and playing with him :) 14. ¿Cuáles son tus hobbies? Me gusta escribir cuentos, tocar la guitarra, cantar... pero hace dos años adopté un perrito e invierto la mayor parte de mi tiempo libre en pasear y jugar con él :)
15. If you weren't an artist, what would you be?
Teacher is too obvious, so... singer! 15. ¿Si no fueras artista, qué serías? Profesora es demasiado obvio, así que... ¡cantante!