Instagram:
@lisategtmeier
Tumblr:
lisategtmeier.tumblr.com
Website:
www.lisategtmeier.de
1. What's your story? Where are you from?
My name is Lisa and I was born in a small town in the north of Germany. Since I can remember I've been drawing and creating things. I even remember that I always wanted to make my own horse magazine (I think I was 10 when I totally was into horses). So I thought to become a graphic designer after school. While studying, I realized that illustration is the only thing I've ever wanted to do and I started focusing on it. Last year I moved to Hamburg where I'm currently doing my Master's degree in illustration.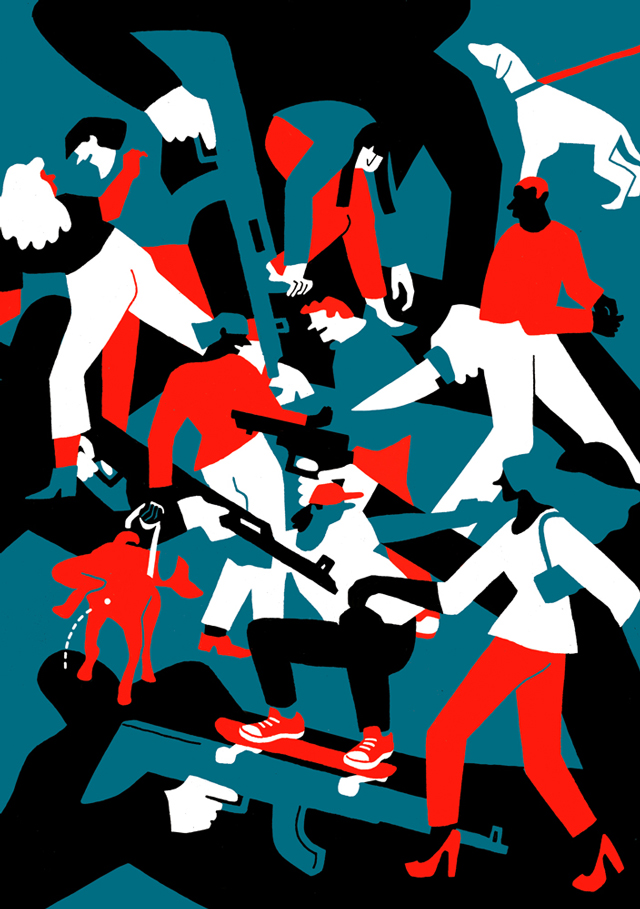 2. Tell us about your aesthetic.
I love bright colors and bold shapes. I put lots of effort into the characters and their movements. Others have said that my work is dynamic. Lately, I'm trying to reduce shapes. My aim is to abstract them until they're as minimalistic but clear and unique as possible.
3. What is your favourite medium and why?
I like working digitally because I can quickly generate big shapes. I started drawing on paper and simply coloured my sketches in Photoshop. Now I only take my drawings as model and immediately start painting my illustrations digitally. However, I like a rough and handmade look.
4. What is your artistic process like?
I start scribbling my ideas on paper and then continue drawing them more accurately. Sometimes I scan my sketches, but often they're just models to my digital work. I work with a Wacom Intuos graphic tablet and Adobe Photoshop and Illustrator. I build shapes of all elements in my illustrations so that I can move them back and forth until I get the best result.
5. Who and/or what inspires your work?
I'm totally inspired by vintage illustration of the 50's and 60's, like advertising graphics or the art of Miroslav Sasek. I love the colours, the abstraction of shapes and its minimalistic look. But I also find a lot of inspiration in collecting and discovering artists through social networks or curated websites. I have a big talent for surfing the Internet the whole day only watching images instead of working on my own projects.
6. What role does art play in your life? How does it change the way you view the world?
This is a tough question. Art plays a big role in my life but I'm not sure if it ever changed the way I see the world because I've always lived with it. I'm constantly attracted by shapey graphics and sometimes I see patterns, graphics and shapes in our natural environment. Have you ever noticed the graphic patterns on seats in public transport? Maybe you get a special artsy perspective on regular things when you're concerned with art everyday.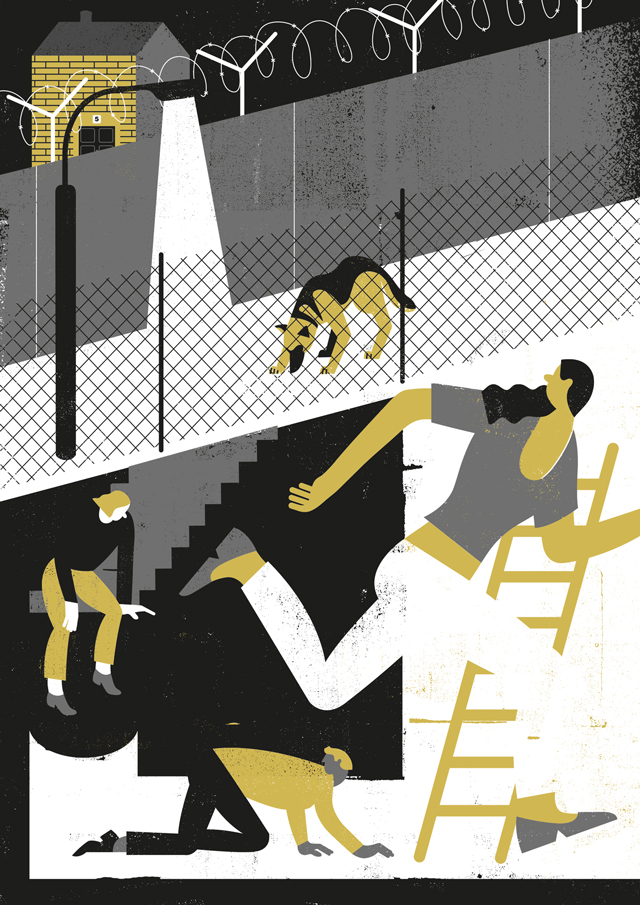 7. Where did you study?
I studied graphic design in Braunschweig, another midsize town in the north of Germany, and Barcelona. But I soon had realized that I was only interested in illustration and so I hoped to do my Master's degree in illustration in Hamburg. I luckily got accepted and moved there last year.
8. Where do you see yourself in five years? Working in an agency?
I hope to be successful in freelancing and have constant commissions or even regular customers. Especially, I'd like to work on more sociocritical or political issues. My dream would be to publish illustrations in The New Yorker or the New York Times magazine one day (maybe that's something for 'in ten years'). To work in an agency would only be plan B for me.
9. What about in ten?
Maybe I have published some nice books next to my freelancing job and I happily live in a small house with a big library and my family.
10. What do you hope to achieve with your art?
I'd like to take information to a new level. It's brilliant when illustration can explain complex issues in a simple way. When it makes someone smile at once I'd be super happy.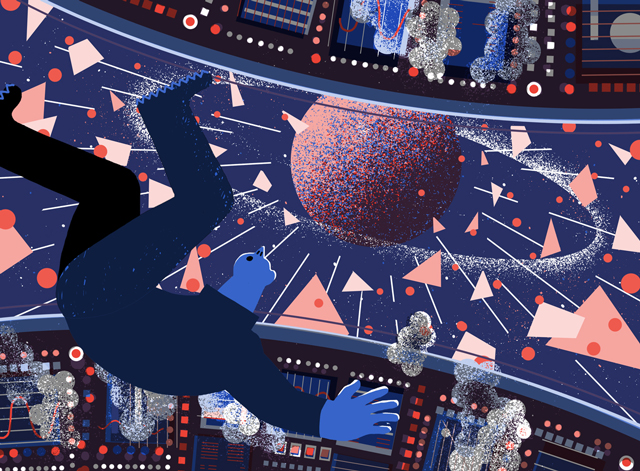 11. Now, tell us a little more about you as a person: what is your favourite food?
Oh, food! I love every kind of food! Can't decide now… I would say sweet potato fries since recently.
12. Favourite book?
I'm a big fan of Jillian and Mariko Tamaki's graphic novel 'This One Summer'. My own childhood summer memories get alive by reading this story.
13. Favourite genre of music?
I'd say Singer-Songwriter, Classic and Jazz. And I love 80's synth-pop.
14. What are your hobbies?
I like cooking, eating, crafting, scrolling through Instagram and other blogs, books, most of all illustrated books of course and sometimes I do sports.
15. If you weren't an artist, what would you be?
I guess I would be an art teacher, haha. Or maybe a gallery curator. But I definitely would regret not having tried living as some kind of artist myself.