Instagram:
@lisa.vanin
Website:
www.lisavanin.com
1. What's your story? Where are you from?
I grew up in a small town in southern Ontario, in Canada. I don't come from an overly creative or nature obsessed family, but since I was very young I found myself drawing and sculpting little animals and forest scenes. As I got older I developed an interest in plants and photography and spent much of my teenage years exploring the patches of wilderness that surrounded the suburbs and farms of my hometown. I have always been interested in a creative career, but living in a small town had its disadvantages as far as art training. When I was accepted to university to study illustration, I could barely work with a paint brush. Luckily my drawing skills, imagination, and drive were strong haha!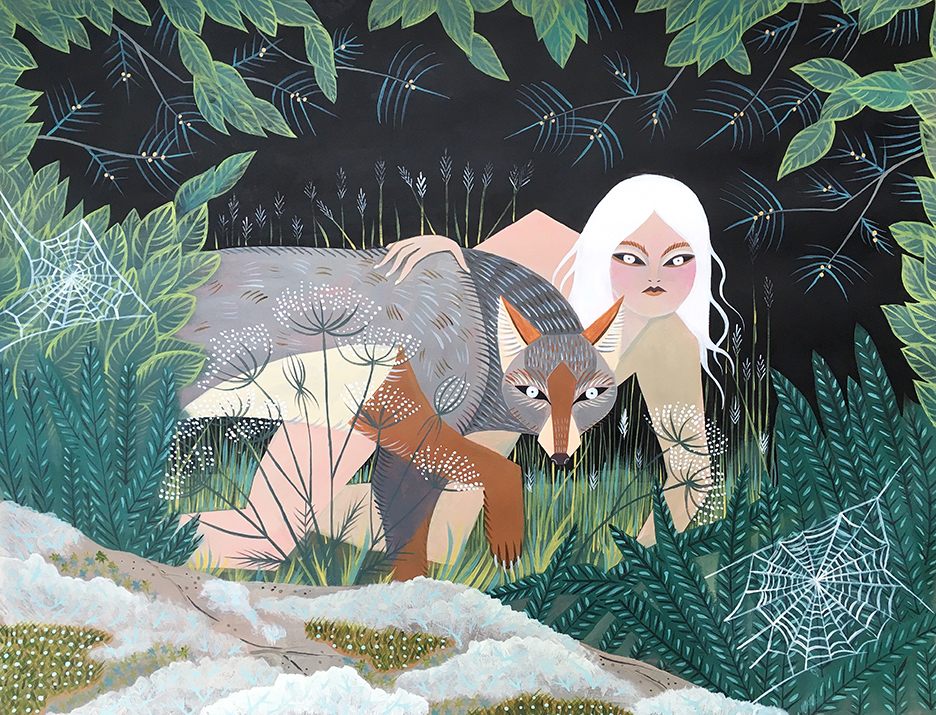 2. Tell us about your aesthetic.
My work has developed visually into a world where folk art and fine art meet. It has a rustic grace with a sharp geometric and contemporary feel. My style reflects my creative ideas which range from cute to morbid, and evil to elegant. I like to present viewers with images of strangeness that are also whimsical and beautiful. To achieve this, I use a lot of detail and delicate features to soften images that are sometimes a bit grim.
3. What is your favourite medium and why?
Over the years as I learned to use acrylic paint, it very quickly became my favourite medium. I like how fast it dries because I am impatient and excited when I start new paintings. I also like its versatility, I use it on many different surfaces and materials. But the best thing about acrylic is all of the different textures you can create. Just by allowing it to dry a bit, and then going back in and roughing out a section, you can create completely different textures. I also love working with pens to do linework images for product designs, zines, sketches, etc, but I tend to miss the forgivability of my paints during those endeavors.
4. What is your artistic process like?
For commissioned work, my process will always follow the needs of the job. Whether I must research a subject, read an article, understand a product or company, etc, I start at that point and begin taking notes. Once I have absorbed the information, I start my creative process of sketching and brainstorming ideas (and plotting how I can sneak as many little animals into the piece as possible). For personal work, my process is wildly different for each piece. Sometimes I have a full line drawing prepared, sometimes a sketch, sometimes an idea, and sometimes just paint and a blank piece of paper. Unless I'm working on a series, I really try to keep my process fun and spontaneous. The world I paint is very developed and consistent, so the pieces usually flow well. If I want to paint a plant or animal I've never painted before, I just do it, I already know what they are going to look like in my painting style anyway. The comfort I feel with the aesthetic of my work makes creating personal pieces and very calming and rewarding experience.
5. Who and/or What inspires your work?
I am mostly inspired by nature and the time I spend outdoors. I try to use these experiences as much as I can in my work to give my simplified paintings substance, and feelings of realness and depth. I am also inspired by the whimsical creepiness of folk lore, fairy tales, fables, and myths. These stories have always held a special place in my heart.
6. What role does art play in your life? How does it change the way you view the world?
Art keeps me interested in everyday life, it is my way of coping with the mundane. It is how I can add whimsy and magic into the days that are lacking it. I am so lucky to have many opportunities to be out in nature where I am truly myself and happy. Working on paintings inspired by those experiences brings joy to me when I am trapped in urban landscapes. Making art changes the way I see almost anything I find interesting. When I see a plant I like, I have to stop and photograph it. I need to study it to figure out how I am going to paint it. I see landscapes, plants, and animals as shapes, and opportunities for creativeness.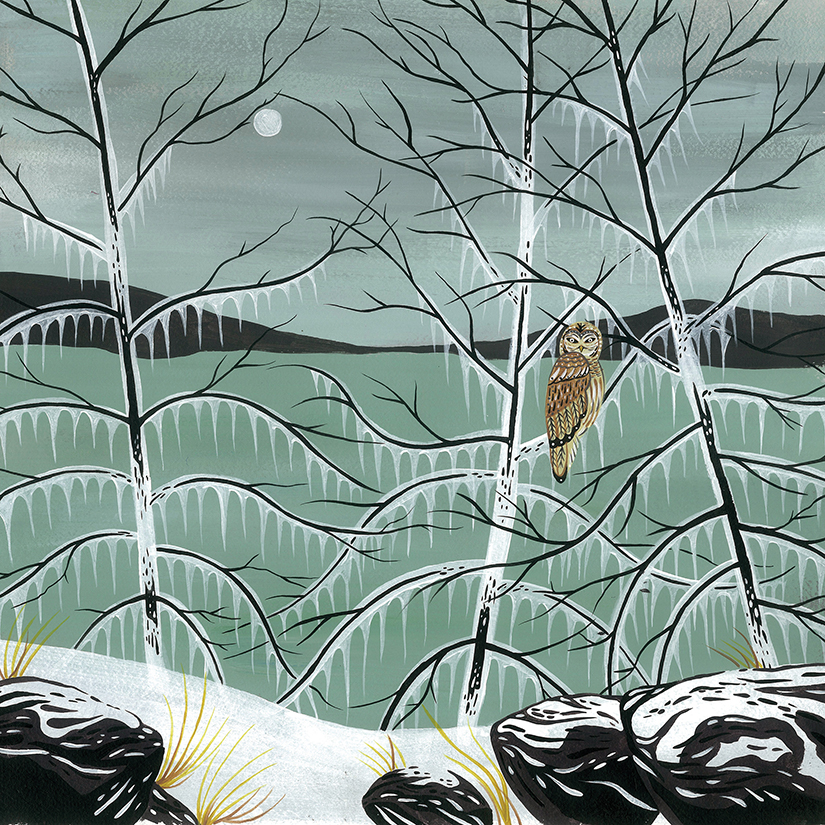 7. Where did you study?
Formally I studied Illustration at OCAD (Ontario College of Art and Design) University and graduated with a Bachelor of Design. While enrolled, I was very fortunate to be instructed by amazing professional illustrators. I grew a lot as an artist over the few years I spent studying there. During the time I was studying at OCAD, and for a few years after, I apprenticed and worked as a tattoo artist. Although it was not the path I chose to follow, it was an amazing experience. I have so much respect for the artists who work in that field. The artistic and mental discipline, self-motivation, and technical skills I learned from my short time tattooing have been some of the greatest influences on my career.
8. Where do you see yourself in 5 years?
In the next five years, I hope to be continuously exploring new ways of making art. In the near future, I plan to start making more ceramic and sculptural art, as well as taking some lessons or attending workshops on printmaking. While exploring these techniques I also intend on expanding my product line and update my website and online store.
9. How about in ten?
In ten years I would like to move to a rural location within Ontario so that I can work in a more appropriate environment for my art creation. The more secluded and wild, the better. I dream of having a cabin with a bright and airy studio. My main goal for myself as a professional artist is to be able to work where my inspiration is born. I want every day to be filled with the visual and emotional excitement I get from being surrounded by the natural world.
10. What do you hope to achieve with your art?
By creating art I hope to achieve a connection with people. When someone views my work I hope that they are able to feel part of what I was feeling when I created the piece. Even if it is only the smallest segment of emotion. To be able to connect with someone you have never met in that kind of way feels like magic.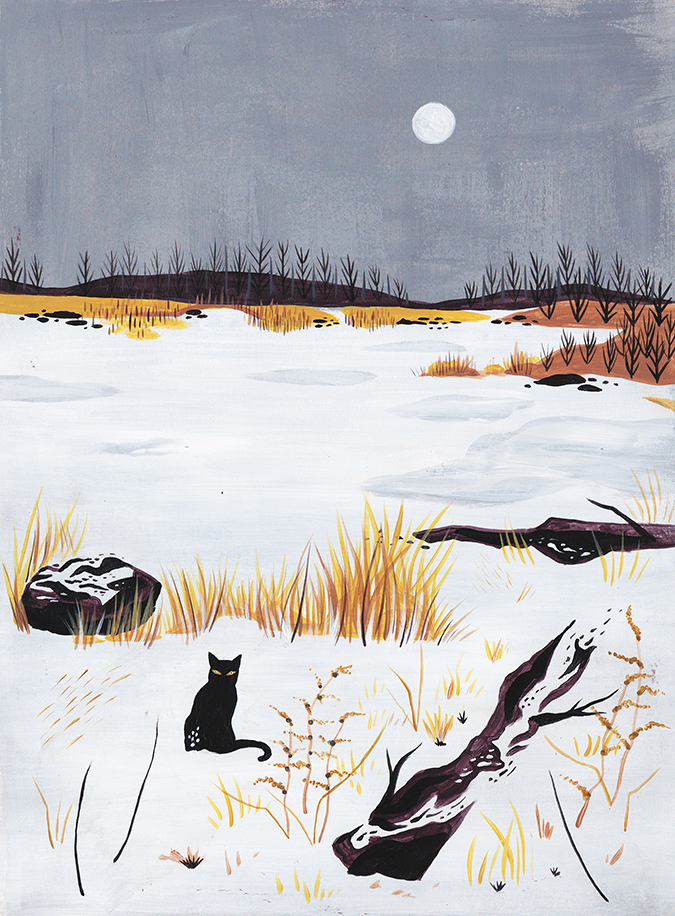 11. Now tell us a bit more about you as a person: what is your favourite food?
Poutine. Easily.
12. Favourite Book?
"Loading Mercury with a Pitchfork" a collection of poetry by Richard Brautigan.
13. Favourite genre of music?
This is a hard one for me. I consider myself a bit of a music collector, and my iPod is one of my most prized possessions. I listen to music from many different genres, but if I had to pick something I'd go with country.
14. What are your hobbies?
Crafting, foraging, plant identification, aqua-scaping (aquarium maintenance with live plants), canning and preserving, cooking, natural medicine and remedies, hiking, bushcraft, interior decorating, photography, collecting reference material for my work, day dreaming, and hanging out with my cats.
15. If you weren't an artist, what would you be?
If I was not working as an artist, I would most likely be working with plants or animals. I imagine as a researcher of some kind. Ideally, one who travels to study animal life and habitats.