Instagram:
@littleamyrose
Website:
www.littleamyrose.com
1. What's your story? Where are you from?
I'm Amy-Rose and I'm an Art Director and Illustrator from Auckland, New Zealand. After a brief stint as a Graphic Designer, I went on to study Creative Advertising, and I've been working as an Art Director in an agency for the past 5 years. I used to occasionally dabble in vector illustration in my spare time, but nothing serious. A few years ago I bought an Ipad + Apple pencil to use for design work and scamping instead of my Wacom, but then I discovered Procreate. I started regularly doodling at night after work, and it just of sort ignited my passion for drawing instantly. I created an Instagram as a way to just document my work and somehow managed to land on a style pretty quickly. I found that people had a really positive reaction to what I was creating—even the more intimate subjects I was hesitant to post at first. People really seemed to connect with what I was putting out there, and it just inspired me and pushed me to where I am now.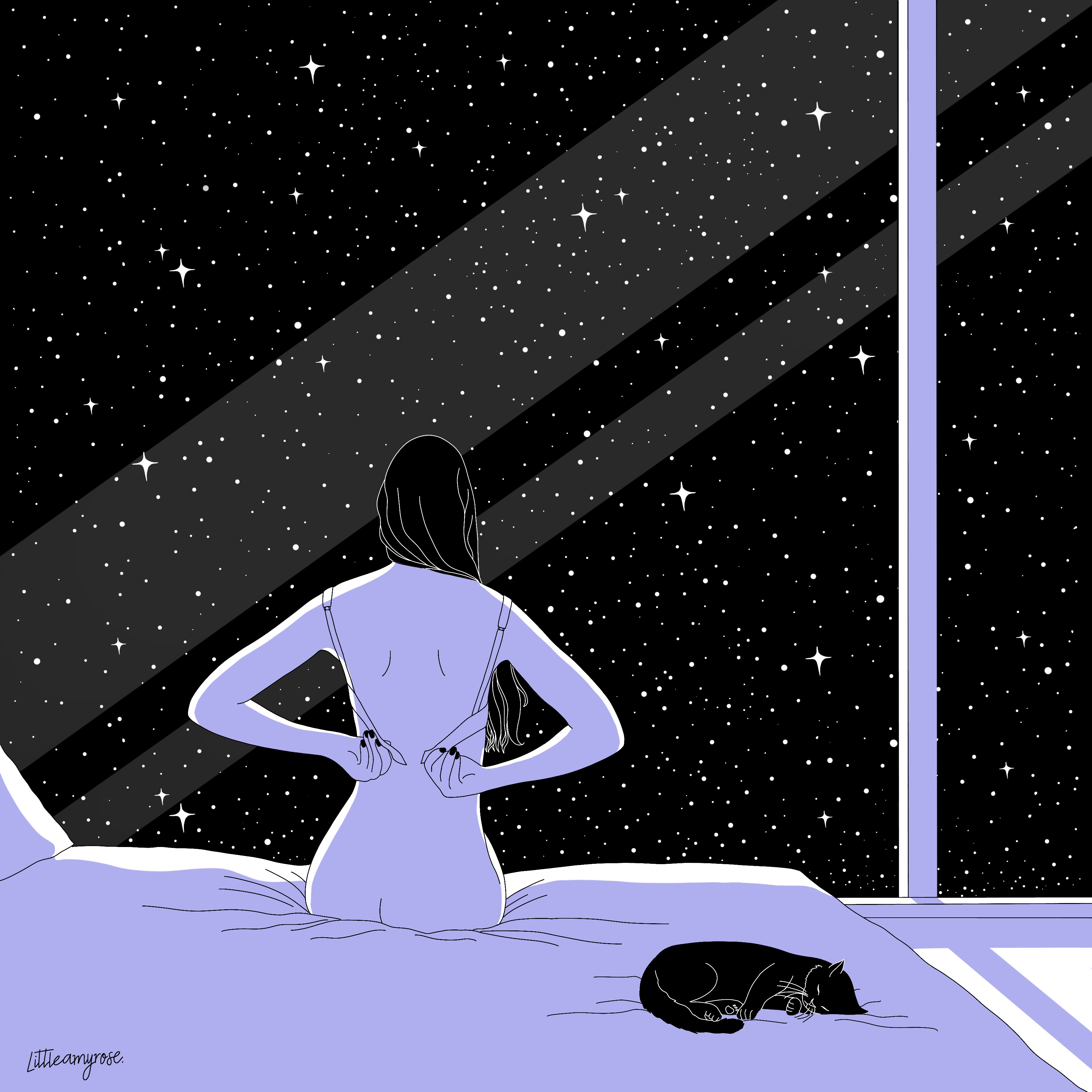 2. Tell us about your aesthetic.
In a nutshell; sexy, sensual, cheeky and playful. The motifs most of my pieces share are that they're all set in the dark at night (because that's mostly when I draw), feature starry skies, a black cat, and have an extremely limited colour palette of purple, white and black. I often play with simple lighting to add shape and create depth, and I enjoy creating super detailed line art so people can find little easter eggs throughout my drawings when they take a closer look.
3. What is your favourite medium and why?
All of my work is created digitally in Procreate with my Ipad + Apple pencil. There's just so much more flexibility with digital art, and I love everything to be really crisp. I also don't always have a clear vision for every illustration, which leads to a lot of experimentation and trial and error. So it really helps to have an undo button!
4. What is your artistic process like?
I don't have a process as such, and each piece's journey is different. I use myself as drawing reference for a lot of my illustrations because it gives me the freedom to create a reference that is exactly what I want. I'll then make a super rough photo comp of my composition, before actually drawing it. It helps to make the illustration process smoother and allows me to kind of get a preview of the piece before I start drawing. When I'm on the go or at work, I have a little notebook that I draw rough tiny thumbnails when I have an idea so I don't forget.
5. Who and/or what inspires your work?
So many things inspire me on a daily basis. I love the night and how different things look and feel in the dark, the female body, and sexuality. 80s aesthetics, nostalgia and sci-fi all play a part in influencing my pieces too. As for other artists that have influenced my work—Patrick Nagel's work is a really big inspiration for me, particularly his pieces for Playboy in the 80s. His emphasis on the female form and his bold, limited colour palette definitely influenced my style.
6. What role does art play in your life? How does it change the way you view the world?
I use drawing to express my thoughts, feelings and fantasies. I'm able to get out all of the things that are floating around in my head in a therapeutic way, after a stressful day in advertising. It's also a great way to escape where I am. I'll often draw detailed spaces that I'd love to be in at that very moment. Art has also had quite a personal impact on my life. There's a huge taboo around the female body, sexuality and masturbation, and a lot of people are uncomfortable or embarrassed about it even though it's natural. I spent a lot of my life ashamed of desire because of what's drilled into our heads about how women should project themselves or behave. But now I'm able to challenge people about it with my art, and it feels good to have that sense of control.
7. Where did you study?
I actually started out studying to be a professional dancer—but ended up dropping it after having a crisis about my career decision. I then went on to study Graphic Design and later; Creative Advertising at Media Design School in Auckland, New Zealand. I've never studied art or illustration, and I've just been learning as I go.
8. Where do you see yourself in five years?
I'll still probably be an Art Director by day, but I'd love to sell art regularly, have a few more exhibitions under my belt and perhaps even work with a big brand.
9. What about in ten?
Anything could happen, right? It would be awesome to be a freelance illustrator by then and have worked with some cool brands.
10. What do you hope to achieve with your art?
Just being able to create things that people connect with or enjoy is kind of enough for me. But I would love to contribute towards making people feel more comfortable with female sexuality, especially women themselves.
11. Now, tell us a little more about you as a person: what is your favourite food?
I love food and always look forward to eating. I love Vietnamese food, particularly phở bò, but any Asian joints in little hole-in-the-wall spots are the best.
12. Favourite book?
I don't get time to read as much nowadays to have a favourite. When I was little, I worshipped The Chronicles of Narnia by C.S Lewis. I do however really like Wilbur Smith's Egyptian series that I'm slowly getting through right now.
13. Favourite genre of music?
I hate this question. It's the question that comes up every time you flirt with someone new, and I find it so hard to answer! I don't really have a favourite genre as such, but I do tend to gravitate towards older music like 70s disco and classic 80s bangers after growing up with them in my family home.
14. What are your hobbies?
Other than illustration, I'm a dancer, and still dance with the academy I started training at when I was 2 years old. It's a great way to blow off some steam and keep in shape. I'm also a sucker for gaming, as I grew up with boys. Some of my best memories are getting up at 6am on a Saturday to crank the Playstation in the 90s with my older brother. Nowadays I have far too many consoles and not enough time to use any of them.
15. If you weren't an artist, what would you be?
I think I'd be a writer or professional dancer.