Instagram: @liunic
Website: www.liunic.com
1. What's your story? Where are you from?
I'm an illustrator and art director from Jakarta, Indonesia. I work as a full-time illustrator doing commissions for local and international brands. I also have my own art label called Liunic on Things.
Focusing on wearable arts. I like to see my works on different mediums and like seeing my works worn on people.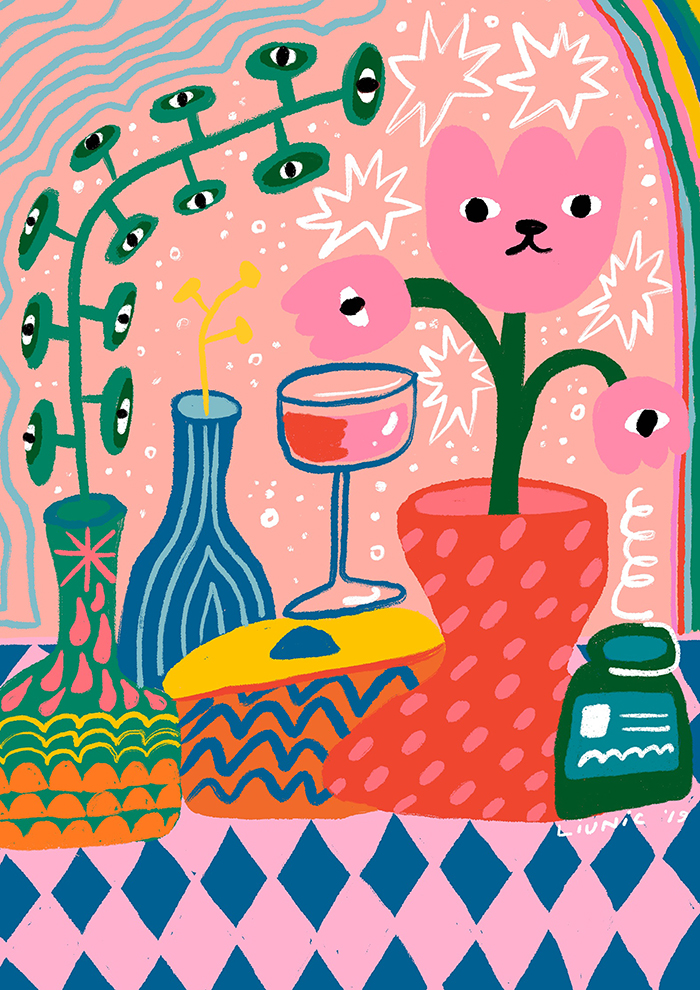 2. Tell us about your aesthetic.
My works are colourful with girls as the main characters or animals. My work is a bit abstract and doodle-like.
3. What is your favourite medium and why?
My favourite medium is acrylic, gouache and digital. I like making raw, wobbly images and acrylic helps me achieve those effects.
Gouache is also my favourite because the colour is so vibrant. And as for digital, it's for when I need to make work fast and convenient cause we can undo stuff :) haha
4. What is your artistic process like?
I sketch a lot, like dirty small thumbnail sketches for an archive of ideas. Then I sometimes look up to those sketches and make them an artwork.
If I wanna make a raw brush feel I scanned my manual work and added some elements on photoshop or procreate.
5. Who and/or what inspires your work?
Matisse inspired my work a lot. Also some cute Japanese contemporary artists like Yoshitomo Nara and Murakami. Also my artists friends in online and real life, they inspire me to be better a lot.
I think my work is like a collective of what I've experienced, my feelings at the time making that work and also my thoughts towards the world.
6. What role does art play in your life? How does it change the way you view the world?
Big part of course.. I feel like art gets me through hard stuff in life, as long as I keep on drawing I'll be fine.
I feel less alone in how I view the world. You like art cause it made you feel something, right? So whenever I like a certain art or somebody else like my art, sometimes you couldn't explain it but I feel related and connected through it. Art is like a therapy in a way for me at least.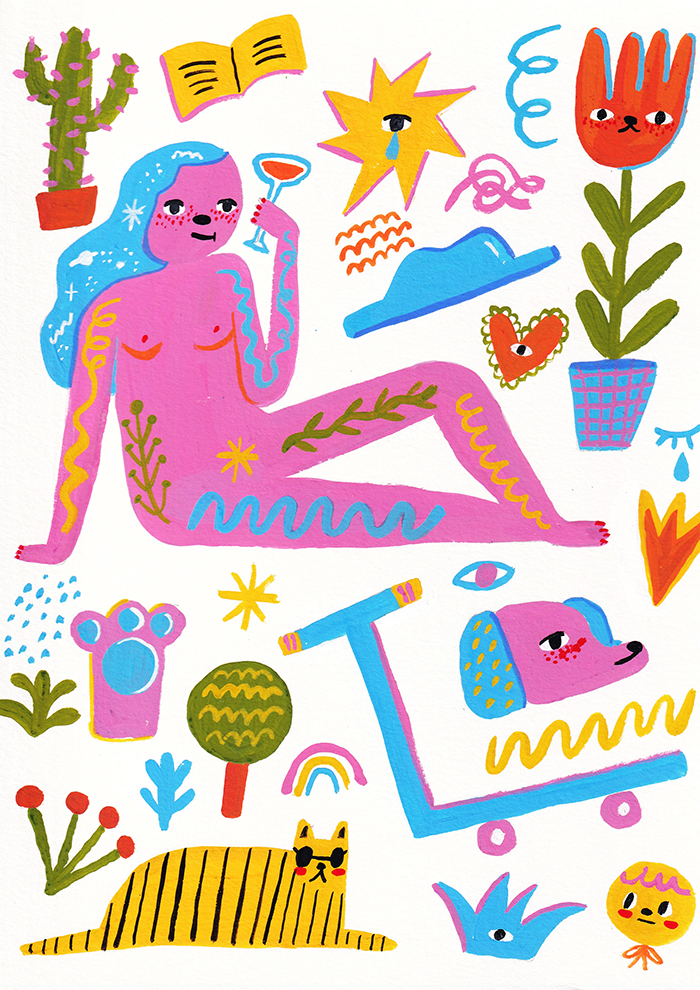 7. Where did you study?
I studied Graphic design multimedia at Lasalle College Jakarta but I dropped out because I didn't have enough money at that time. I wish I can go back to art school abroad to continue my studies.
8. Where do you see yourself in five years?
Still drawing of course, making more art, expanding my style and still making and expanding my art label.
9. What about in ten?
Same answer.. still drawing forever but maybe I don't wanna live in this busy city. Maybe if I couldn't move abroad at least I live in Bali or somewhere near the beach.
10. What do you hope to achieve with your art?
To have an impact on people. To feel less alone in this world. Like when people bought my art label and tagged me saying my work made them happy, it's one of the best feelings.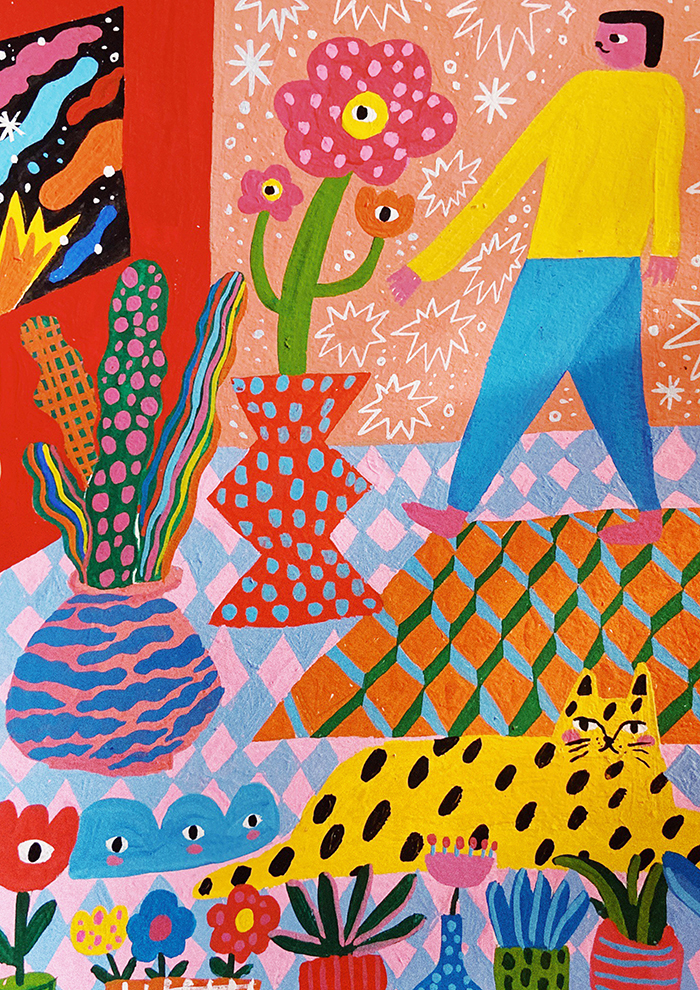 11. Now, tell us a little more about you as a person: what is your favourite food?
My Grandma's cooking. My grandma cooks the best Indonesian food like "Empal Balado" and "Sayur Asem Daging" I could eat them forever.
12. Favourite book?
Childhood all time fave: Harry Potter
13. Favourite genre of music?
Hmm mostly alternative indie? Ranging from Blood Orange, Bad Bad Not Good, Steve Lacy, The internet to Snail Mail, Japanese Breakfast, Wild Nothing.. I also like The Cure very much.
14. What are your hobbies?
I always draw all the time so I'm trying to find new hobbies! I just learned skateboarding these past month and I enjoyed cooking at home this quarantine.

15. If you weren't an artist, what would you be?
Unrealistic profession for me: Pro skateboarder. hahaha I wish I started early like when I was five or something, I can barely even push! More realistic: maybe I'll be a chef. I like something that needs lots of practice and hours to progress. Progression makes me happy.