Instagram:
@livanddom
1. What's your story? Where are you from?
Our story? That's a huge question! We're twin sisters from the UK, we were born in 1994 in Birmingham but have been living in Sussex most of our lives. (For non-brits Sussex is a county below London on the coast). We've worked together on art projects together all of our lives, to an obsessive degree when we were younger. This particular project has definitely lasted the longest and been the most successful. Making jackets and hats for our beanie babies wasn't very lucrative!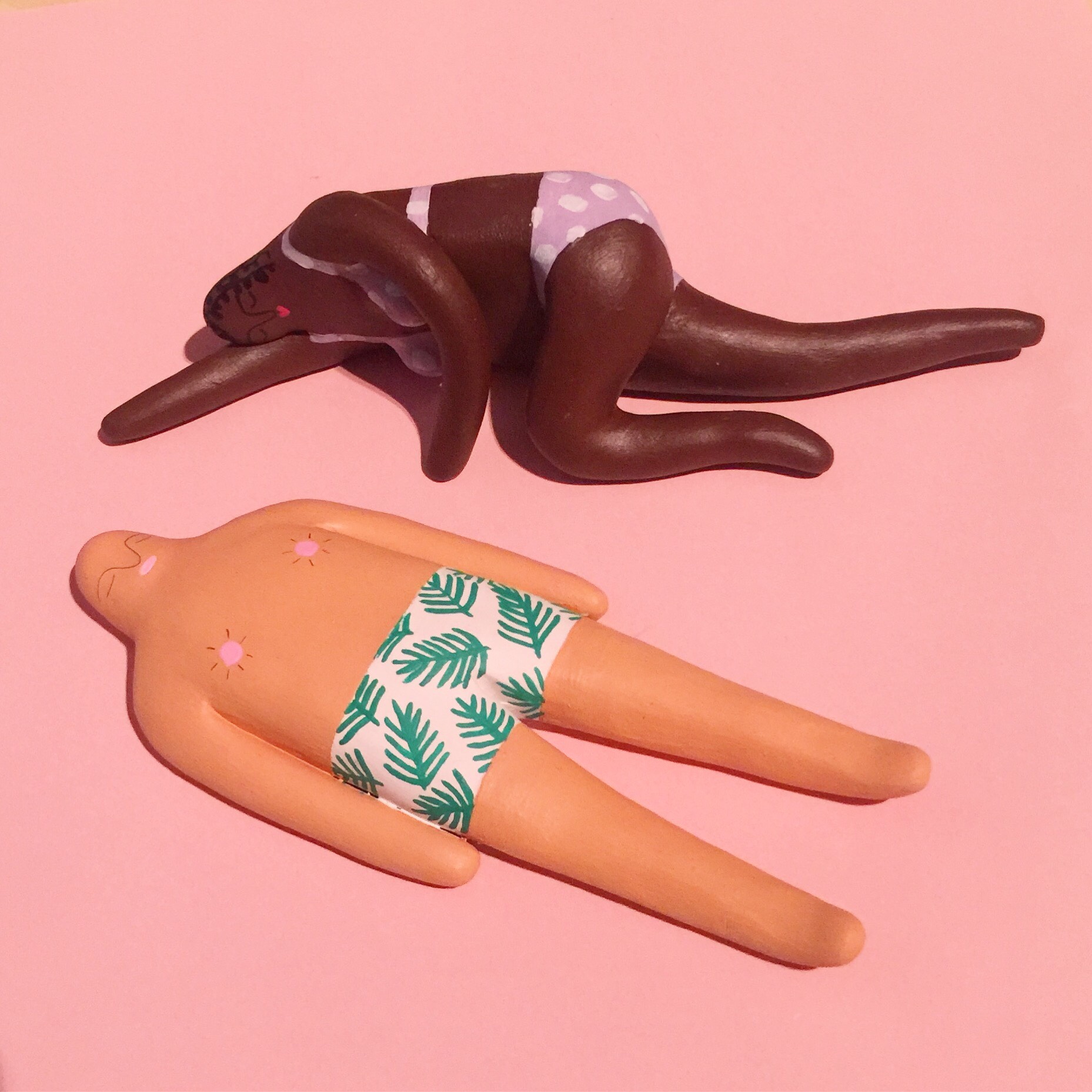 2. Tell us about your aesthetic.
Our aesthetic had a dramatic shift in 2014, before this point we were both working separately at university and we weren't using much colour. We came together to start Liv & Dom and decided we would go bold! We wanted eye catching work and in 2014 bright pink was a thing. We aim for most pieces to feel like an illustration bought to life. Funnily if you asked us to draw the pieces they would probably look shit- so we rarely try. The figures are very illustrative, their little faces are quite graphic which definitely came from Dom. She designed the basic look of our nudes, and she brought her neat graphic style to the table. Liv brought her more relaxed use of colour and pattern. The aesthetic is constantly evolving, we're currently trying to incorporate more toned down colour and minimal style that work in broader interior settings and that we personally prefer to the bright pink.
3. What is your favourite medium and why?
Anything in 3 dimensions! Some of our favourite work from other artists is print based but we've never been as good at this unfortunately. So clay and using fabrics to make in 3D are our favourite things.
4. What is your artistic process like?
We rarely plan... If we do plan we just bounce ideas off of each other until we can both visualise something we think will work. We don't brainstorm, draw or test colours... It's all in our heads then very quickly translated to the finished product. We often go from a simple idea to a finished product available to buy in a day. We do consider ourselves artists in one sense but because we rely on this for a living we need to treat it as a business which can sometimes overshadow the artistic process.
5. Who and/or what inspires your work?
Mainly the other creatives working in our field! There is such a wealth of inspiring people working now, and they create so much content it drives you to make more. Ceramicists like Kinska and Rami Kim, a lot of contemporary illustrators. We make quite trend led work, and our business relies on this aspect being successful so we're influenced by what is popular, focusing on popular colours and patterns. Even mundane objects have their moments. Citrus fruits seem to be having a moment now. Boobs and foliage always.. Of course all the typical influences everyone really has in the particular area we work in- Hockney, Picasso, good interior design etc.
6. What role does art play in your life? How does it change the way you view the world?
It's a bit wild to say because we're artists we have a special view. Everyone has a unique way of looking for beauty and appreciating the world around them. Working as an artist can fine tune this sometimes. Especially when you're looking for inspiration it makes you feel quite hyper aware of your surroundings. People that use Instagram a lot probably get what we mean here. We love incorporating art into all aspects of our life, fashion is something we really enjoy, collecting beautiful objects. Living amongst art, eating art, wearing art etc. Recently we've been noticing how the support on art social media has created a really great community for us that has definitely changed the way we interact with people we barely know, it's made us more open generally which is liberating. Working for ourselves and the trajectory our careers are taking probably alters our world view somewhat.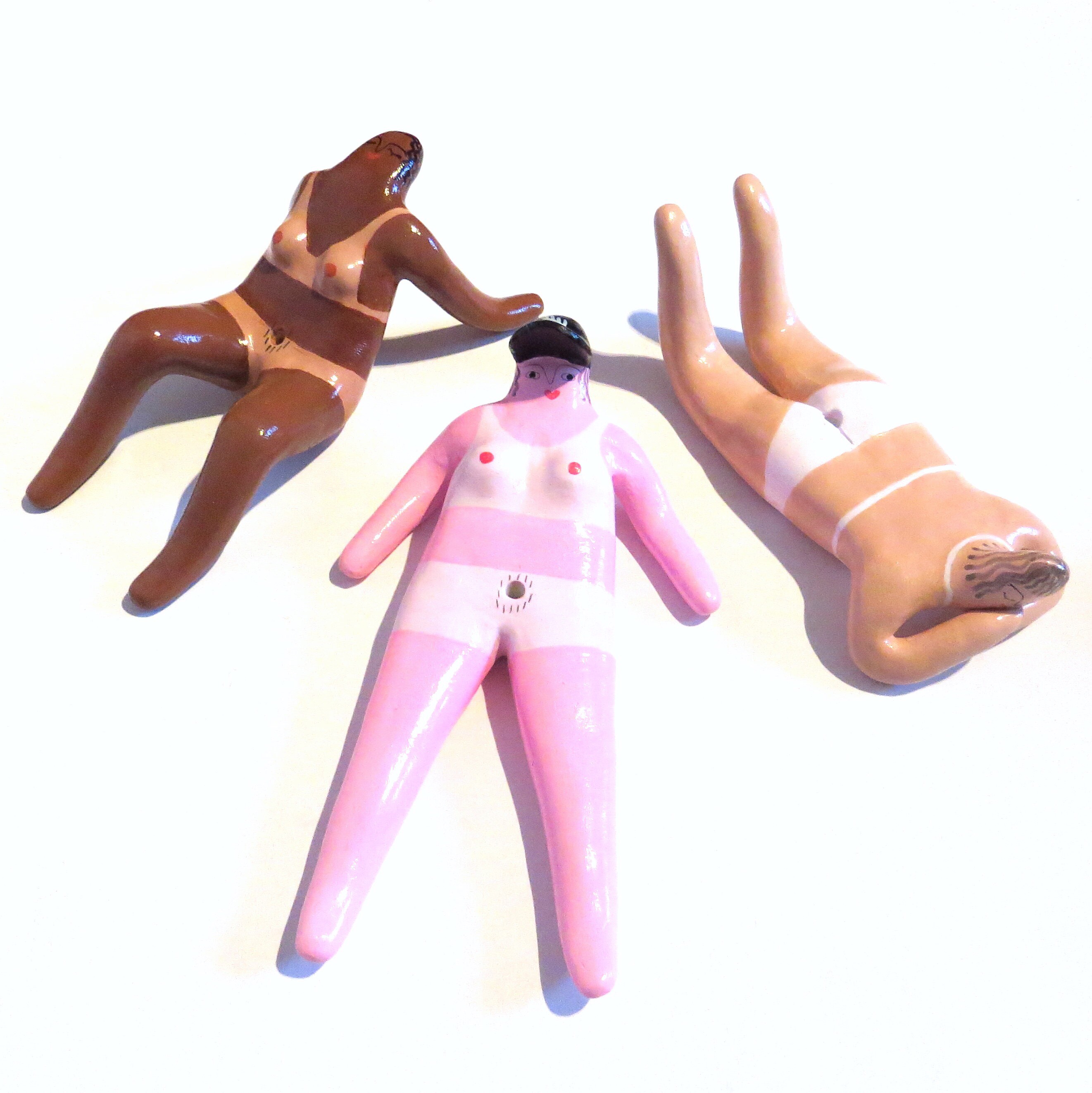 7. Where did you study?
We studied at the Arts university Bournemouth. We both did an illustration degree there which we graduated from in 2015.
8. Where do you see yourself in five years?
Perhaps we won't be all that different to now! It's hard to predict these things but ideally we'd like to be doing what we do now but better! Still making, possibly still living together in London. Working in ceramics with our own kiln, fingers crossed. We would quite like to have a couple solo exhibition in the next five years.
9. What about in ten?
This is an interesting question because the art/ illustration scene is always changing so who knows what the trends will be and if we can keep up! We will be 33... hopefully still making at least in our spare time but maybe not as Liv & Dom. Definitely wouldn't rule that out, right now we can see ourselves working together for a long time but you never know what's around the corner. We like to keep an open mind and think about how our skills we've learnt through Liv & Dom could transfer to a more steady job. By this point we want to have lived abroad and hopefully have long term partners, maybe we'll have some babies to make art for at that point too, who knows!
10. What do you hope to achieve with your art?
Surviving and paying the bills! Recognition for our creativity but nothing major... We want to just have the freedom to realise all the ideas we have in our heads!
11. Now, tell us a little more about you as a person: what is your favourite food?
Absolutely can't answer this! Far too much good food out there.
12. Favourite book?
When we were teenagers we had a thing for period novels like A Room with a View by E.M Forster and I Capture the Castle by Dodie Smith. Those are a couple of coming of age favourites that have stuck with us. A lot of people have the strongest feelings about books they read in that period of their life.
13. Favourite genre of music?
Your typical millennial indie stuff really. Mixture of rock, a rather large amount of recent indie stuff, select hip hop artists, dancier songs for dancing, the odd bit of funk and soul, golden oldies etc. Writing this we've been listening to the new Grizzly bear song, LCD sound system, Destroyer and Palace Winter, amongst other bits.
14. What are your hobbies?
Wine... Visiting old houses and museums like a pair of old ladies... Collecting houseplants.. Altering secondhand clothes... The line between hobbies and work get a bit blurred for us sometimes!
15. If you weren't an artist, what would you be?
Ladies of leisure!