Instagram:
@liyadraws
Twitter:
@liyadraws
Tumblr:
liyadraws.tumblr.com
Etsy:
www.etsy.com/shop/liyadraws
1. What's your story? Where are you from?
Hello! My name is Julia and I am a 24 y.o. artist from Saint-Petersburg, Russia. I was born in Komsomolsk-on-Amur city in the Far East of Russia. I loved drawing since I was a child so my parents took me to the art school where I was practicing art for another 6 years. This wasn't my happiest time to be honest, since it's often was a bit boring and I had to draw things I didn't really enjoy to draw (like endless amount of pots, bottles, gypsum heads and leafs, etc.), but it definitely was worth it because it gave me the base of how to use different art materials and how to build forms. I am currently at my last 6th year of University of Cinema Art, studying animation.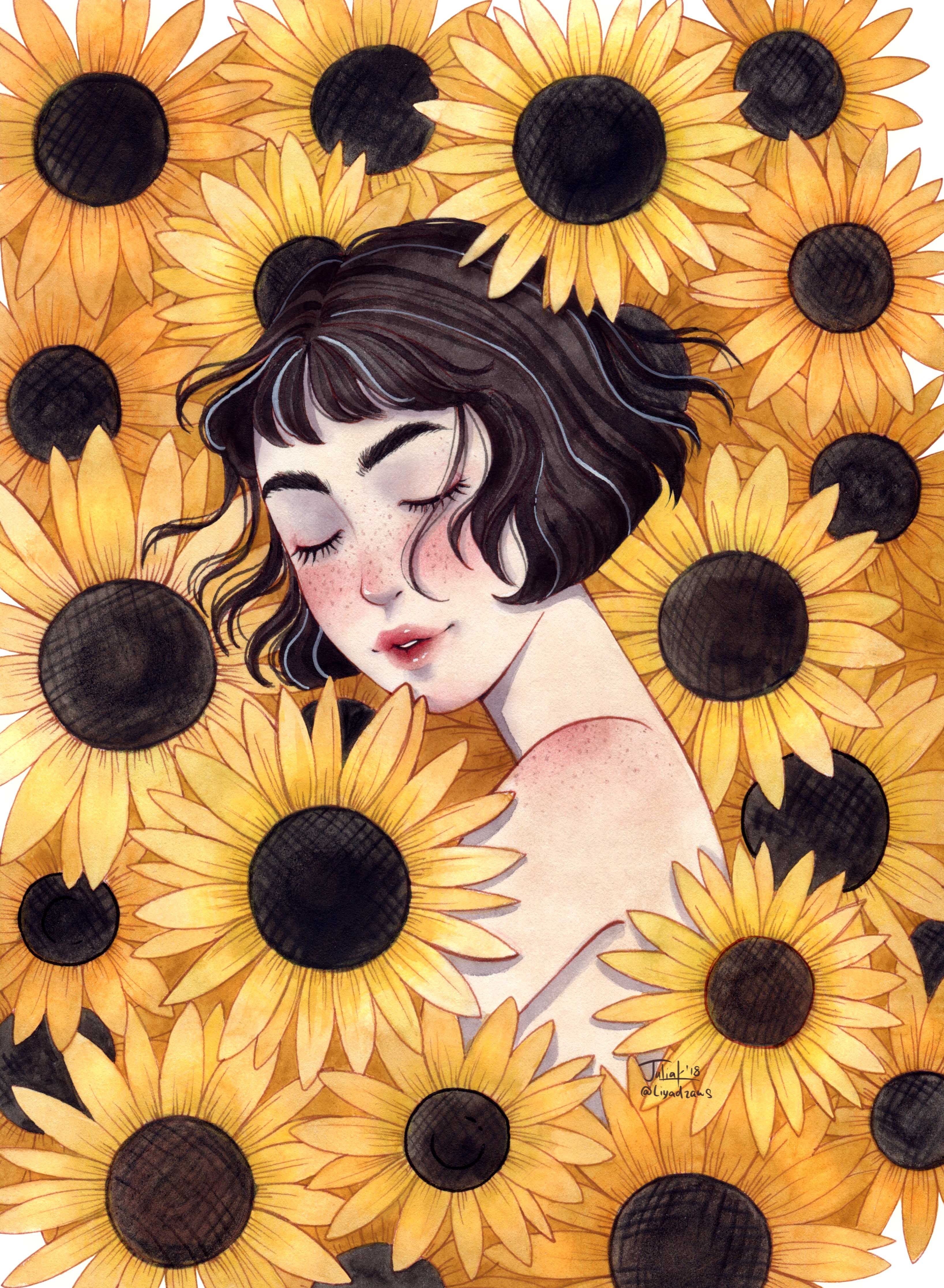 2. Tell us about your aesthetic.
This is a very tough question for me because I feel like I often draw differently. I just love to add a lot of flowers and make my characters soft, tender and a little bit sad.
3. What is your favourite medium and why?
My favorite medium is watercolors. It actually has been changing throughout the years, I used to only draw with a graphite pencil for a long time. But then I felt like I wanted to add colors to my work. I haven't had any markers or a nice set of colored pencils and I didn't enjoyed gouache, so I went with watercolors and I liked it. The main thing I love about it is that you can make an unlimited amount of colors, and it's more gentle than gouache or acrylics. And I never got used to digital painting, because for me personally I can't really control and feel my lines this way. But I am really looking forward to getting better at this!
4. What is your artistic process like?
First I make a rough and messy sketch on a piece of paper, figuring out the pose, composition, details. Then I make another, clean sketch based on the first draft. Then I trace it on the watercolor paper, because I don't like to disturb this paper by erasing any lines, since it affects future watercolor process. Then I finally paint with watercolors, and after that, I finish it with details and some line art using colored pencils and ink pens.
5. Who and/or what inspires your work?
People, movies, TV shows, books. I love to draw badass characters or just characters that inspire me; this is my way to express my love and respect to them! Also, I just love to scroll Instagram and find an amazingly creative people, who post pictures of their cosplay, cool makeup, stylish clothes or just creative selfies!
6. What role does art play in your life? How does it change the way you view the world?
It plays the main role in my life because this is what I am. This is what I enjoy doing the most, and I just can't see myself doing anything else! With the help of art, I can see beauty in everything. It helped me to accept my flaws which affected my life so badly in the past. It helps me to hide from scary things that are happening in the world.
7. Where did you study?
As I said, I went to the art school, and now I study at the university. When I was in high-school I mostly studied physics and mathematics, which was very hard but enjoyable.
8. Where do you see yourself in five years?
Hopefully, an independent artist who can support himself fully by making art. Also, I want to move to a warmer and sunnier climate, hopefully in a different country and to have a dog by then :)
9. What about in ten?
Honestly, the same, since this is all I dream of right now. I just want a very calm and happy life with my partner in a warm and friendly place, doing what I love, but, who doesn't, right? Also because I have been at school for 11 years and then at the University for 6 years I haven't really had much time to fully focus on making art and to practice things that I am not very good at, and experiment. So finally having this time would be really nice.
10. What do you hope to achieve with your art?
I want to make people happy, show them diversity and help them to embrace their natural beauty, and to show them that there's nothing wrong with having some "imperfections", as it is a big problem with our society, and being affected by this myself, this is my way to express my feelings on this topic.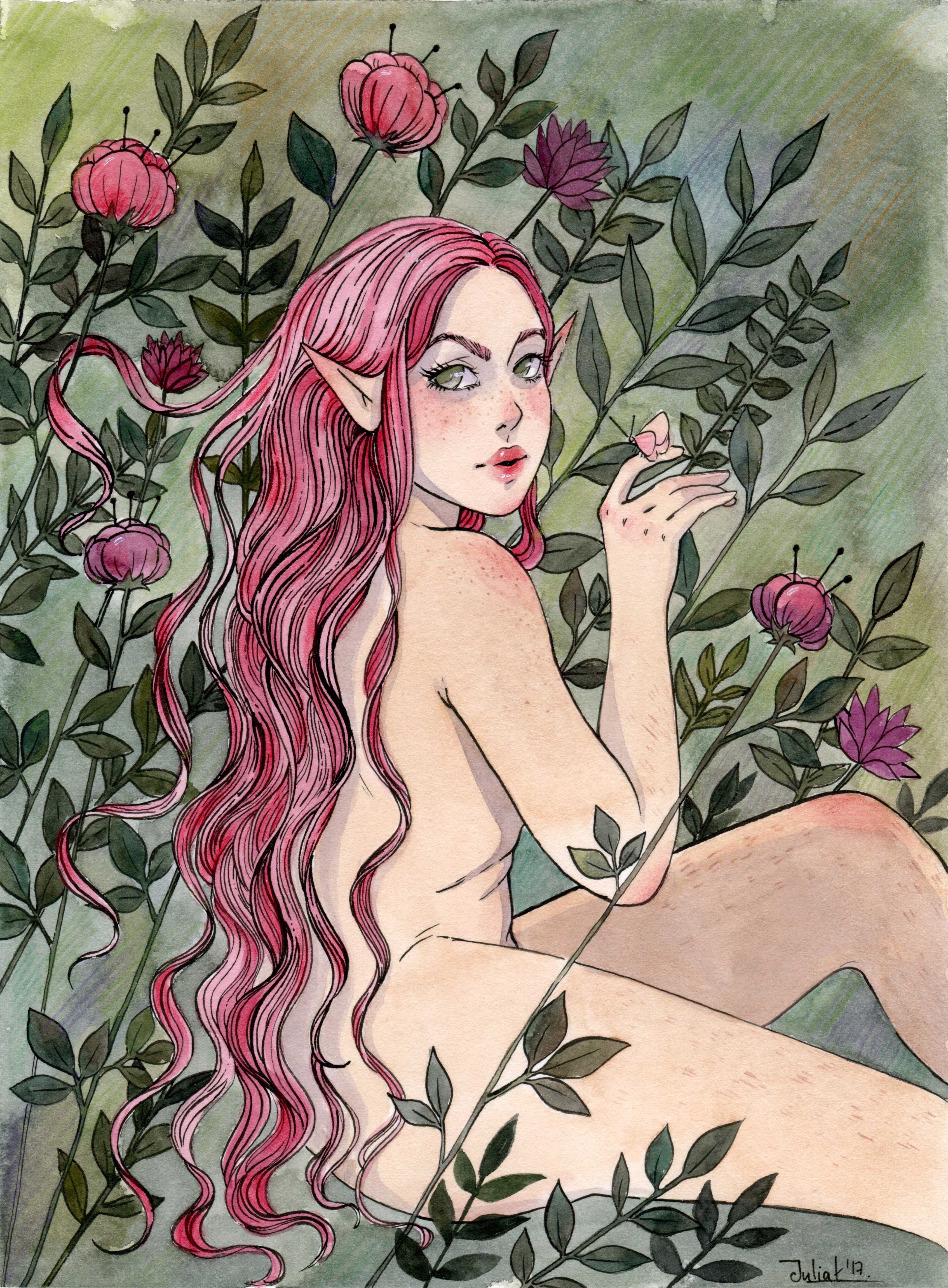 11. Now, tell us a little more about you as a person: what is your favourite food?
I love food haha! It's hard to pick a favorite but I guess it's dumplings with potato in it, it calls "vareniki" in my language :) I also love peaches and fruits and berries in general.
12. Favourite book?
"The Chronicles of Narnia" and "Harry Potter". Also, my favorite childhood books are by Victor Dragunsky ("The Adventures of Dennis") and Nikolai Nosov. I used to read them over and over again and they have a special meaning for me.
13. Favourite genre of music?
I don't have a favorite genre, but my favorite bands are Muse and The Baseballs, I am also in love with dodie's music.
14. What are your hobbies?
Since education is the full-time thing I do for the past 17 years, all of my free time I am spending on drawing, so I haven't had that much time to spend on anything else. But I also like to learn how to play the ukulele a little, I love watching TV-shows in English, so I can practice this language along the way, and I would like to start traveling!
15. If you weren't an artist, what would you be?
As probably a lot of other artists, I can't see myself doing anything else. But as I also love studying English I think I would be a translator. Oh and I would love to be a dog trainer, I'd like to work with therapy dogs, guide-dogs and police dogs!