Instagram:
@logan_fitzpatrick
1. What's your story? Where are you from?
I'm from upstate New York but I've lived in Brooklyn for the past 5 years.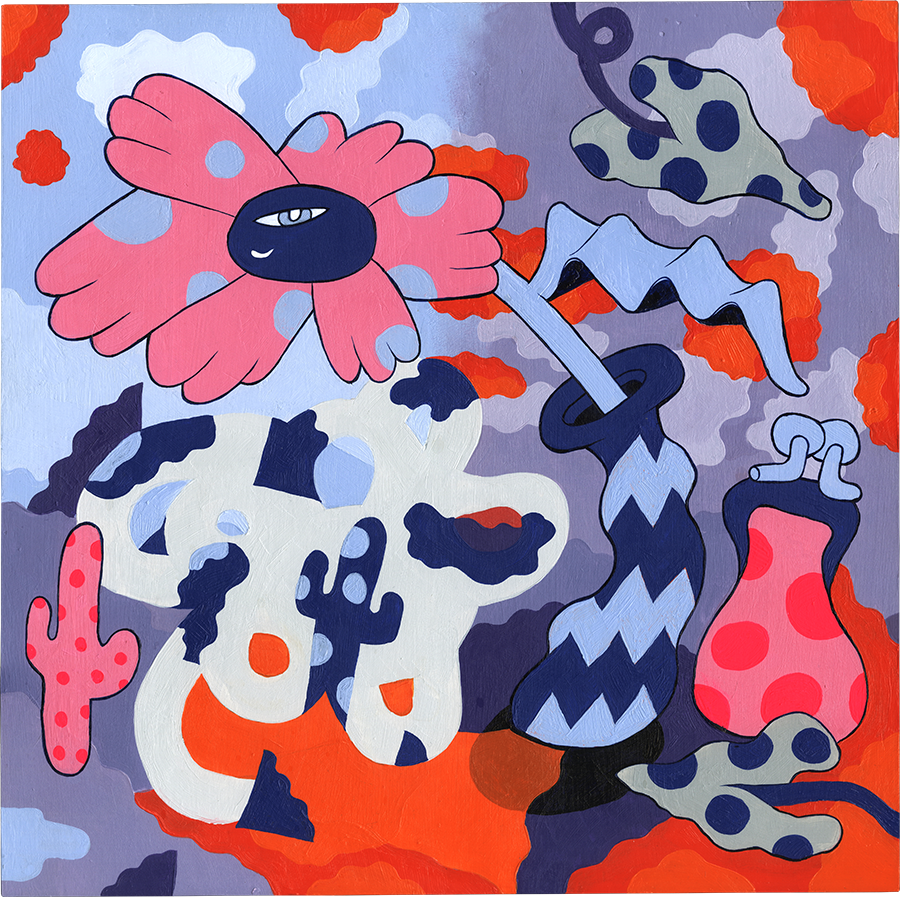 2. Tell us about your aesthetic.
It's usually an exploration of brightly colored line drawings merging with sometimes off-kilter or abstract surroundings.
3. What is your favourite medium and why?
I've been working a lot with acrylic on wooden panels. As someone who is constantly taking in images recreated on various screens, it's always startling to see how vibrant paint pigment is when it's right in front of you (IRL if you will). Sometimes it's so nice looking that it almost looks tasty, like a big colorful scoop of pudding. It's also a super meditative process once you can power through the crippling self-doubt and reach a level of deep focus. It's akin to the inner peace one can achieve by watching a YouTube video of someone poking glittery slime in a jar for 45 minutes.
4. What is your artistic process like?
Whether I'm working digitally or painting, everything comes from sketchbooks or scraps of paper. Most of my best drawings are on computer paper due to the low-risk level of consequences. Sketchbooks can be intimidating! After I can decipher a hierarchy of what's important, it all builds up in layers. First, flat fields of color. Thrift store clothing patterns are some of my favorite things to cell phone photograph & later eyedrop palettes from. After all of that is done, I'll do the linework. Pretty much everything I do ends up looking totally different than how the idea was originally conceived, so most things are kind of a surprise to me in the end.
5. Who and/or what inspires your work?
Mostly, I'm inspired by observing my surroundings. I take a lot of pictures with my phone & revisit them later for sketchbook pages. Sometimes I'll draw something over and over until I feel like I've loosened up & done it in a fluid or exaggerated way to the point where it may be imperceptible to whatever it was based on. As far as a motivating factor, it's a big inspiration to see whatever my friends are working on. When it comes to reference points earlier in life, I've been inspired mostly by Dr. Seuss, Pee Wee's Playhouse, Matisse, & Philip Guston.
6. What role does art play in your life? How does it change the way you view the world?
In general, there's something really exciting about being in the presence of someone's work that you admire. In addition to containing multitudes of compositional & stylistic choices, it's a precious object in itself. It's just sitting right in front of you! It's like one of the most unaffected and pure moments you can experience. That sounds a little "fake deep" but it's true. I can only hope to partially recreate that feeling and inject it into my own work.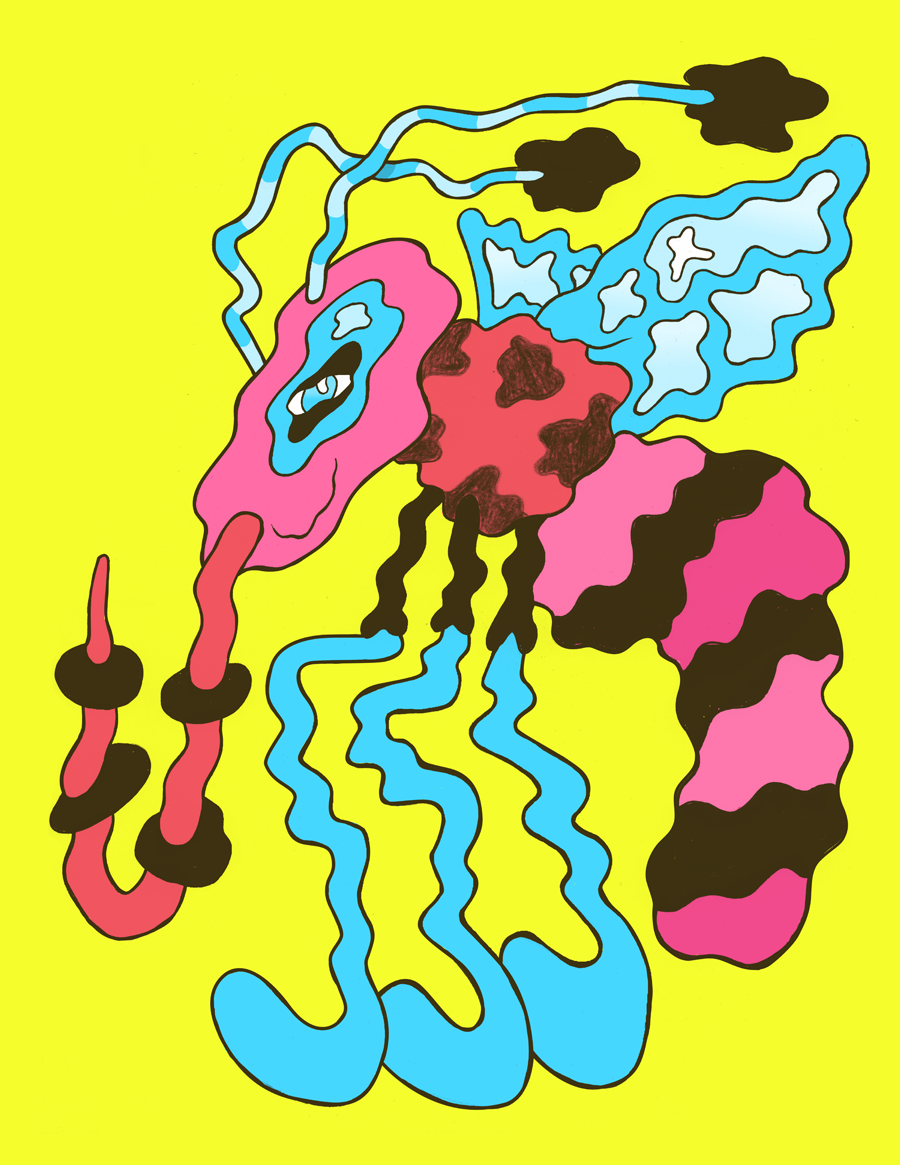 7. Where did you study?
I majored in Illustration at Pratt Institute.
8. Where do you see yourself in five years? Working in an agency?
I'd like to be exhibiting & making my own work in some capacity.
9. What about in ten?
I will have uploaded my consciousness into the cloud by then & it'll be generating new work by a motif-based algorithm. More importantly, I will be able to see what Kanye has been up to for the past ten years.
10. What do you hope to achieve with your art?
I'd just like to continue to make stuff in conjunction with my friends. Our overall existence on Earth can seem futile sometimes so I think forging connections & bonding over common emotions is the coolest thing we can all do. Like, hey, we're all really sad or we're all really happy & here's a bunch of work that reflects that! And now you get to experience it visually through the lens of all different types of personalities! It's fun to see group shows & zine fair events with all different styles and voices being displayed simultaneously. Is that too new age-y of an answer? I'm not sure. Also, the meticulous aspects of the practice are a therapeutic way to get your brain to stop talking for a little while.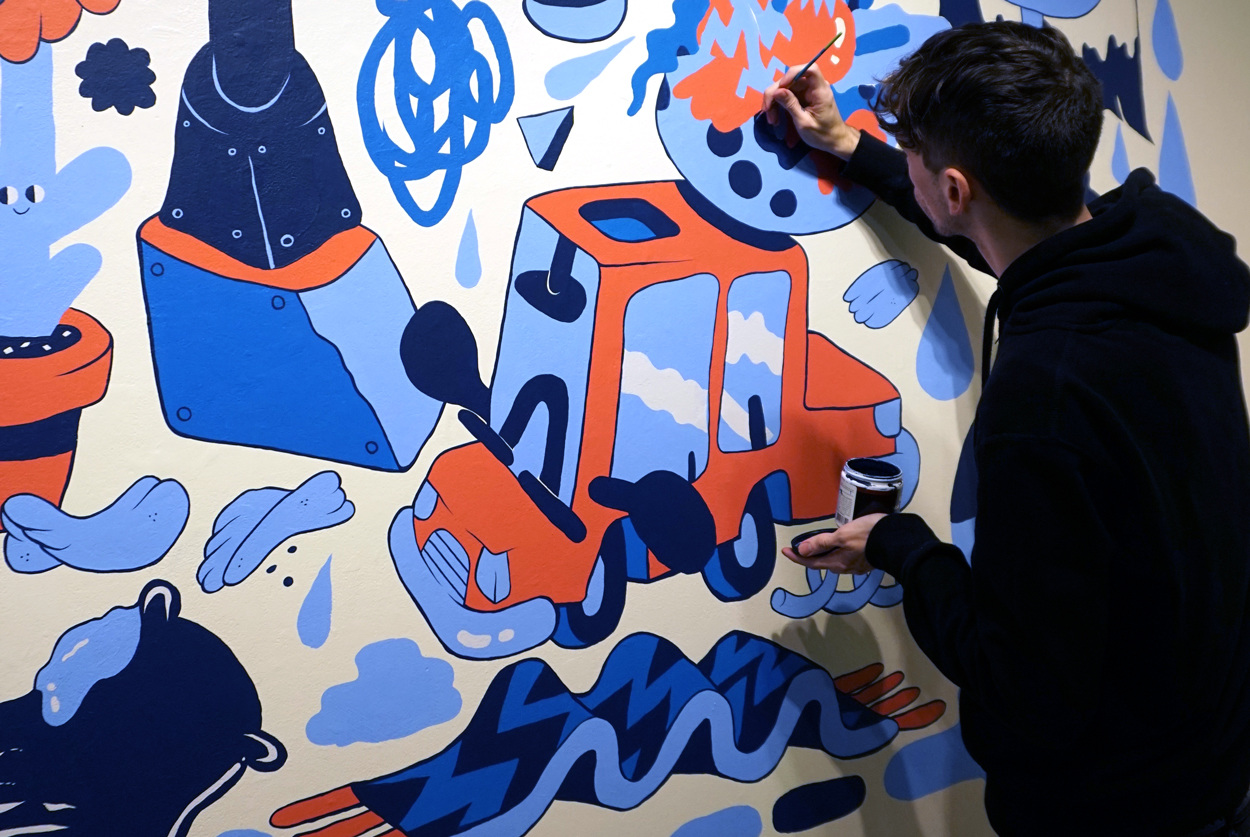 11. Now, tell us a little more about you as a person: what is your favourite food?
Fries!!! "Fries over guys", as the ancient proverb goes.
12. Favourite book?
Franny & Zooey and The Bell Jar, plus anything by Donna Tartt or David Sedaris.
13. Favourite genre of music?
Some mainstays are The Jesus & Mary Chain, Ovlov, Frank Ocean, Bully, Parquet Courts, Speedy Ortiz, Charly Bliss, My Bloody Valentine, the chopped & screwed version of Tha Carter II, Potty Mouth, episodes of The Best Show, the nightcore version of Tha Carter II, Deerhoof, Charli XCX, and Cloud Nothings. Also, the new Paramore of course!
14. What are your hobbies?
Making illustrations is such an inherently solitary process that I'd say my other hobby is meeting up with friends to make sure I still have a command of the English language in a social setting.
15. If you weren't an artist, what would you be?
I would have wheelbarrows full of money from selling Fit Tea on Instagram