Instagram: @lore.illustrations
Website: www.loreladogne.fr
1. What's your story? Where are you from?
My name is Lore, I am 27 years old and I am a graphic designer and illustrator in Paris. I work as a graphic designer in a communication agency during the week and I develop my illustration work in the evenings and on weekends.
Je m'appelle Lore, j'ai 27 ans et je suis designer graphique et illustratrice à Paris. Je travaille comme designer graphique dans une agence de communication la semaine et je développe mon travail d'illustration le soir et le week-end.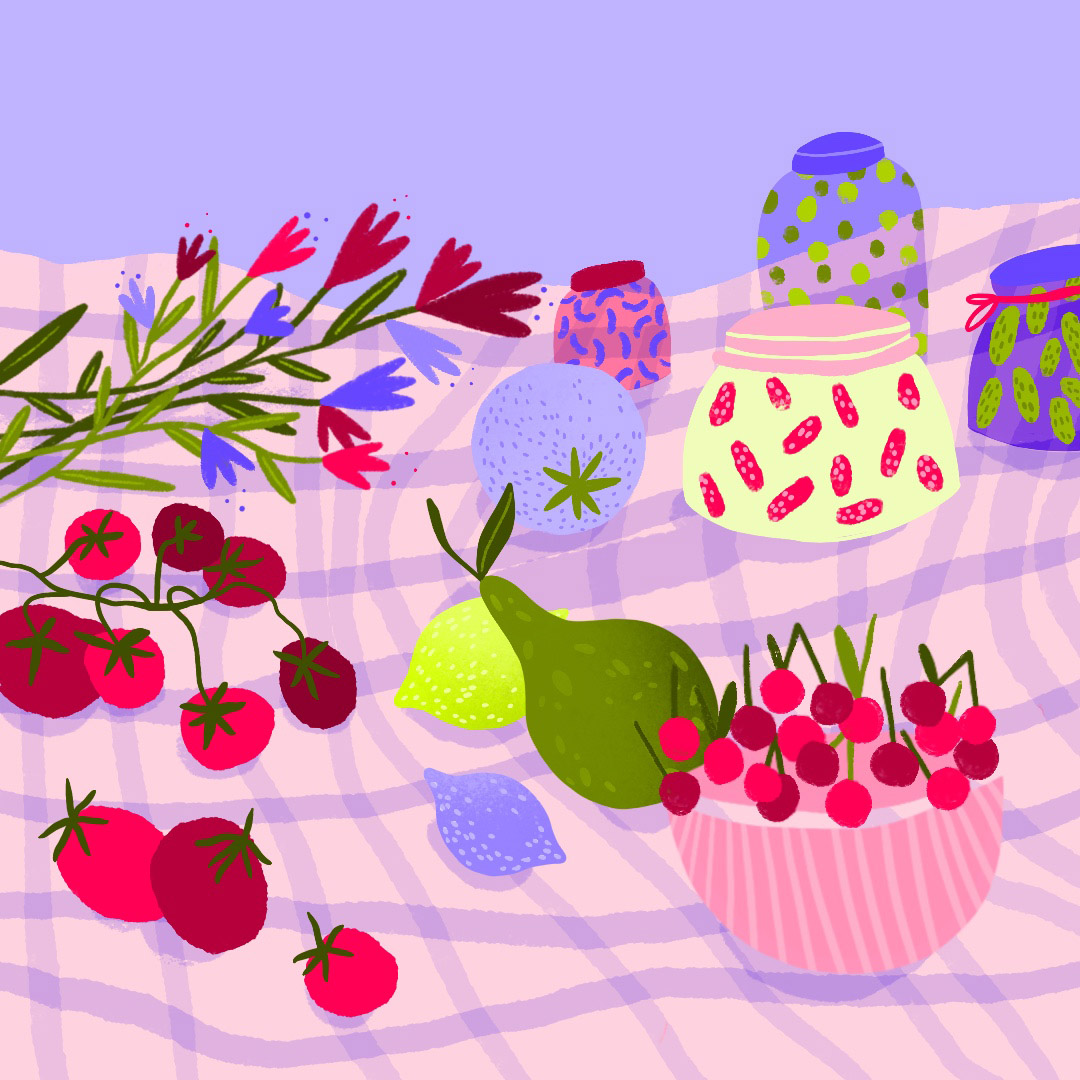 2. Tell us about your aesthetic.
My graphic style is always under construction, but I would say it is based on round shapes and colour contrasts. I also attach great importance to details because, in my opinion, they make the final image much deeper.
Mon style graphique est toujours en construction, mais je dirais qu'il repose sur des formes rondes et des contrastes de couleurs. J'accorde également une grande importance aux détails car, à mon sens, ils donnent du relief à l'image finale.
3. What is your favourite medium and why?
I work mainly with digital tools. I use Procreate on iPad Pro because it allows me to work everywhere. I also like to work with colour pencils but I have never been satisfied with the results so far. I must also say that I have abandoned them since I discovered Procreate. I hope to get back to it soon!
Je travaille principalement avec des outils numériques. J'utilise Procreate sur iPad Pro car cela me permet de travailler partout. J'aime également travailler aux crayons de couleurs mais je n'ai, pour le moment, jamais réussi à me satisfaire du résultat. Il faut dire aussi que je les ai délaissés depuis que j'ai découvert Procreate. J'espère y revenir bientôt!
4. What is your artistic process like?
I have a sketchbook in which I write down my ideas, quick sketches. The aim is not to make something pretty, but to see what works or doesn't work, put down the key elements, find the best composition... Once this step is finished, I take a photo of this sketch and then I start to rework it in Procreate. I re-draw, I specify the shapes and I refine the details. Then I define a colour palette and quickly apply the colours in my illustration.When I am satisfied with the result, I put the finishing touches to my drawing.
J'ai un carnet de croquis dans lequel je note mes idées, des croquis rapides. Le but n'est pas de faire quelque chose de joli, mais de voir ce qui fonctionne ou non, poser les éléments clefs, trouver la meilleure composition... Une fois cette étape terminée, je prend ce croquis en photo puis je commence à le retravailler dans Procreate. Je re-dessine, précise les formes et raffine les détails. Je définis ensuite une palette de couleurs et pose rapidement les couleurs dans mon illustration. Quand je suis satisfaite du résultat, je passe à la finition.
5. Who and/or what inspires your work?
Feminism feeds my work enormously. I try to represent women as they are in real life, those who are not in the limelight because they do not fit the beauty canons. I am also inspired by everyday scenes. A person crossed by chance in the street, a landscape, the colours of a building or memories that resurface.
I also like to associate words with my illustration work. This helps me to flesh out what I want to make people feel through the image. For the time being, I only do this in my notebooks, but in the future I would like to develop it further.
Le féminisme nourrit énormément mon travail. J'essaie de représenter les femmes telles qu'elles sont dans leurs vraies vies, celles qui ne sont pas sur le devant la scène car elles ne correspondent pas aux canons de beauté. Je suis également inspirée par les scènes du quotidien. Une personne croisée par hasard dans la rue, un paysage, les couleurs d'un bâtiment ou bien des souvenirs qui refont surface.
J'aime également associer les mots à mon travail d'illustration. Cela m'aide à étoffer ce que je souhaite faire ressentir au travers de l'image. Je ne le fais pour le moment que dans mes carnets, mais à l'avenir, c'est quelque chose que j'aimerais développer davantage.
6. What role does art play in your life? How does it change the way you view the world?
Art takes up a large part of my days since it is my work. For me, it is above all a way of expressing myself, a very powerful way of conveying ideas and messages. There is, I believe, a great political issue behind the images we create.
L'art occupe une grande partie de mes journées puisque c'est mon métier. C'est pour moi avant tout une manière de m'exprimer, une manière très puissante de faire passer des idées et des messages. Il y a, je crois, un grand enjeu politique derrière les images que l'on crée.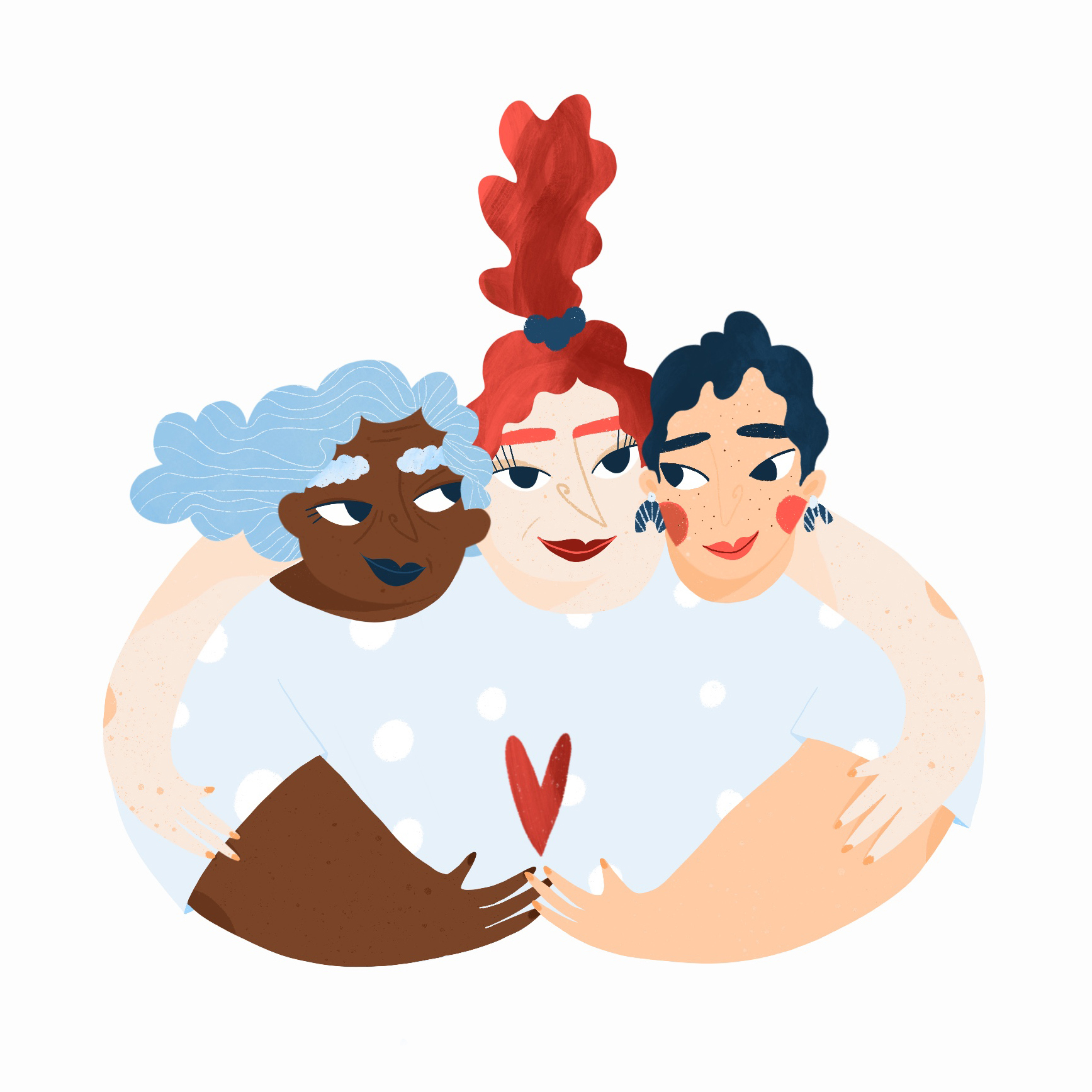 7. Where did you study?
I studied applied arts for three years in Toulouse, in the south of France. It's a fairly general education, where you are free to explore the different fields of applied arts. I had the opportunity to train myself in drawing, painting and engraving. Little by little, I discovered my taste for the graphic arts and more particularly for illustration.
I then went on to study design for three more years at the Boulle school in Paris. As the training did not correspond exactly to what I wanted, I continued to explore graphic design and illustration by myself and thanks to the internships I did.
J'ai étudié les arts appliqués durant trois ans à Toulouse, dans le sud de la France. C'est une formation assez générale, où l'on est libre d'explorer les différents domaines des arts appliqués. J'ai eu l'occasion de me former au dessin, à la peinture et à la gravure. Peu à peu, j'ai découvert mon goût pour les arts graphiques et plus particulièrement pour l'illustration.
J'ai ensuite poursuivi mes études en design trois années supplémentaires à l'école Boulle, à Paris. La formation ne correspondant pas exactement à ce que je souhaitais, j'ai continué à me former par moi-même (et grâce aux stages que j'ai réalisés !) au design graphique et à l'illustration.
8. Where do you see yourself in five years?
I currently divide my time between my work as a graphic designer in an agency and my personal illustration projects in my free time. I hope to have the time to devote myself fully to illustration within five years!
Je partage pour le moment mon temps entre mon activité de designer graphique en agence et mes projets personnels d'illustration sur mon temps libre. J'espère avoir le temps de me consacrer pleinement à l'illustration d'ici cinq ans!
9. What about in ten?
In ten years, I would like to be doing more and more illustration projects and be living in a small house by the sea.
Dans une dizaine d'années, j'aimerais réaliser toujours plus de projets d'illustration et vivre dans une petite maison au bord de la mer.
10. What do you hope to achieve with your art?
I hope people can find their way around, recognise a small part of themselves in it.
J'espère que les gens puissent s'y retrouver, y reconnaître une petite partie d'eux.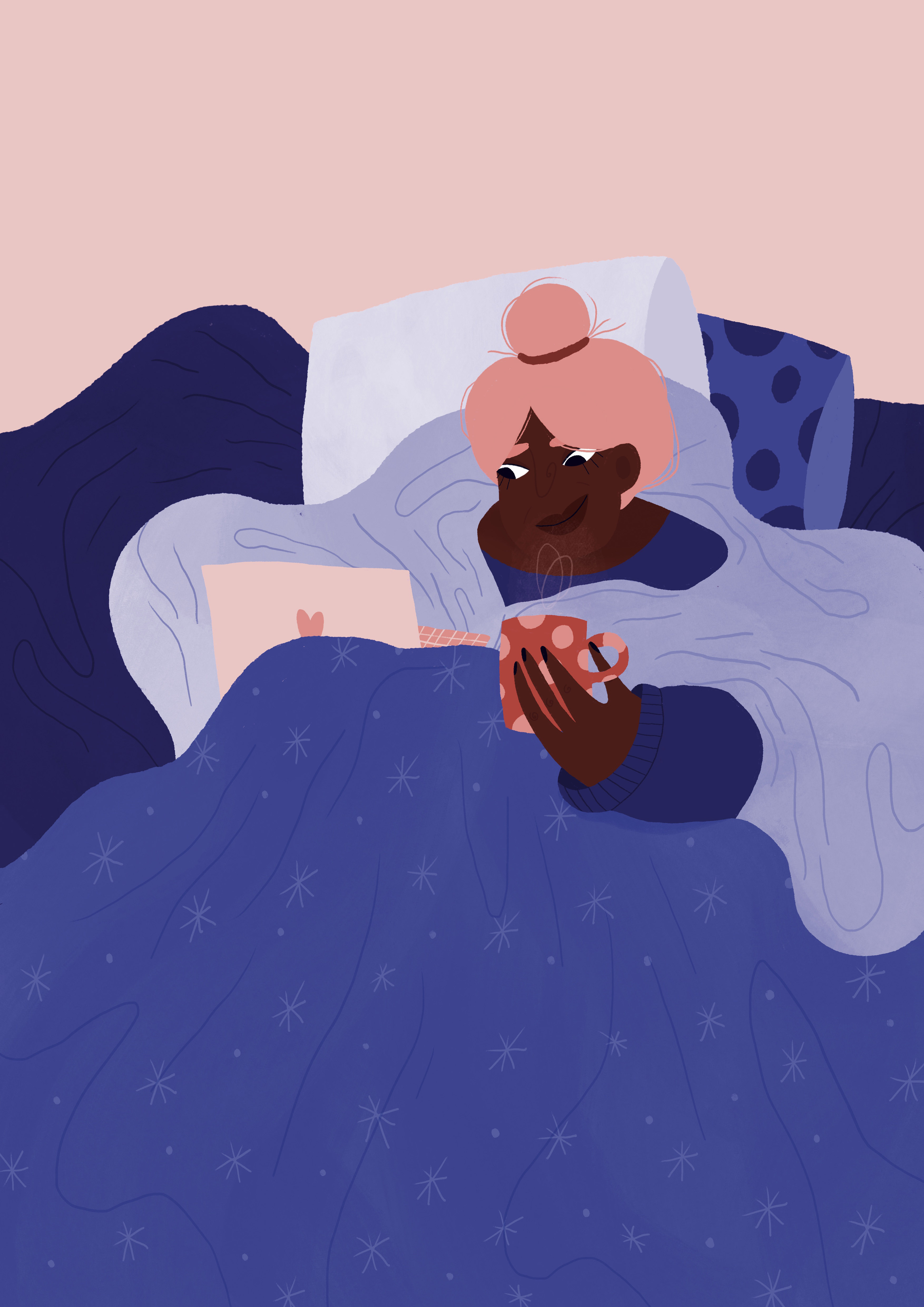 11. Now, tell us a little more about you as a person: what is your favourite food?
I love to cook and eat! I have been vegan for 6 years and my favourite dishes are chilli (sin carne), mushroom pasta, minestrone soup and hummus!
J'adore cuisiner et manger! Je suis vegan depuis 6 ans et mes plats préférés sont le chili (sin carne), les pâtes aux champignons, la soupe minestrone et le houmous!
12. Favourite book?
Chez soi. Une odyssée de l'espace domestique by Mona Chollet
The Unbearable Lightness of Being by Milan Kundera
Cthulhu mythos by Howard Phillips Lovecraft
13. Favourite genre of music?
I listen to quite different things, but what I like most is vintage Chanson Française and their lyrics.
J'écoute des choses assez différentes les unes des autres, mais ce que j'aime le plus ce sont les chansons françaises et leurs paroles.
14. What are your hobbies?
I am passionate about plants and gardening! Every day I enjoy watering my plants, watching them grow and cutting off their dead leaves. Moreover, I enjoy cycling, listening to podcasts, cooking and baking.
Je suis passionnée de plantes et de jardinage! Tous les jours je prends plaisir à arroser mes plantes, les voir grandir et couper leurs feuilles mortes. Autrement, j'aime faire du vélo, écouter des podcasts, cuisiner et pâtisser.
15. If you weren't an artist, what would you be?
I would have liked to be a doctor or an archaeologist.
J'aurais aimé être médecin ou archéologue.