Instagram:
@louisereimer
Website:
www.louisereimer.ca
1. What's your story? Where are you from?
I'm an artist and illustrator from Vancouver, Canada, currently living in Toronto. I studied printmaking at Emily Carr University in Vancouver. When I graduated I needed a break from the city so I moved to a small town up north, and then I moved to Montréal, and then I moved here a few years ago.
2. Tell us about your aesthetic.
Its kind of dreamy and very feminine. I combine hand drawn and watercolour elements digitally. I love texture and pattern. It is influenced by thrift stores, runways, surface design, vintage illustration, my friends. I want to depict women in a positive and empowering way. Right now I'm interested in shapes and colour and trying to be less detail oriented, which is my natural tendency.
3. What is your favourite medium and why?
Probably pencil and watercolour. I've been experimenting with other media lately though, like coloured pencils and gouache to try to shake things up a bit and be more loose. I've been drawing since I was a small child so it feels very natural. I got into watercolour because for a while I was moving around a lot and are easy to transport and I didn't need a studio to make them. I just finished a ceramics course though, and I'm really excited about putting my drawings on ceramics.
4. What is your artistic process like?
For client work I make a series of very sloppy sketches that I send to the art director and then we decide which one to go with. These days I almost always make a pin board of colours, reference images, and aesthetics too. I love Pinterest and use it all the time. For personal work I either draw from a memory or something I've seen. Sometimes I take photos or use reference images. I like drawing clothes because they are just combinations of shapes and colours.
5. Who and/or what inspires your work?
Spending time in nature such as going for hikes and looking for mushrooms are activities that I always want to document. I love being outside and feel very inspired by my friends. Often I'll be doing something and think "I have to draw this later." Recently I went to a sauna on an island on a sunny winter day and then laid nude on the beach with a bunch of people, and I've been thinking about drawing that since it happened. I'm also inspired by books I'm reading or movies I've seen. I love the immersive aesthetic experience of watching a movie, how the clothes, colours, and music can all be cohesive towards a certain mood. I was really inspired by the book the Girls by Emma Cline, which is about the Manson cult.
6. What role does art play in your life? How does it change the way you view the world?
I would be unhappy if I couldn't make things. I'm constantly taking visual notes of things I want to draw and outfits I see. I think in a way it protects me from things like the horrific political landscape. In the past my work has been a mechanism to deal with depression. If I could make something beautiful I wouldn't have time to think about sad things and I would have done something productive. I have a weekly drawing night with a few friends here that is a great ritual, and also time for catching up and trying out different drawing techniques. The winters here are very long and cold, so it is important to prioritize spending some time with other people and not getting too isolated.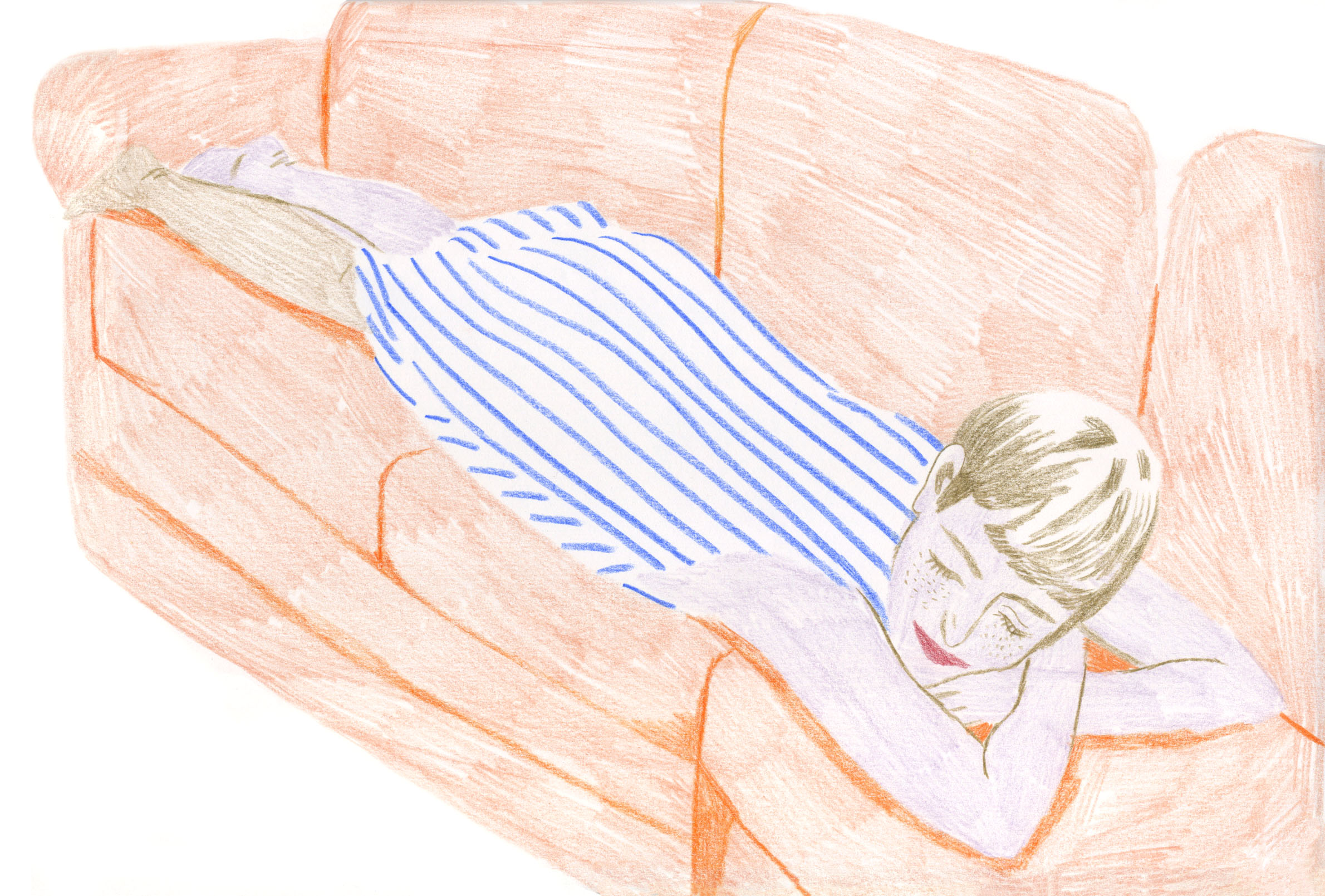 7. Where did you study?
I studied printmaking in Vancouver at Emily Carr University.
8. Where do you see yourself in five years? Working in an agency?
I would really love to be doing more surface design for companies, have a bigger studio and be making ceramics on the regular.
9. What about in ten?
Probably similar to the above but maybe with another skill thrown in, and some children running around.
10. What do you hope to achieve with your art?
I like connecting with people. I like it when people place themselves in my narrative work, or feel inspired to tell me a personal story. I also want to present women in an empowered and non sexualized way.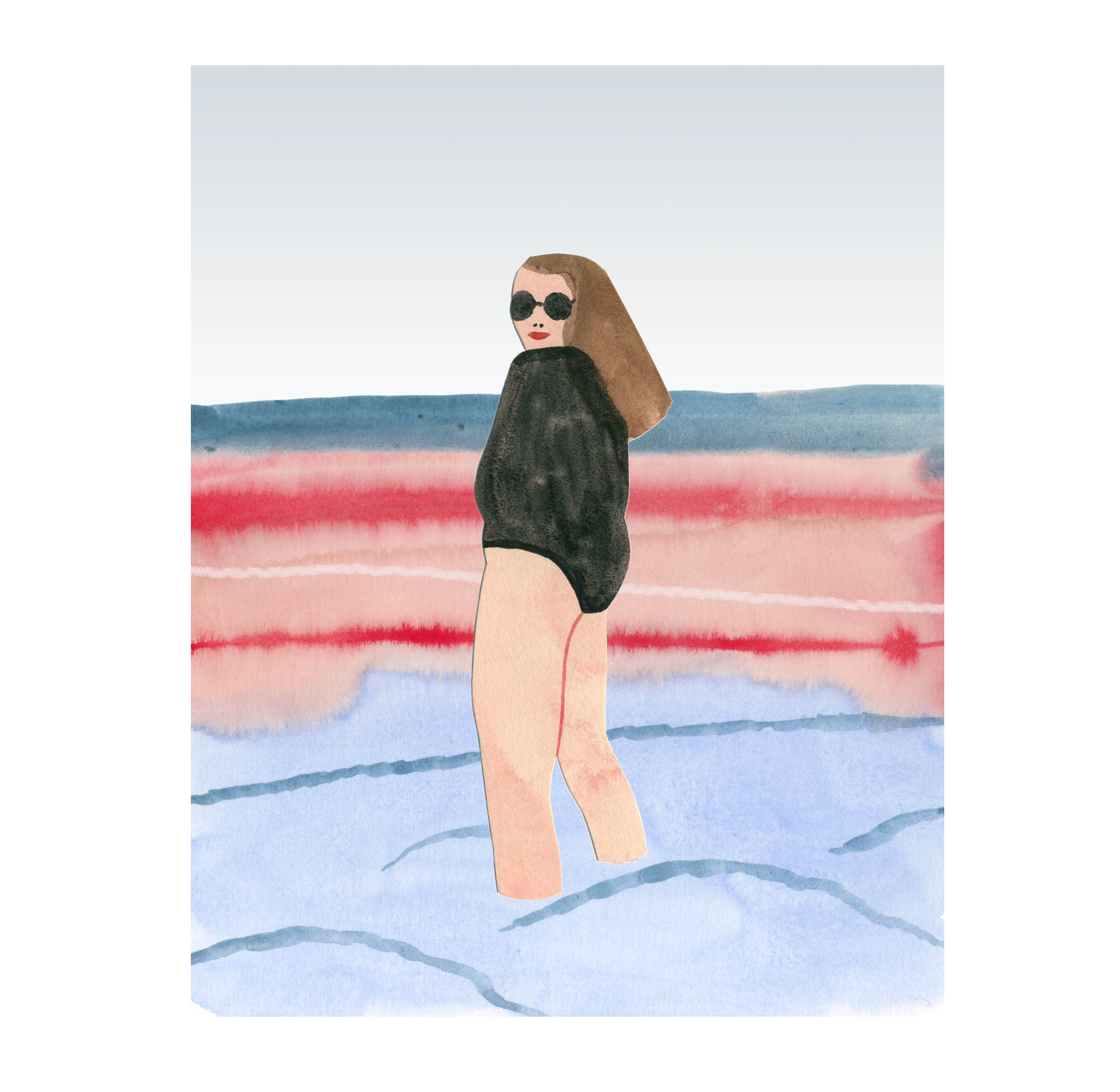 11. Now, tell us a little more about you as a person: what is your favourite food?
I love Thai and Vietnamese food. Toronto is a great food city because there are so many options and all quite accessible. There is a great black sesame tan tan ramen at a place 2 minutes from my house that I am obsessed with. You grind your own black sesame seeds and then the broth turns grey. It sounds bad but its great!
12. Favourite book?
There are so many! Right now and I am reading the Hunger Games and finishing the Neapolitan series by Elena Ferrante.
13. Favourite genre of music?
I cannot choose. I do listen to a lot of classic rock, especially Joni Mitchell.
14. What are your hobbies?
Reading, ceramics, watching movies, thrifting, camping.
15. If you weren't an artist, what would you be?
A writer.