Instagram:
@loustitches
1. What's your story? Where are you from?
I'm Louise (often known as Lou!) and I'm a triplet from West Yorkshire, UK. I've always described myself as creative and grew up painting in watercolour and acrylic in my spare time. I briefly considered going to Art College but instead chose to continue art as a hobby, studying English Literature at University. Since then, I've had the opportunity to develop my art by teaching myself and I realised that it was all I ever really wanted to do!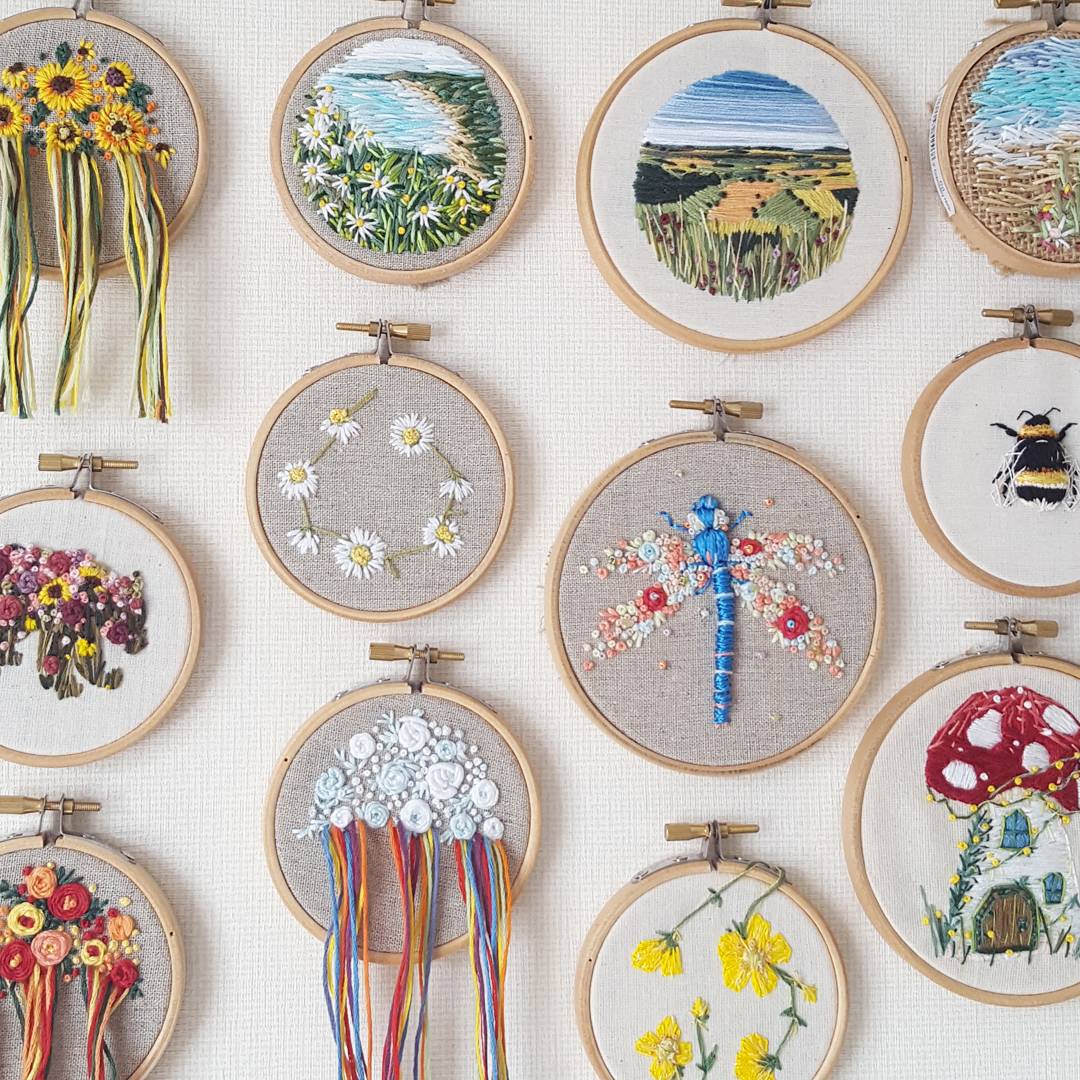 2. Tell us about your aesthetic.
I want to create happy, bright pieces. I love to explore colour and texture to capture little pieces of nature, focusing on flowers, insects and landscapes. I am excited to see how it develops.
3. What is your favourite medium and why?
I began embroidery at the start of 2017 and I never looked back! Floss allows me to create textures and layers of colour that I never got with any other medium. It's so versatile; using different thicknesses of thread can create so many different effects and I often combine embroidery with painting. I also have synaesthesia (where words, sounds, scents and touch have colour associations), so any form of art helps me to express what I can see in my mind's eye. I attribute being a synaesthete to my obsession with texture and colour, which is why embroidery is the perfect medium for me!
4. What is your artistic process like?
It always starts as a scribble or a quick note in the memo section of my phone. I keep a notebook on my bedside table, just in case I get an idea! When it comes to putting that idea onto fabric, I very rarely plan my design out; if I do I will sketch it out very roughly unless it is the rare occasion I need to be precise. This allows me to be my most creative as I find my best work happens when I don't have a plan and use my imagination to layer the colours.
5. Who and/or what inspires your work?
Nature is usually central to my inspiration. My aim is to recreate that hard to describe feeling of pure happiness when you're with nature, like when you see your first bumble bee in Spring or you climb to the top of a mountain for the view below. I am also hugely inspired by the art of Ana Teresa Barboza – I love the idea of thinking and working 'outside the hoop'.
6. What role does art play in your life? How does it change the way you view the world?
Art makes me a happier person. It pushes me to keep learning and improving but it's also what I come to at the end of the day to relax. I think being artistic brings me perspective by making me more observant. I am drawn to finer details like petals, leaves and the colours in the landscape, my mind constantly thinking of new ways to translate what I have seen onto fabric or paper.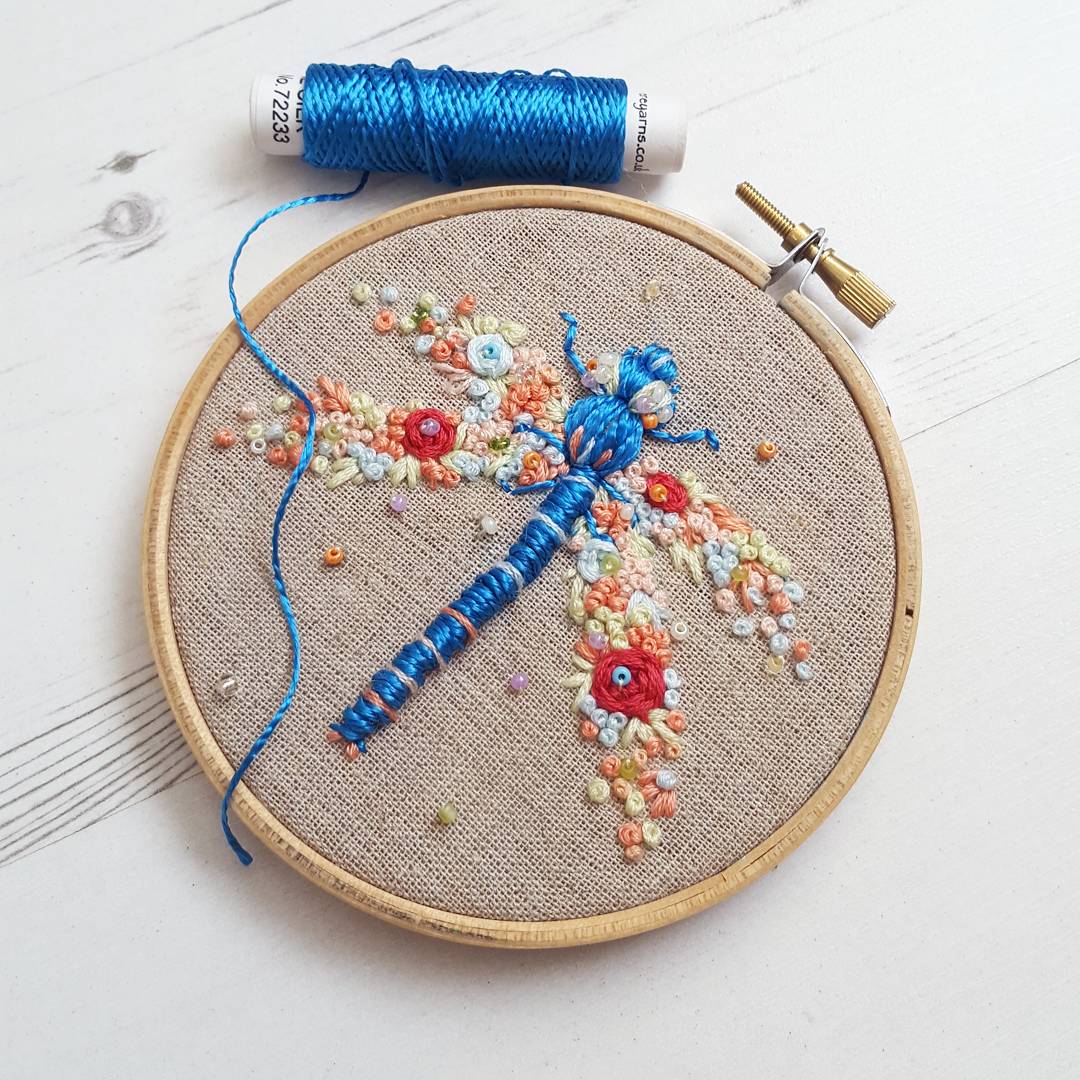 7. Where did you study?
I studied English Literature at York St John University a few years ago but I am self-taught in art and embroidery.
8. Where do you see yourself in five years?
Still stitching but with a dog by my side! I am excited to see what opportunities come my way with growing my online presence and online store. I would love to teach workshops and create a body of work large enough to have a stall at local craft fairs.
9. What about in ten?
I had to think really hard for this! All I know is that I still want to be having fun with art a big part of my life. I hope to travel more and be working creatively. Working full-time as an artist is the dream.
10. What do you hope to achieve with your art?
To catch people's attention and brighten their day, especially through commissions –It's so rewarding to be a little part of someone's life like that. I'd also like to inspire others to explore their creativity through textiles and embroidery. It's awesome that there are so many subverting the traditional idea of embroidery right now.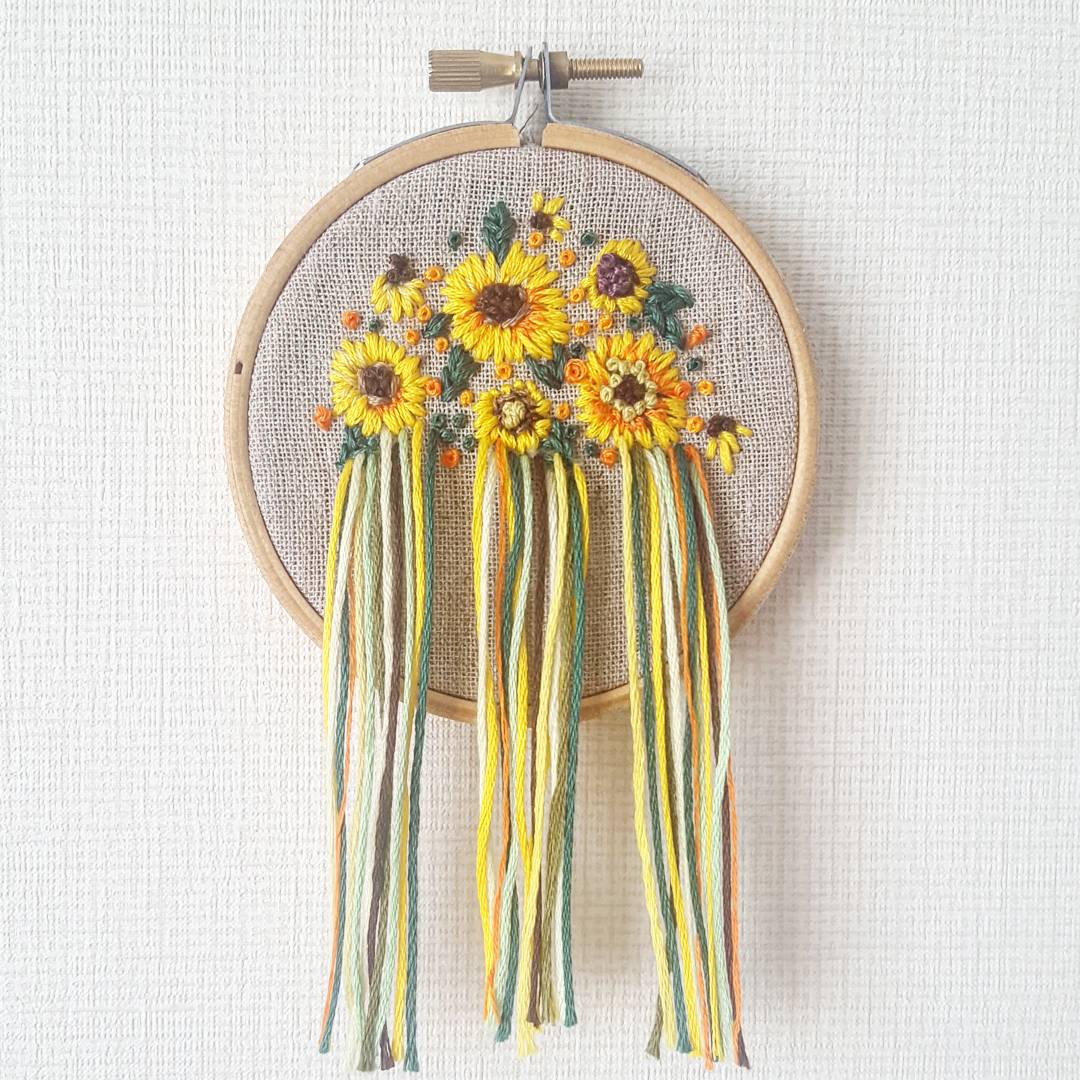 11. Now, tell us a little more about you as a person: what is your favourite food?
I really love most kinds of food! I love home cooking, fresh and healthy foods and you can never ever go wrong with pizza.
12. Favourite book?
That's too hard, there are so many! Wuthering Heights by Emily Bronte is definitely a consistent favourite though. I love a lot of the classics but the Harry Potter series will always be really special to me – I feel lucky to have been part of the generation that grew up with them.
13. Favourite genre of music?
I usually listen to a mix of pop, acoustic, folk and indie music. I always seem to prefer the slower songs! I am really excited at the moment as a lot of my favourite artists have new albums out all at once.
14. What are your hobbies?
Reading, walking, exploring new places and drinking tea.
15. If you weren't an artist, what would you be?
I'd be a conservationist or a copywriter. Something to do with nature or creative writing!