Instagram:
@luciabalcazar
Twitter:
@luciabalcazar
Facebook:
www.facebook.com/lupaperflowers
Etsy:
www.luciabalcazar.com/etsy
Website:
www.luciabalcazar.com
1. What's your story? Where are you from?
I grew up in La Paz, Bolivia and am now based in Boston, Massachusetts via Chicago, Berlin and Dar es Salaam. I got a degree in Statistics and Economics, but soon realized that I wanted to pursue Art full time. I quit my job, lived in Africa for a while and came back to the US to enroll in Art school. Crecí en La Paz, Bolivia y ahora estoy basada en Boston, Massachusetts via Chicago, Berlin y Dar es Salaam. Obtuve una licenciatura en Estadística y Economía, pero poco después me dí cuenta que quería dedicarme al Arte. Renuncié a mi trabajo, viví en el Africa por un tiempo y volví a los Estados Unidos para empezar la facultad de Arte.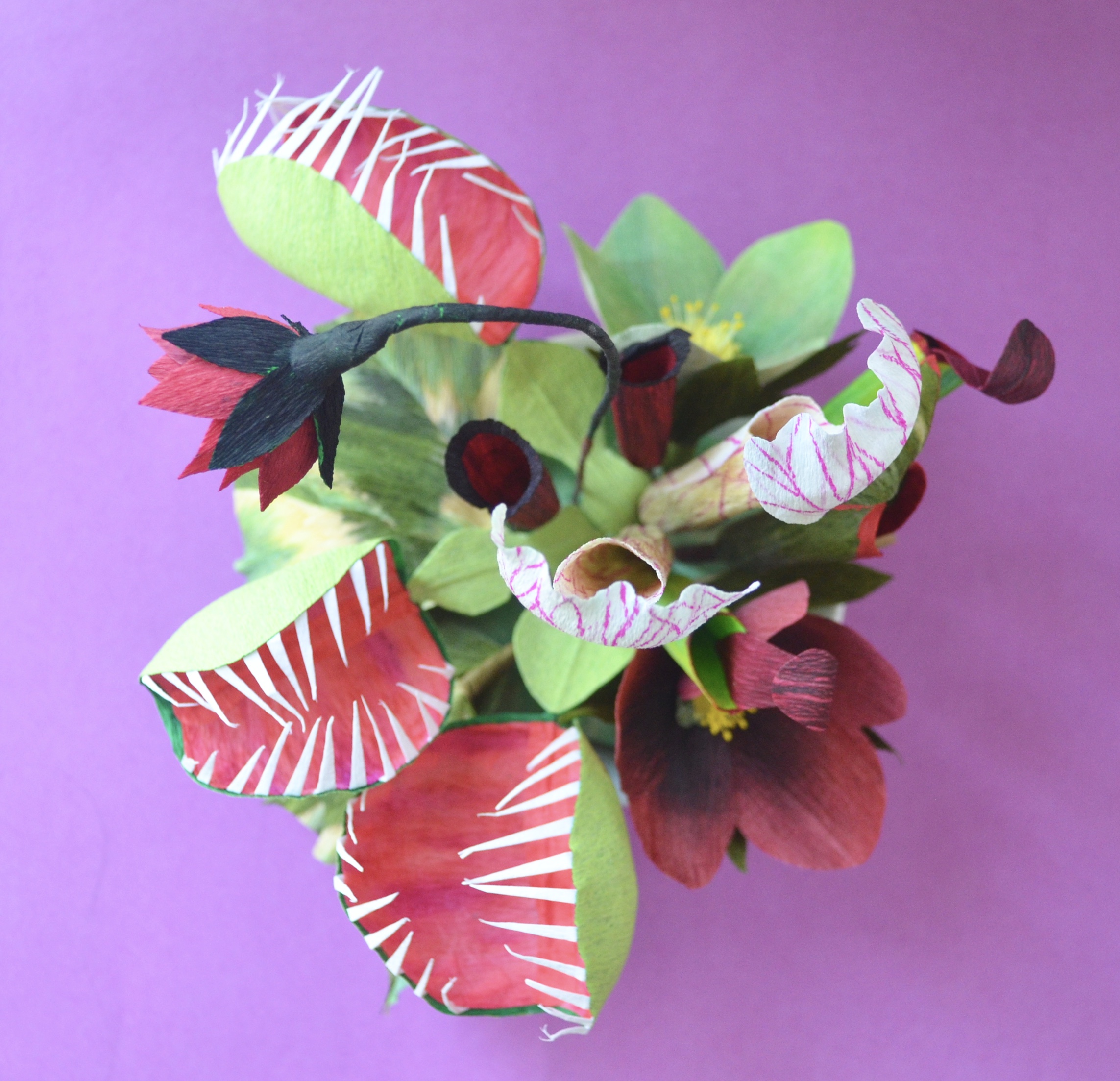 2. Tell us about your aesthetic.
I like to experiment with all the color palettes possible. I can't decide if that's a good or a bad thing for an artist. While I don't have a very defined style color-wise, I get to play with all the colors all the time and that makes me happy. I seek to create small paintings within my paper flowers and to incorporate themes into the paper bouquets. Me gusta experimentar con todas las combinaciones de color posibles. No se si eso es algo bueno o malo para un artista. No tener un estilo de color definido me permite jugar con todos los colores todo el tiempo y eso me hace feliz. Procuro crear pequeñas pinturas dentro de mis flores de papel e incorporar temas a mis bouquets.
3. What is your favourite medium and why?
Right now I'm mostly focused on paper. I use a german brand of crepe paper that has a slight stretch and takes paint beautifully when wet. I also have experience with printmaking techniques, gouache and watercolor. Por ahora estoy enfocada en el papel. Uso un tipo de papel alemán que se estira y reacciona a la pintura de una forma hermosa. También tengo experiencia con técnicas de grabado, gouache y acuarela.
4. What is your artistic process like?
I usually come across a subject that interests me and think about a color palette to represent it. My Art then reflects that interest, be it modern art, whales or geography. I don't usually sketch things out. I go directly to prototyping and fail many times before the final piece. Muchas veces encuentro un tema que llama mi atención y pienso en una combinación de colores para representarlo. Mi Arte generalmente refleja ese interés, ya sea Arte moderna, ballenas o geografía. No suelo hacer bosquejos, voy directo al prototipo y fallo muchas veces antes de llegar a mi pieza final.
5. Who and/or what inspires your work?
I look for color inspiration in anything from Art history to pop culture. Since I make paper flowers, many people think that nature is my main source of inspiration, but the truth is that I don't know much about botany. Busco inspiración de color en muchos lugares, en temas como historia del Arte o cultura popular. Como hago flores de papel, mucha gente piensa que mi inspiración principal es la naturaleza, pero la verdad es que no sé mucho sobre botánica.
6. What role does art play in your life? How does it change the way you view the world?
I'm happy that I was able to pursue a career in Art, even if that wasn't my original plan. I've come to understand and appreciate the value artists contribute to society. I'm grateful for that opportunity. Estoy feliz de poder ejercer una carrera en el Arte, aún si ese no era mi plan inicial. He podido entender y apreciar el valor que los artistas contribuyen a la sociedad. Estoy agradecida por esa oportunidad.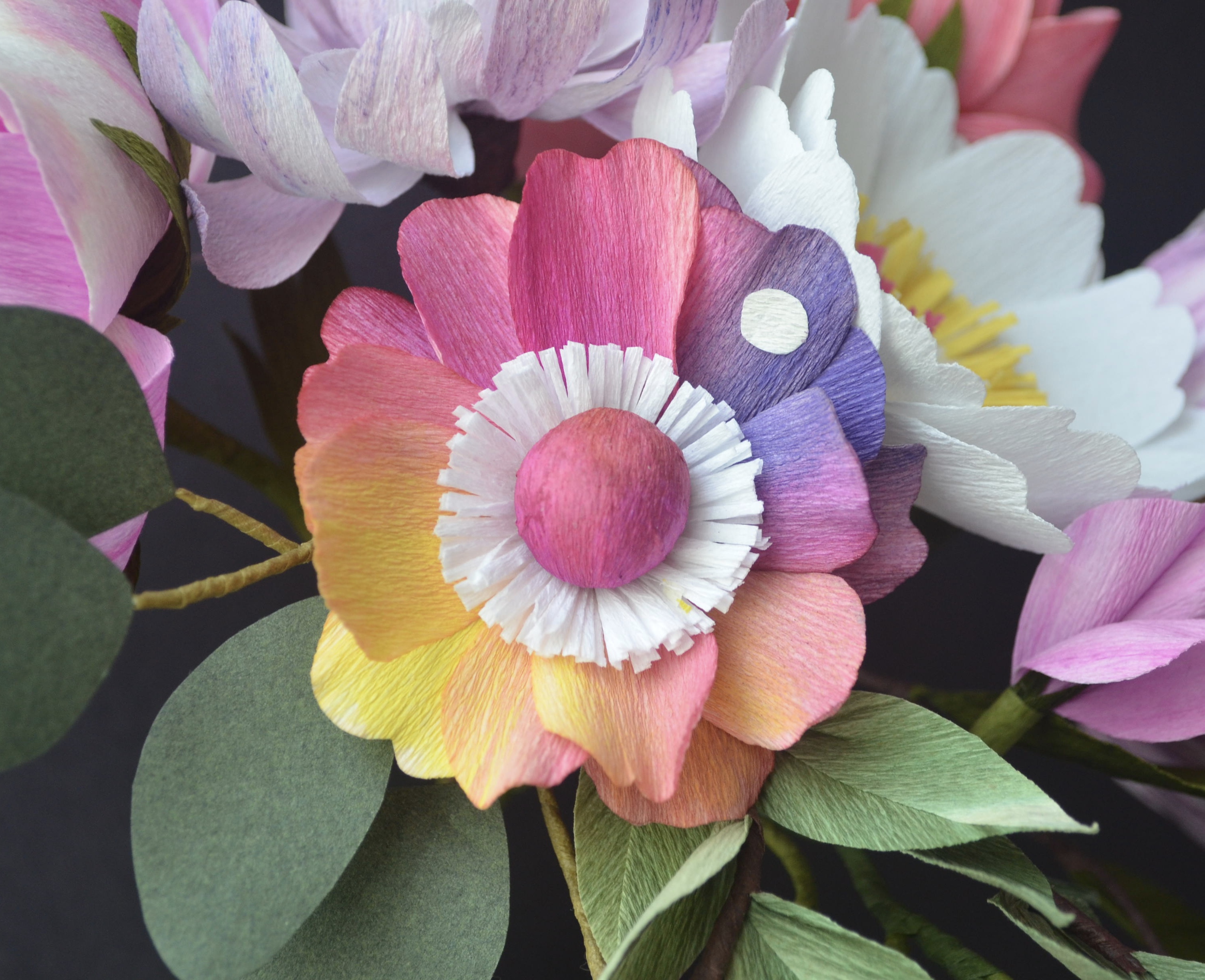 7. Where did you study?
I got my undergraduate degree at the University of Chicago and I went to Art school at the Art Institute of Boston (now LUCAD). Tengo una licenciatura de la Universidad de Chicago y fui a la facultad de Arte en el Instituto de Arte de Boston (ahora LUCAD).
8. Where do you see yourself in five years?
I would love to start working on some large scale pieces. So hopefully I'll have access to a studio space outside of my house, where I can paint and make a big mess. Me encantaría empezar a trabajar en piezas mas grandes. Espero tener acceso a un taller fuera de mi casa, donde pueda pintar y hacer un desorden.
9. What about in ten?
Exhibiting my work, teaching workshops, working on Art Installations. I hope that by then I'll have a couple of kids to make Art with. Exhibiendo mi trabajo, ensañando talleres, trabajando en instalaciones de Arte. Espero para ese entonces ya tener hijos para hacer Arte juntos.
10. What do you hope to achieve with your art?
I would like to find out what my favorite color is. Me gustaría saber cual es mi color favorito.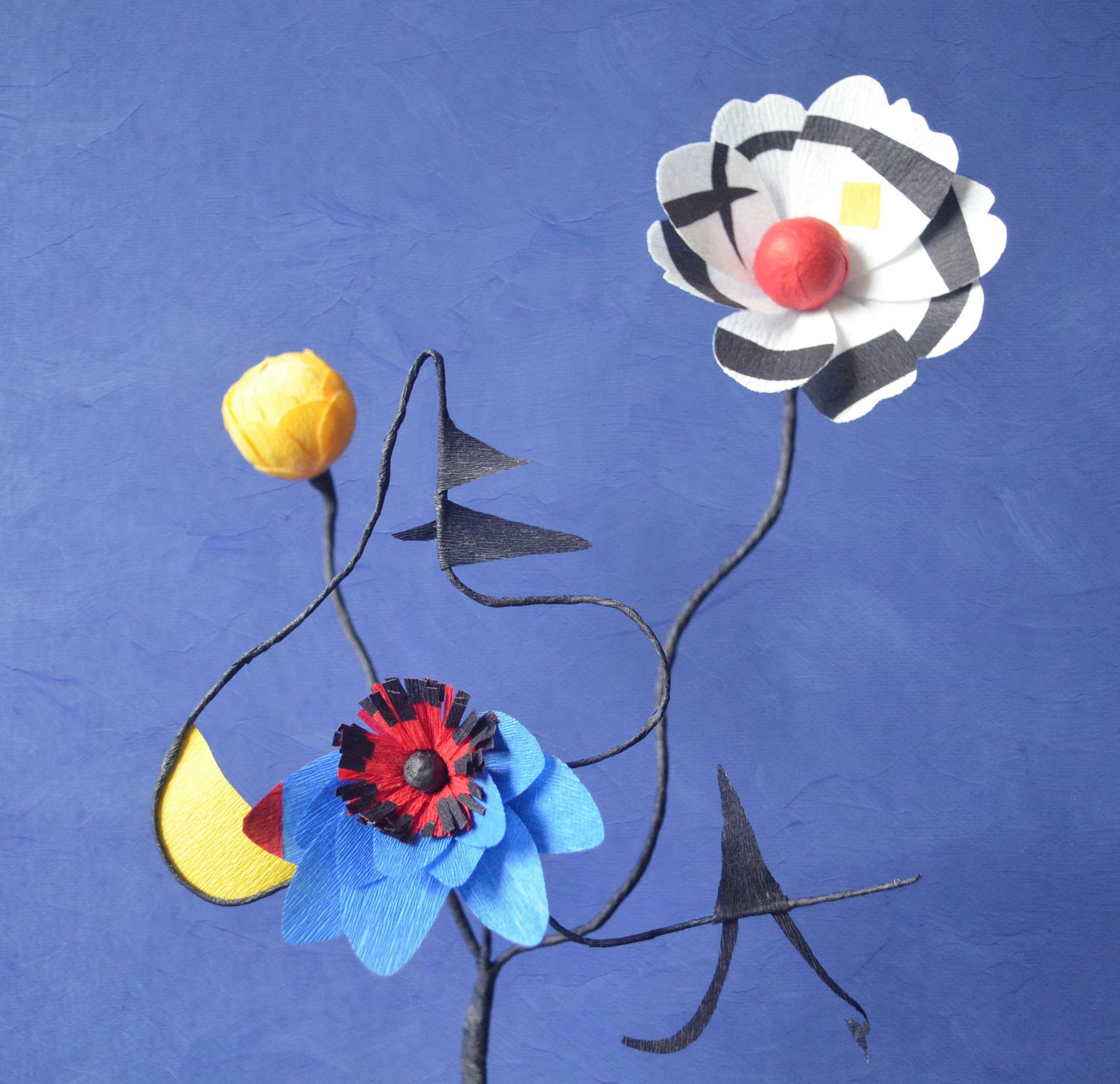 11. Now, tell us a little more about you as a person: what is your favourite food?
All things mexican! Specially Mexican fusion tacos, like Korean Bulgogi beef tacos. Todo lo que sea Mexicano! Especialmente los tacos fusión, como los tacos de carne Coreana Bulgogi.
12. Favourite book?
Love in the Time of Cholera by Gabriel García Márquez. El Amor en los Tiempos del Cólera de Gabriel García Márquez.
13. Favourite genre of music?
Latin beats, Bachata, Nueva Trova. Música Latina, Bachata, Nueva Trova.
14. What are your hobbies?
I like to read about philosophy and go to museums. I used to do rock climbing, but stopped because it was hurting my hands and I need those for my Art. Me gusta leer sobre filosofía e ir a museos. Antes iba a escalar, pero paré porque estaba lastimando mis manos y a esas las necesito para mi Arte.
15. If you weren't a creative, what would you be?
Anthropologist. Antropóloga.