Instagram:
@lulofebril
Website:
www.danielagallego.com
1. What's your story? Where are you from?
I am from Bogotá, Colombia… Big, chaotic and magical city…There, I studied graphic design, and fall in love with the illustration, with the love of my family, and also the company and the lessons of really talented and passionate good friends... Since I was a child I spend a lot of time in the countryside, my parents born in really beautiful mountains in Colombia, and that gave me other refreshing perspectives of life, so was really good grow between those two sides... always making things with my hands, clay sculptures, dresses for my dolls and for me, murals in my room, wire animals and drawings ... Now I am living in Barcelona, at first, I came to get a Master's in illustration but then stayed for trying luck, meeting new beautiful and talented people, obviously drawing and working hard.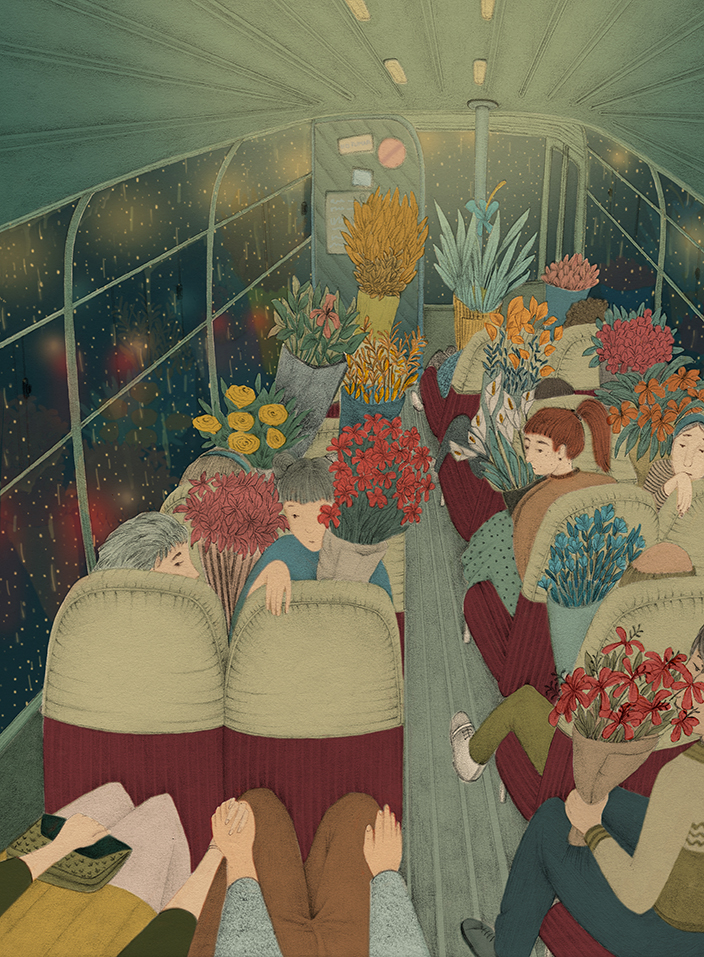 2. Tell us about your aesthetic.
One part of my aesthetic I'll say it would come from that I am a really contemplative person, I got a sensitive memory, So I draw what reminds intensely in my self, and almost always I save that in terms of atmosphere and colors... I also have periods of loneliness, so I guess that I get with too many reflections about my self or simply figures that represents some of the moods that I go through, or ideas that I get about life... And the other part, came from some kind of way that I have when I do with my hands, and it's about falling into the details, I think that's the reason of the textures in my draws.
3. What is your favourite medium and why?
Well, I've been using pencil and digital colors for a while, because the incredible quantity of possibilities that combination gives you, but I also love the color pencils, the watercolors, the thread, but sometimes you just get run out of time to try with all the techniques you would like. But I would love to learn new ways of doing things.
4. What is your artistic process like?
Well, normally I give my self a good portion of time to think, just think…. Then I look at references, pictures, movies, any kind of inspiration, and then I make some fast sketches… the usual I suppose. Sometimes it is really easy and fluid, and a few others I just suffer for a few days.
5.Who and/or what inspires your work?
The inspiration focus changes all the time, it depends, sometimes falling in love could be really inspiring or really distracting.. this year, for example, I got really far away from my family, and even when I always were really close to them, or travel for long periods on other occasions, just this time I made a series of illustration about them, about my mother's farm, or my memories with my sister and my father… I also love the work of: Shaun Tan, Aron Wiesenfeld, Luisa Rivera, Brecht evens, Wes Anderson… So many amazing artists.
6. What role does art play in your life? How does it change the way you view the world?
In my childhood it was for sure a balm and great company, I can say I was a strange girl and doing things with my hands simply gave me a place that I had not found before, but not as a conscious decision.. then with the time became in some kind of hobby, then a necessity, and now it is just a habit of making more conscious questions about everything, about how I think could or should be this or that.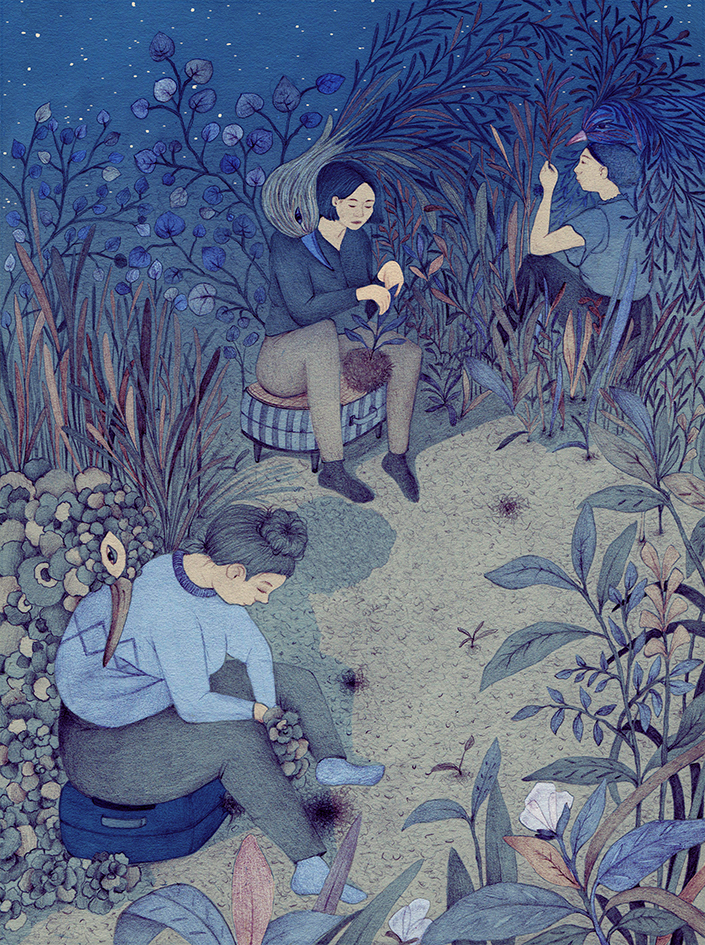 7. Where did you study?
I graduated in Graphic Design in Jorge Tadeo Lozano University in Bogotaì, I did a degree in illustration in University Design Center of Barcelona (BAU)
8. Where do you see yourself in five years?
Well, the truth is that, I don't know, I have this kind of life that could be unpredictable, sometimes it is really amazing (but not always, hehe)… though I do know that I will be illustrating, and I hope to have a big, big space full of paintings, papers, different materials and big Windows…
9. What about in ten?
I hope, in 10 years I will be as happy as I imagine myself in five years!!
10. What do you hope to achieve with your art?
Face projects that make me grow as a person and as an artist and develop some ideas that over the years have been established in me. In fact, I hope that, as well as until now, this path of illustration will continue connecting me with more wonderful, creative people, and could create projects with them.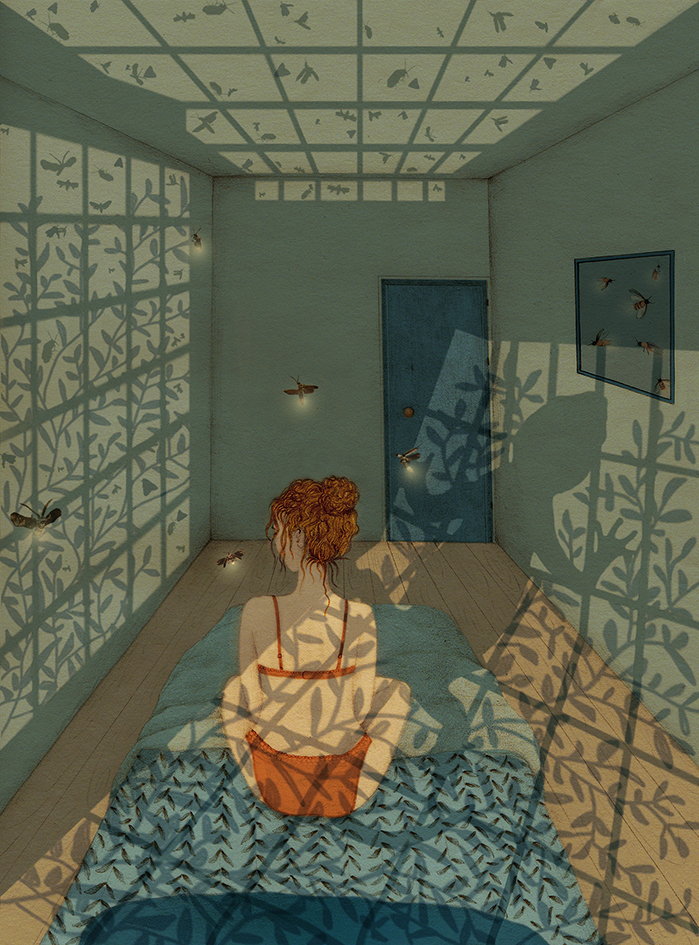 11. Now, tell us a little more about you as a person: what is your favourite food?
I like a lot to eat, and I actually go to much for how it looks things (it's inevitable). So I really like Japanese food, sometimes Mexican… anyway sometimes I just eat with sticks, I found it really fun.
12. Favourite book?
It would be so difficult to tell you about my favorites, but I can say that I am Reading Virginia Wolf and I really like it.
13. Favourite genre of music?
I do not have a favorite music genre either, now I am listening "What he wrote from Laura Marling"
14. What are your hobbies?
Movies, Mountains, Friends…
15. If you weren't an artist, what would you be?
I would love to be in quantum physics or astronomy.