Instagram:
@m_sinclan
Twitter:
@m_sinclan
Facebook:
www.facebook.com/Msinclanillustration
Website:
www.msinclan.com
1. What's your story? Where are you from?
Hi! My name is Maria Suarez Inclan, I'm an illustrator and visual designer from Madrid, Spain. I've always lived here until last year when I moved to London because of my job, I was working in Art Direction for the advertising agency Saatchi&Saatchi in Madrid's office and I had an opportunity to move to London's HQ. I'm really happy I decided to come here, London is such an exciting city, full of creative opportunities. There is always going on, new art exhibitions, events, talks… also you get to meet talented professionals. I got my first job while I was finishing uni. Before this I went to university. After many discussions about the future and how important having a "serious" career is with my parents I decided I was going to study Fine Arts, I think they weren't really happy about it but I said I would regret it if I didn't do it. After the first year, I changed to Graphic Design and Psychology. They were right, I wanted something else and I felt that just Fine Arts wasn't enough and that I was interested in more fields. I think studying both careers has given me perspective and has helped me a lot to understand a bit more life.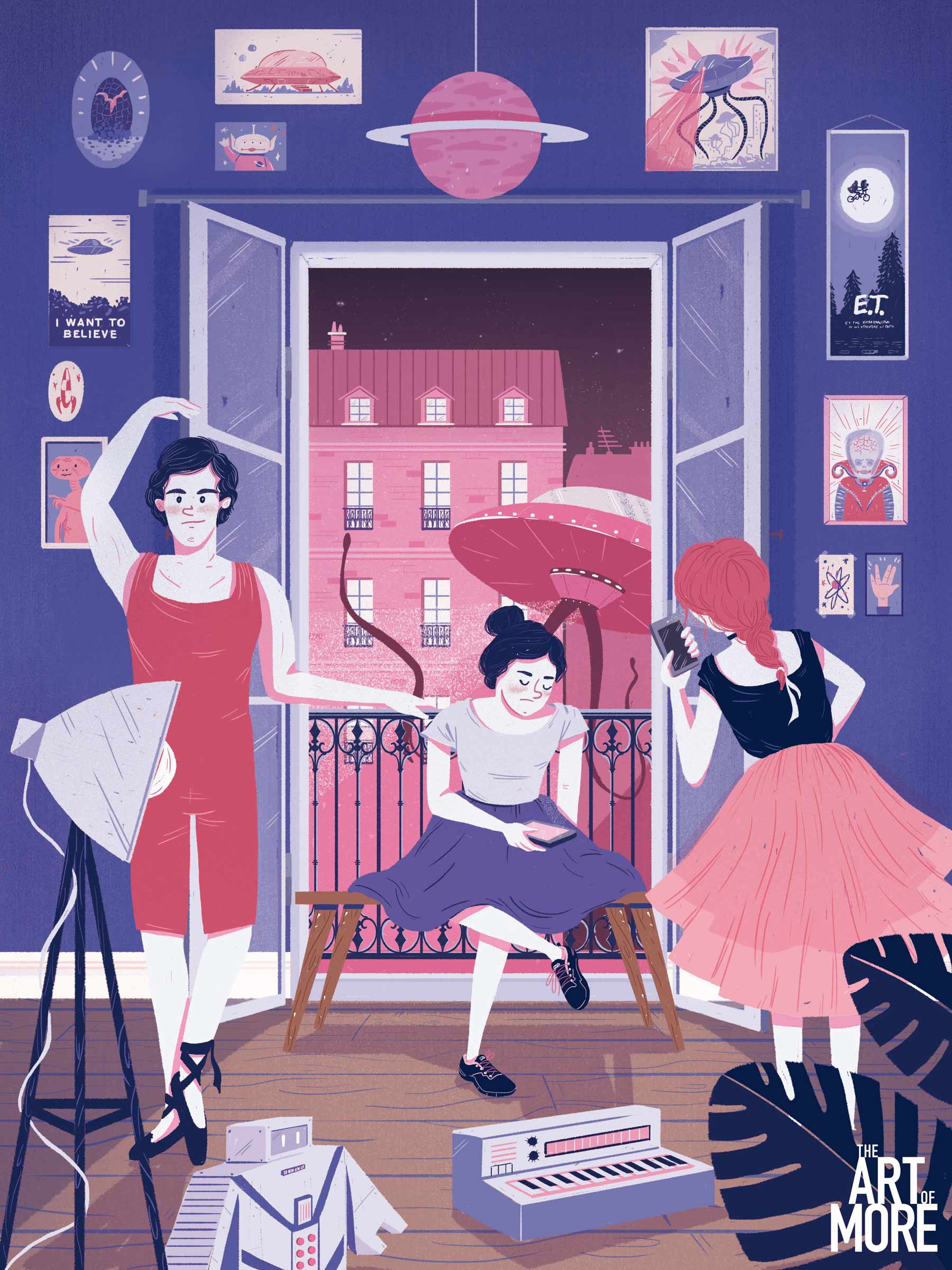 2. Tell us about your aesthetic.
I like to use limited color palettes in many of the art I do, I think this keeps the image balanced and it can be very attractive. Also choosing vibrating colors is important for me. I like when the brush is not neat and perfect and it has some rough edges and using splattered textures.
3. What is your favorite medium and why?
I usually work digitally with a Wacom graphic tablet, as it's very much cost-effective (time wise), but I have to say there is nothing like sketching with paper and pencil, you get a better idea of the general composition and I feel that it's way more natural and spontaneous. If the deadline it's not super tight I like to do some roughs first in my sketchbook. Then I move to photoshop to experiment with color.
4. What is your artistic process like?
Well, I start with an initial phase of thinking, I try to decompose the briefing and understand what they're asking me, it's really easy to get stuck while thinking about the briefing, so I try to start sketching some of these ideas as soon as possible, my sketchbooks are full of lots and lots of little sketch thumbnails. These are super useful to see if the general composition of the image could work. After doing some of these, I pick a couple that I think that could work, I sketch them properly on paper and I pick a final one to work with on photoshop. In photoshop I start experimenting with colors to get a color palette I'm happy with. This phase is really important as the whole image depends on choosing the right colors. The final stage would be adding some texture with customized brushes to give the image some depth.
5. Who and/or what inspires your work?
I like to think that illustrators and designer should be able to work without relying on inspiration. You need to be able to work under whatever circumstances. There are some days when you try many things and it feels like everything you do is shit, these days are really frustrating, specially when you have a crazy deadline. After these years of work I've realized that there are some things that can help me be more inspired or motivated to work. When I was living in Madrid I used to go on walks with Beto (my lovely dog). I remember some days when I would take him out as much as five times. This would help me to get separated from the computer and clear my mind. I Think that if you work for many hours in the same project you can loose your ability to judge what you're working on. Also going to art exhibitions, film screenings, concerts and talking to new people is really inspiring too. Children's books, comic books and books are my main source of inspiration. Herge, Sofia Coppola, Wes Anderson… I think that people are the most inspiring, talking to someone that is passionate about what they do, talking to other illustrators and the crazy projects they want to do is a huge motivation. At work I got to meet people that are constantly thinking about new things to create and it is amazing.
6. What role does art play in your life? How does it change the way you view the world?
I think art is pure expression and communication. Just like writing or filming, it tells a story, a message, an idea or the world's view of the artist. You can see what the world has been through just by looking at the different art that was being made. I had a great art history teacher during high school that showed me that Art is a influential tool that not only reflects history, it can also shape it. For me it's a way of escape, say what I think and a way of sharing a bit of myself with the world.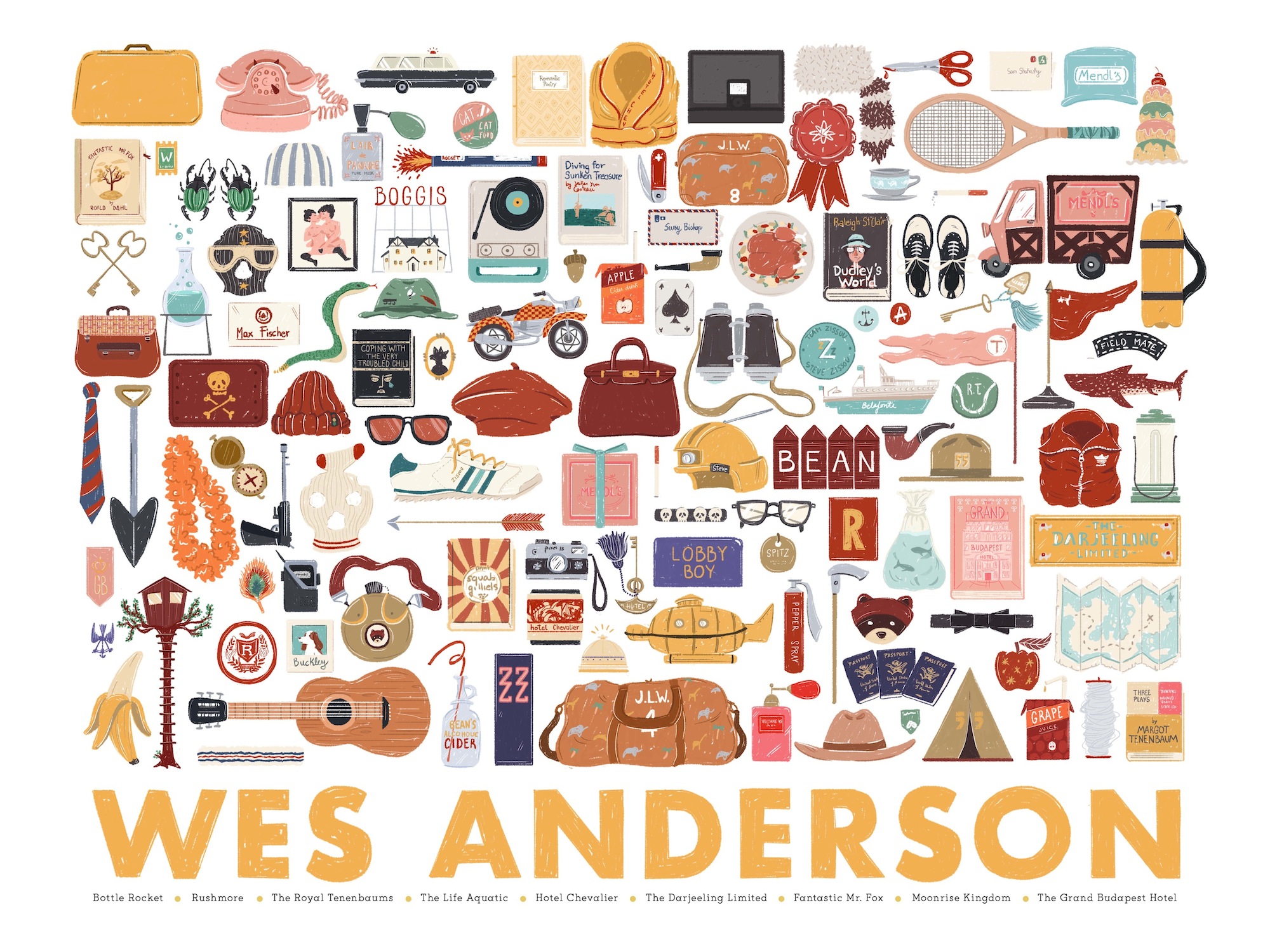 7. Where did you study?
I did study both Graphic Design and Psychology at Complutense University. I had the opportunity to take classes of editorial design, infographics, typography, motion graphics and illustration among many others. I think the knowledge I got from uni was really theoretical and that most of the things I learnt won't prepare you to deal with the real world. Many people from my design year haven't made it to work in design related jobs. I had some great teachers that were an exception like Manuel Sesma or Jose Cuesta though. Besides that, I had some of the best years of my life, I met lots of different people that gave me a wider perspective of the world and I wouldn't change this for anything.
8. Where do you see yourself in five years? Working in an agency?
Well at the moment I'm working full time in an advertising agency and doing my freelance and personal projects in my free time. I'd really like to get an illustration agent to spend less time worrying about "serious and boring" staff like contracts, invoices and just focusing in working. In five years I don't know where I see myself, maybe in a different city, back in Spain or still in London, what I know for sure is that I will still be working in the creative field.
9. What about in ten?
In ten years I'd like to have built something great, maybe a creative studio or consultancy. In ten years I'll be 35 (just writing this sounds freaking scary) I want my 35 year old me to feel that I've accomplished something important that makes me happy and worth the years of hard work".
10. What do you hope to achieve with your art?
Depends on what art. When I do something for a client, I hope that it communicates the message in an effective way. When I do film related stuff I hope that it's a good tribute and captures the best of the film. When I do stuff just for the sake of it, I guess it's more about expressing yourself.
11. Now, tell us a little more about you as a person: what is your favourite food?
I love tomatoes, I really like gazpacho in the summer and strawberries, everything very red.
12. Favourite book?
I couldn't choose just one, Harry Potter was the book that made me love reading and I grew up reading his stories so it has a special place in my heart.
13. Favourite genre of music?
I don't think I have a favorite one, I go through phases of obsession with different genres, decades and bands... At the moment I'm pretty obsessed with bands from the early 80's like the Talking heads, Modern English, Echo and the Bunnymen... But I also love working on stuff while I listening to movie soundtracks from Michael Giacchino, Alexandre Desplat and Thomas Newman... I also went to this Warpaint concert that was pretty inspiring. Then of course I also have my "comfort zone" of timeless bands that will always be there likeSimon&Garfunkel, Patti Smith, Queen, Bowie or Dylan.
14. What are your hobbies?
I think drawing is part of my job but it is still my main hobby. I read so many comic books and I watch lots of films. I like to think that comicbooks are the graphic version of films. I also love walking, sounds boring but you feel less stressed and get to see many things that otherwise you would miss trapped in the subway. Aaah and videogames!
15. If you weren't an artist, what would you be?
When I was in high school I thought I would become an architect, then I ended up being a psychologist-artist-designer and I'm pretty happy with what I've become but if I had to choose a different career I would choose something that allows me to travel around the world and meet new people, being in an office for so many hours is draining and it feels like you're missing some life adventures.