Instagram:
@maaikecanne
Facebook:
www.facebook.com/maaikecanneillustratie
Website:
www.maaikecanne.com
1. What's your story? Where are you from?
I'm 25 years old illustration graduate currently living in Breda, the Netherlands. I've always had an interest in collecting, organising and drawing. As a kid I loved playing at my grandma's house watching her paint. I enjoyed sorting out her jewellery, cutting out pictures from magazines and sorting them into categories. That's where it all started. I share a studio space in an old prison with 9 other creatives which is really inspiring, I've got 2 chickens in the backyard and I drink too much coffee.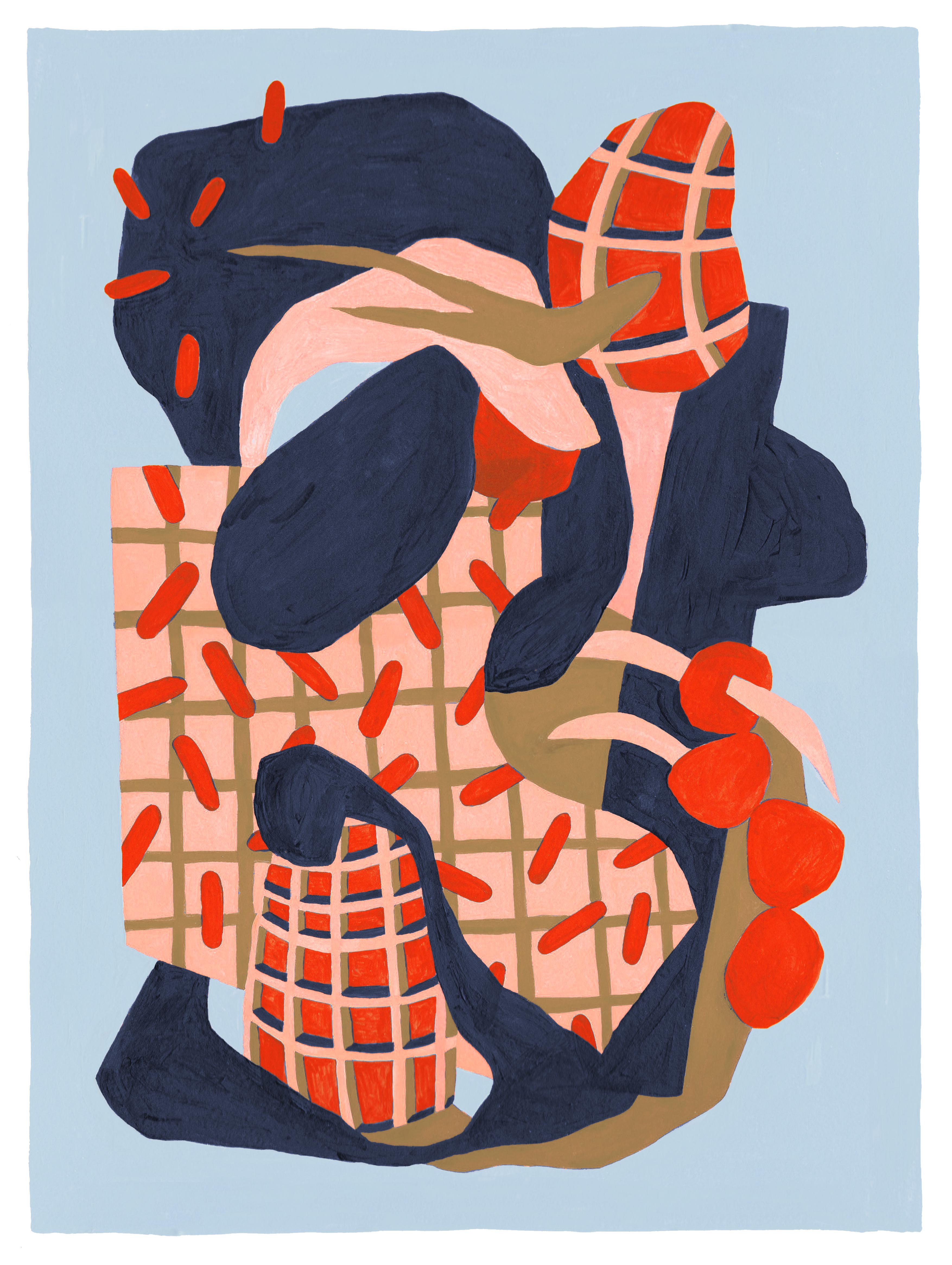 2. Tell us about your aesthetic.
I like working with vibrant colours and different textures, mixing up abstract shapes with more figurative elements and creating spaces that rarely show people. I don't like to get too detailed and my work often contains strange perspectives.
3. What is your favourite medium and why?
I currently work a lot with gouache on paper. I've always preferred working analog because I feel more connected to the work. I also like drawing with pencil, pen or making collages. I use digital media to change colours and clean up small mistakes. I also love to make murals!
4. What is your artistic process like?
When I get inspired I like to go straight to work. I do have a sketchbook I draw in when I'm traveling or waiting somewhere, but those sketches rarely turn into a 'real' piece. I like things to still be intuitive and I rarely have an exact idea of how a piece will turn out in the end. I like to focus on a certain atmosphere.
5. Who and/or what inspires your work?
I can get inspired by a lot of things. I like building sites, architecture, hotel lobbies, crazy advertisements, 80's technology, human behaviour, old pictures from random families somewhere in the world, piles of trash on the street... And offcourse artists like David Hockney, Nathalie du Pasquir and Matisse
6. What role does art play in your life? How does it change the way you view the world?
Art always had a place in my life, my grandmother and uncle are artists and my dad is a graphic designer so I was surrounded by art when I was young. I never doubted going to art school and I feel very happy to have art in my life, whether it is creating it, watching it, or collecting it. I noticed that I can see something pretty or interesting in almost everything.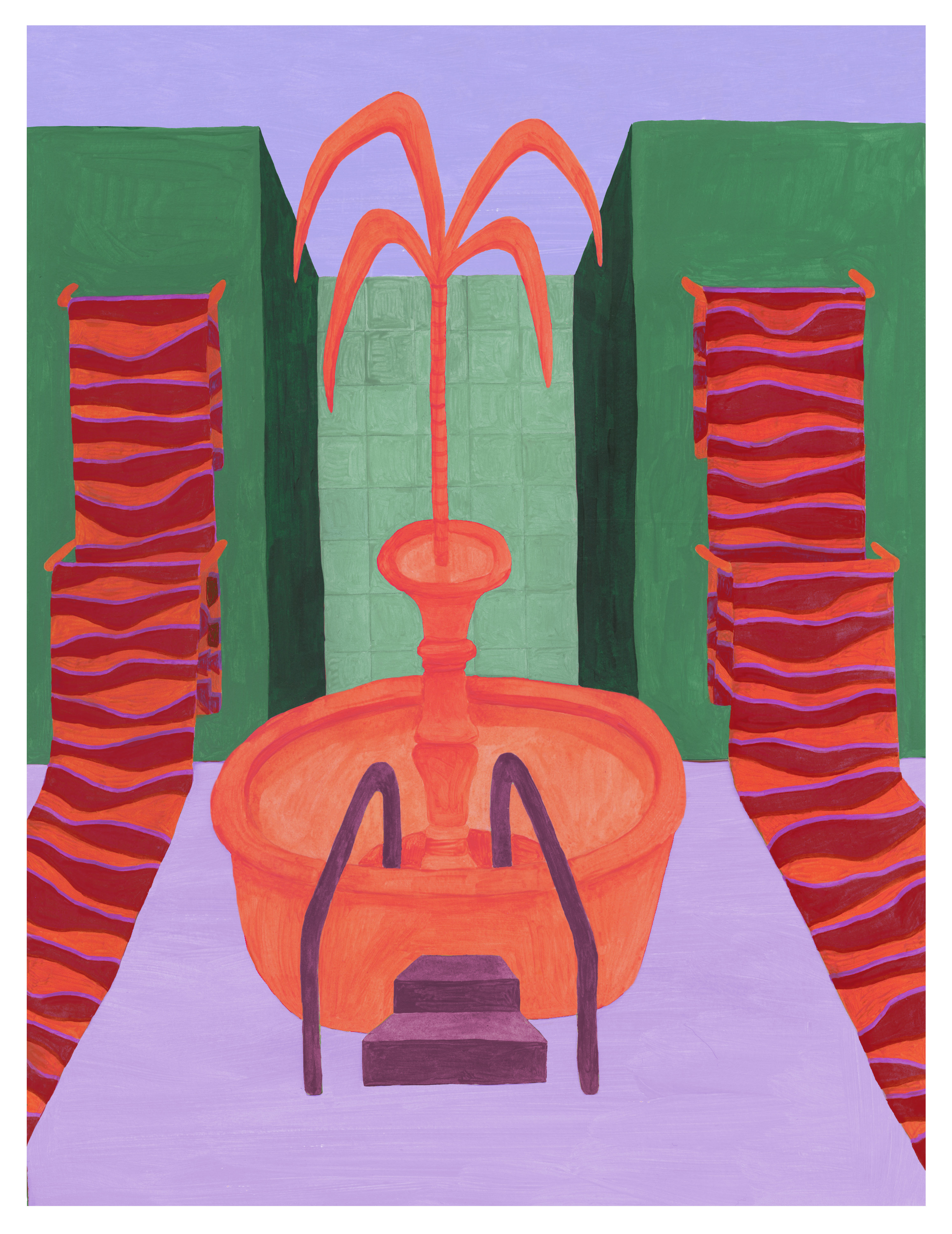 7. Where did you study?
I started studying a mixture of fashion, trends and graphic design at Grafisch Lyceum Rotterdam, I finished it but I didn't feel satisfied at all, so I went to AKV St. Joost, an art school in Breda. I'm currently in my final year studying Illustration. I can't wait to finish school and start working in my studio every day.
8. Where do you see yourself in five years? Working in an agency?
I want to have a great studio with a lot of daylight where I'm surrounded by other creatives. I see myself being a freelance illustrator and still creating personal work where I can keep experimenting.
9. What about in ten?
I hope that I can fully support myself with being a freelance illustrator. I hope I have a nice house with a garden and a dog and hopefully I've traveled to Japan by then.
10. What do you hope to achieve with your art?
I don't feel the need to really change things in the world.. I hope I can still surprise myself, and just be happy creating art and making other people happy with it. https://vimeo.com/189977816
11. Now, tell us a little more about you as a person: what is your favourite food?
I love ajam paniki, spicy chicken with baked banana and rice. I like all kinds of things actually.. except kidney beans.
12. Favourite book?
I'm not a big reader even though I do love books. I like old books with pictures of plants, architecture, technology. I really love zines, ' crappy ' books with weird titles, I recently bought a western book from the 1970's filled with pictures of cowboys that look angry, I like my comic book Arsène Schrauwen by Olivier Schrauwen and off course my book about the great David Hockney.
13. Favourite genre of music?
I like all kinds of music actually, at the moment I listen mostly to alternative music like psychedelic and new wave.
14. What are your hobbies?
Besides illustration my favourite thing to do is going to flea markets, charity shops and looking for great second hand/vintage stuff on the internet. I like going to music festivals and shows, organising and changing my room, watching stuff about Japan, going to places far away on google street view where I won't go in real life, hanging out on a sunny day having drinks with my friends.
15. If you weren't an artist, what would you be?
I would want to have my own store where I would sell old furniture, clothes, designer objects, art, books. I also want it to be a place where people come to hang out, listen to music, have a drink. I would like to have a bar there and organise art and music related events.