Instagram:
@macarenaluzi
Website:
www.macarenaluzi.com
1. What's your story? Where are you from?
I'm a self-taught textile designer. Originally I studied Cuisine and worked wearing different hats in the restaurant industry but after some years, I got burnout like so many other people. I was born in Buenos Aires, Argentina but for the last 4 years I've been traveling with my husband quite a bit; from Los Angeles to Vancouver to Barcelona to Buenos Aires and now we are soon moving back to sunny LA, pretty exciting!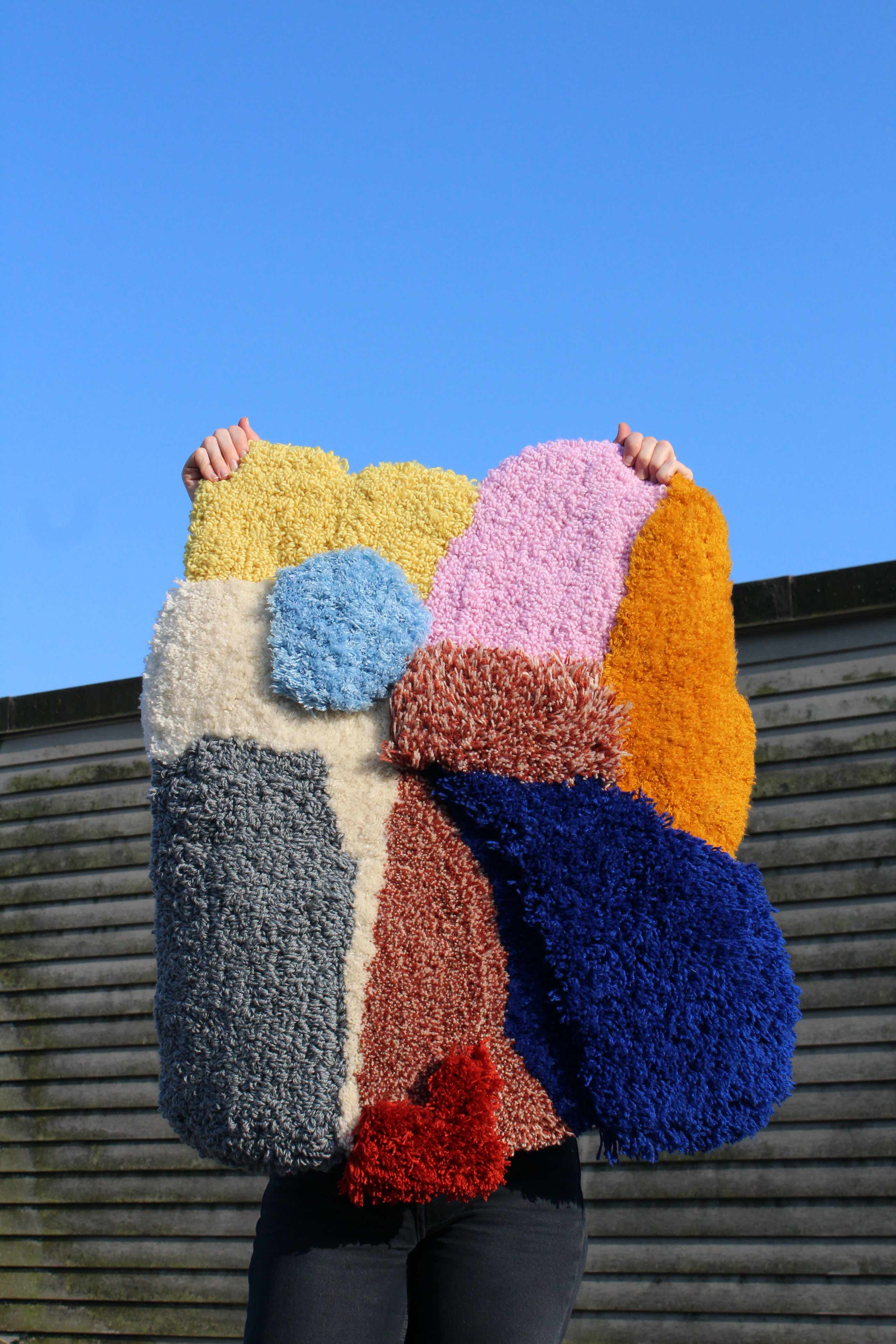 2. Tell us about your aesthetic.
I mainly like to play with bold colors and see what happens. Being playful with my craft is what drives my practice the more I think. The last 2 years were all about rugs and textiles so you could say that now they are part of my aesthetic too.
3. What is your favourite medium and why?
Hand tufting allows me to create real objects that are beautiful, unique and fuzzy. This combination gives me a lot of joy. Yarn is definitely my preferred medium. A high quality, soft yarn makes my job so easy. Think of my tufting gun as a paintbrush, but one connected with a noisy air compressor and instead of paint you use fluffy and colorful yarn.
4. What is your artistic process like?
I usually start with some sketches or references that serve as a starting point for a project. Once I have the drawing and shape of the rug decided, I start to work on a color palette. Then, the exciting part of sourcing for materials starts. That's when I try out different yarns and combine them in order to select the best ones. That usually involves some tests, and sometimes I tuft small sections with different materials. As soon as I'm happy with all of this, I make a projection on the fabric I use on my canvas, and tuft away!
5. Who and/or what inspires your work?
There are lots of people that inspire my work, amazing and talented artists like Malika Favre, Justyna Stasik, Xoana Herrera, Eugenia Mello, Annu Kilpelainen come to mind. Tufter extraordinaire Trish Andersen, who besides creating breathtaking textiles, is one of the most generous fellow tufter I've encountered. I really enjoy the work of Julia Mior and Caroline Kaufman. I also love to follow Alex Proba's rugs, they are simply gorgeous.
6. What role does art play in your life? How does it change the way you view the world?
Ever since I started to develop my practice, I've noticed that it was something that I actually wanted to pursue for a long time. Creating rugs, bringing to life an illustration, being able to make something one can use at home and becomes part of your daily life, that's really something special.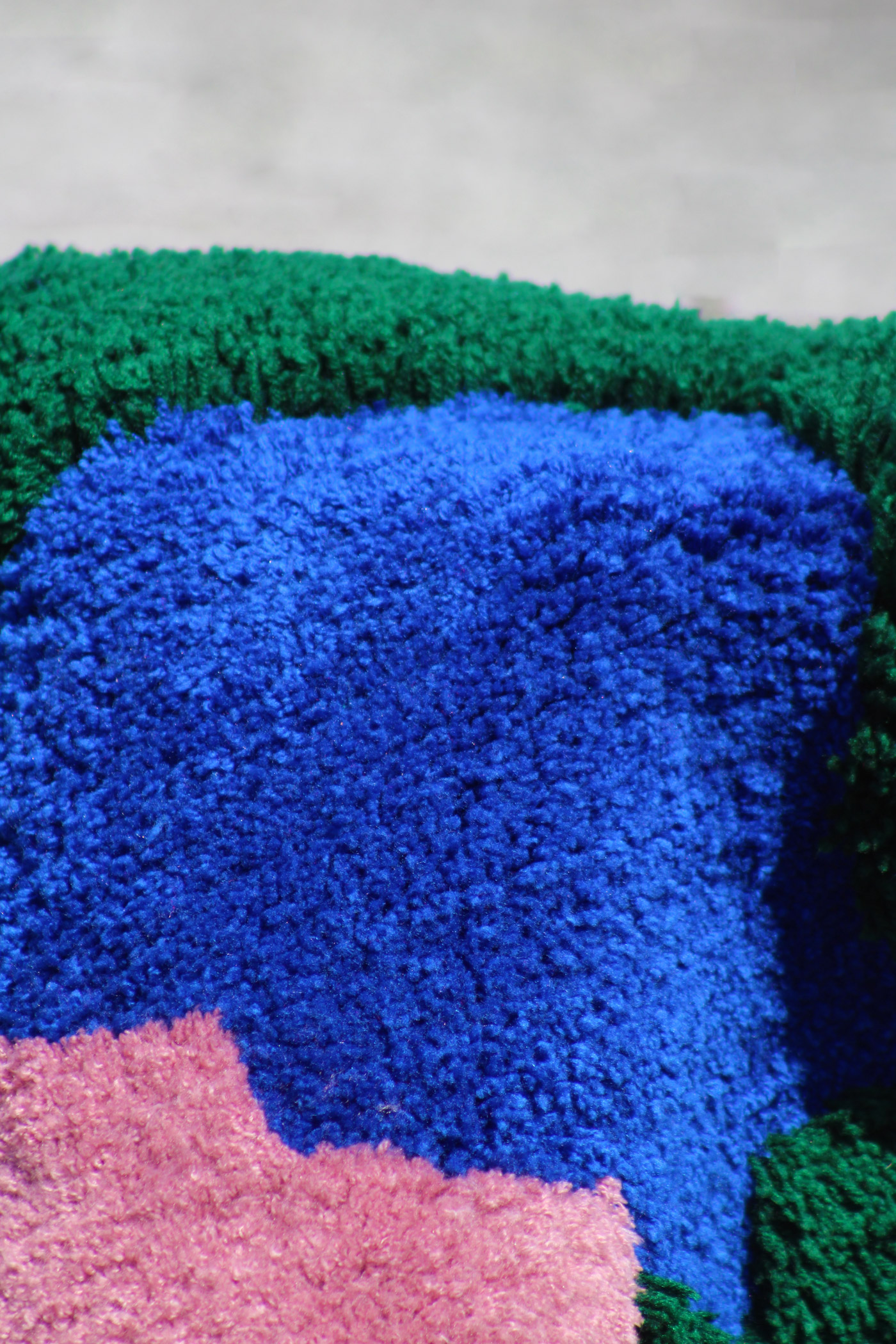 7. Where did you study?
I watched a ton of Youtube videos, did lots of research and was fortunate enough to be able to rely on other amazing tufters out there that were more than instrumental in my learning process--and they still are! I did go to college right out of high school, and studied Business and Culinary Arts.
8. Where do you see yourself in five years?
Somewhere around the world with my husband, and hopefully a dog, working in a spacious and luminous studio --and big, I did say that already, right?-- growing my practice and continuing to learn as I go.
9. What about in ten?
Ten years sounds sooo far away. I really don't know. However, I hope I'll be doing what I love, surrounded by people I love.
10. What do you hope to achieve with your art?
If I can make somebody smile with what I do, I'm happy.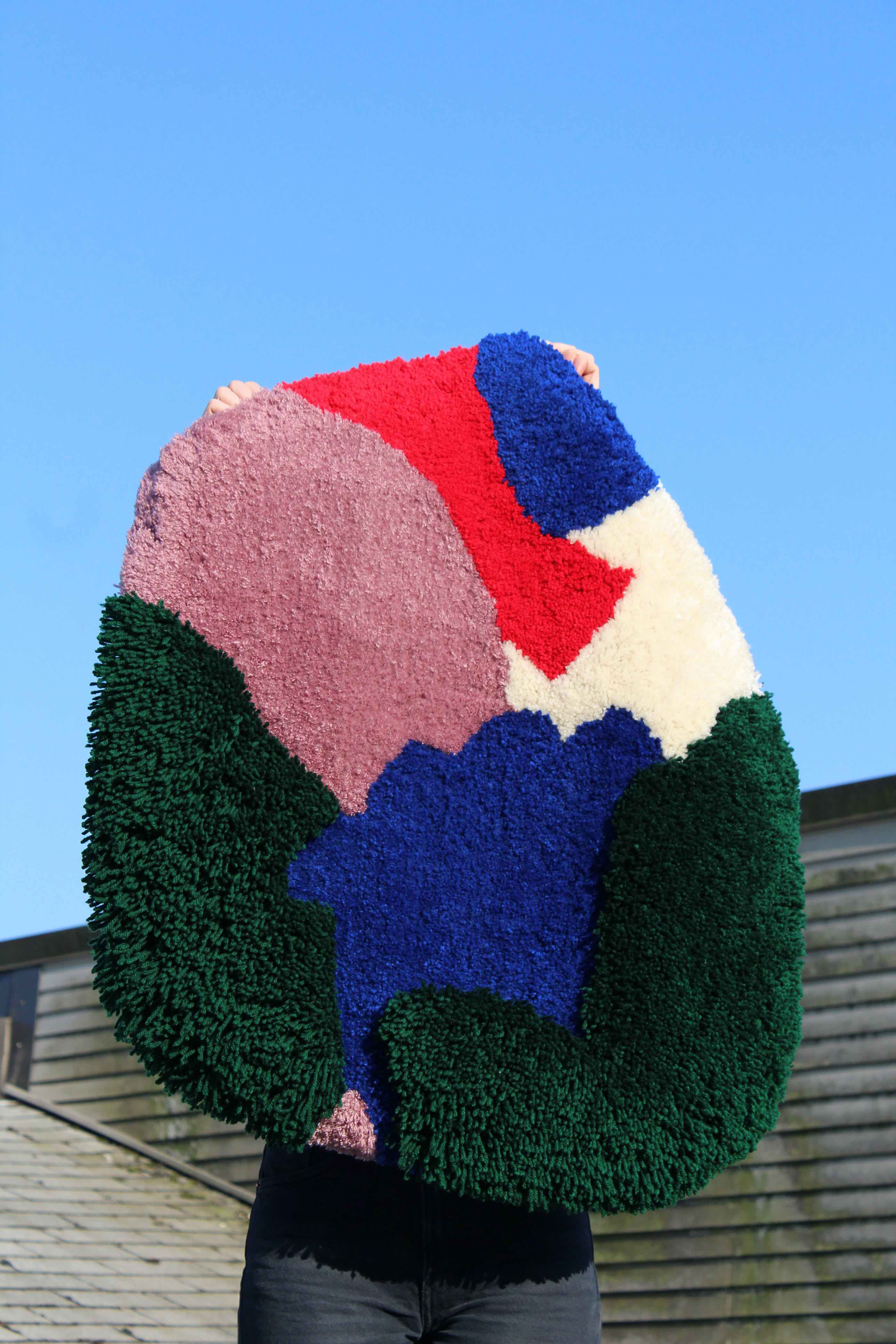 11. Now, tell us a little more about you as a person: what is your favourite food?
Food is extremely important in my life. I love cooking and eating out. I'd have to say I'm a sucker for Italian food, especially pizza.
12. Favourite book?
I have a weird obsession with Truman Capote, I think I have all of his books now… I look for old or special editions and I have to say I own a pretty big collection. Besides this, I'm really enjoying "Ettore Sotsass and the Poetry of Things".
13. Favourite genre of music?
Indie.
14. What are your hobbies?
Riding my bike, traveling, sewing my own clothes, learning new recipes.
15. If you weren't an artist, what would you be?
Maybe something related to music. I like to sing.