Instagram:
@maldonaut
Twitter:
@maldonaut
Website:
www.maldo.me
1. What's your story? Where are you from?
My name is Martin Malacek. I was born and raised in Bratislava, Slovakia. During my studies at University, I have been already working in various advertising agencies as a self-taught graphic designer. After graduation, I continued working at a few other agencies and small design studios still as a graphic designer and art director. After a couple of years chasing this career path and living in my hometown, I pretty much burned-out and decided to spice things up a bit, so I bought a one-way ticket to London where I lived and worked for exactly two years. This was in a good way a really intense and also a very creative period of my life where after working in a cool global startup and a nice progressive design studio, I slowly realized I'm kind of tired of graphic design and a regular 9 to 6+ agency job and was more attracted towards illustration and freelance lifestyle with more freedom. Having experienced the true creative London life, I deeply dived into the waters of illustration and never looked back since then. After London, I moved to Prague which was a better and more affordable city to start experimenting and focusing on my work as a freelancer.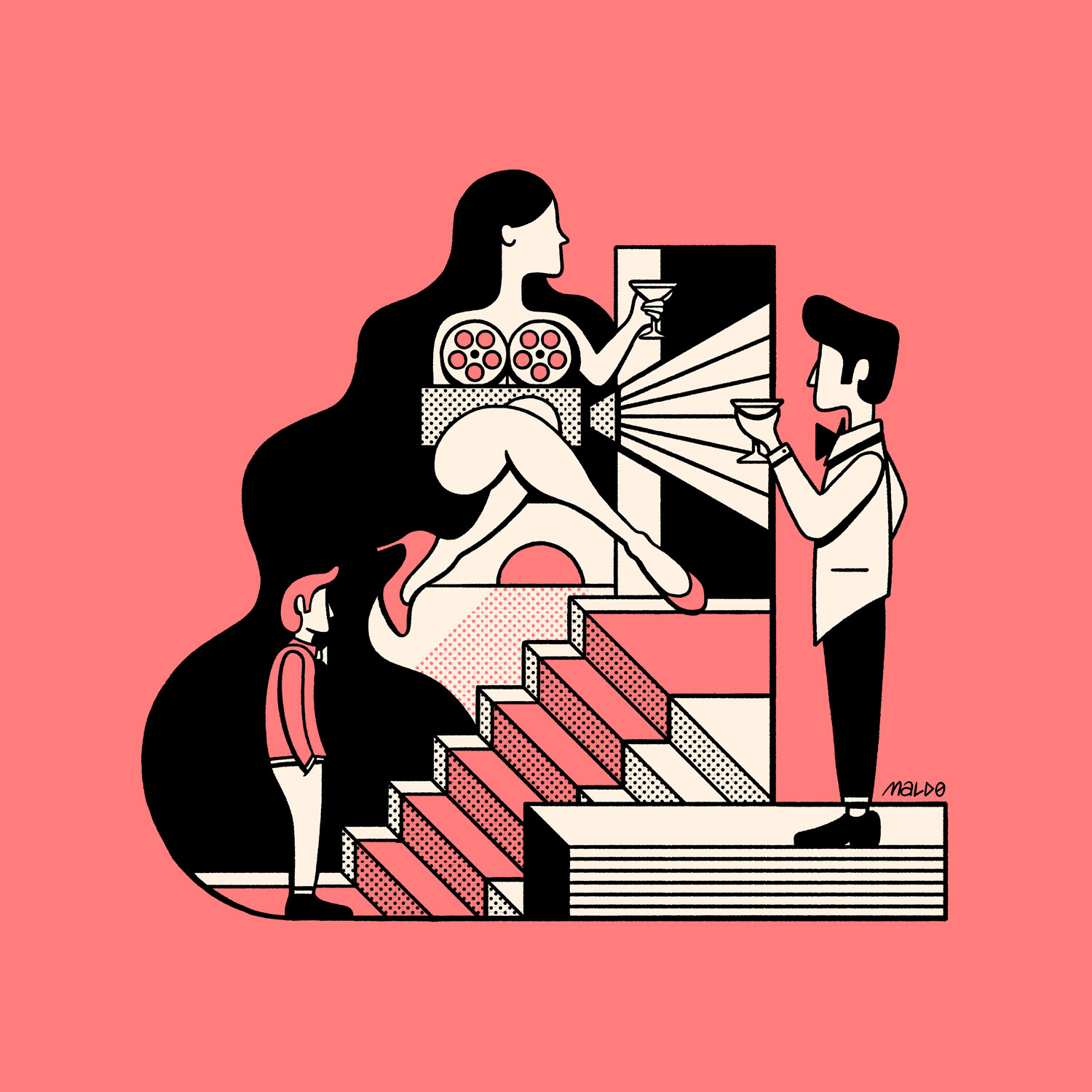 2. Tell us about your aesthetic.
My aesthetic was not always the same. In the beginning, I was doing a lot of very complex, detailed and colorful drawings full of tiny patterns and glyphs. But at that time, drawing was more of a hobby than an actual paid work. I realized – well, actually it wasn't intentional, but finally, as I was focusing solely on illustration, in the process of constant drawing I slowly simplified my work and reduced it into the almost very essentials and basics. So the result in aesthetic and style-wise was a quite simple and very bold illustration. Defined by basic linework, sketchy look, stripped down mainly to black and white colours, often conceptual or using negative space.
3. What is your favourite medium and why?
Most of the time I work digitally. So the combination of a wacom tablet and a macbook is vital. But on the other hand, I also grew fond of a simple black ink pen-brush and paper which I'd like to incorporate into my work process more often.
4. What is your artistic process like?
Idea-making takes most of the time. It's probably the hardest part. Then, of course, depending on the project itself, sometimes I do a simple research first, just to have a clue where I stand visually. What is the subject about, what objects refer to this topic, if there is something significant worth drawing etc. In the next stage, I start with just a pencil or markers and a paper/sketchbook. It's all just small thumbnail sketches, doodles, iterations and getting the layout right. I'm trying to come up with many ideas, drawing objects, symbols, almost always trying to find a link among all the parts — I also prefer to discover a visual connection with the human element. For example a face or hands. 95% of my work is done digitally. So after I scan my sketches I usually redraw the whole thing in Photoshop or Affinity. I also add some additional lines, shading, patterns, and color. The other scenario is — I draw everything with my pen-brush without any serious pre-sketching and then I just scan the drawing into my computer with just a little post-production, leaving the drawing as raw as possible. I like the natural, imperfect, hand-drawn and a bit shaky look, which gives the illustrations a sense of human touch and craft.
5. Who and/or what inspires your work?
In short — Everyone and everything around me. Everyday life — mostly the street, everyday objects, fashion, music, urban culture, skateboarding & surfing, nature/plants …. There is also like a hundred of artists including photographers, movie directors and other creatives who I admire and who I learn from by observing or reading about their process and approach. But at the end of the day, it's always about me and about finding my own voice and accent which is a reflection of my past and present life experiences. I think I'm a very good observer. What I like about illustration and the process, as I mentioned earlier, is finding a completely unseen visual connection between different objects or subjects. It's an everyday and never-ending practice of searching, revealing and pinpointing the unconventional point of view. It's one of the crucial aspects of conceptual illustration, where the process of idea-making usually takes like 90% of my time and the rest 10% is execution.
6. What role does art play in your life? How does it change the way you view the world?
Growing up as a creative person and basically dedicating your life to art and design certainly has a big impact on how you observe the world and objects around you. You literally train your brain to perceive things in a more sensible way. The biggest impact is noticing little details or imperfections, seeing the difference between a good and bad design and getting distracted easily with all the visual chaos. But it's not just design or art. It's a natural ability to find beauty, both in the bigger picture and in the details. Noticing interesting shapes, colour combinations, contrast or composition. An attribute of all good photographers and filmmakers for example. Another case — I've got a super-strong pareidolia. I literally see faces everywhere in anything. I even have a quite big folder of photos of all the faces I've had found so far. Apart from that, art as a form of self-expression is a place where I'm all alone with my own rules (or no rules). It's one of those things, where I don't think about anything else. It's a form of meditation or relaxation which bring me joy and distracts me from the real world.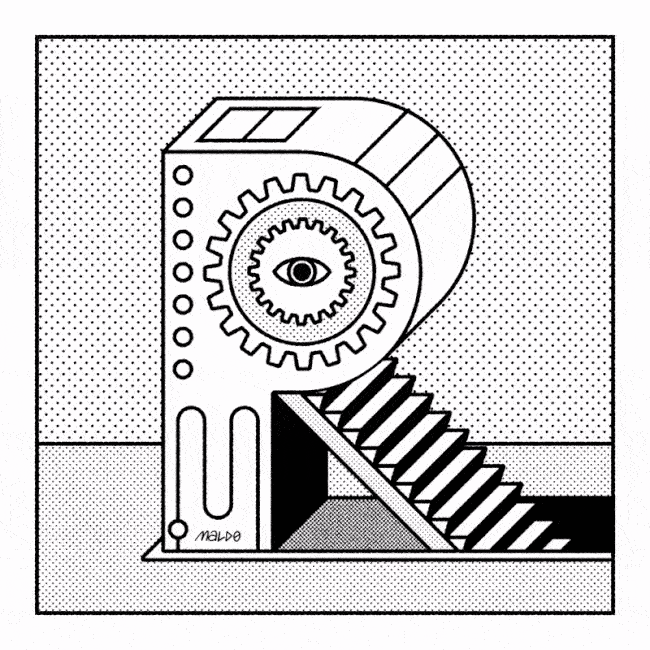 7. Where did you study?
I studied in Slovakia. Marketing Communication & Advertising. Nothing related to creating art or design at all.
8. Where do you see yourself in five years?
To be completely honest, I stopped thinking about the future plans this way. Imagining myself somewhere doing something. I found that very dangerous for me and sometimes very demotivating. Especially from my previous experience, life deals you new cards every year :) But of course, people should have ambitions and goals. In general, I'd like to see myself as a more established and more recognized illustrator who is completely comfortable in his own style and handwriting, but never settles and still works and improves himself. Definitely with a vibrant portfolio of successful collaborations with various globally recognized brands and magazines. I'd be happy to be able to share my knowledge as an illustrator and designer with other established or aspiring creatives. Which might lead me to starting a regular newsletter or blog about my work – my point of view on illustration, work in progress, creativity and productivity tips. I'd feel more comfortable if I could dedicate more time into some other illustration focused side-projects which could generate a semi-passive income. I'd be privileged to work on a project which could help people, animals or the planet in any kind of way. To be able to give back. I also hope to make a solo exhibition or a collaborative event with some other fellow artists and friends. A shop or a label with my art (prints, t-shirts, jackets...) and a huge mural is definitely on my to-do list.
9. What about in ten?
Haha. A proper illustration/design studio/showroom/eventspace/bar maybe? :D Who knows. Something more stable and relaxed I guess. I'd be just fine with the successful 5-year plan. Would be nice to find a likeminded person or two with whom I could co-found and run some crazy ideas and projects. But a cozy beach house with a surf shop doesn't sound that bad either. :P
10. What do you hope to achieve with your art?
For me, art is a form of self-fulfillment, a form of relaxation. I feel satisfaction in the process of making art, finishing art and sharing it with others. As an illustrator I try to entertain, or make people start thinking in some sort of way - to activate and brighten up their observation senses. I don't think I have any special message or expectations. I just want to create art that people wear or use. Maybe to encourage and show people that art and illustration is still a very cool craft which is worth pursuing, and mastering. And that it's still a very relevant and demanded an alternative to all the tech/IT/startup hype. It's fun and liberating. I didn't start art with a goal on my mind. It just happened because I enjoyed it.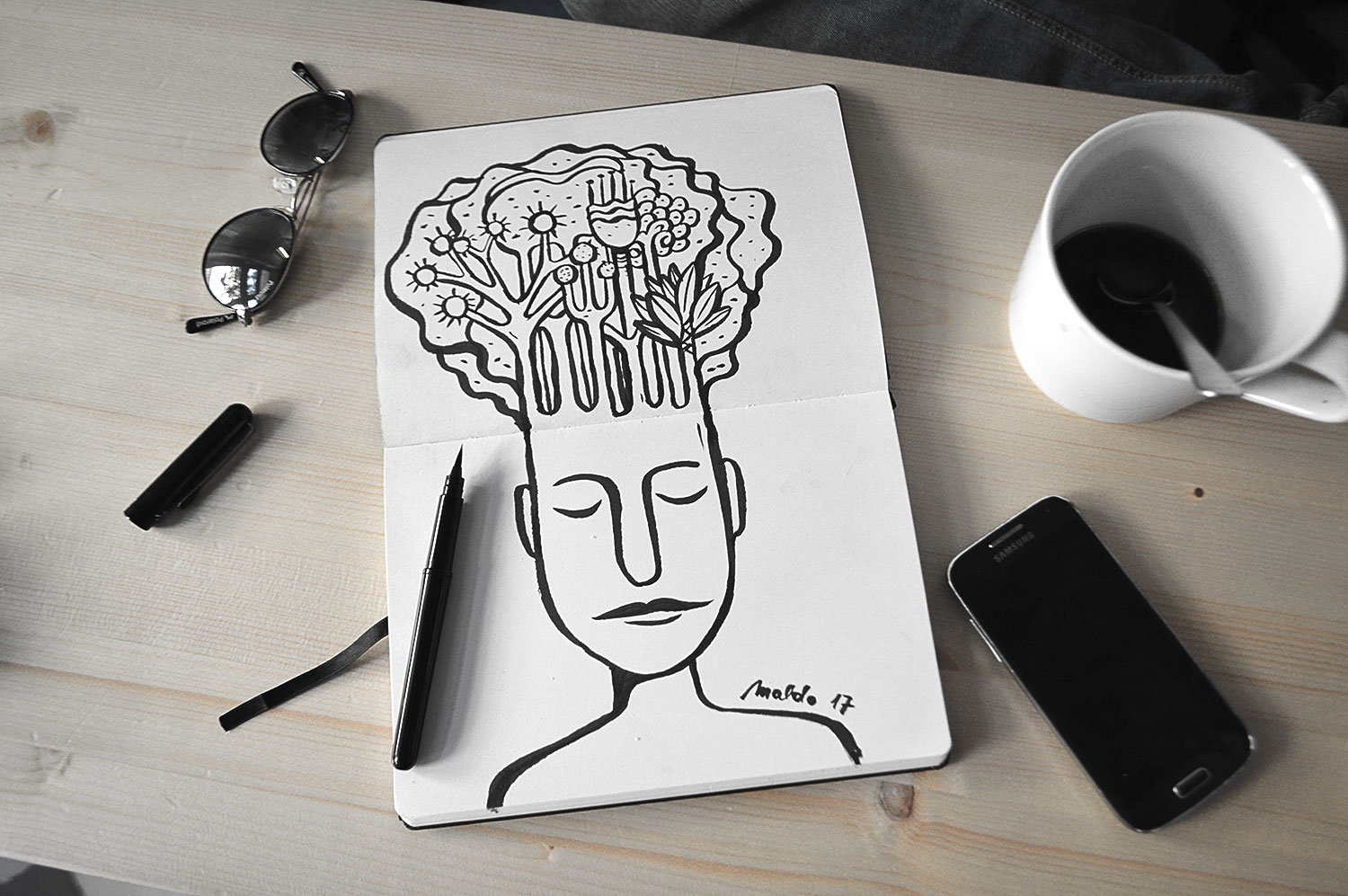 11. Now, tell us a little more about you as a person: what is your favourite food?
I love simple and easy to cook food. I'm a big fan of classic Italian food with simple but quality ingredients. Also fish and sushi. In general, I prefer all the crazy vegetarian dishes and recipes with lots of vegetables and spices. A good Margherita or Aglio Olio is a must have. If meat, then definitely a venison.
12. Favourite book?
Hah!! Although I really love reading, I just prefer browsing through art magazines. It's really hard for me to find the time and focus for a book. I've read the Alchemist by Paulo Coelho recently, which was a very enlightening and an easy to read short story with many things referring to my own life. I found myself in that book. Maybe K-Pax would be my second pick, which is both a great book and an excellent movie. One of my favourites actually.
13. Favourite genre of music?
Probably rock music, in all its hard and soft forms and sub-genres AND electronic music — Moderat for example. I'm also a big fan of Incubus. Original movie scores and a bit of oldies, jazz, hip-hop and whatever comes to my current mood.
14. What are your hobbies?
Besides the basic stuff like running, swimming, hiking, traveling — It's definitely food tasting and cooking, film photography, dogs, my garden which is huge and takes a lot of time and energy - but one day I'd like to build my own house there.
15. If you weren't an artist, what would you be?
An astronaut or a pro surfer. Haha. (but I'm serious.) My other more realistic picks would be a chef, a full-time traveler/photographer, a sound designer, or something with movie production or animals. When I was little I wanted to be an archeologist a paleontologist and a veterinarian. But life happens.