Instagram:
@mar_villar
Facebook:
www.facebook.com/marvillarilustracion
Website:
www.marvillar.es
1. What's your story? Where are you from?
I'm from Spain, I was born in Alicante but I grew up in a nearby town between the sea and the mountains. I studied Fine Arts in Altea and Salamanca and then I lived almost eight years in Madrid. I moved a few months ago to Valencia, a city with so much cultural offer but smaller than Madrid and next to the Mediterranean sea. So now, I live a peaceful life with a lot of plants and my cat! Soy española, nací en Alicante pero me crié en un pueblo cercano, al lado del mar y cerca de la montaña. He estudiado Bellas Artes en Altea y Salamanca y después viví casi ocho años en Madrid. Hace unos meses me mudé a Valencia, una ciudad con bastante oferta cultural pero mucho más pequeña que Madrid y con el mar al lado. Ahora vivo bastante tranquila, rodeada de plantas y con mi gata.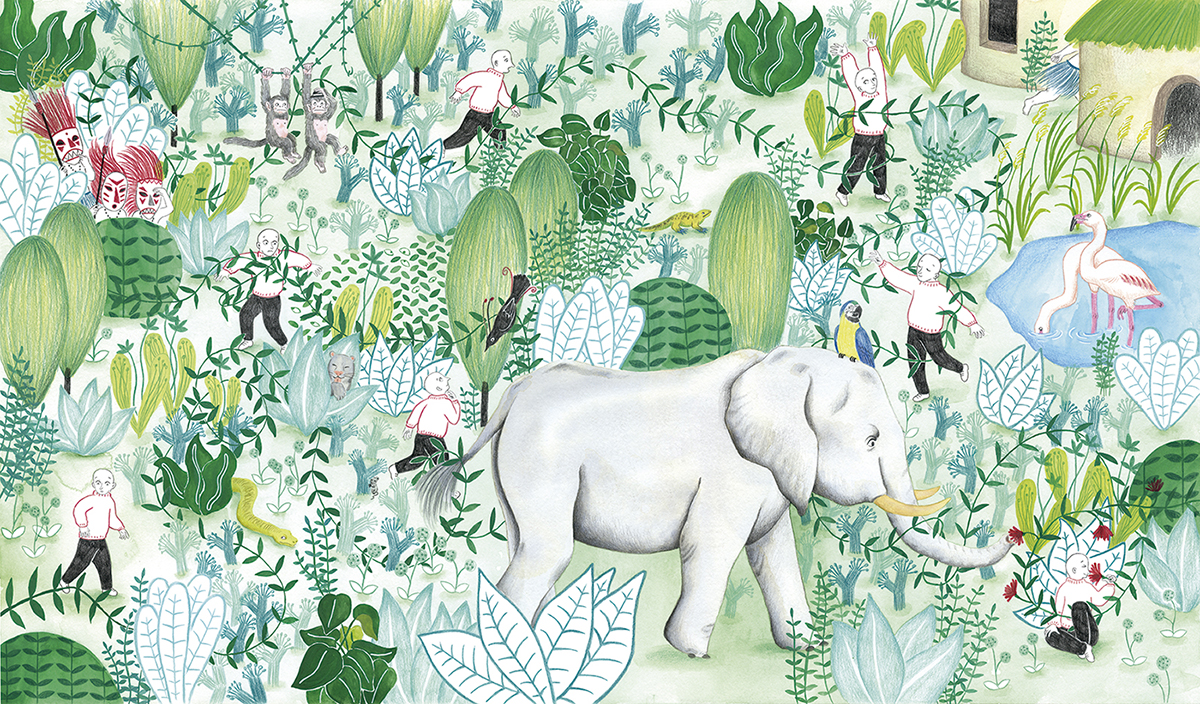 2. Tell us about your aesthetic.
I love to work with colors, drawing plants and animals ( mostly cats!), crowds or people in disguise... When I limit the color palette, for example when working with ink, I will change the tone and have a more serious job. Me gusta trabajar con colores y dibujo muchas plantas y animales (sobre todo gatos), multitudes, gente disfrazada... Cuando limito la paleta de color, por ejemplo al trabajar con tinta, cambio el tono y me queda un trabajo más serio.
3. What is your favourite medium and why?
Right now I like to use colored pencils, gouache and watercolor. I rediscovered colored pencils 3-4 years ago and it was like remembering my childhood when I use to draw with them. Ahora mismo utilizo mucho los lápices de colores, gouache y acuarela. Redescubrí los lápices de colores hace 3-4 años y fue como volver a conectar con mi infancia, cuando pintaba con ellos.
4. What is your artistic process like?
It depends on the type of work. When it's a textbook, they usually give you some guidelines about what you have to do, it's more mechanical; When it is a book for children, first I have to read the text and just think about it a day or two, thinking of what I would like to see in the history, I take many notes before starting drawing, and when everything fits well it´s time to start with sketches, tests, color palettes...a lot of work until the book it´s finished. Depende del tipo de encargo. Cuando es libro de texto normalmente te dan unas pautas de lo que tienes que hacer, es más mecánico; cuando es un libro para nilos primero leo el texto y lo dejo un día o dos reposando en la cabeza, analizando las sensaciones que me ha producido, y después ya empiezo a pensar en ideas y personajes, en las páginas... Escribo mucho antes de empezar con el dibujo, me funciona bien para poner en claro lo que tengo en la cabeza. Y una vez hecho esto, es cuando empiezo con bocetos, pruebas, paletas de color... Hasta llegar a la imagen definitiva.
5. Who and/or what inspires your work?
Anything can serve as a spark to generate an idea or image. A walk through the countryside or the park, reading, cinema, my cat, a trip, a conversation with friends or a phrase you hear from a stranger, the people you see on the street ... Daily things like shopping can inspire me! Cualquier cosa puede servir de chispa para generar una idea o imagen. Un paseo por el campo o el parque, leer, el cine, mi gata, una excursión, una conversación con amigos o una frase que escuchas a un desconocido, la gente que ves por la calle... Me inspiran ese tipo de cosas tan cotidianas, hasta ir a hacer la compra puede inspirarme.
6. What role does art play in your life? How does it change the way you view the world?
Drawing is very important to me it's a way to express who you are, how you feel, what you think...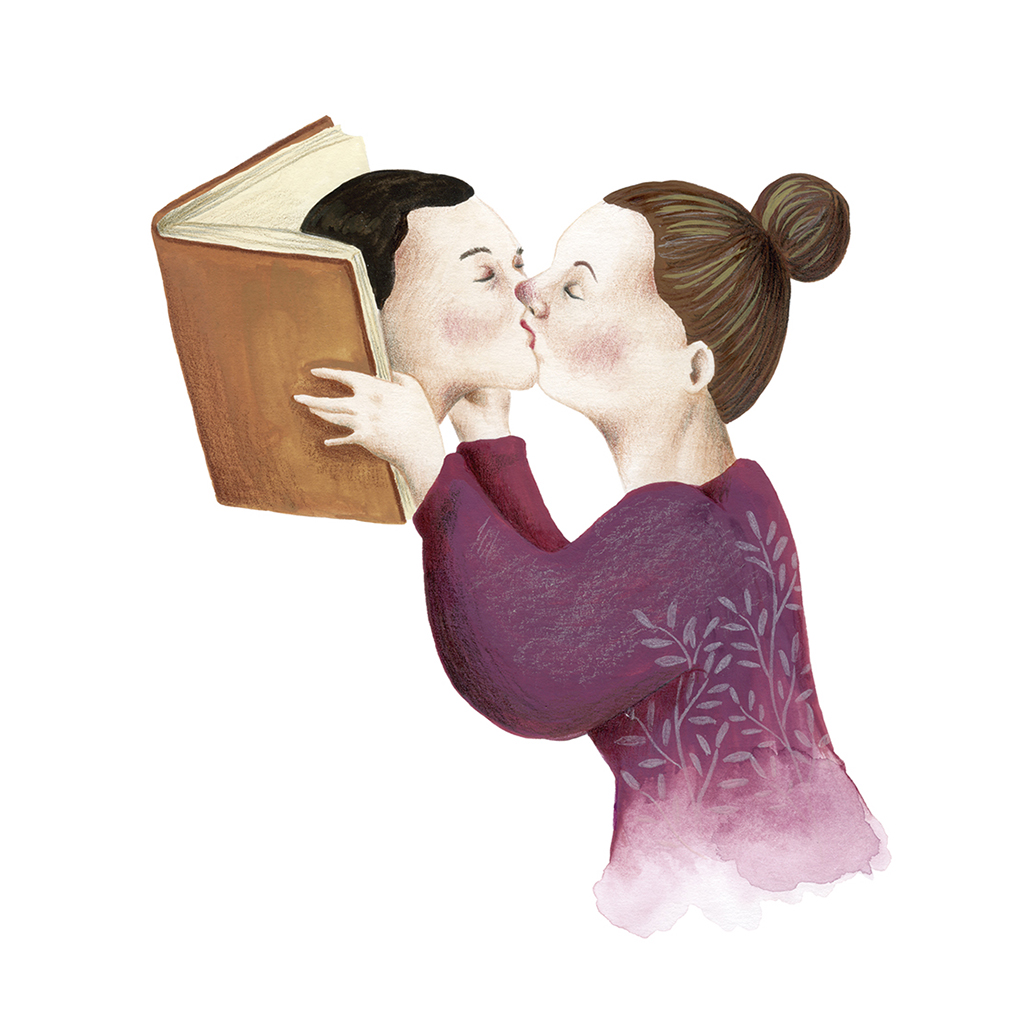 7. Where did you study?
Fine Arts, first in Altea, near my town, but later I went to Salamanca to finish my career. My stay there was good, not only academically but personally, it helped me to focus on my goals. Later on, I studied graphic design in Madrid to learn how to use digital tools properly. In addition to this, I have attended several workshops with illustrators such as Pablo Auladell, Marc Boutavant, Malota, Roger Olmos ... Bellas Artes, primero en Altea, cerca de mi pueblo, pero más tarde me fui a Salamanca a terminar la carrera. Mi estancia allí fue buena, no solo en lo académico sino en lo personal, me ayudó a enfocar mis objetivos. Más tarde cursé diseño gráfico en Madrid para aprender a usar bien las herramientas digitales. Además de esto, he asistido como alumna a varios talleres con ilustradores como Pablo Auladell, Marc Boutavant, Malota, Roger Olmos...
8. Where do you see yourself in five years?
I hope to continue drawing in my studio as before, embarking on interesting and motivating projects. Espero seguir dibujando en mi estudio como hasta ahora, embarcada en proyectos interesantes y motivadores.
9. What about in ten?
The same as before, but from a hammock in the Caribbean, hahaha! dreaming is free... Lo mismo de antes, pero desde una hamaca en el Caribe, jajaja! Soñar es gratis...
10. What do you hope to achieve with your art?
Keep on drawing, enjoying what I do and being surprised by the ways in which it can take me. Seguir dibujando, disfrutando de lo que hago y sorprendiéndome de los caminos por los que me pueda llevar.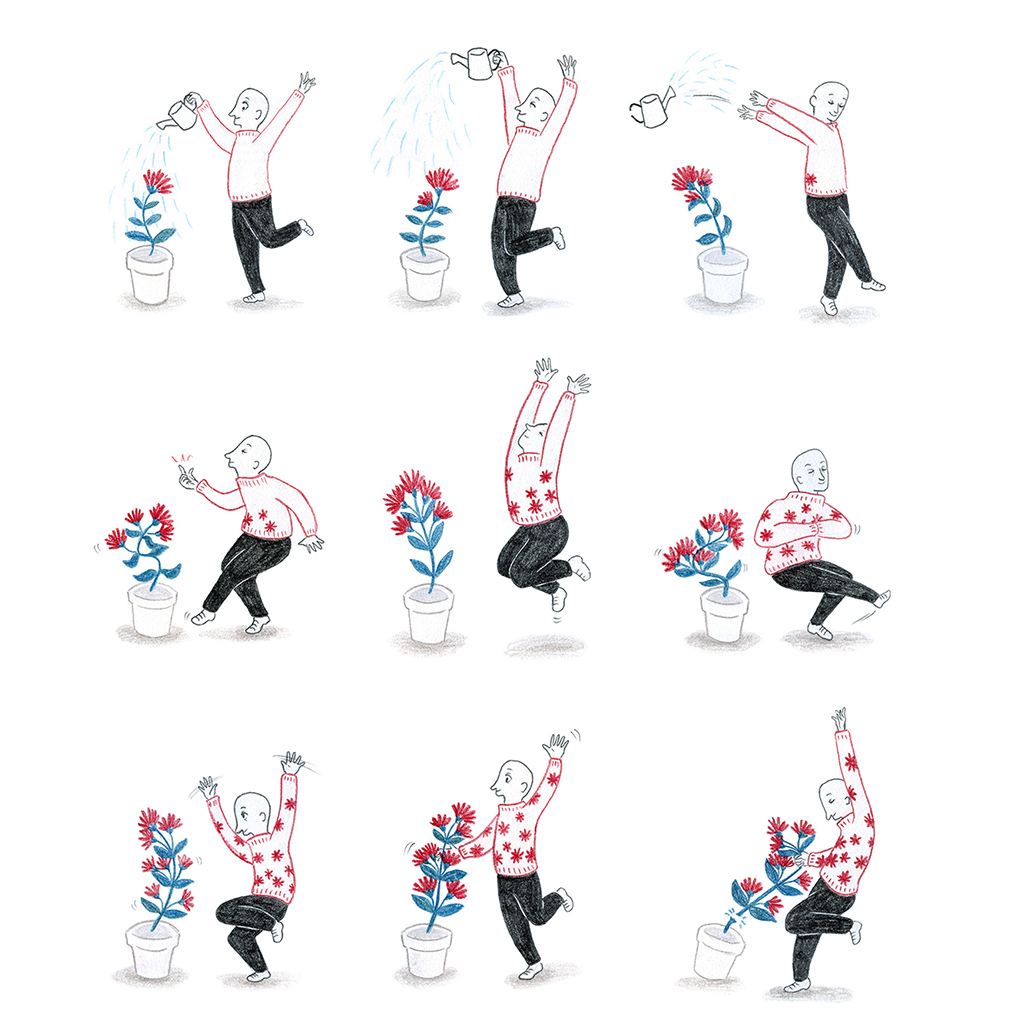 11. Now, tell us a little more about you as a person: what is your favourite food?
Only one? My mother's "croquetas" and vegetable meatballs... Oops, that's two! Sólo una? Las croquetas y las albóndigas de verduras de mi madre... Ups, eso son dos!
12. Favourite book?
It's difficult to choose one, but I would say The Little Prince. Es difícil elegi uno , pero me quedo con El Principito.
13. Favourite genre of music?
I listen to music from many different genres: a day in my playlists you can listen rock, pop, indie, electronic, jazz, fado, chanson française, 80's & 90's music... Escucho música de géneros muy direfentes: un día en mis listas de reproducción puedes escuchar rock, pop, indie, electrónica, jazz, fado, canción francesa, música de los 80 y 90...
14. What are your hobbies?
Read, gardening, cooking, playing with my cat, field trips, a sunset on the beach, birding in the Albufera... When you turn your hobby into your job you need to find others. Two years ago I bought a basic reflex camera and, from time to time, sometimes I like to go out and take photos. Leer, la jardinería, cocinar, jugar con mi gata, ir de excursión al campo, ver un atardecer en la playa, ir a la Albufera a observar aves... Cuando conviertes tu hobby en tu trabajo tienes que buscarte otros, así que hace un par de años me compré una cámara reflex básica y me he aficionado a salir a hacer fotos de vez en cuando.
15. If you weren't an artist, what would you be?
Maybe I would have a flower shop in the city, or a garden center on the outskirts. Or maybe I would be an ornithologist. Or restorer of antique furniture, perhaps. Or... Tal vez tendría una tienda de plantas en la ciudad, o un vivero en las afueras. O tal vez sería ornitóloga. O quizá restauradora de muebles antiguos. O tal vez...