Instagram: @marbertran
Website: www.marbertran.com
1. What's your story? Where are you from?
I was born in Barcelona but grew up in a small town in the north of Catalonia called Figueres. When I was 20, I moved to the UK with the intention to learn English and see where life would bring me.

After some years of not knowing what to do professionally, I started to have the feeling that I wanted to be an illustrator. I've always enjoyed drawing but I never thought I could earn enough money with it. It took me two years to actually believe that I could do it and since I started drawing digitally I feel more content and connected with my true passion and I'm so grateful for every client I've worked with.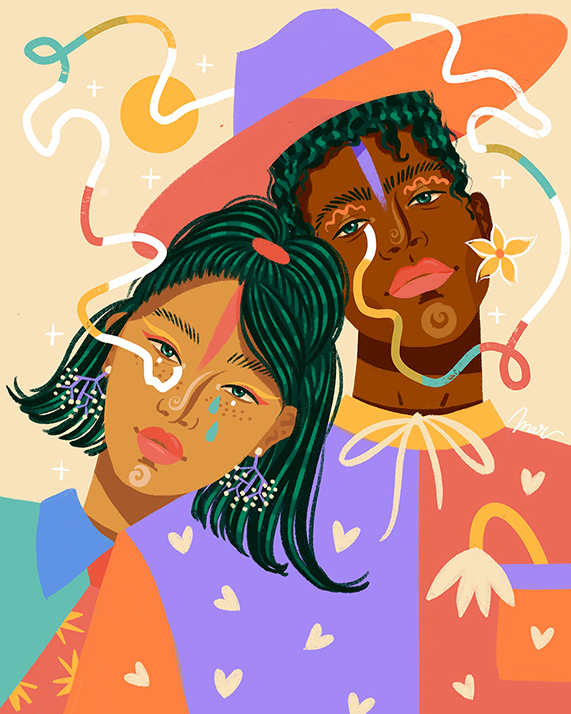 2. Tell us about your aesthetic.
I use bold colours to create a visual impact and I mix figurative and abstract shapes to represent inner thoughts and feelings.
3. What is your favourite medium and why?
My favourite medium at the moment is digital drawing as it gives me the freedom to play around with infinite colour combinations and brushes on a single device.
4. What is your artistic process like?
When an idea comes to mind I immediately jot it down. When I'm about to draw I check my list of ideas and pick the one that resonates the most with how I'm feeling that day. Then I look for inspiration on Pinterest or I go for a walk in nature. After that, I sketch the idea and I colour it from a limited palette.
5. Who and/or what inspires your work?
For the concepts behind each illustration, I get inspired by everything I've learned in self-development books and therapy sessions. Visually, I've always been inspired by the painter Salvador Dalí. His art was very present when growing up because we both share the same hometown. I also get inspiration from the Pop art movement and from contemporary photography.
6. What role does art play in your life? How does it change the way you view the world?
Art is what makes me feel alive. When I look at a painting or listen to a song that moves me is the best feeling ever. Art is also a way to discover myself and to express what I can't describe in words.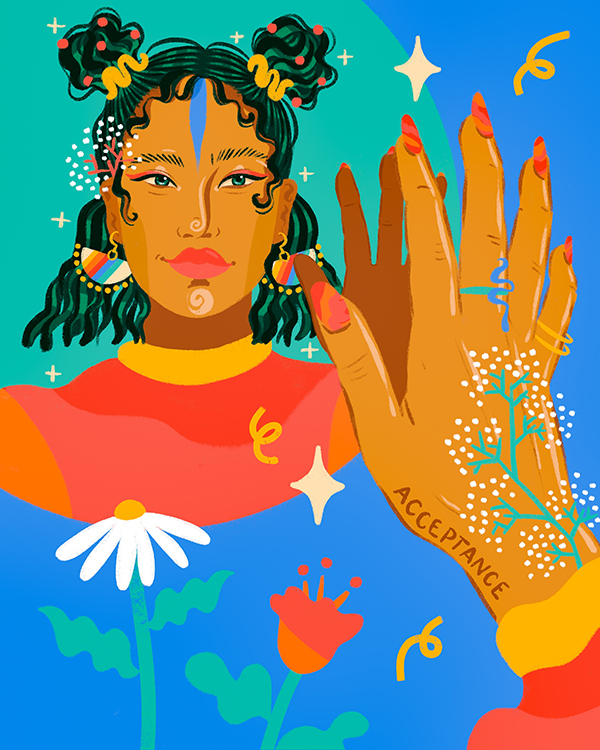 7. Where did you study?
I studied Audiovisual Communication and Multimedia for two years at ERAM University (Girona, Spain) and continued my studies with the Open University (UK) focusing on Art History and Music.
8. Where do you see yourself in five years?
Life is very unpredictable but I see myself still working as an illustrator and being able to animate my illustrations.
9. What about in ten?
I would love to travel around the world while working. Discovering new places brings me so much inspiration and creativity.
10. What do you hope to achieve with your art?
The purpose behind my art is to convey positivity and self-awareness. I love to visualise uplifting messages that can help others.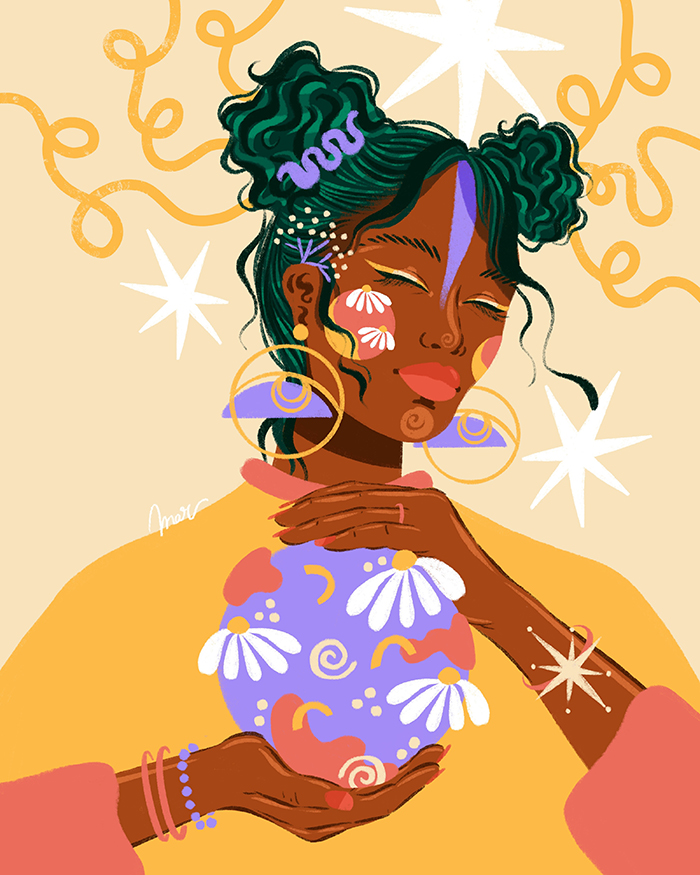 11. Now, tell us a little more about you as a person: what is your favourite food?
Chocolate croissant without a doubt! I also love 'Pa amb tomàquet' which means bread with tomato, a simple but incredible Catalan dish.
12. Favourite book?
Awaken the Giant Within by Tony Robbins
13. Favourite genre of music?
Anything that moves me, no matter what genre, is my favourite kind of music. It always depends on my mood. When I'm cooking, I love to listen to jazz, when I'm drawing, I listen to melancholic songs and when I dance, I listen to Pop music.
14. What are your hobbies?
I love singing and playing the guitar as well as any activity that involves creativity. I'm also very interested in nutrition and I enjoy cooking and trying new whole foods recipes.
15. If you weren't an artist, what would you be?
Music has always been a passion of mine so I suppose I would be a singer. Nevertheless, I think I'm too much of an introvert to enjoy this profession.