Instagram:
@marcosnavarroart
Facebook:
www.facebook.com/marcosworks
Bigcartel:
marcosnavarro.bigcartel.com
Website:
www.marcosnavarro.es
1. What's your story? Where are you from?
I have been drawing since I can remember, always carrying my sketchbook and pencils around. In my teenage years, I started painting graffiti, a rising movement in my hometown Barcelona. I learnt a lot about graffiti when painting walls with other artists.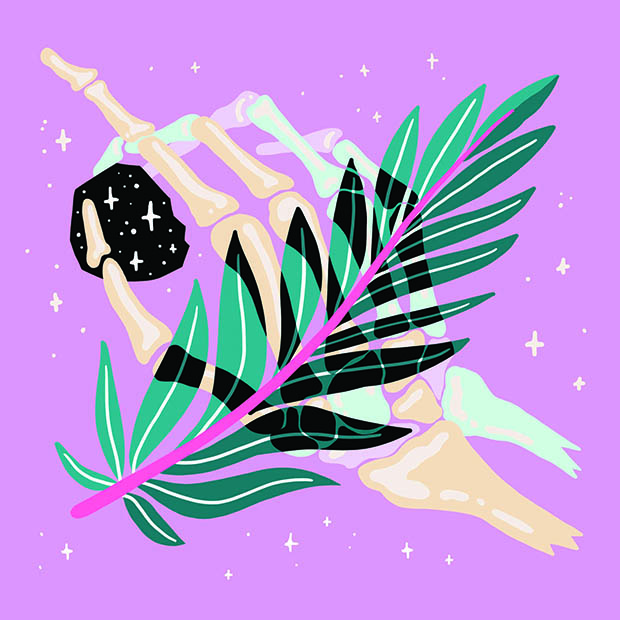 2. Tell us about your aesthetic.
It is a fluid mix of botanical elements and symbolism. Colorful compositions blending global issues from my own insight. I like to work with different media, sometimes painting on canvas, other times digital illustration or maybe wood collage, but there is a consistent style through all my work.
3. What is your favourite medium and why?
I really enjoy any medium, watercolours, acrylics, digital painting, gouache… But when I feel more free is when I paint walls, there's always something that reminds me my firsts steps in Graffiti.
4. What is your artistic process like?
It depends if it's commissioned artwork or my personal work. But I usually spend a lot of time looking for information related to an idea, a direction, something that moves me. I read a lot about symbolism, history or biology before I start sketching. I consider the process a decisive moment in the execution of the artwork. I used to work through juxtaposed elements, it helps me to assemble points between them, and create new issues to think about.
5. Who and/or what inspires your work?
Painters like Matisse, Paul Gauguin or Bosch. Also the primitive plants and animals of the world, sometimes that reality overcomes our fiction, and it is fascinating to look deep into the jungles or oceans and discover how amazing is.
6. What role does art play in your life? How does it change the way you view the world?
I need to be painting constantly, and I need to be thinking about new concepts or ideas for upcoming projects. I actually left a dream job in the fashion industry some years ago to be able to work on my personal projects, and encourage my artistic side. I'm happy with this change in my life, I like fashion, but not huge corporations.
7. Where did you study?
In a small Art School named Pau Gargallo, in Badalona, very close to Barcelona. But I'm still learning and improving after 10 years.
8. Where do you see yourself in five years?
Just keep doing what I love more, painting canvas, walls, and having my work exhibited around the world. Making illustration covers for my favorite musicians, making patterns for independent fashion brands, or publishing illustrated books.
9. What about in ten?
I really don't know, but I hope I can keep doing the same stuff, probably with a different insight. My goal is to continue enjoying doing what I do.
10. What do you hope to achieve with your art?
My art makes sense thanks to the spectators. I really like to see people enjoying (or not) my art, having an opinion, it is an opportunity to start a conversation.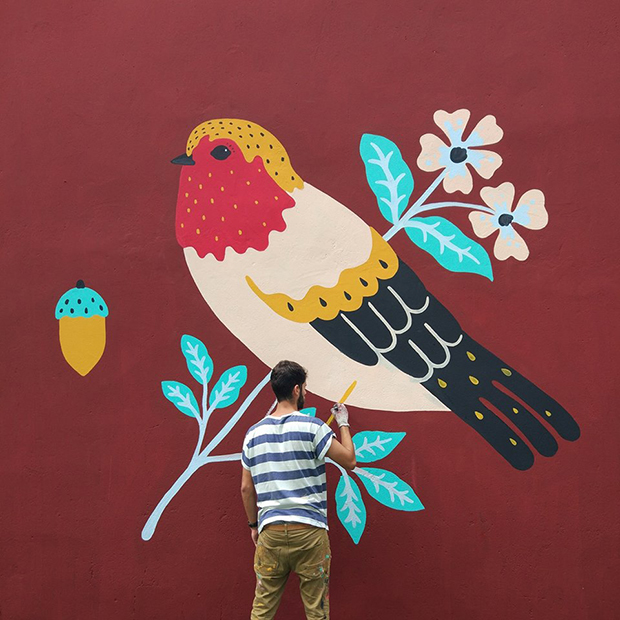 11. Now, tell us a little more about you as a person: what is your favourite food?
Sushi, pintxos (little Basque tapas) and I also have an addiction to chocolate.
12. Favourite book?
"Barbarian days", William Finnegan
13. Favourite genre of music?
I have been listening to rap music since I was a teenager. But nowadays, I like all kinds of music, depending on the mood. Sometimes soul, Lo-Fi, electronic or reggae. One of my favourite bands is Fat Freddy's Drop, from New Zealand.
14. What are your hobbies?
Snowboarding, surfing and enjoying the outdoors.
15. If you weren't an artist, what would you be?
Probably a fashion designer… Or maybe a chef because I really enjoy cooking :D