Instagram:
@marcyday_
Website:
www.marcyday.com
1. What's your story? Where are you from?
Hello there! I'm Marcy Day. I'm from sunny Southern California. After college, I moved to Los Angeles where I worked as an art buyer in advertising. After 6 years of a few too many late nights and long weekends in the office, I decided to quit my job. I sold all of my belongings, bought a used bicycle on Craigslist, and flew to Vietnam where I met up with my boyfriend. He had quit his job a few months earlier and had this crazy idea to travel the world by bicycle, so I decided to join him. We rode through Vietnam, Indonesia, Singapore, Malaysia, Thailand, Myanmar, Japan, South Korea, Mongolia, Kyrgyzstan, Tajikistan, Georgia and Turkey. After two years and 10,000 miles of biking, we decided to take a break from the bikes and work while we traveled with just carry on suitcases and our laptops. We've been living that way ever since and have now been to just over 35 countries. While we were biking, we decided to create an iMessage sticker app with my illustrations from my travel sketchbook which were subsequently featured by Apple in a worldwide tv ad campaign. This allowed us to keep traveling for about another year. At that time, I decided to pursue my dream career as an illustrator and the rest is history. I've been freelancing now from the road for a few years building up more and more client work. I was just recently signed to an illustration/photography agency and plan on taking on bigger projects in the year to come which is really exciting.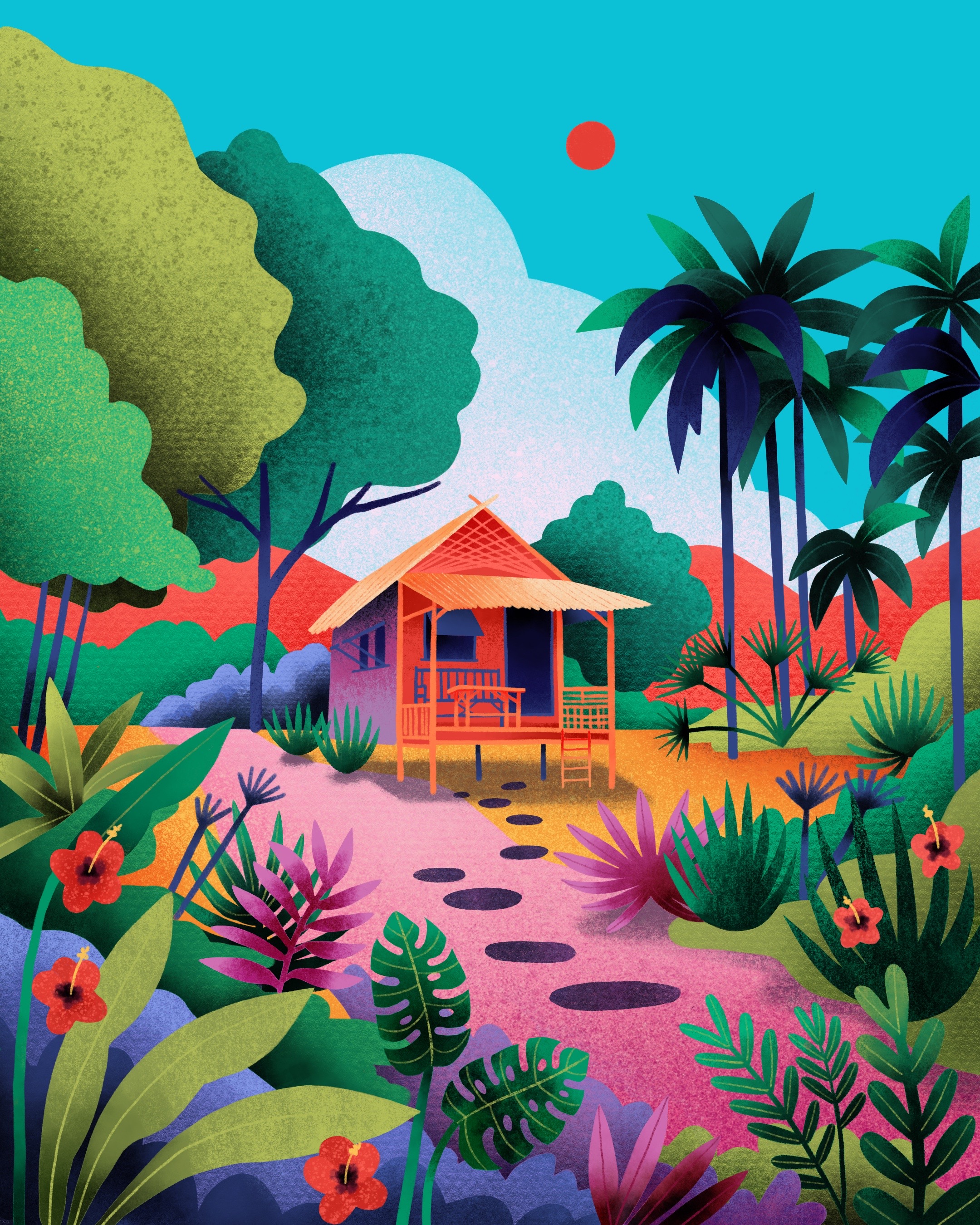 2. Tell us about your aesthetic.
My illustration style is bright, colorful, and graphic. I like to illustrate adventurous women doing adventurous things - like biking, hiking and surfing, so hopefully, it's also a little inspiring.
3. What is your favourite medium and why?
I love gouache. I started out the bike tour carrying about 50 tubes of paint, but since I'm now traveling full time I can't find the exact paint I want everywhere in the world. As a result, I mostly illustrate digitally on my iPad these days. I do however love to experiment with materials I find while traveling - from a box of paint pens I found in Spain to Chinese calligraphy brushes I picked up in Taipei, I carry as much as my suitcase allows. I still paint in a sketchbook at least once a week because I think it's important to keep those traditional fine art skills fresh and not become too reliant on the ease of painting digitally.
4. What is your artistic process like?
I like to collect photos of anything that sparks my interest visually - from architecture, fabric patterns, furniture, ceramics, places I've visited, and places I want to visit. Before I get started on any project I like to scroll through my inventory of saved images. This helps me figure out the color palette I might want to experiment with, or themes to explore, or spark a memory of somewhere I've been. I begin every illustration with a basic sketch to determine the overall layout and create a color palette of no more than 5-6 colors which I've noticed helps keep my work consistent. From there I start illustrating and play around with textures and colors until the vision in my head is what I see in front of me.
5. Who and/or what inspires your work?
I'm hugely inspired by my travels. I feel like the past few years have been such a whirlwind, that I've just now started to process all the places I've been and things I've experienced. My current work is an accumulation of all these things that are just now coming to the surface of my consciousness.
6. What role does art play in your life? How does it change the way you view the world?
I feel like I'm inundated with serious topics all day long and there's a lot of stressful things going on in the world at the moment and my art practice keeps me lighter and optimistic. Carving out time to create is as essential as reminding myself to eat lunch - It's just something I have to do otherwise I'm cranky and negative. I need that time to let my mind run free and paint what makes me happy, which ultimately makes me a more cheerful person overall. Hopefully, by putting out that good energy into the world through my work, it can make someone else forget, even just for a moment, about the negative things going on around them too.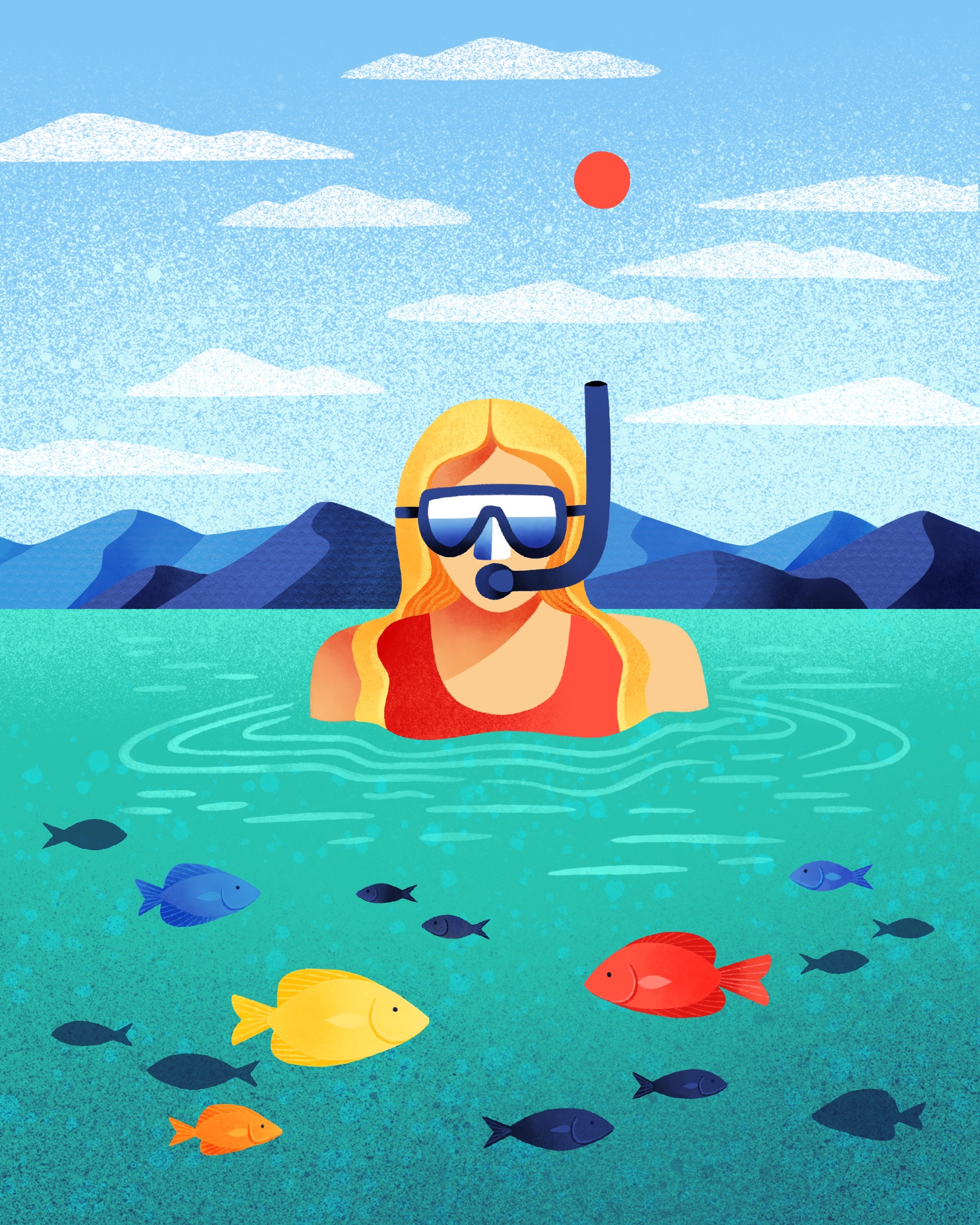 7. Where did you study?
I studied fine art at the University of California Santa Cruz, and spent a year studying abroad at the Elam School of Fine Arts in Auckland, New Zealand.
8. Where do you see yourself in five years?
I'd like to be collaborating with more female-focused brands - particularly in activewear, travel gear, and camping essentials. I think there's a huge market for women exploring the outdoors, and I'd like to be apart of it in any way I can be.
9. What about in ten?
I'd like to still be a full-time illustrator. Hopefully, I'll be mentoring and teaching others about taking time to create and pursue their own passion projects. I'd love to see my work on everything from party supplies to clothes, to surfboards, the list is endless. I'd also love to have a coloring book published!
10. What do you hope to achieve with your art?
I hope I'm creating work that I'm proud of, but also bringing a little bit of happiness to others and reminding them to be a little less serious.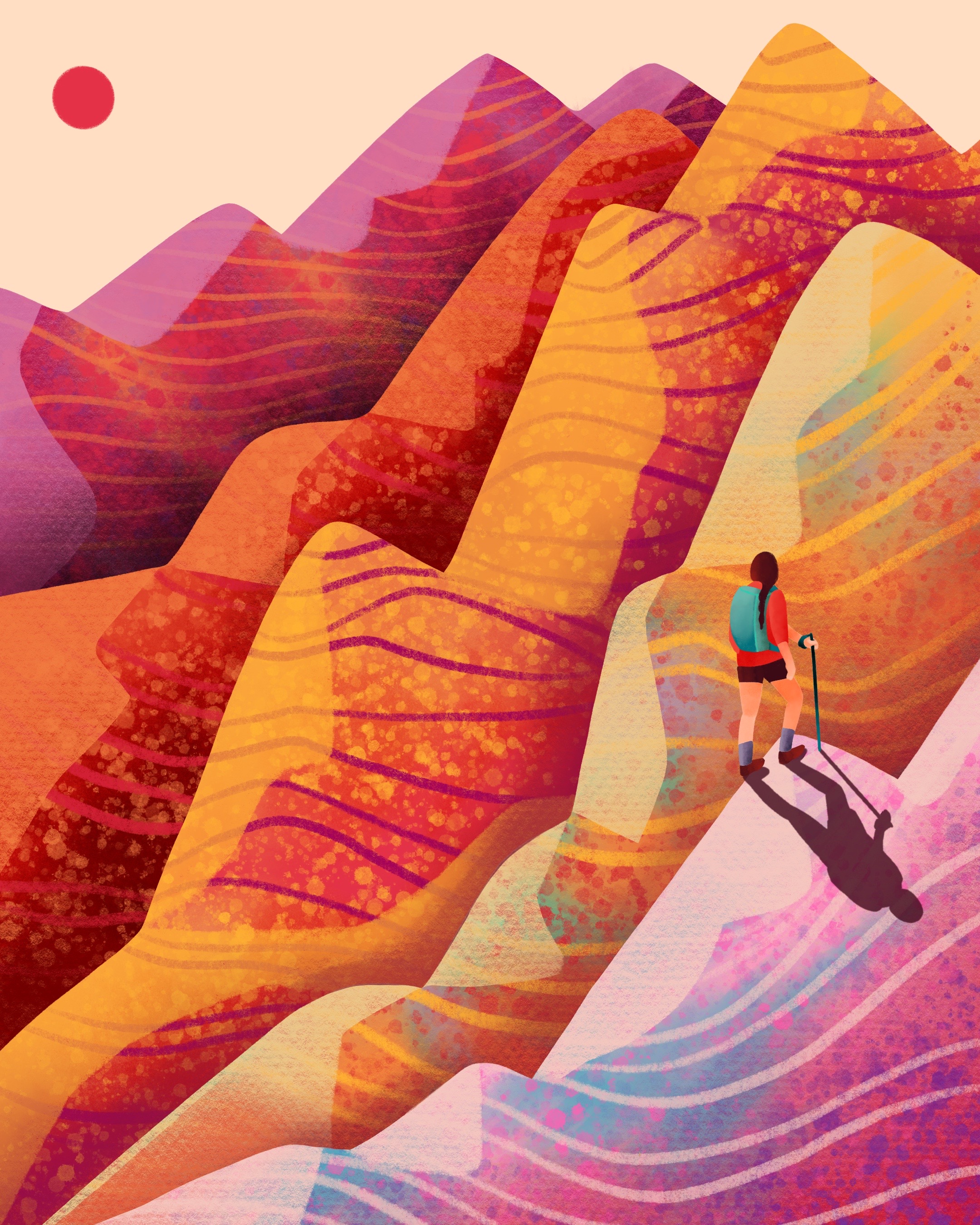 11. Now, tell us a little more about you as a person: what is your favourite food?
Oh man, that's a tie between Malaysian and Mexican food - I love a good green curry or enchiladas. Anything smothered in a spicy sauce really!
12. Favourite book?
Even though we read it so many times in school, To Kill A Mockingbird is still my all-time favorite book.
13. Favourite genre of music?
I can't pick a favorite, but I like listening to folk music when I'm driving, indie/alternative music when I'm painting, and hip hop when I'm dancing.
14. What are your hobbies?
I love riding my bike, but I love to swim even more. I also like exploring new cities and trying all the local food. And petting dogs!
15. If you weren't an artist, what would you be?
Something creative and kind of nerdy - I would love to name Pantone colors. But I would also love to work at the orangutan jungle school in Borneo where they raise orphaned orangutans and release them back into the wild once they're ready to survive on their own. I imagine that would be a pretty satisfying job.