Instagram:
@marei_engelke
Website:
www.mareikeengelke.de
1. What's your story? Where are you from?
Hi, my name is Mareike, I'm an illustrator and designer. I live in Duisburg, Germany, with my husband and two cats. Ten years ago I graduated from "Hochschule Niederrhein" in Krefeld, where I studied illustration and design. I made illustration projects nearly right away then but I needed to earn some money. So I was a part-time art director for several years until my projects and client list grew and I felt confident enough to freelance full time. For me, one important thing was to get signed with my illustration agent, three years ago. This was when I started to feel professional at least. (Haha, I still do always think I'm just a kid sketching and having fun …). I went to the bookfair in Frankfurt and met my publisher Kunstanstifter, a wonderful, artistic little publishing house. With them, I made my first picture book "Vor den 7 Bergen" ("Beyond the 7 hills", Author: Annette Feldmann) which was shortlisted for "Serafina", an illustration award for innovative book debuts and was awarded a "White Raven" for outstanding books in Europe. Now I work in a studio located in a shared studio space with 12 other designer and artists. I work on my own ideas, collaborations and client projects, mostly for publishing houses, ad agencies and magazines. Commercial projects cross finance artistic projects.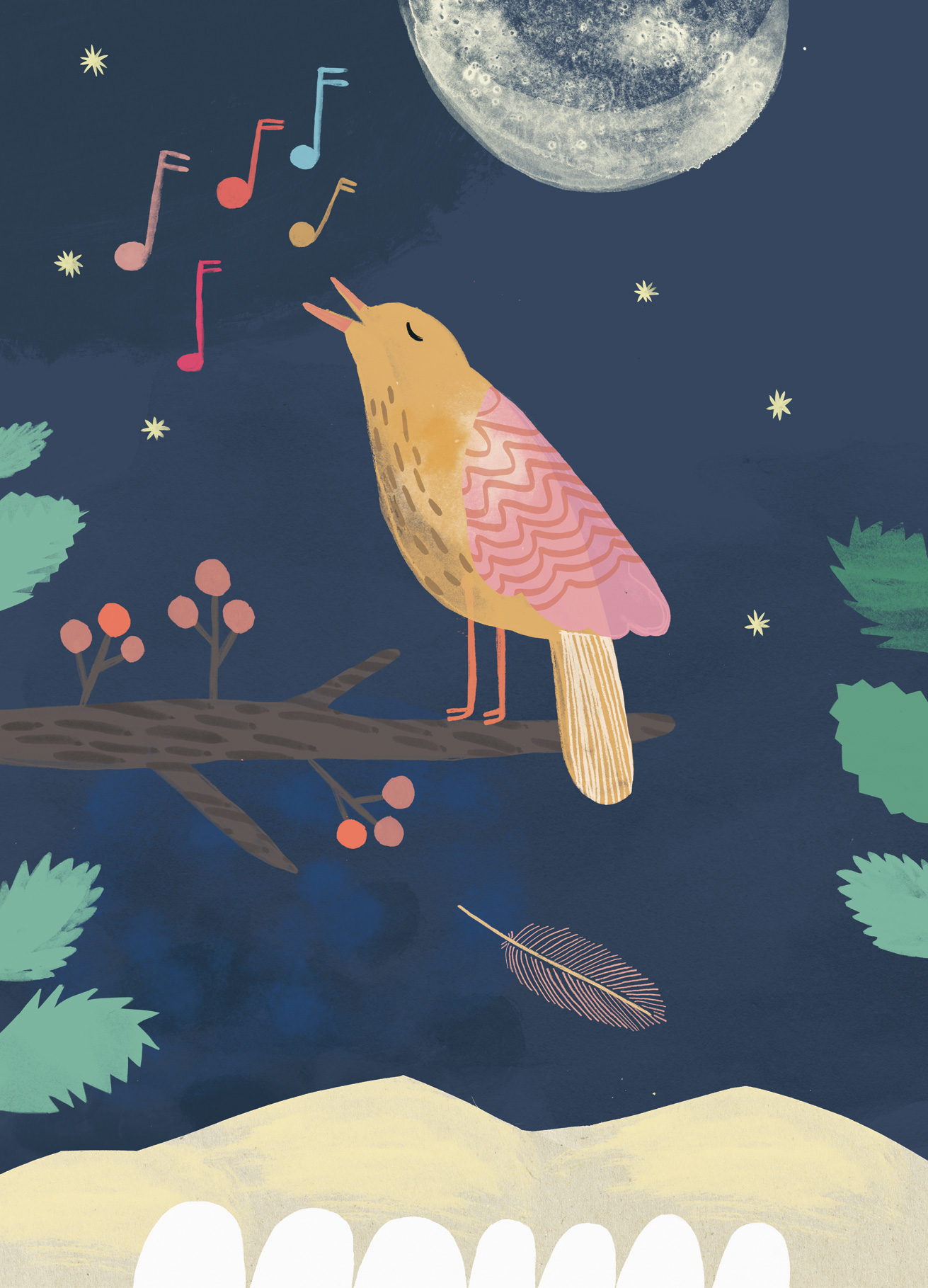 2. Tell us about your aesthetic.
My illustrations are lively, warm, quirky and tend to get a little wild sometimes, then I ignore the right perspectives and use bold colours. I try to be intuitive, raw and use coincidences as a style factor. Some might say, I draw like a child, but it's hard work. Really.
3. What is your favourite medium and why?
I love the feel of analogue drawing with gouache and pencils, paper pieces, felt pens, watercolor…. but then I also enjoy a good flow collaging things in Photoshop, which I use to finish every illustration. Therefore I'm an analogue digital mixed media illustrator, I think. I think I could use everything to create. I love to try out new mediums. And: I just caught up on procreate on the iPad, which seems to be a lot of fun and a great tool.
4. What is your artistic process like?
I always start with a feeling. Just like a tiny whisper. This forms an idea, maybe a concept. I need to see and feel it in my imagination. I'm lucky that some clients trust my work and I can surprise them with finals. That's my favourite way of working. If the client demands sketches, I'll scribble some really rough sketches. Just a few lines. That's the framework in which everything else is allowed to get wild, very intuitive, then. My illustrations are basically a collage of tiny bits, scanned and assembled in photoshop. I draw everything I need, eventually body parts, noses, skirts, waves, tears and flower petals for example. I scan them to make collages, I construct and deconstruct everything until everything finds its place. My files get really big and consist of 100+ layers. That's why I'm constantly running out of space for paper and the files.
5. Who and/or what inspires your work?
On some days I'm feeling like a sponge and hide from too many distractions from time to time. I try to live with fewer things, which is a process I started. Then I love riding my bike through nature and abandoned parts of urban environments, reading too many nonfiction books on various non-work-related topics all at once, enjoying coffee with my friends, spending lovely evenings with my husband and my cats (my core family <3) … I love humans, reading, coffee, plants, cats, my kitchen, lasagne, apple trees. My art heroes lately: I admire the illustrations of Monika Forsberg and Lisa Congdon. My favourite book illustrator is Swedish illustrator Emma Adbage. I love the art of Miranda Skoczek. I'm a little obsessed with Fine Little Day by Elisabeth Dunker.
6. What role does art play in your life? How does it change the way you view the world?
In my late childhood, it was a little odd for me to feel this artistic call. I made my first experiences and suddenly I couldn't imagine doing anything else for a living. I think I have always loved all the details and watched the (inner and outer) world with curious and delicate eyes and saved a bit of this magical thinking from my childhood. I always wonder about everything around me and I love to engage all my senses.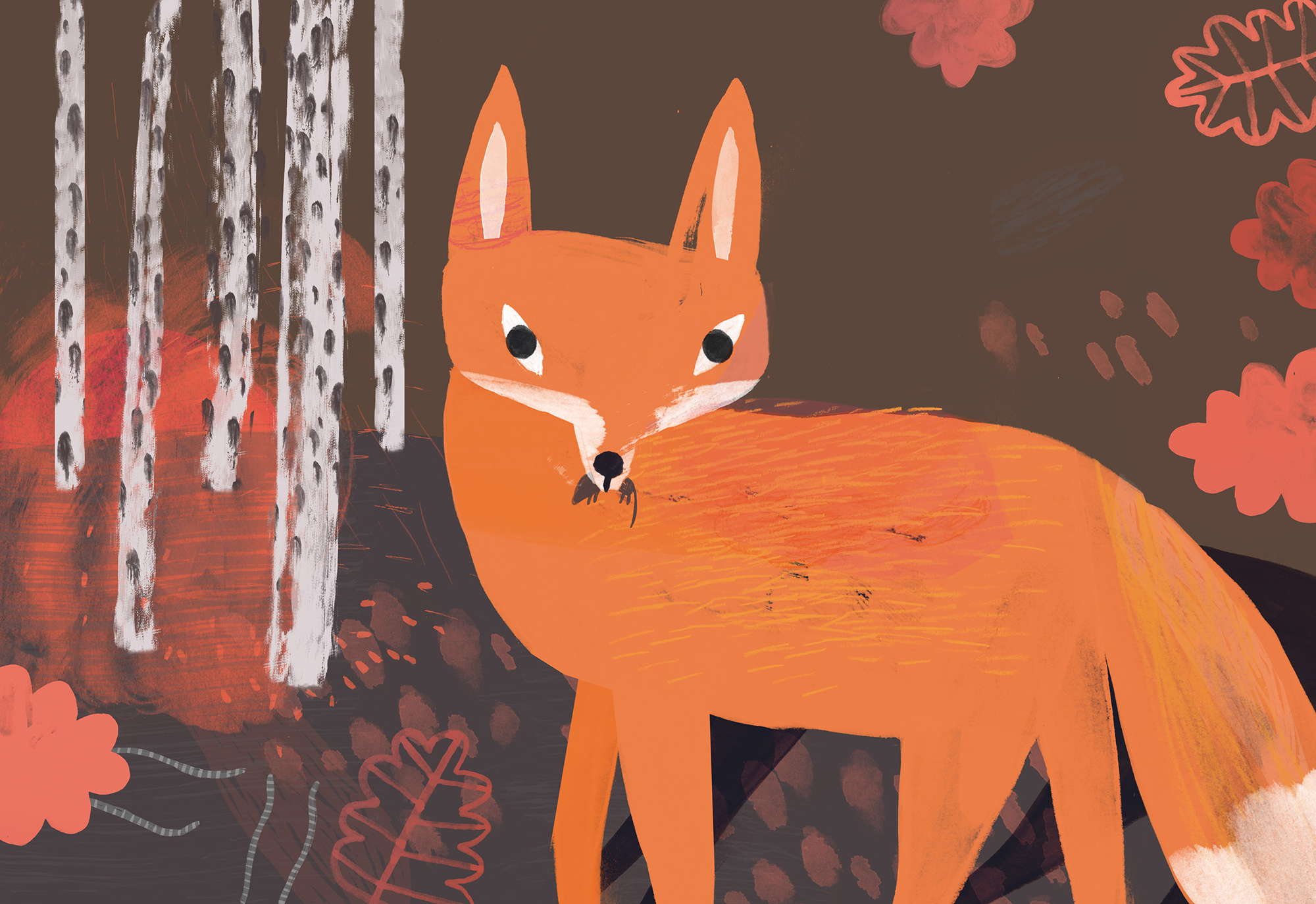 7. Where did you study?
I studied illustration and design in Krefeld, Germany. A very small, familiarly design school with a long tradition design, especially textile design.
8. Where do you see yourself in five years?
In the last months, I had the idea, that I'd love to work with other designers on projects more often. One day, I would like to hire young designers and work on illustrative design projects and collaborations with clients – in a distinctive studio style and an overall philosophy. I hope I figure this out in the next five years.
9. What about in ten?
I hope I can work in a positive atmosphere forever. I would love to give my knowledge to younger artists, maybe working at a university for some hours a week. I would love to live in freedom and abundance, not just materialistic more in a way like this yogi mantra: "May all beings be happy and free". I wish I'll always believe in magic and that I'm able to follow my own ideas. I think I would love to buy a small house in the nature and have a chic flat in the city. That would be great. I hope my cats are still alive – which may be a possible miracle.
10. What do you hope to achieve with your art?
I hope like-minded people find comfort and a little joy.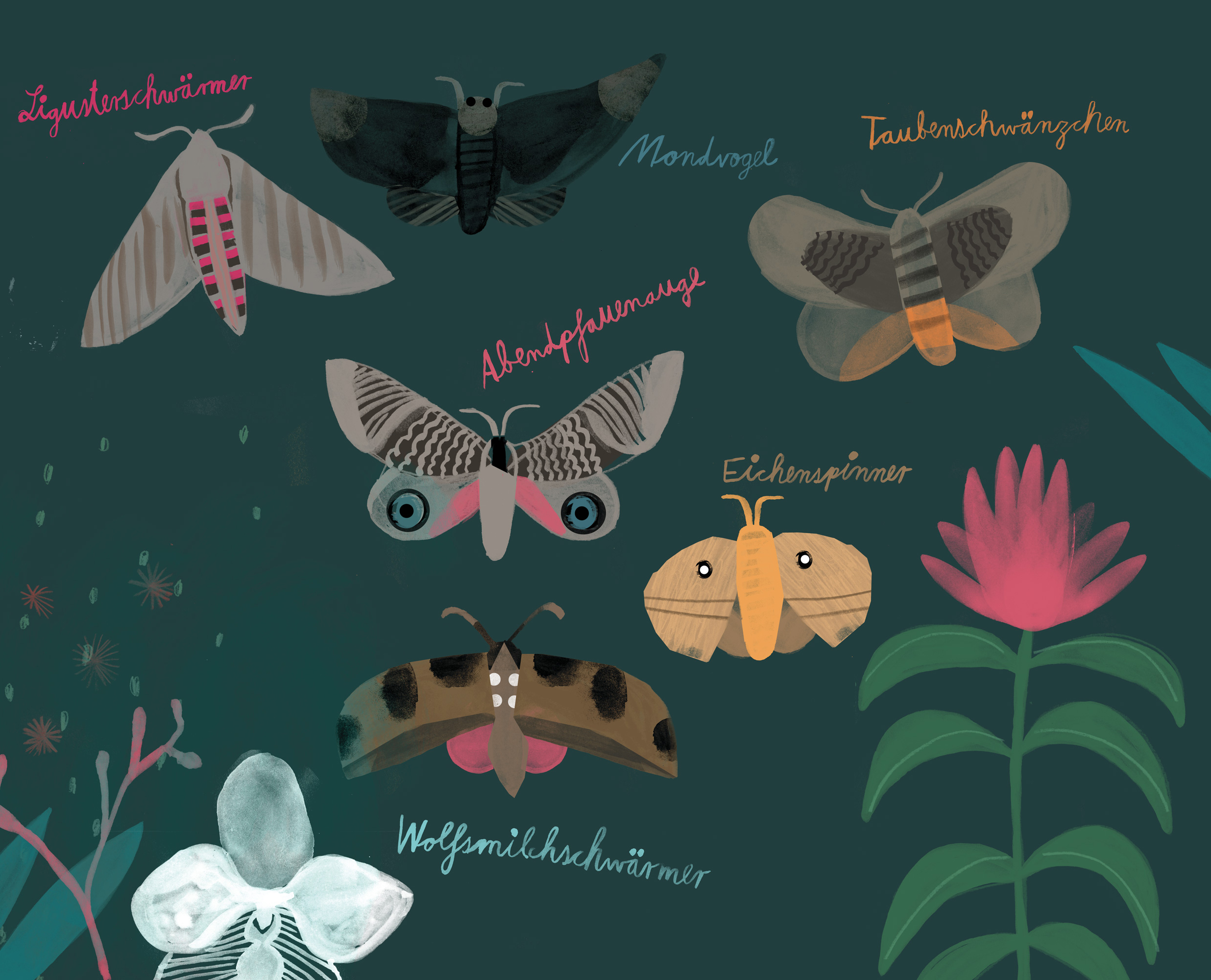 11. Now, tell us a little more about you as a person: what is your favourite food?
I'm trying to learn more about the connection between my emotions and the food I eat. I try to eat healthy on a regular basis, although that's not always easy. When life gets complicated I really need coffee, a mellow cake and a friendly company or pasta with lots of garlic, olive oil and salt.
12. Favourite books?
Fiction: Banana Yoshimoto "Kitchen" is one of my all-time favourite books. Art related: Lisa Congdon "Art Inc." is the most helpful book on my studio shelf. Non-Fiction: Katie Silcox "Healthy Happy Sexy" is a great handbook about Ayurveda and helped me a lot to find my wellbeing. Kids Book: Robert Kraus "Leo Late Bloomer" was my favourite book when I was a child.
13. Favourite genre of music?
While I'm working I prefer listening to some old jazz tunes and soul music or melancholic indie pop. In the car, I secretly listen to the most embarrassing pop music from the 80ies. Songs I can sing loud and thetralic while driving.
14. What are your hobbies?
Riding my bike, reading and learning, night showering, yoga, spending time with my friends and my family, cooking, a little gardening and trying to have a sweet time doing nothing (which is so hard sometimes …)
15. If you weren't an artist, what would you be?
I think I would love to work with animals. Or I would work with plants and flowers. Since my great-grandparents, our family have been gardeners – which was a great playground for me as a kid. Sometimes I think I have a spark of an unwisely and chaotic healer. I could heal with spells and flowers and animal fluids.