Instagram:
@marianaruizjohnson
Website:
marianaruizjohnson.wordpress.com
1. What's your story? Where are you from?
I was born in Buenos Aires, Argentina. Buenos Aires is vibrant and very cultural (the city with more bookstores in the world!), and I have always lived in the suburbs, just 30 minutes away. I'm the eldest of three siblings, and as both my parents went to Art School, I grew up in a stimulating environment and visiting bookshops and museums on weekends. I work as a freelance book author and illustrator and live with my husband and my two kids.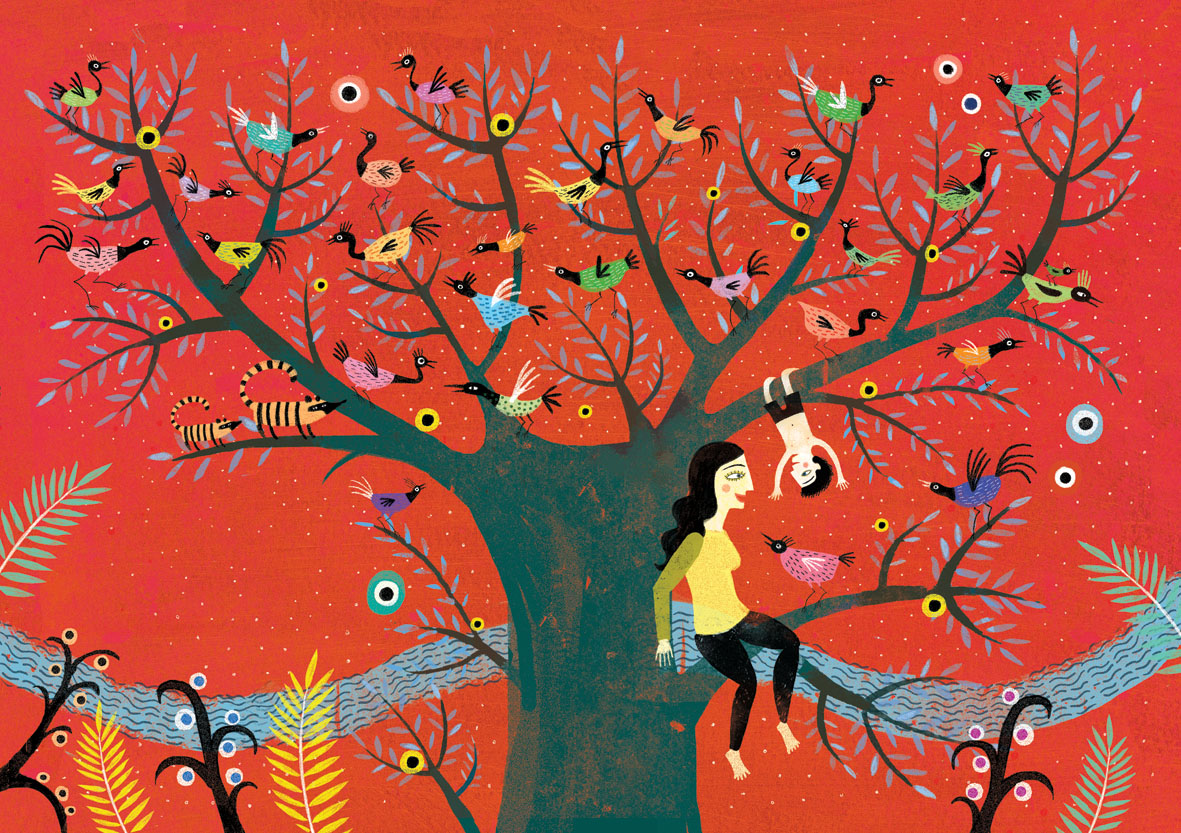 2. Tell us about your aesthetic.
My work is based mainly on colour: I love high contrasted, saturated, and exciting palettes. As a fan of Latin American folkloric art, most of my exuberance, composition and design are influenced by it: I don't use traditional perspective, nor volumetric figures. I prefer flat figures and hierarchic perspective. I think humour and storytelling are very important, so I always pay attention to details and try to create empathetic characters. I also love vintage graphic design, with its geometric shapes and its limited palettes, and I think my work gets a lot of that influence too. It is full of patterns and texture. In my pictures, you'll find a lot of celebrations, parties, anthropomorphic creatures, magic, starry nights, and nature.
3. What is your favourite medium and why?
For the last years, I have been working digitally, using handmade textures which I process in Adobe Photoshop. I find this program so awesome: I use it as if I was using real tools on my desk. I never use shortcuts and I try to keep everything as simple as possible (always the same brushes, very few layers, and drawing with the lasso tool). As I am a mom of two small kids and I don't have the availability of long periods of working, and this allows me to save and get back to work very easily. I also love markers! There is a great variety of colours and points, and you can take them everywhere!
4. What is your artistic process like?
I have a notebook where I doodle and write down raw ideas. In general, the deepest ideas come from personal experiences, and the need to make something about them. Sometimes I start with a poem or short text, and other times images come first. This depends on the project.
5. Who and/or what inspires your work?
Folk art, music, food, filmmakers such as Wes Anderson and Pedro Almodóvar, poetry, conversations with my friends, and children. Children are so inspiring to me! My kids help me see the world through new eyes. They have a very natural relationship with poetry and surrealism.
6. What role does art play in your life? How does it change the way you view the world?
Art is the bone marrow of my life: I know it will be with me until the day I die. I try to live my life with a poetic view: everything seems to have sense, everything glows with its own beauty. Books, music, and movies have an important role in my life on a daily basis.
7. Where did you study?
I studied Art (painting, engraving, drawing) at University, but an illustration is not an official career in my country, I had to attend workshops of different illustrators to learn the specific job.
8. Where do you see yourself in five years?
Doing the same as I am doing now: making books. Maybe taking more time to make each book, that would be nice! and more space: being able to switch from one technique to another without worrying that a baby will mess all up with his little hands.
9. What about in ten?
I would love to travel, meeting my readers in different parts of the world.
10. What do you hope to achieve with your art?
To remain in the childhood memories of the kids who read my books. And to tell interesting stories, with many layers, through books, for the children of today.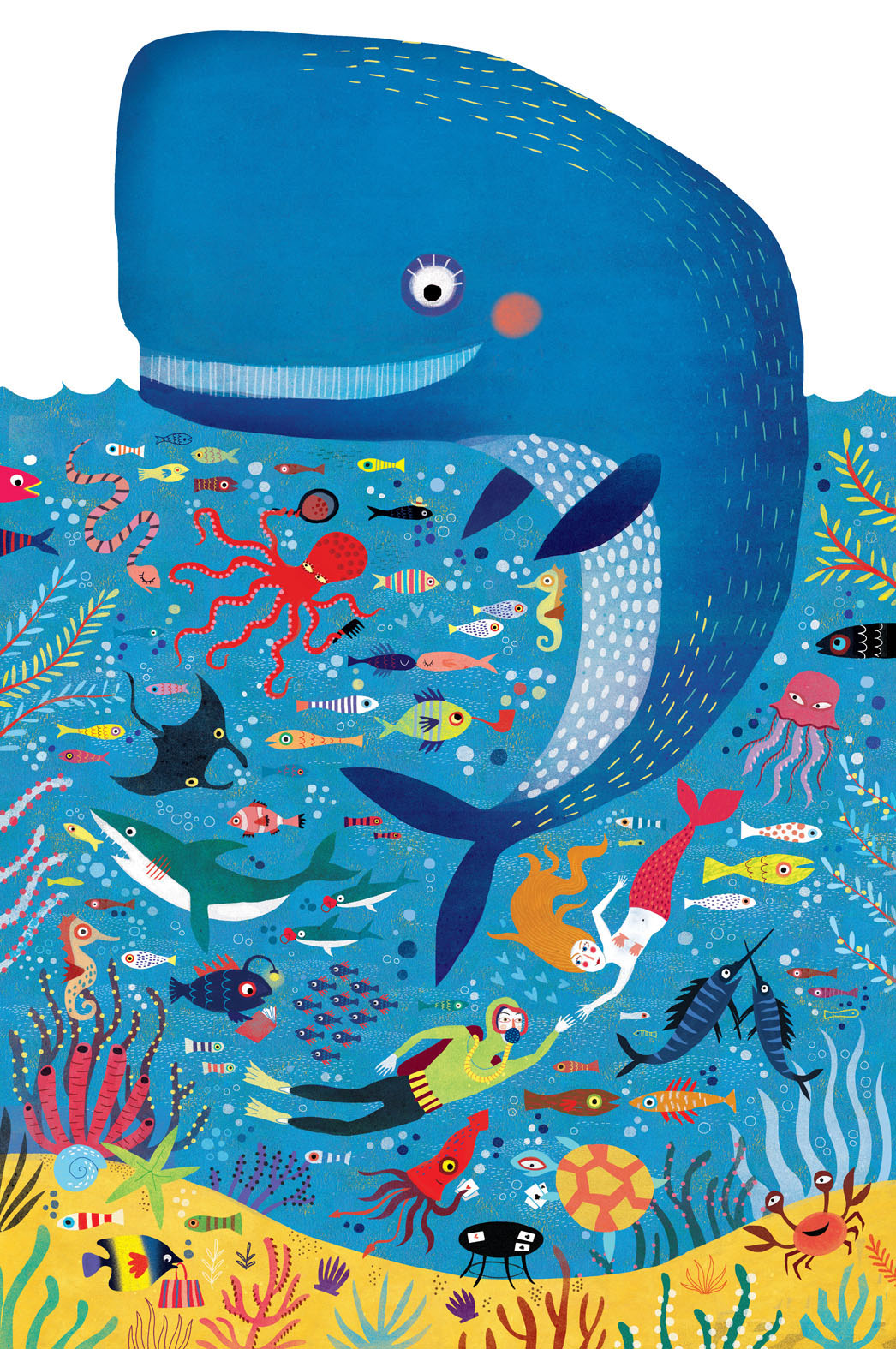 11. Now, tell us a little more about you as a person: what is your favourite food?
Hmmm... meat empanadas: they are a typical food in my country and it consists of a pastry filled with juicy and spicy meat! And I also love beer.
12. Favourite book?
That´s a difficult question: I love reading and I enjoy many genres and authors. I´m actually reading Argentine contemporary poets.
13. Favourite genre of music?
Rock, from all ages. I was a huge 70s fan, and now I´m listening to rock from the 80s and lots of contemporary indie bands.
14. What are your hobbies?
I love cooking, reading, going to rock concerts.
15. If you weren't an artist, what would you be?
I would be a writer. No doubt.