Instagram: @mariduarte
Website: www.mariduarte.com
1. What's your story? Where are you from?
I'm a graphic artist focused on illustration based in Sao Paulo, Brazil. As a passionate Brazilian woman, I have some huge tropical influence on my work. I was born in Brasília/ Brazil's capital and since I was very young, I was always engaged in all kinds of visual art, music and cinema.
My work is all about mixing abstract and figurative, bold colours, simple shapes and negative spaces. I illustrate for editorial, music, fashion, corporate brands and social projects.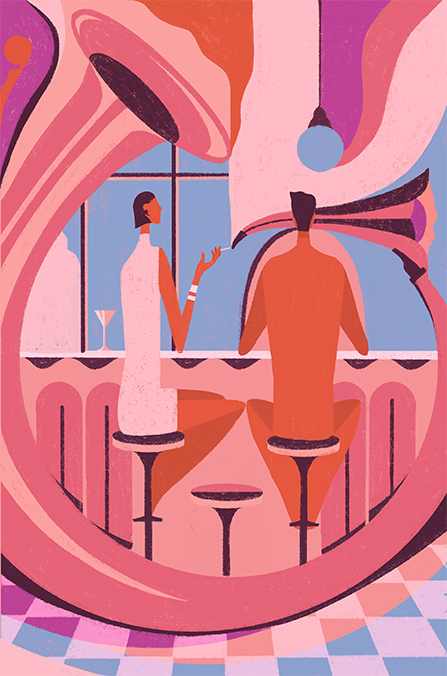 2. Tell us about your aesthetic.
Since I was born in Brasília, Oscar Niemeyer's city, I grew up under its aesthetic influence. So I think all of those wavy shapes are in the back of my mind and they all come out when I'm drawing. I feel like I also have a very oneiric influence since I read a lot about psychoanalysis. My process is very intuitive and I do the exercise, not always easy, to let the illustration flow without planning it too much.
3. What is your favourite medium and why?
I always like to start on paper, with graffiti. After a lot of drafting, I finish by colouring on the iPad pro.
4. What is your artistic process like?
It's a very intuitive process. If I overthink, it doesn't work and I get stuck. It's an exercise of letting go of control and I like it this way because I'm normally such a control freak, so my artistic process challenges me to evolve as a person too. I generally start with words and their synonyms, then I start drafting the words out, trying not to compose them. After that, I start to connect the elements that I doodled with abstract forms.
5. Who and/or what inspires your work?
Since I was born in Brasília, I am very much inspired by modern architecture such as Oscar Niemeyer's work. And I also believe that my work has some musical influence in its shapes. As a proud Brazilian woman, I do a lot of research of our native art too. I read a lot of poetry and about psychoanalysis to keep that oneiric side of my work updated.
6. What role does art play in your life? How does it change the way you view the world?
I think art is a very effective way of communicating without the need of being too literal. You can organize elements and signs in all sorts of ways and it will still have some space for interpretation. It's something people always "read the story" by adding their own life story and background too. So art ends up as a powerful collaborative tool to make the word a better place without needing to be very analytic or rigid.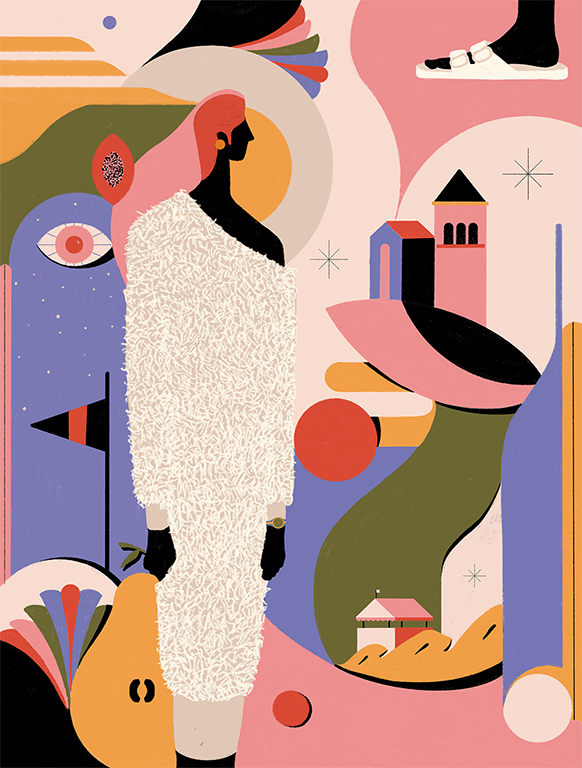 7. Where did you study?
I studied at the University Center of Brasilia.
8. Where do you see yourself in five years?
In five years, I'd like to see society and the world doing better and going healthier. I hope the world is a more equal and fairer place to live.
9. What about in ten?
If in five years the world is a better place, in ten I hope to have a family of my own, with two kids and two cats. Working worldwide, but living in a small country house, with good food, good music, good films and a lot of laughter.
10. What do you hope to achieve with your art?
I hope to always keep evolving my style and creative process, keeping it as a tool for personal evolution. I also hope to be able to communicate important messages in a more ludic and accessible way.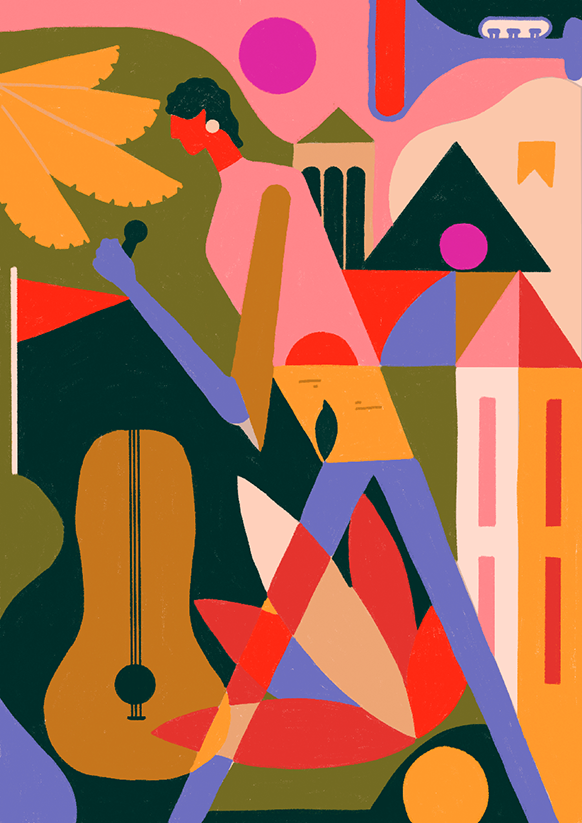 11. Now, tell us a little more about you as a person: what is your favourite food?
I really like to eat, but not so much to cook. As a vegetarian and tropical person, I eat a lot of fruits and vegetables in my daily basis routine. I also enjoy trying traditional meals from other cultures and countries.
12. Favourite book?
My favourite book is "Aleph", from the Argentine writer Jorge Luis Borges.
13. Favourite genre of music?
Brazilian music :)
14. What are your hobbies?
I love to read, watch movies, dance, listen to music and write some poetry. I think those are some of my favourite hobbies.
15. If you weren't an artist, what would you be?
I'd probably study to be a singer or psychoanalyst. And I think I will probably study those subjects in the future even if I'm still an artist.