Instagram:
@marlowedobbe
Twitter:
@marlowedobbe
Facebook:
www.facebook.com/marlowedobbe
1. What's your story? Where are you from?
I'm an illustrator from Portland Oregon! My story is basically that of an artist who got her start copying artwork from videogame manuals and then never stopped drawing.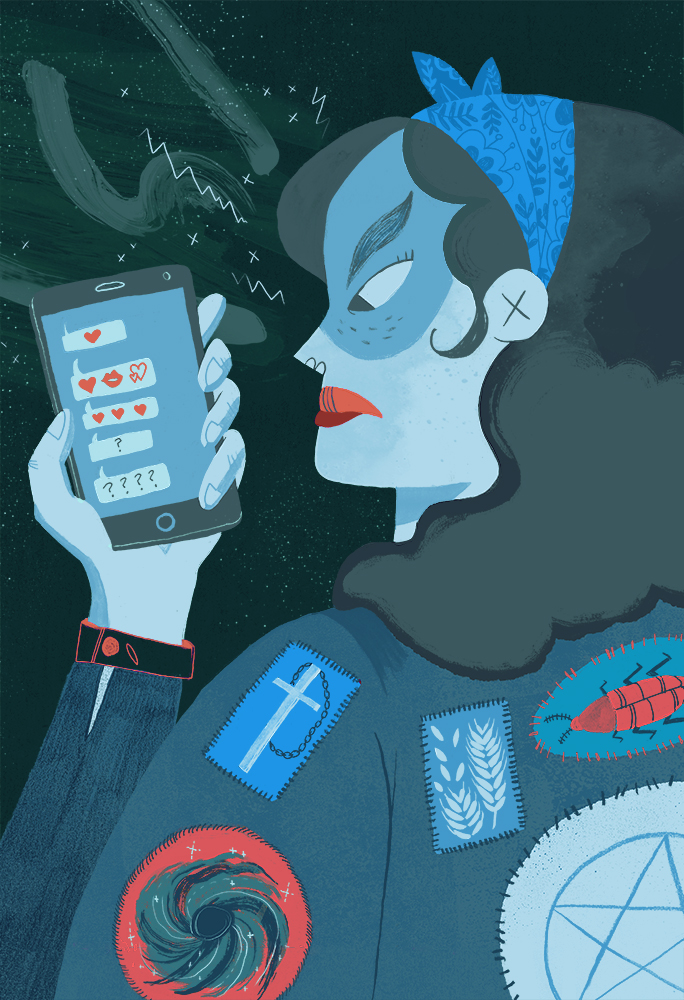 2. Tell us about your aesthetic.
My aesthetic is heavily inspired by mid-century illustration and advertisements. I think I got influenced by all the paraphernalia I'd pick up at all the garage sales I went to growing up. I think now I've settled into this sort of grey area where I have this nostalgic aesthetic, but it's applied with pretty modern color palettes and content.
3. What is your favourite medium and why?
This is such a hard question because I use a huge array of medium in all of my pieces. I'd say right now I'm particularly fond of my water-soluble graphite, but that might be just because it's new and fun.
4. What is your artistic process like?
My process always starts with sketching in red pencil, and then "inking" over that drawing with a variety of medium. I generally use brush pen, acrylic, crayon, pencil, drybrush, ballpoint, and water-soluble graphite. Once I've inked my drawing I scan it and blow out the red pencil in Photoshop (leaving only what I've drawn over the initial sketch) and finish and color everything digitally. I've always been fascinated with the relationship between analog textures and digital colors, so I feel like my process lets me achieve that with all the tools at my disposal.
5. Who and/or what inspires your work?
Inspiration comes from absolutely everywhere. I get a lot of inspiration from fashion and people-watching. I always want to draw people's outfits. I definitely spend a lot of time looking at older (mid-century) children's books and cookbooks too. Contemporary illustration is also a big influence. The new "save" function on Instagram has been the highlight of my year.
6. What role does art play in your life? How does it change the way you view the world?
Art is like this necessary function for me. I go absolutely bananas when I'm not consistently creating -- so I'm a bit of a workaholic, but I'd have it no other way! Even on my days off I'm drawing or working away on something because it often doesn't feel like work to me. In terms of how I see the world, art is sort of this way to process my thoughts. It's a translation of the things I take in every day -- if that makes sense.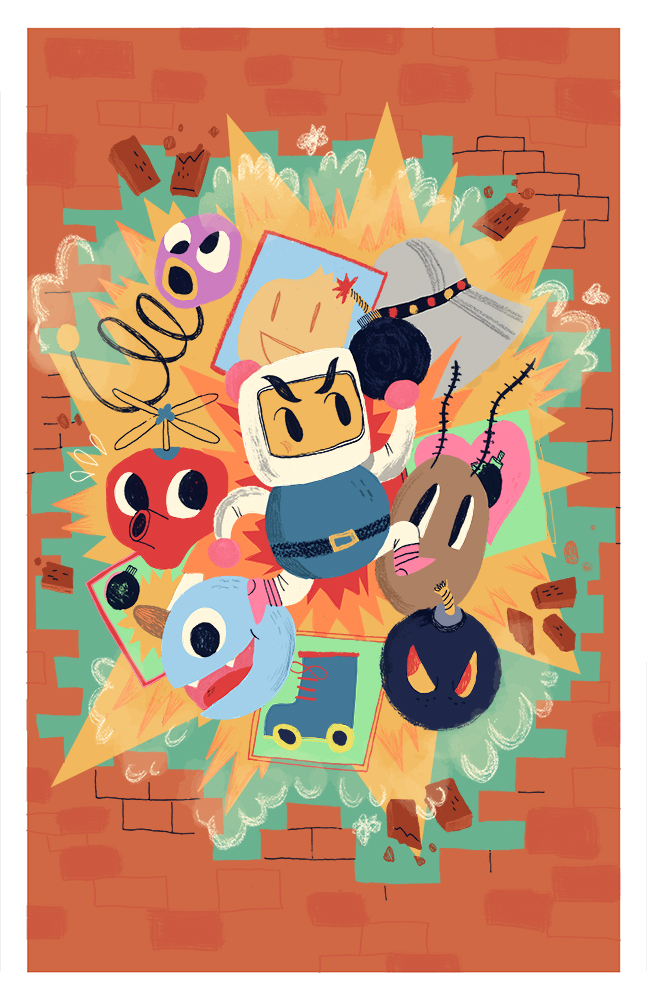 7. Where did you study?
I studied at Pacific Northwest College of Art where I graduated in 2016 with my BFA in Illustration.
8. Where do you see yourself in five years? Working in an agency?
I would love to work with an agency by five year's time. I've really enjoyed the balance of client work and personal work that freelance has provided, and I feel like agency work would be an awesome opportunity to bolster the client work side of my practice.
9. What about in ten?
In ten years I aim to be fully supported by personal projects and also become a well-paid internet personality with two cats and one dog.
10. What do you hope to achieve with your art?
I hope to achieve a cheerful sense of nostalgia and celebration that is inclusive to as wide a variety of an audience as possible. It's very important that all the narrative work I do is empowering to women and young girls, too. I enjoy media created by women and if I have to opportunity to inspire just one person to create things then that means the whole world to me.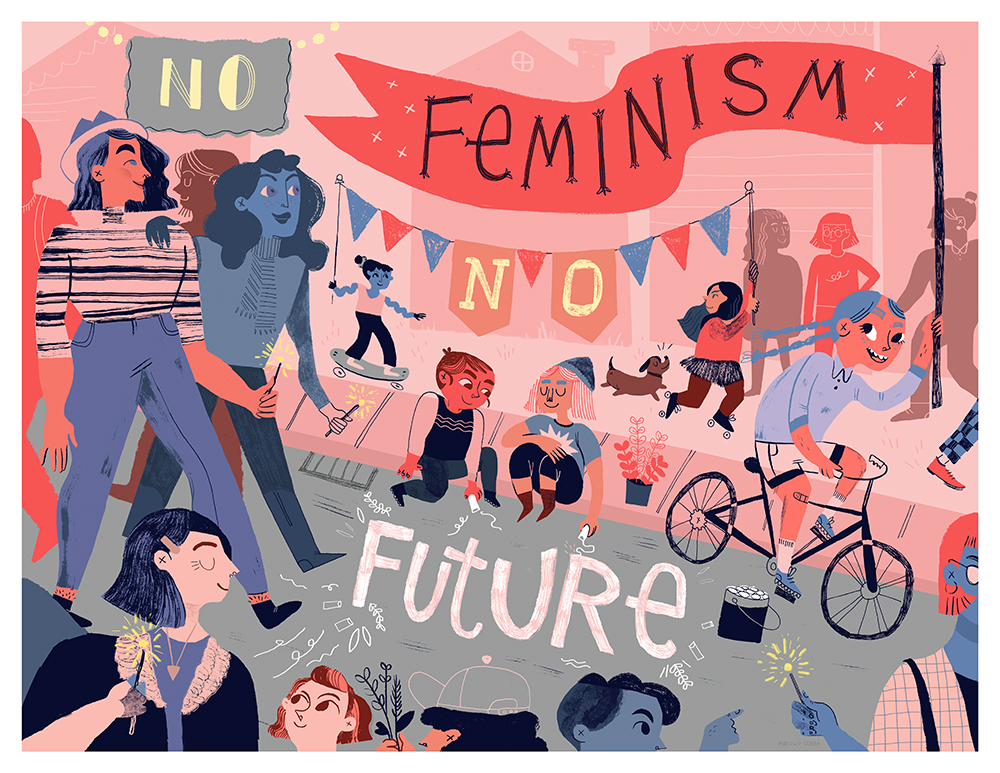 11. Now, tell us a little more about you as a person: what is your favourite food?
If tacos were a person I'd marry them.
12. Favourite book?
This is Where I Leave you by Jonathan Tropper
13. Favourite genre of music?
Mostly folk, but I'm going through a femme punk phase.
14. What are your hobbies?
I'm a huge gamer. So whenever I have a spare moment (which is not often) I am trying to catch up on the growing library of video games I have to play.
15. If you weren't an artist, what would you be?
I think I'd be a writer. I love writing for all my own narrative projects, and I can't imagine doing anything that doesn't involve creating things.