Instagram:
@marnimanning
Facebook:
www.facebook.com/marnimanningart
Website:
www.marnimanning.com
1. What's your story? Where are you from?
I'm originally from North Carolina in the United States, but after college, I ran away to live in South Korea for awhile. I taught English there, and even married a guy from Korea! Korean culture is a big part of my life now. It's wonderfully enriching to be with someone from another culture. A challenge for sure - but never boring. I'm now based near Washington D.C., which is pretty close to perfect for me. I prefer a balance between the city and nature. I consider myself an intrepid traveler and creator; I really enjoy connecting with other cultures and I think that informs my work.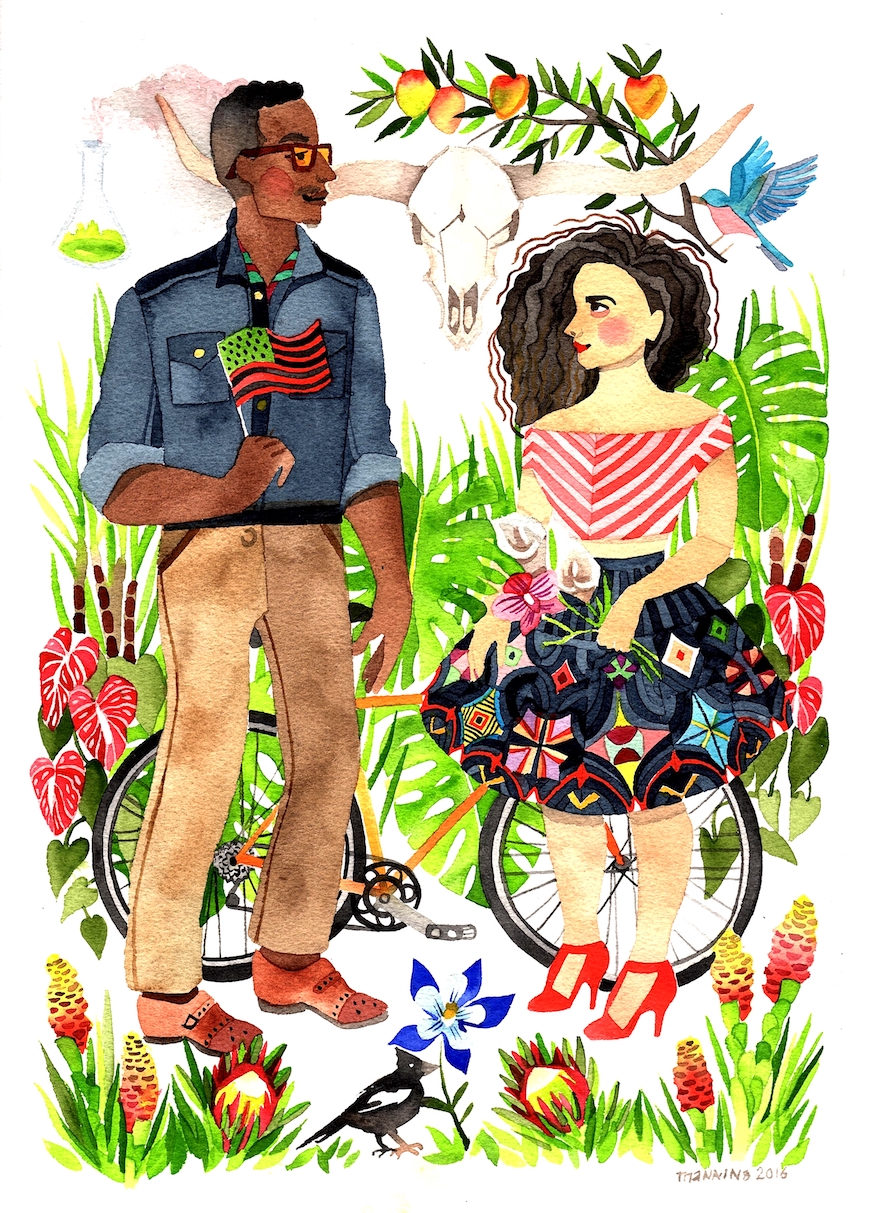 2. Tell us about your aesthetic.
I feature a lot of skeletons and skulls, flora, and fauna in my work. I do this to suggest the cycle of life and death. The bones aren't meant to be frightening. By showing the deepest physical parts of our human bodies, I hope to bring unity to the world, encouraging anyone who views my work to remember what we are at our core. Our skin color and self-made hierarchies can be masks we wear, but deep down, we are all made of the same bones. I love clean lines, bright colors, specific moments, and I'm always, always am a sucker for folklore. Any weird and wonderful story that pays homage to a superstition, a forgotten time, a legend, is right up my alley.
3. What is your favourite medium and why?
I have been addicted to watercolor since I started painting. Watercolor is wonderful because it can be thin or opaque, with crisp or blurry lines. Pushing it around before it dries is incredibly satisfying. I also enjoying drawing with colored pencils.
4. What is your artistic process like?
I like to do word "sketching" before I begin a series. I'll write down thoughts and key phrases that trigger an image in my mind. Once I'm done brainstorming, I start doing small loose sketches in pencil on scrap paper. I'll then turn to my favorite Aquarelle Arches watercolor block and do a finer sketch. When that's looking tidy, I grab my paint water, brushes, paints, and get to work! I usually listen to audiobooks as I work. I might also watch Youtube or Netflix for documentaries, movies, and TV shows. I wish every artist would read The War of Art by Steven Pressfield. It was instrumental in helping me focus and treat art like a job instead of waiting for the proverbial muse to show up.
5. Who and/or what inspires your work?
My inspiration comes from other artists, either from years past or my contemporaries. Sometimes it's style in general, and sometimes it's one specific piece that speaks to me. I was overwhelmed when I discovered Carl Klewicke's Original Design Quilt, which is currently on display at the Collection American Folk Art Museum in New York. It's made from bits of silk and satin, and contains the richest, most eclectic shapes and designs of any folk art I've come across. I also love Japanese and Korean folk art. The music of Hozier was the springboard for a lot of my work last year. I'm constantly looking for new music to influence the narratives I create.
6. What role does art play in your life? How does it change the way you view the world?
Making art became my therapy a couple of years ago as I was struggling to overcome depression. Since then, the positive feedback from friends, family, and clients has encouraged me to continue and make it my career. Now that I've been steadily working in art and with other artists for the last two years, I feel a greater sense of community than ever before. I know the value of a piece of paper that has been marked by a creative mind. I've also had the privilege of working with clients to create personalized portraits. Through this work, I can see that many people share the same basic values: the love they have for their family and the pride of their heritage.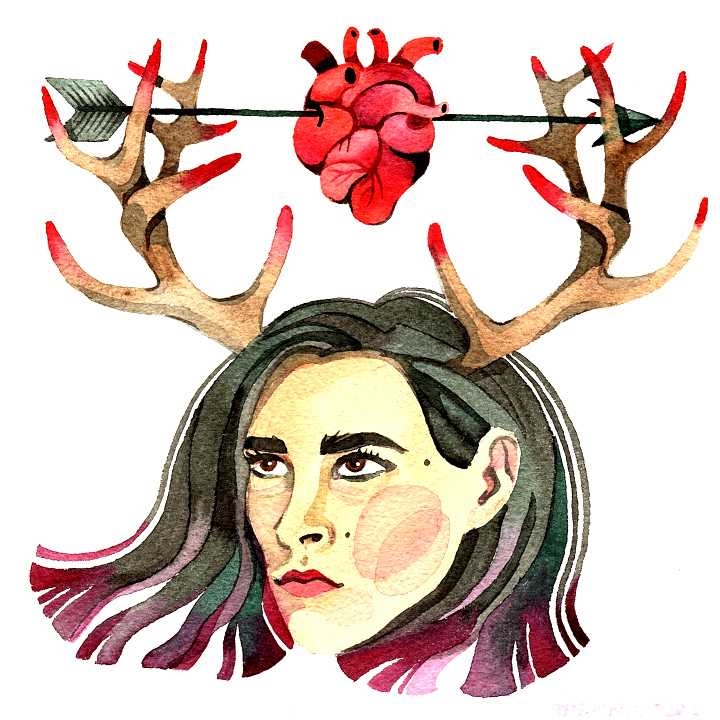 7. Where did you study?
I went to East Carolina University for a BFA in Theatre Design with a concentration in Costume Design and Construction. Although I've not had the opportunity to take painting classes, I've supplemented with online videos, studying other artists' work, and practicing long hours by myself. I suppose I'm a "self-taught" artist? But I'm glad to be one. I'm proof that practice can pay off, and anyone can enjoy painting.
8. Where do you see yourself in five years? Working in an agency?
I'm not currently working in an agency, and I'm not sure that I ever will. I like the autonomy of working for myself. In five years, I'd just like to continue what I'm doing now; dabbling in editorial illustration, merchandise design, logo design, commissions, art shows, and painting for fun.
9. What about in ten?
In addition to continuing my art, I wanted to create an environment that allows me to be a stay-at-home mom. My husband and I have always wanted kids, but I would also like to cultivate a vocation outside of being a mom. Working from home, doing something I love, and having children - that sounds like a perfect scenario.
10. What do you hope to achieve with your art?
I hope to bring joy to people with my art. I want them to see it, to feel at home, accepted, and loved.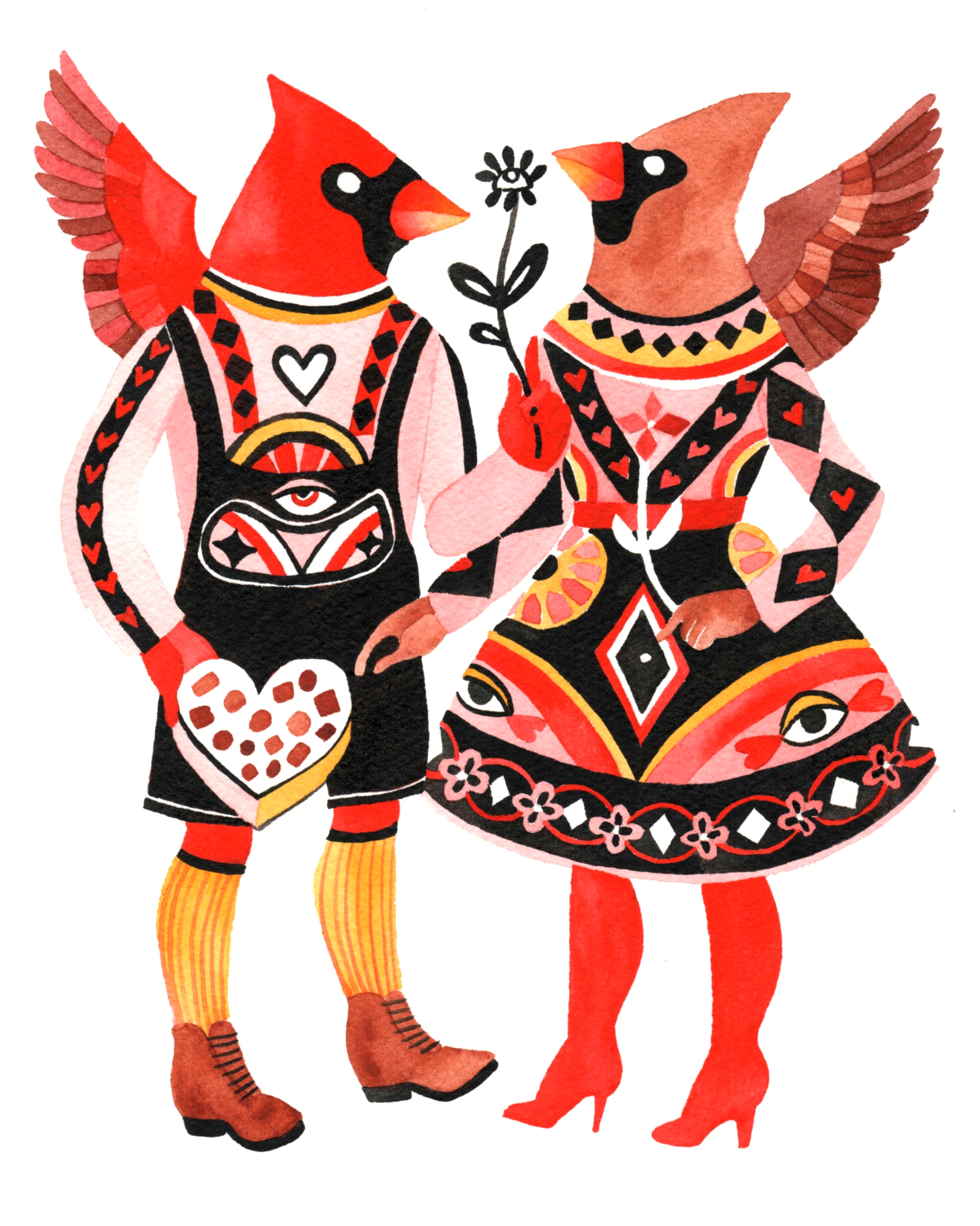 11. Now, tell us a little more about you as a person: what is your favourite food?
I'll eat just about anything… but I drool over homemade bread, steamed artichokes, dried cranberries, and Korean marinated beef. As for genres of food - the entire continent of Asia could satisfy me with the plethora of flavors. Indian and Vietnamese are at the top of that list.
12. Favourite book?
Heir Apparent by Vivian Vande Velde is a wonderful book (albeit for young adults) and I must have read it more than seven times! Anything by Ray Bradbury. To Kill a Mockingbird is beautiful to me, as are Pride and Prejudice and Sense and Sensibility.
13. Favourite genre of music?
Folk, folk, folk! I'm talking Ben Howard, Ray LaMontagne, the Paper Kites, and of course, Hozier. My guilty pleasure? Justin Bieber's "Love Yourself". There - I said it.
14. What are your hobbies?
I enjoy cycling, singing, writing music, studying Korean and German, trying new recipes, yoga, and traveling. My husband and I took a trip to Iceland and Ireland last September, and it only fueled my desire to explore more!
15. If you weren't an artist, what would you be?
I could see myself being a tattoo artist… if I could ever get over being creeped out by needles.