Instagram: @mathilde.illustration
1. What's your story? Where are you from?
My name is Mathilde and I come from the South West of France. I am a graphic/web designer in a communication agency in La Rochelle. I've always been drawn to the field of visual arts. I drew a lot as a child so this job was obvious to me.
Je m'appelle Mathilde et je suis originaire du Sud-Ouest de la France. Je suis Graphique Web designer dans une agence de communication à La Rochelle. J'ai toujours été attirée par le domaine des arts visuels. Enfant déjà, je dessinais beaucoup, ce métier est comme une évidence pour moi.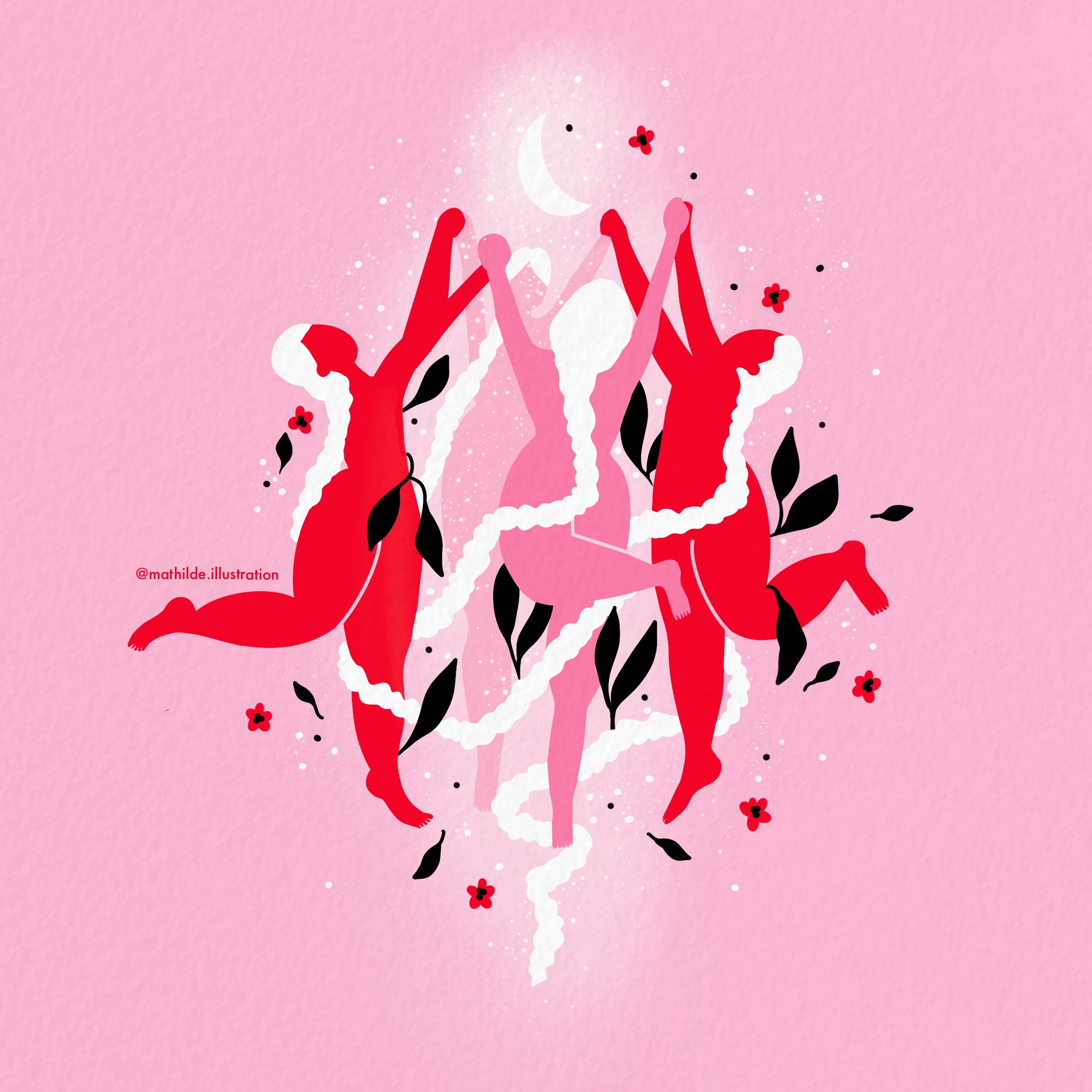 2. Tell us about your aesthetic.
I would describe my aesthetic as feminine and colorful. I like to mix techniques, to associate the solids, the textures, the shadows etc. I adopt an eclectic style.
Je qualifierais mon esthétique de féminin et coloré. j'aime mélanger les techniques, mêler les aplats, les textures , les ombres etc. J'adopte un style assez éclectique.
3. What is your favourite medium and why?
I recently started to use Procreate on the iPad, and I directly fell in loooove with this software and its versatility, a wonderful invention of this century. But I haven't given up on drawing with paper though, because I still love the charm of a Faber Castel felt-tip drawing.
J'utilise depuis peu Procreate sur l'iPad, et j'aaaaadore je suis tombée amoureuse de ce logiciel et de sa polyvalence, merveilleuse invention de ce siècle. Mais je n'ai pas pour autant renoncé au papier, car j'aime encore énormément le charme d'un dessin au feutre Faber Castel.
4. What is your artistic process like?
The drawing is for me a way of fulfillment and expression, on the same level as my other passions. I don't want it to become a chore, that's why I don't force myself to draw. If I don't feel the need to draw for months, I listen my intuition and fulfill myself in another of my passions. Usually, when I need to draw, I like to start from an empty sheet. Composing along the way, based on my intuitions and my feelings at the time T, ideas come very quickly. Sometimes it may happen that I have a very strong urge, like an impulse sent by my subconscious to draw on a particular subject, then I am like spellbound, and I create a series. It can be portraits, messages ... As I have done with my character : Mïya, and her esoteric activities as a modern woman.
Le dessin est pour moi un moyen d'épanouissement et d'expression, au même niveau que mes autres passions. Je ne veux pas que cela devienne une corvée, c'est pourquoi je ne me force pas à dessiner. Si je ne ressens pas le besoin de dessiner pendant des mois, j'écoute mon intuition et je m'accompli dans une autre de mes passions. En général, quand le dessin est ce dont j'ai besoin, j'aime partir d'une feuille blanche. Composer au fur et à mesure, en fonction de mes intuitions et de mes ressentis de l'instant T, les idées arrivent très vite. Sinon il peut m'arriver d'avoir une très forte envie, comme une pulsion envoyée par mon inconscient pour dessiner sur un sujet en particulier, alors je suis comme envoûtée, et je créée une série. Ça peut être des portraits, des messages... Comme il m'est arrivé de faire avec mon personnage : Mïya, et ses activités ésotériques de femme moderne.
5. Who and/or what inspires your work?
Everything that surrounds me can be a pretext for my inspiration. A smell, a texture, a landscape ... of course I also have artists who inspire me on a daily basis, but above all I believe it's podcasts that make me create. Thinking of it, I pick up my tablet almost automatically after listening to a topic that has spoken deeply to me. Thanks Ballpitmag for asking me this question, I shouldn't have white sheet syndrome anymore thanks to you!
Tout ce qui m'entoure peut être prétexte à mon inspiration. Une odeur, une texture, un paysage... j'ai bien sûr aussi des artistes qui m'inspirent au quotidien, mais je crois par dessus tout c'est les podcasts qui me font créer. Maintenant que j'y pense, je prends ma tablette presque automatiquement après avoir écouté un sujet qui m'a profondément parlé. Merci Ballpitmag de m'avoir poser cette question, je ne devrais plus avoir le syndrome de la feuille blanche grâce à toi!
6. What role does art play in your life? How does it change the way you view the world?
Art is a big part of my life since I made it my profession. It allows me to express myself, to clear my head ...
L'art occupe une grande place dans ma vie étant donné que j'en ai fait ma profession. Il me permet de m'exprimer, de me vider la tête...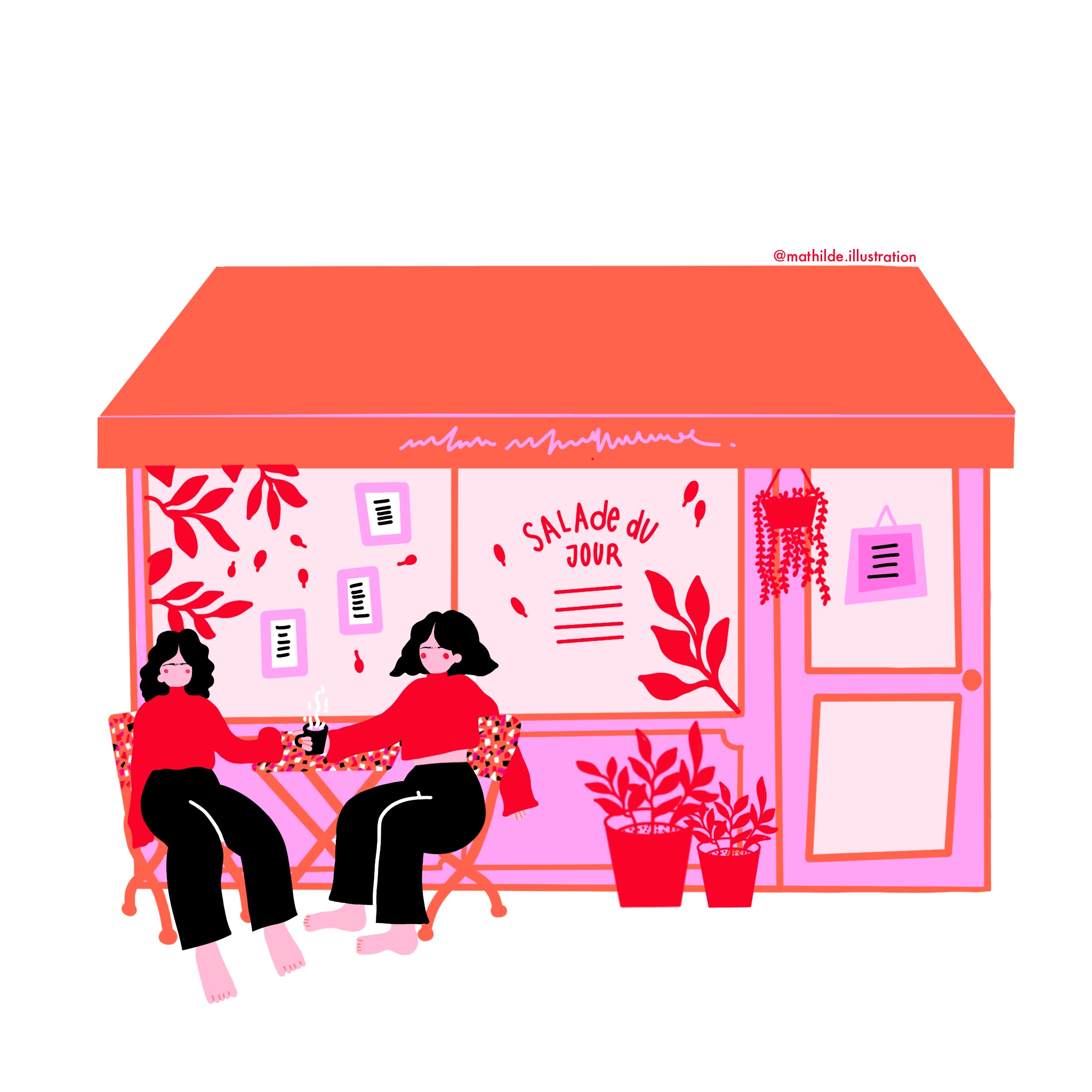 7. Where did you study?
Fortunately, I have always known what I wanted to do later, so I was able to focus my studies in the visual arts from high school. After a baccalaureate in applied arts, I did a bachelor's degree in Design at the University of Bordeaux. Then, I wanted to extend my scope to digital in order to not be constrained in my creativity. So I finished my studies with a professional license in Web Design at the University of La Rochelle. Today I know a large panel of medias, enough to express my creativity freely.
J'ai eu la chance de toujours savoir ce que je voulais faire plus tard, j'ai donc pu orienter mes études dans les arts visuels dès le lycée. Après un bac arts appliquées, j'ai fait une licence de Design à l'Université de Bordeaux. Je voulais ensuite étendre mon champ d'application au digital, pour ne pas être bridée dans ma créativité. J'ai donc fini mes études sur une licence professionnelle en Webdesign à l'Université de La Rochelle. Aujourd'hui je connais un panel assez large de médias pour exprimer ma créativité en toute liberté.
8. Where do you see yourself in five years?
In 5 years, I would like to work as freelance and be able to live fully from this passion. I see myself in an office full of vegetation, an inspiring place, with a space to receive my clients, exchange, collaborate, drink tea ... A space to create with incense as an atmospheric scent. A space that stimulates creation and the imagination.
Dans 5 ans j'aimerais m'être lancé free-lance et pouvoir vivre pleinement de cette passion. Je me vois dans un bureau rempli de végétation, un lieu inspirant, avec un espace pour recevoir mes clients, échanger, collaborer, boire du thé... Un espace pour créer avec de l'encens comme odeur d'ambiance. Un espace stimulant la création et l'imaginaire.
9. What about in ten?
This is a pretty complicated question for me, when I see how my projects and my desires are changing. 10 years is far too far away to plan ...
C'est une question assez compliquée pour moi, quand je vois à l'allure que évoluent mes projets et mes envies. 10 ans c'est bien trop loin pour s'y projeter...
10. What do you hope to achieve with your art?
Let's say I'm a silent activist. I never publish my drawings with a description. I hope that each of my illustrations speaks for itself, to those who want to read it. Drawing is for me the best way to defend all the causes that are dear to me. Through each of my illustrations there is a message of tolerance, love and sorority. I represent women, their emotions, their differences, their flaws, their strengths, and of course their spirituality ...
Disons que je suis une militante silencieuse. Je n'accompagne jamais mes posts d'une description. J'ai espoir que chacune de mes illustrations parlent d'elles-même, à ceux qui veulent bien la lire. Dessiner est pour moi le meilleur moyen de défendre toutes les causes qui me sont chères. À travers chacune de mes illustrations il y a un message de tolérance, d'amour et de sororité. Je représente les femmes, leurs émotions, leurs différences, leurs défauts, leurs forces, et bien sûr leurs spiritualités...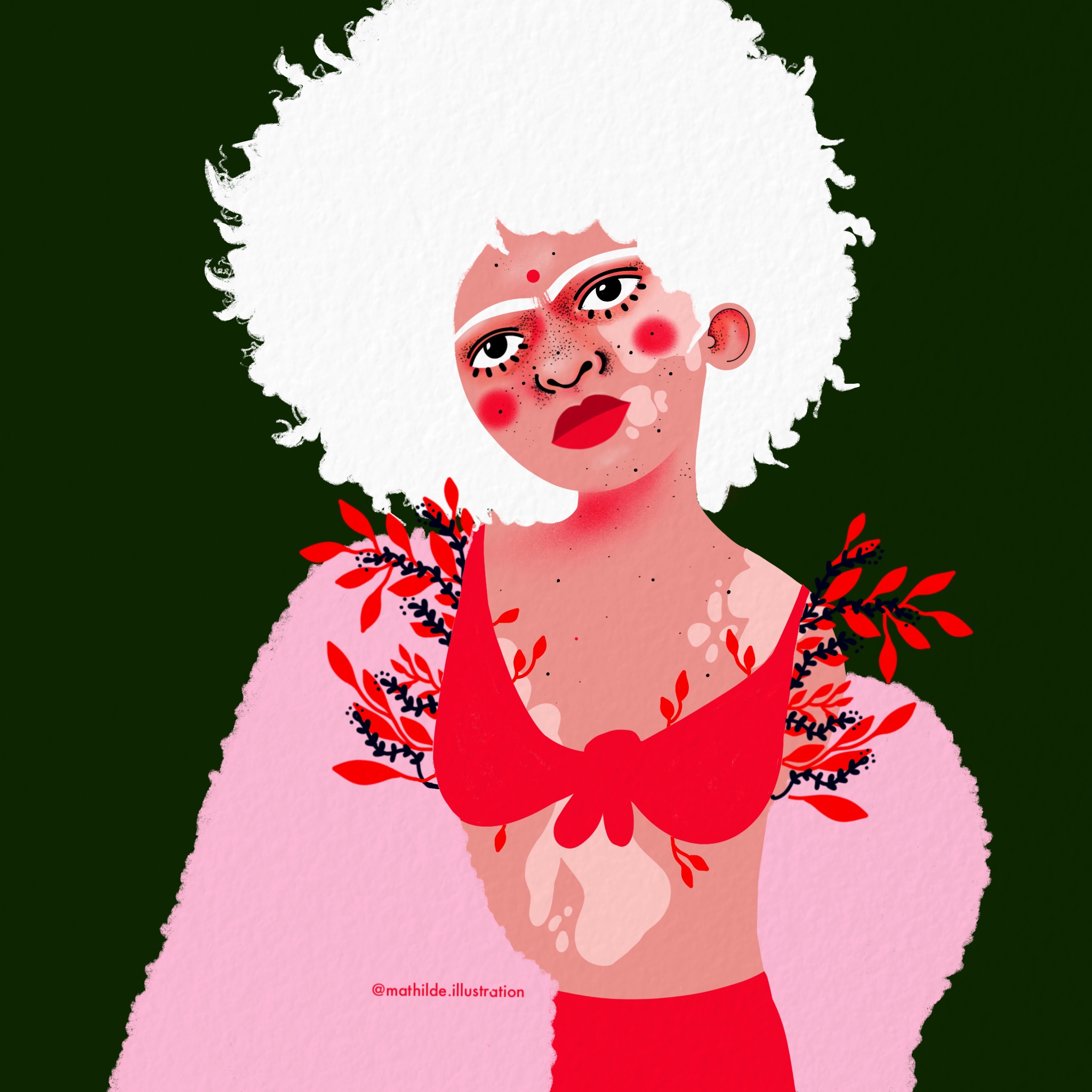 11. Now, tell us a little more about you as a person: what is your favourite food?
I live near the ocean, so without a surprise seafood and fi sh are a bit my weakness... Otherwise, more accessible, I'm passionate about Asia and all its culture, if you prepare a Bibimbap for me I will also love you very much.
J'habite au bord de l'océan, donc sans surprise, les fruits de mers et le poisson sont un peu ma faiblesse... Sinon, plus accessible, je suis passionnée par l'Asie et toute sa culture, si vous me préparez un Bibimbap je vous aimerais aussi beaucoup.
12. Favourite book?
I read a bit of everything, novels, trillers etc. But I have to admit that I have a penchant for self-help books. I've read a lot of it. A lot, a lot. But it seems that, it's never too much to try and become a better version of yourself, isn't it? It's not won yet and it doesn't make me wise yet, but maybe one day I'll post live from Tibet in a red tunic, who knows?
Je lis un peu de tout, des romans, des trillers etc. Mais j'avoue avoir un penchant pour les livres de développement personnel. J'en ai lu beaucoup. Beaucoup... Beaucoup. Mais c'est jamais trop d'essayer de devenir là meilleur version de soi-même paraît-il ? C'est pas encore gagné, ça ne fait pas encore de moi un sage, mais peut être qu'un jour je publierais en direct du Tibet en tunique rouge qui sait?
13. Favourite genre of music?
Without transition with the Tibetan monks : French Rap. (Laughs) Yuzmv is my muse. I like complete artists, with accomplished universes, who work on the overall mood of their sound, their image, their music video, their message and emotion ... And this one has created a particularly interesting universe. It gives me goosebumps every time. I love.
Sans transition avec les moines tibétains : Le Rap français. (Rires) Yuzmv est ma muse. J'aime les artistes complets, avec des univers accomplis, qui travaillent l'ambiance globale de leurs son, leur image, leur clip, leur message et l'émotion... Et celui-ci a créé un univers particulièrement intéressant. Il me met la chair de poule à tous les coups. J'adore.
14. What are your hobbies?
I like to spend my free time sewing, reading, drinking wine, drawing, watching movies, drinking wine, dancing, singing, drinking wine, doing yoga, meditating... The hobbies of a Tibetan monk but with a glass of wine.
J'aime passer mon temps libre à faire de la couture, lire, boire du vin, dessiner, regarder des films, boire du vin, danser, chanter, boire du vin, faire du yoga, méditer... Les hobbies d'un moine tibétain mais avec un verre de vin quoi.
15. If you weren't an artist, what would you be?
I think I would have turned to the field of wellness, something related to the balance of body and mind, it is a subject that really drives me. In fact, I'm seriously thinking of making it an activity alongside graphics, and why not combine the two? To be continued ...
Je crois que je me serais tournée vers le domaine du bien-être, quelque chose en lien avec l'équilibre du corps et de l'esprit, c'est vraiment un sujet qui m'anime. Je pense sérieusement à en faire une activité en parallèle du graphisme d'ailleurs, et pourquoi pas allier les deux ? To be continued...