Instagram: @matssssal
1. What's your story? Where are you from?
Hi, I'm Matssssal, a Korean graphic designer, illustrator, and WEBTOON artist. Mainly doing 3D modeling and draw illustration and comics. I used to be a Webtoon artist.
안녕하세요, 저는 맜살 (Matssssal)이라는 필명을 쓰는
한국의 그래픽디자이너이자 일러스트레이터, 웹툰 작가입니다
주로 3D 모델링 작업을 하고 일러스트레이션이나 만화도 그립니다
원래는 웹툰 작가로 활동을 했었습니다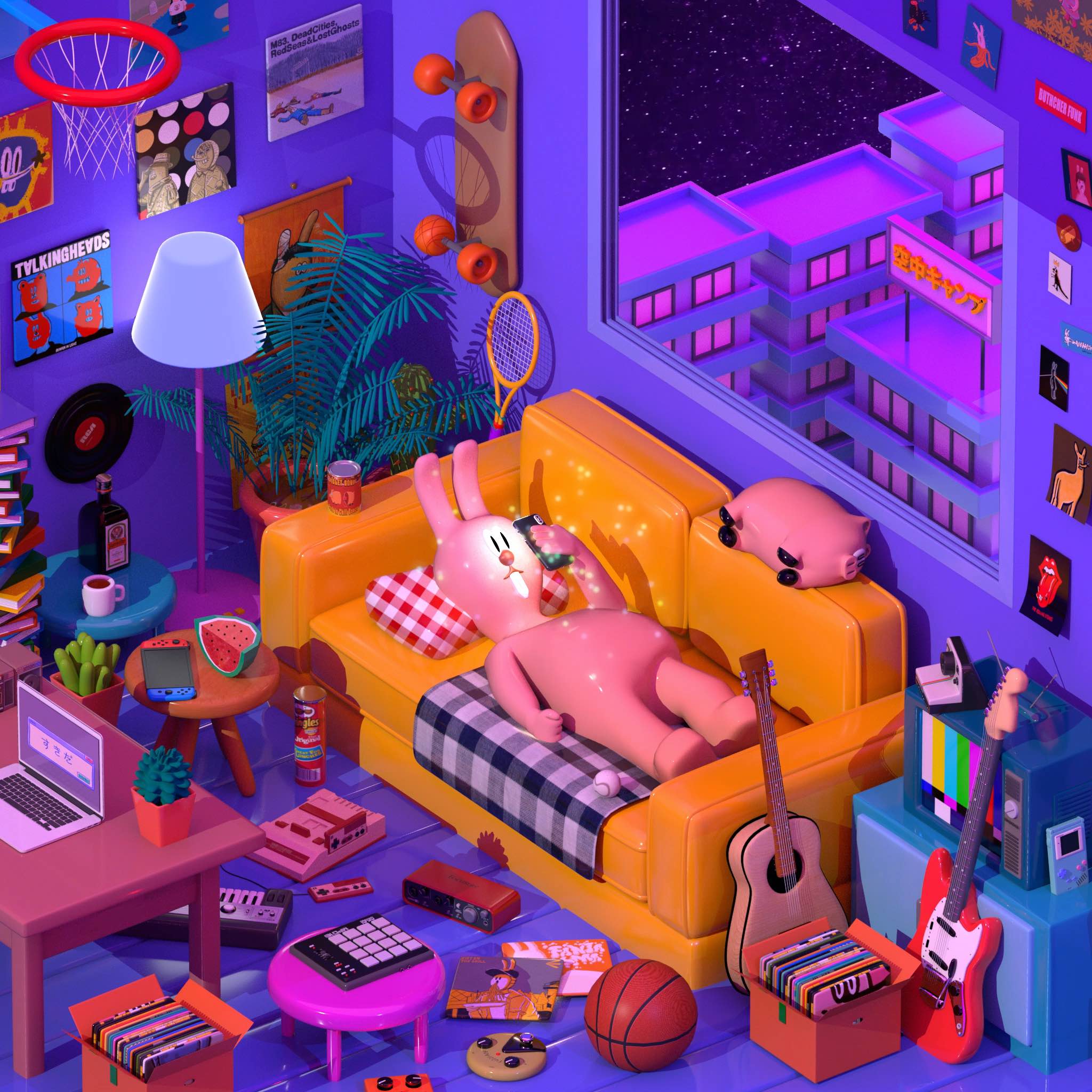 2. Tell us about your aesthetic.
I love the Japanese night view in the 80s and Shibuya music, City-pop music videos in that era, which are the main resources of my artworks.
With a bit of loneliness in the tangled, disarranged reality, I tried to focus to depict the subtle and odd mood. By depicting the bunny and pig illustrations moving slowly, I wanted my audiences to feel relaxed and laid back as well.
네온사인이 가득한 80년대 일본의 도시 야경과 그때 당시 유행했던
시부야계음악,시티팝 뮤직비디오들을 좋아하고
그런 감성들을 제 작품에 담으려고 있습니다
쓸쓸함이 느껴지고 복잡하게 어지럽혀져있는 현실에서
알록달록한 색감들을 사용해 오묘한 분위기 내려는데 집중하고 있습니다
토끼와 돼지 캐릭터의 동작도 느릿느릿하게 표현해서 보는 이들로부터
편안한 감정을 느끼게 하려고합니다
3. What is your favourite medium and why?
I prefer 3D modeling works. The software I use is called MAYA.
It's very enjoyable to see my own designed characters in my works as if they were actually alive and I own them.
3D 모델링 작업을 선호합니다. 프로그램은 MAYA를 사용합니다
제가 갖고 싶어 하던 소품들을 제 느낌대로 디자인해서
작품에 넣으면 그것을 실제로 제가 갖고 있다는 생각이 들어서
작업할 때마다 굉장히 재미있습니다
4. What is your artistic process like?
When I have a certain image I want to illustrate in my mind, I sketch a rough storyboard, set an angle, and go straight to 3D works.
Even if the modeling design is the same, it can vary depending on which colors I'm using, so the color combination matters the most as I pay my attention to it the most.
표현해 보고 싶은 이미지가 생기면 간단하게 구도, 소품들의 배치를
스케치하고 바로 3D 작업을 진행합니다
같은 모델링이더라고 조명이나 사물들의 색감에 따라
느낌이 확 달라지기 때문에 색 조합을 가장 신경 씁니다
5. Who and/or what inspires your work?
As I mentioned before the most inspirational artworks are the 80-90s Japanese band music. I usually get inspired the music and lyrics of the bands I love such as Ginnan boys and
Shinsei Kamattechan which are my favorites. Especially the lyrics written by the singer of Ginnan Boys, Kazunobu Mineta influenced the most on my artworks.
I felt weirdly comforted by them as they sound like they are really mean to be like that. And the mood I can feel from the lyrics sounded very distorted but yet refreshing as well!
Paul Thomas Anderson, Wes Anderson, and Shunzi Iwai are the film directors I get inspired on so many levels.
앞서 말했듯이 8-90년대 일본의 밴드 음악에서 영감을 많이 받았습니다
주로 제가 좋아하는 밴드들의 음악을 듣고 가사에서 영감을 많이 받았는데
간난 보이즈와 신세이카맛테짱 이 두 밴드를 제일 좋아합니다
특히 긴난보이즈의 보컬 기네 타 카즈 노부의 가사가
제 작업에 가장 많은 영향을 끼쳤습니다
뭔가 소외된 사람들을 위해 노래를 하는 것 같고
위로하는 느낌이 들었거든요. 가사에서 느껴지는 지질하면서도 변태적인 감성이
굉장히 독특하고 신선했습니다!
영화감독은 폴 토마스 앤더슨, 웨스 앤더슨. 이와이 슌지로부터
많은 영감을 받고 있습니다
6. What role does art play in your life? How does it change the way you view the world?
The medium where I can create what I dreamed of and wanted to describe.
I guess while making my artworks I came to be more direct and brave.
그동안 제가 꿈꿔오면서 표현하고 싶었던 것들을 창조해 낼 수 있는 좋은 매개.
그래서인지 작업을 한 이후론 더 자신감 넘치고 거침없는 삶을 살게 되었습니다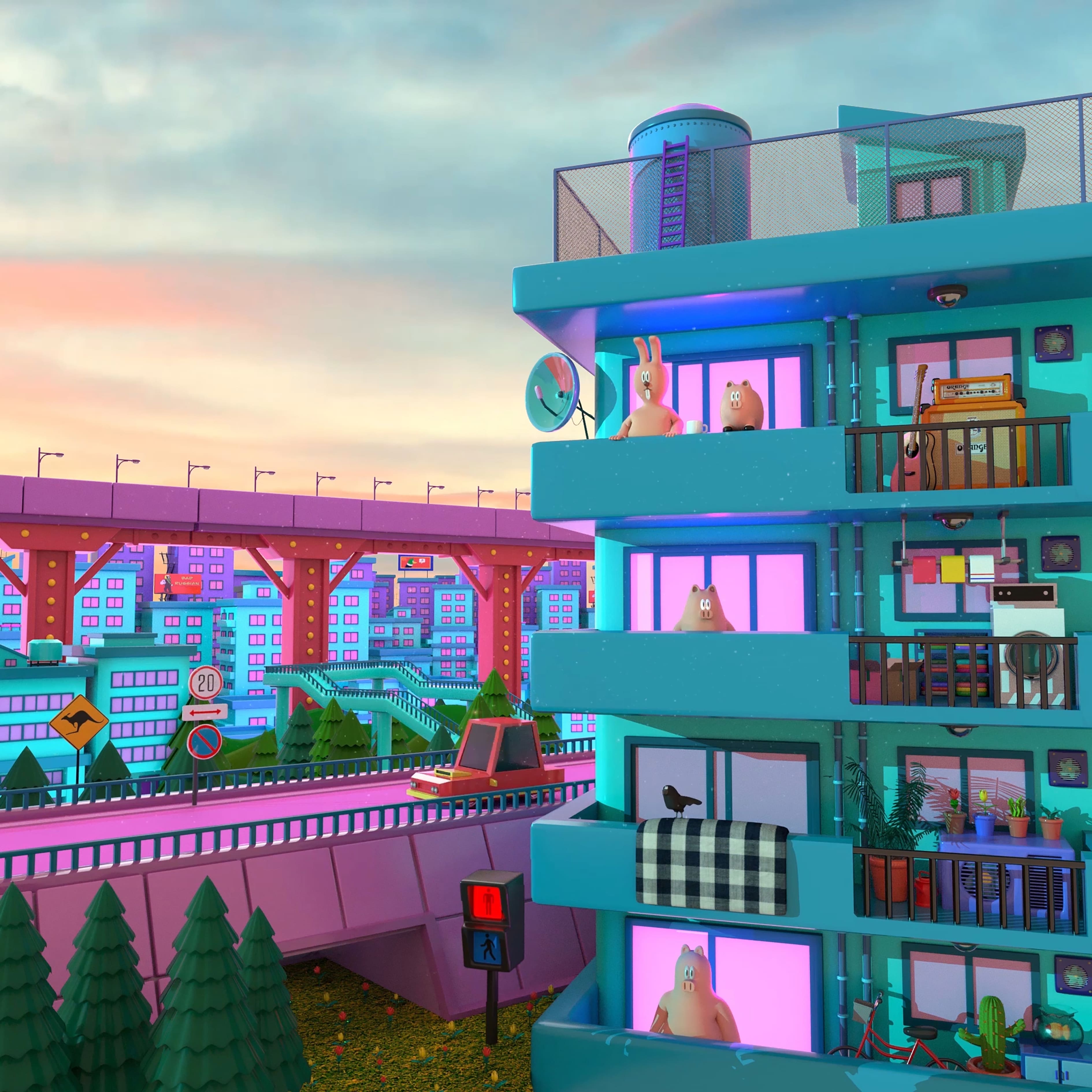 7. Where did you study?
I studied visual design at an art school in South Korea but I learned 3D design after I graduate. I learned more at a 3D academy than the school.
한국의 예술대학교에서 시각디자인을 공부했지만
3D를 배우게 된 건 졸업하고 나서입니다.
대학교에서 배운 것보다 3D 학원을 가서 배운 게 더 많았습니다
8. Where do you see yourself in five years?
I think I might be quite known for a 3D art designer either in Korea or in other countries. I am planning to broaden my path not only in 3D, but in the formative arts and media arts.
There are 3D animation teams like Sticky Monsters or Super Fiction in Korea, and I want to be like them working in the various fields.
5년 뒤에는 제가 한국이든 다른 나라에서든 3D 작업하는 사람으로서
어느 정도 이름을 날리고 있을 거라고 생각합니다
3D 작업이 아닌 조형 아티스트나 미디어 아티스트까지 영역을 넓혀갈 계획입니다
한국에선 스티키몬스터즈나 슈퍼픽션 같은 3D 애니메이션 팀 이 있는데
저도 그분들처럼 다양한 영역에서 활동을 하는 아티스트가 되고 싶습니다
9. What about in ten?
I think I will work with 3D arts collaborating with music. I still got a lot I want to do cool stuff.
지금처럼 계속 3D 작업과 음악을 콜라보레이션 하는 작업을 할 거라고
생각합니다. 하고 싶은 게 굉장히 많아서 계속 멋진 것들을 만들려고 합니다
10. What do you hope to achieve with your art?
I want to become a classic when it comes to 3D arts.
Like Oasis and Blur in Brit-pop, I want to be the most important in this culture. I wish my bunny character could be developed and more well-known globally like Mickey Mouth or Kaws.
3D 아티스트를 논할 때 빠질 수 없는 작가 중 한 명이 되고 싶습니다
브릿팝으로 치면 오아시스와 블러처럼, 이 문화에서 중요한 역할을 하는 사람이 되고 싶습니다.
제가 만든 토끼 캐릭터를 미키마우스나 kaws처럼 전 세계적으로 유명한 캐릭터로 발전시키고 싶습니다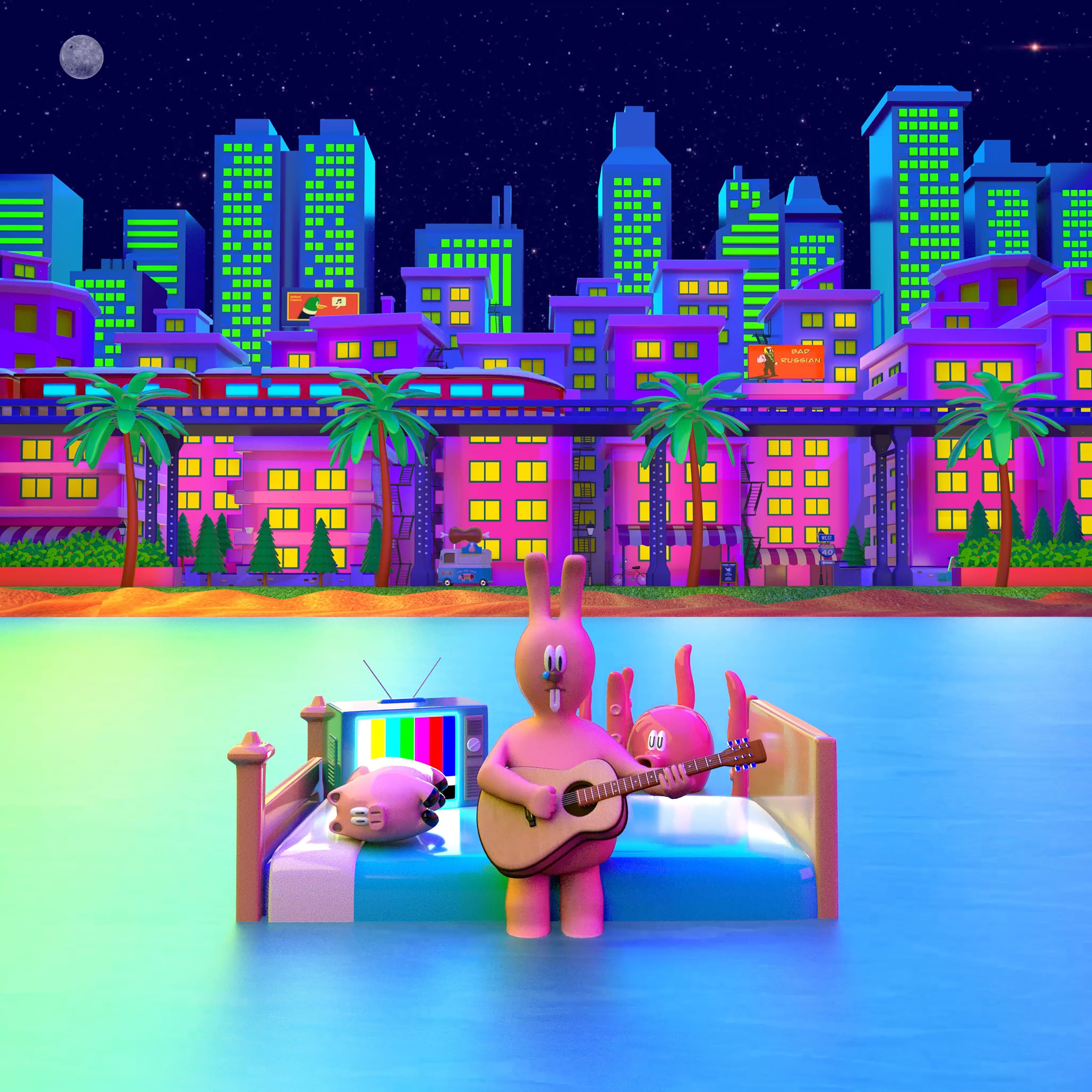 11. Now, tell us a little more about you as a person: what is your favourite food?
Sushi , Pork , noodle
초밥,돼지고기,면
12. Favourite book?
The novels written by Hideo Okuda I spent my teenage life with.
나의 청소년기를 함께 보낸 오쿠다 히데오의 소설들
13. Favourite genre of music?
I love rock band music. Punk, Alt-rock, Post-rock, and more... I love the music in the 80s and 90s.
I always play music while working on my artworks. I can't really list them all but here are my favorites.
Arcade Fire, Blur, Car Seat Headrest, CHAI, Clap Your Hands Say Yeah, Cloud Nothings, Cornelius, The Cribs, Cut Copy, Dogleg, Eiichi Ohtaki, ELLEGARDEN, Fang Island, Fishmans. Flaming Lips, Flipper's Guitar, Girlpool, GOING STEADY, JITTERIN' JINN, Kinoko Teikoku, My Bloody Valentine, Neutral Milk Hotel, never young beach, New Order, NUMBER GIRL, Oasis, oso oso, Pavement, Pixies, POLYSICS, Radiohead. Radwimps, Ride, Sadistic Mika Band, Sano Motoharu, Shugo Tokumaru, Smith Westerns, Spitz, The Strokes, Supercar, Superorganism, Surfer Blood, Talking Heads, Teenage Fanclub, THE BLUE HEARTS, Thee Michelle Gun Elephant, U & Me Blue. The Clash. The Libertines, Weezer, Wilco, Youth Lagoon, Yuck, 銀杏BOYZ, 神聖かまってちゃん,검정치마, 언니네이발관, 초록불꽃소년단, 크라잉넛
주로 신나는 밴드 음악을 좋아합니다
펑크, 얼터너티브 락, 포스트록 등등
8-90년대 음악을 좋아해요
하루 종일 작업하는 내내 음악을 틀다 보니 좋아하는 밴드들이 너무 많네요
14. What are your hobbies?
I play my guitar with the music by my favorite bands played. Of course, I love going to concerts.
좋아하는 밴드의 노래를 틀어놓고 기타 연주를 합니다
공연 보러 가는 것도 좋아해요
15. If you weren't an artist, what would you be?
I might have become a musician I think.
아마 뮤지션이 되었을 것 같습니다