Instagram:
@mauromartinscom
Facebook:
www.facebook.com/mauromartinscom
Website:
www.mauromartins.com
1. What's your story? Where are you from?
I was born in Brazil, in a city named "Ituiutaba". I know, it's kinda difficult to pronounce. I've always been drawing since I'm a little kid. My school books used to be doodled almost on every page. I worked on advertising agencies for 13 years as Art Director. The last one was Crispin Porter + Bogusky headquarters in Boulder, CO - US. I felt in love with that city, where I lived for 2.5 years. To document my experience living abroad, I made a personal project called "My Visual Diary". It's a big piece of paper where I made small doodles telling my story in Colorado. I drew on it till it was fully covered. What happened next is that my Diary got some exposure on websites and magazines and then some brands started reaching me out for collaborations and cool briefings. I quit advertising and what used to be a side project before turned out to be my main activity today. It's been 1.5 years that I've been working on my own as a Commercial Artist and I've been making more stuff than ever: signed glasses with my illustration engraved on it for an Italian brand; Illustration for a beverage packaging in Germany; Chocolate packaging for an American brand; Signed collection of phone cases for an American brand; Signed fashion collection; bikes; credit cards for a bank; and much more. I won a Design contest with a plate design for a big restaurant chain in Brazil. I also got 4 projects selected by Brazilian Design Biennial. This new phase has been really exciting!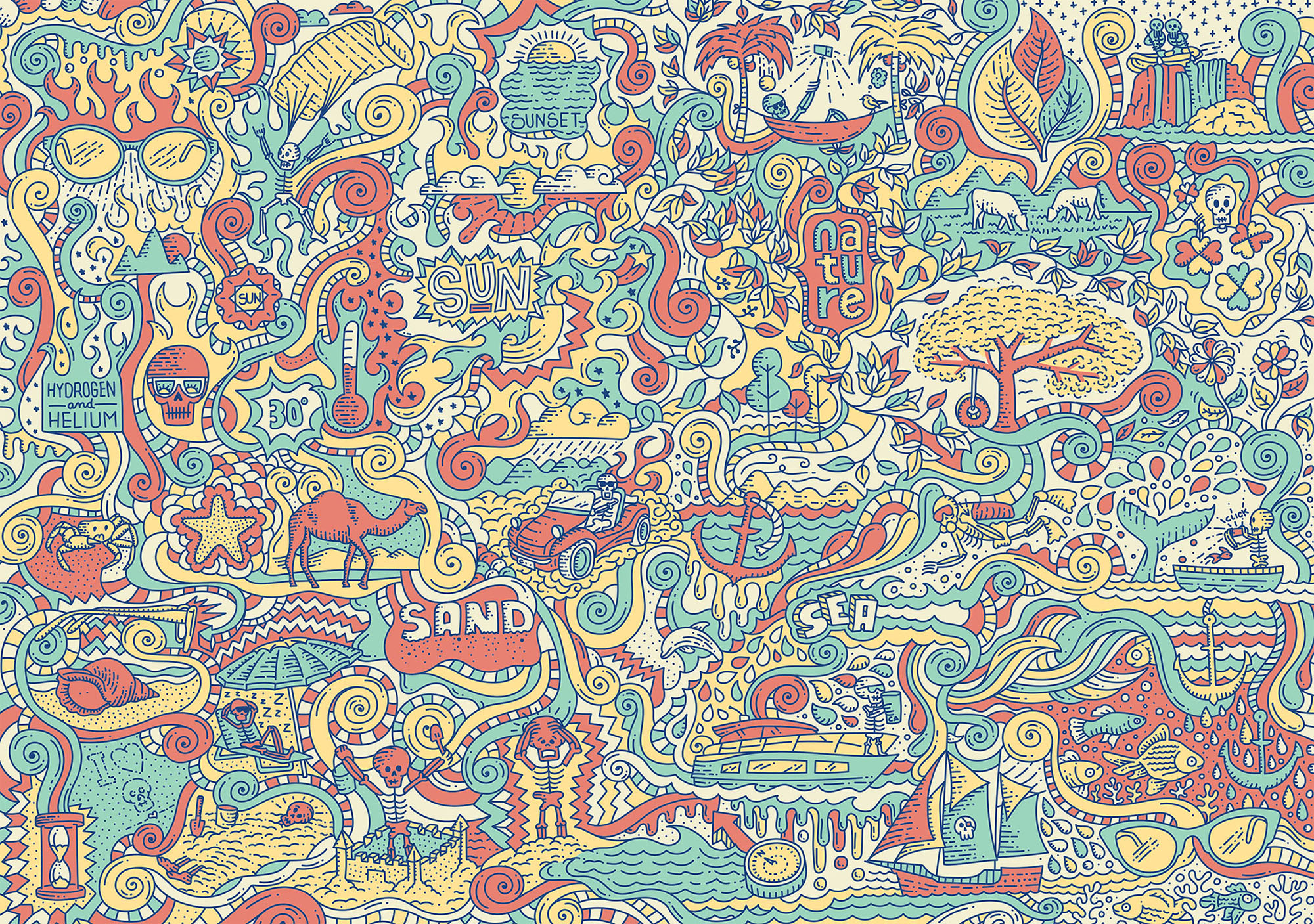 2. Tell us about your aesthetic.
I think that finding your own aesthetic has to do with self knowledge. The more you know yourself, the more you can let your art flows naturally. In other words, your art reflects what you are. For example: I'm a very patient person and I think it's noticeable on my illustrations. I think all fields in life are connected somehow. Everything happens at the same time. That might explain why my drawings are intricate. Some friends say my art is psychedelic. I'm not sure if it's an actual compliment, but I kinda like it. I also think that my style is part of a generation of Artists that got influenced by Keith Haring. I love his work by the way.
3. What is your favourite medium and why?
I like to explore different mediums, because that gives me more capacity of representing my ideas on an appropriate language. But if I have to pick up one, I choose Posca pens over paper or walls or things. These pens match my style I think. They give me the precision I need and are very practical to use.
4. What is your artistic process like?
Usually when I start I have a theme already set up, because clients have a specific demand. So I start reading about the theme. Then I make a brainstorm of fun situations involving icons and representations of the theme. I invite the client to make his own brainstorm too. Then we have a meeting (usually on Skype) to mix our ideas and determine a list of things to draw. My illustration style is intricate and is a mix of lots of smaller illustrations. I try to put the related illustrations close to each other, so it makes a narrative, a little story in the middle of the whole image. When I have more time, I prefer to illustrate by hand, because I like the imperfections. But sometimes the deadline is to tight and I illustrate directly on my Wacom tablet using Adobe Illustrator pencil tool to make it feasible within the timeline.
5. Who and/or what inspires your work?
There are two Artists that I've always liked since I'm a little kid: Keith Haring and M. C. Escher. I'm sure their work have inspired me. But on a daily basis, everything in life is inspiration. For example, I'm very into taking a nap under a tree close to my place lately. I end up drawing that tree and used its actual leaves to complete my drawing. My wife is also a big inspiration to me. We usually talk about human behavior, arts and amenities and from these conversations good ideas come up.
6. What role does art play in your life? How does it change the way you view the world?
I'm a very visual person. I'm pretty sure I see the world in a different way if compared to an Engineer or an Economist. The way we see things has to do with our past experiences and our tastes. Since my experiences are heavy-based on aesthetic, I end up choosing the beautiful roads, even if they're longer.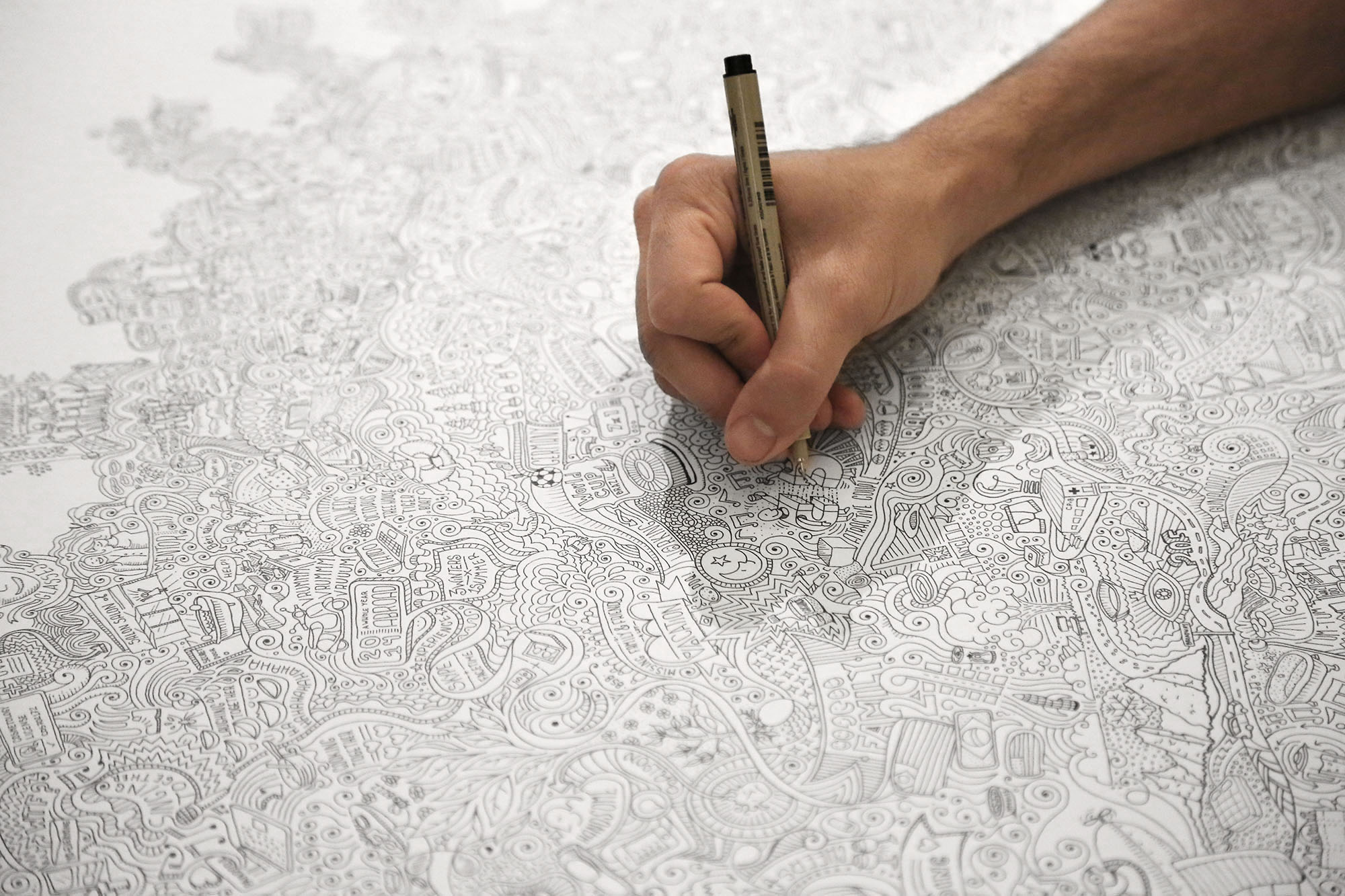 7. Where did you study?
I studied Industrial Design at UnB (Brasilia's University). I got my bachelor degree on 2005.
8. Where do you see yourself in five years? Working in an agency?
Not in an agency. I worked as Art Director on ad agencies for 13 years and it was very good. I learned a lot, I made good friends, I built a good career. But now I'm experiencing a new phase and am enjoying it a lot. So in five years I want to be doing exactly what I'm doing right now: making projects with my illustrations for cool brands and also own products. I also want to be having fun, like I'm now.
9. What about in ten?
Ten is too far away! From my 20 to 30 years old, I used to make lots of plans. And that helped me focus on a good path and enabled me to save money enough to be in a comfortable situation right now. But now that I'm 34, I'm trying not to make too much plans. I'm letting it flows and it's been working great to me. It's a "live in the present" kind of thing I guess.
10. What do you hope to achieve with your art?
Right now my art is very commercial. And that suits my current context. But with time, I'd also like to make more of contesting, provocative art. I'd like to make more stuff that are born on my questions about the world and put people to think about it too.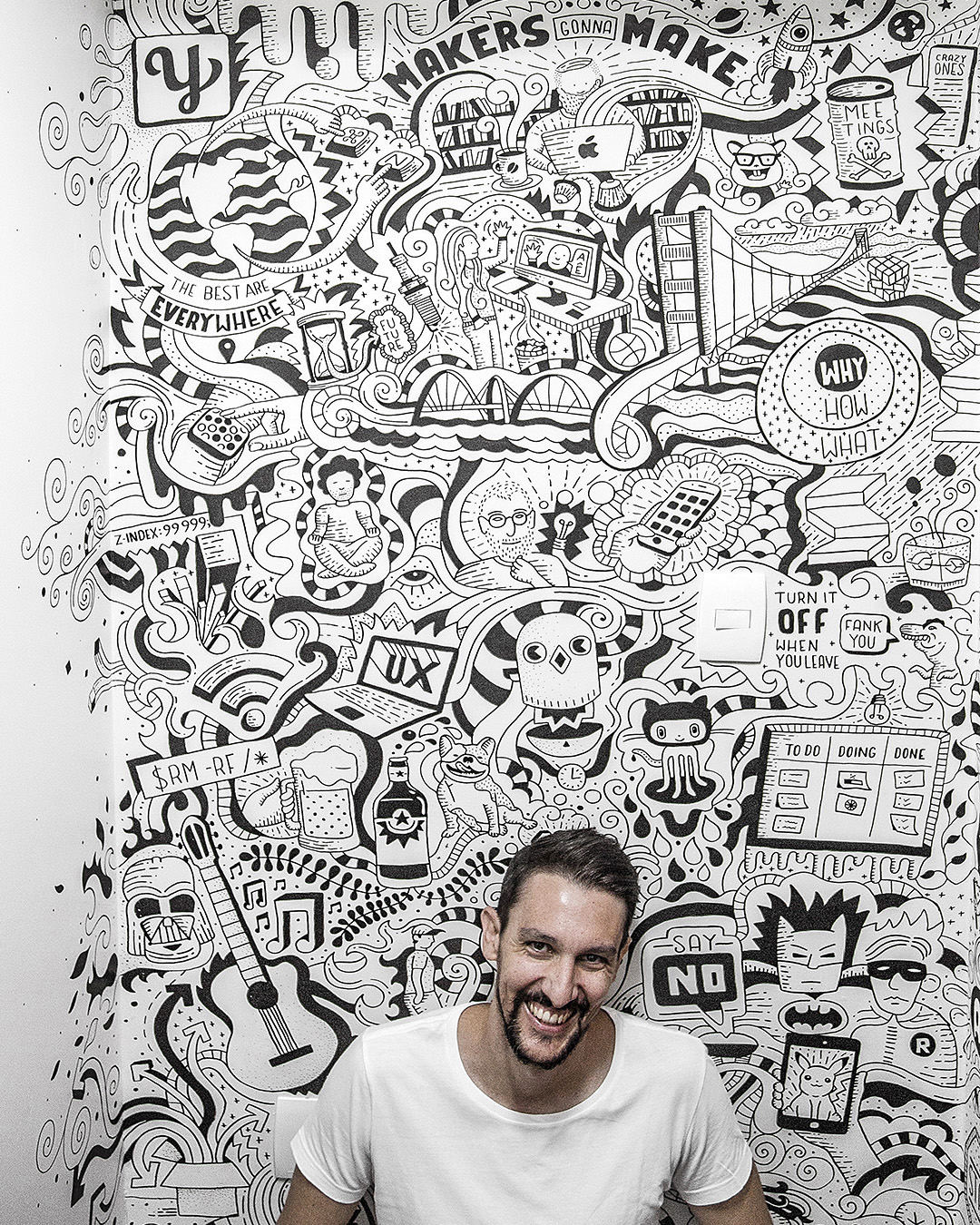 11. Now, tell us a little more about you as a person: what is your favourite food?
It's hard to pick up one. The favourite one changes with my mood. So I'll list 3: lasagna; pork ribs; pizza.
12. Favourite book?
The ones with lots of illustrations.
13. Favourite genre of music?
Rock. I'm a drummer by the way. I've played on several rock bands with my friends.
14. What are your hobbies?
Travelling to a place I've never been. Photography. Table tennis. Picnic under a nice tree on a park. Netflix. Snowboarding (I obviously haven't practiced it anymore since I came back to Brazil).
15. If you weren't an artist, what would you be?
Stock analyst/investor. I'm glad I'm an artist though.