Instagram:
@maxgrunfeld
Facebook:
www.facebook.com/maxgrunfeld
Website:
www.maxgrunfeld.com
1. What's your story? Where are you from?
My name is Max Grünfeld, I'm a female artist – with a boys name – it can be a bit confusing for the people I work with at times ;-). I'm a Dutchie and I've been born and raised in a city called Amersfoort, exactly in the middle of The Netherlands. My father worked in theatre and my mother has painted and created for most of her life. So I grew up with a lot of creativity around me. In our house, there was an atelier and a little corner that was just for my brother and me to draw and paint. Our parents would create a lot of cool projects for us, like drawing on stones or finding figures in paint stains they created. So I am not sure if it's in the genes or the way I grew up, but since I was a young kid I wanted to do something with art when I grew up. Mini-me would draw for hours, and besides playing and adventuring outside, it was the best thing ever. That deep feeling of wanting to draw never really went away. It took some years, but since a few years, I'm working full time in my profession. It wasn't easy to get to this point, and it still is not easy. The hassle has been totally worth it though, I truly enjoy my work and the freedom it brings. I love to explore and discover, so I try to combine travel and work often. It also comes in handy because my love lives in Hamburg, my brother lives in Denmark, my family in the Netherlands and my best friend in Belgium.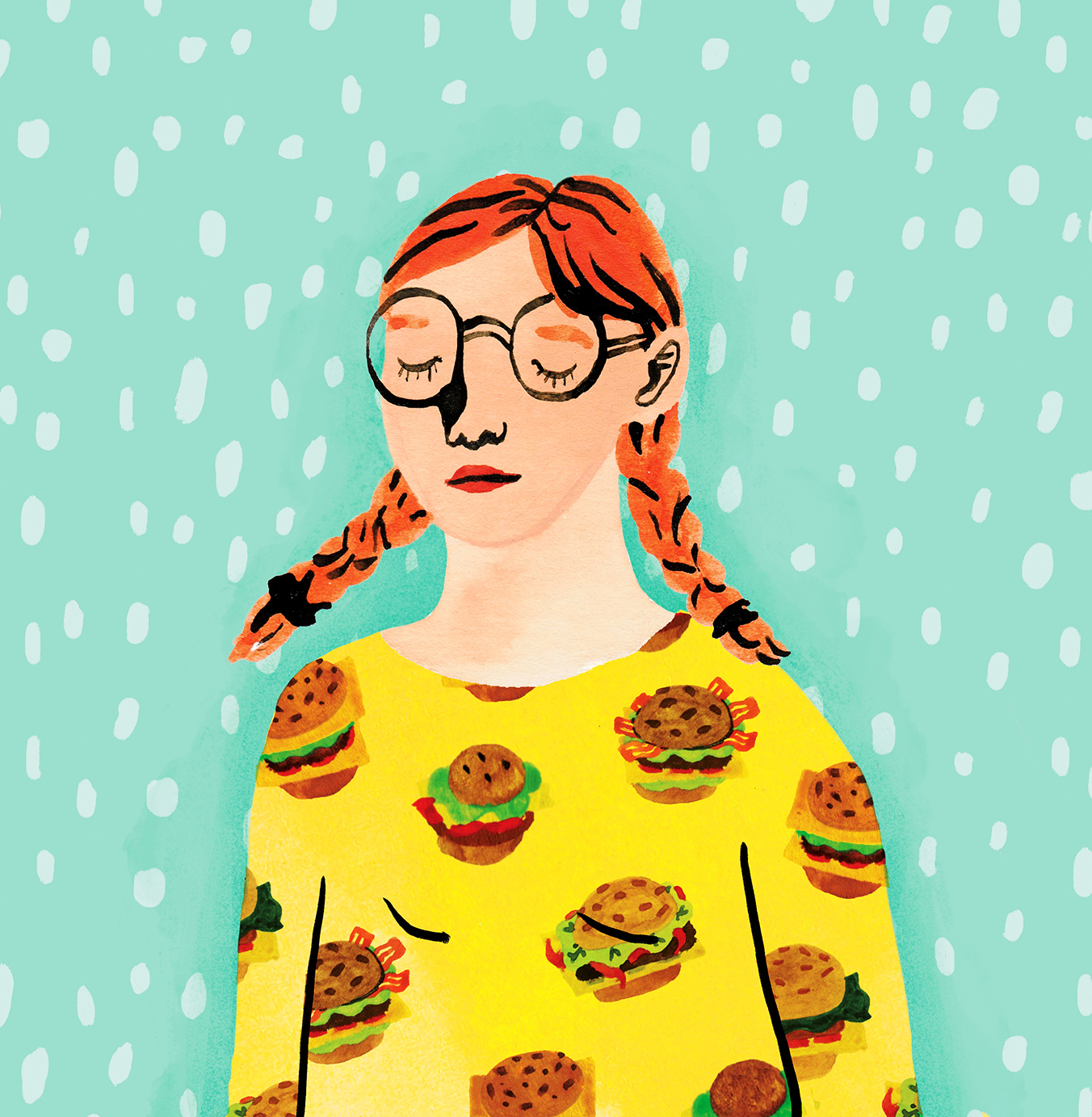 2. Tell us about your aesthetic.
I make artwork for exhibitions, and I illustrate both for kids and for all generations above, and that requires sometimes a bit of a different way of drawing things. As an illustrator for both kids and older generations, I run into the problem sometimes of doing "to diverse" work. An illustration for a 4 year-old will not quickly have the same feel as an illustration for a 40-year old. This, of course, makes it a bigger market to work for, but at the same time, it can confuse people in what they can expect out of my work. I've considered focussing on one of these markets, to prevent all of that, but I love the diversity of working in both fields too much. It keeps things exciting and challenging. It's so much fun to have all these different assignments and to keep in mind what age I'm drawing for. I like to think (and hope) that you can see my signature throughout my work, regardless of the materials I'm using or the age I'm illustrating for. Essential to my illustrations is that I like to tell a story with them and that I love working with my hands, so when I work digitally it should also have a hand-drawn feeling. I always want to keep growing as an artist (and as a person), and not get stuck with one material and trick for the rest of my life. So I always push myself to keep exploring new ways to draw, to use new materials and to keep discovering what works and how things work.
3. What is your favourite medium and why?
I love all materials, from acrylics, watercolor, to spray-paint, to markers, pencils, ink-brushes, ecoline and so on. But if I've to choose one, then at the moment my absolute favorite medium is gouache! There are infinite possibilities with gouache, I can give it a very watercolor feel or I can use it in a way where it feels and looks more like Acrylic. I can use it in a very graphic way or go super wild and free with it. The colors are really nice, and I can make it as fluid or stiff as I want. I had the material laying around for a while, and in the last few months got back to it.
4. What is your artistic process like?
I usually start with a sketch of an idea I've in my head, and once that sketch is on paper and approved by the client (or myself), I start filling it in. It usually changes a bit afterwards, I try to hold on to the sketch loosely. Sometimes though I just start painting on blank paper and kind of figure it out while drawing.
5. Who and/or what inspires your work?
Other artists and artwork. My all-time favorite artist would be Egon Schiele, a really fucked up man, but his art is crazy good. I literally cried like a fanboy when I saw his work for the first time in the MOMA in New York. I've a lot of illustrators from the current day and age that inspire me as well. As for other things that inspire me. People in general, the way they behave, think, why they are the way they are. The psychology behind it. Nature for its infinite beauty and aesthetics. How it calms me down, and how I'm at peace when surrounded by it. Travel for the new input it gives me and for opening my mind to new sensations of color, cultures, smells and beauty.
6. What role does art play in your life? How does it change the way you view the world?
I bring a sketchbook wherever I go. I can enjoy taking a break from drawing once in a while, but soon after I'll get this urge to draw and to paint. It helps me translate my feelings, or a certain emotion, or visions of the world on to paper. And it just really calms me down. It is a huge part of my life, I think I look at the world differently sometimes. I find beauty in so many corners and sceneries. I can totally be struck with awe seeing a scenery before my eyes that I find inspirational. Like seeing a girl in a park near Brussels, with this bright red hair, she was sitting in a field of green, where some of the trees where turning bright yellow around her, and somehow this composition of colors was so stunning, and the image of her so small sitting there alone but so fierce in color, it really made me stop. I think I looked like a creep staring at her for a while haha.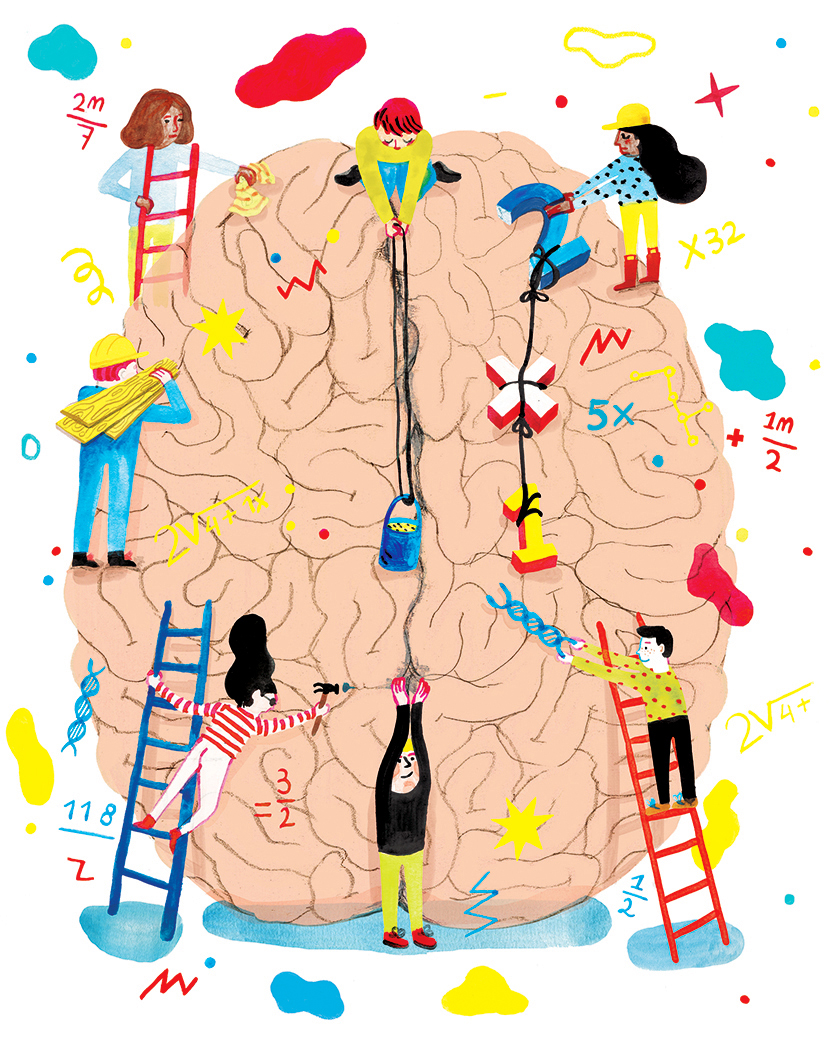 7. Where did you study?
ArtEZ, Zwolle, The Netherlands from 2007-2011 (Illustration) and Escola Massana, Barcelona, Spain, 2010 (Illustration)
8. Where do you see yourself in five years?
I tend not to plan that far ahead. Life comes as it goes and I like to keep it open, not try to predict it. It's good to have goals though, something I can work towards! I have no clue where I'll be living around that time, but I'm sure I'll still be painting and illustrating. My hope is that I'll publish a picture book by then, for kids or adults. Or both! And that I'll still be able to live off my work, and become more confident in negotiating with clients. I hope I'll still be able to work and travel at the same time, and that life still feels adventurous and beautiful.
9. What about in ten?
Who knows..? Maybe being signed by an agency. That would be super rad. Besides that, I'm trying to get clients from all over the world, and it would be wonderful if I could have a little flag in every country! Further.. more travel, still enjoying life with my love, friends and family. Basically, all the lovely clichés!
10. What do you hope to achieve with your art?
I hope people feel and experience something when they see it, maybe even have them think about something. I think that's the greatest good there is. For it to provoke some kind of emotion, hopefully, a positive one. I hope that there is a connection between the viewer and the art.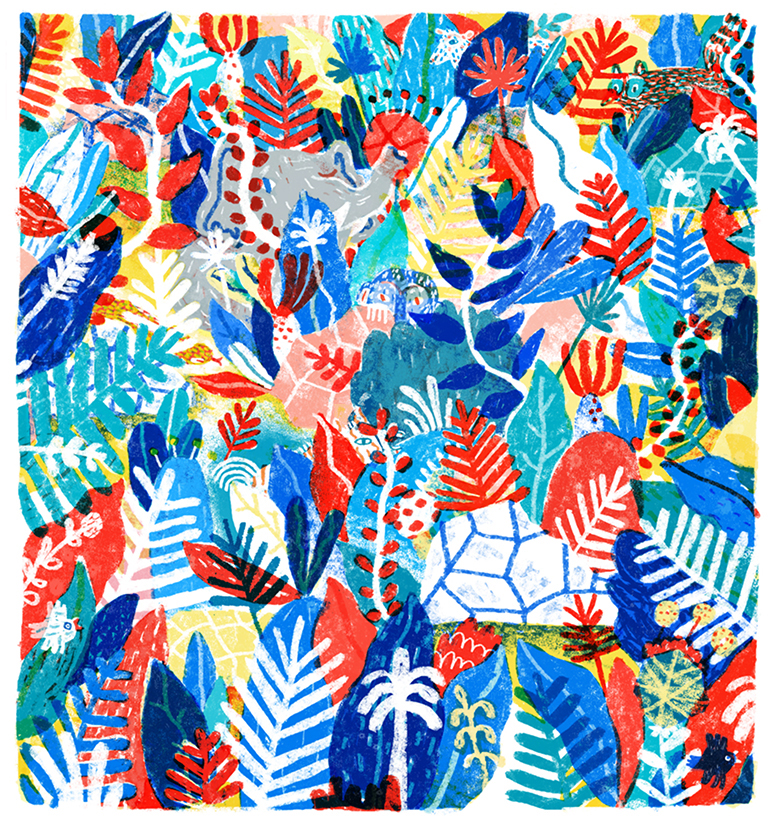 11. Now, tell us a little more about you as a person: what is your favourite food?
Oh man, a good Pho, love love love. Like an authentic, good Pho with a bunch of fresh herbs...
12. Favourite book?
That is a hard choice. I love reading! I really enjoyed Freedom from Jonathan Franzen, or Shadow of the Wind by Carlos Ruiz Zafón, but honestly, it's just the books that I can think of now. The best books are those that you kind of want to read in one breath, and any free time you find, you want to pick up that book again and keep reading it. The ones that stay with you for a while after you finish it.
13. Favourite genre of music?
Pretty much all types of music. Soul, gypsy, lot's of old-school music, classical music too, I could go on forever.
14. What are your hobbies?
Travelling, photography, painting, hiking and camping out in nature, road tripping, thrifting, reading, skiing/snowboarding.
15. If you weren't an artist, what would you be?
If not something creative, than something that has to do with the human behavior and mind, maybe an anthropologist? Or a unicorn.