Instagram:
@maya_ishshalom
Website:
www.mayaishshalom.com
1. What's your story? Where are you from?
My name is Maya Ish-Shalom. I was born in Israel, very close to Tel Aviv. I moved to Brooklyn with my husband after graduation, where I live now for 3 years. Just had my first baby, Alma, 3 months ago. I work as an illustrator both for clients in New York and Israel, working on projects for adults and children. I illustrated two children's books for a publishing house in Israel.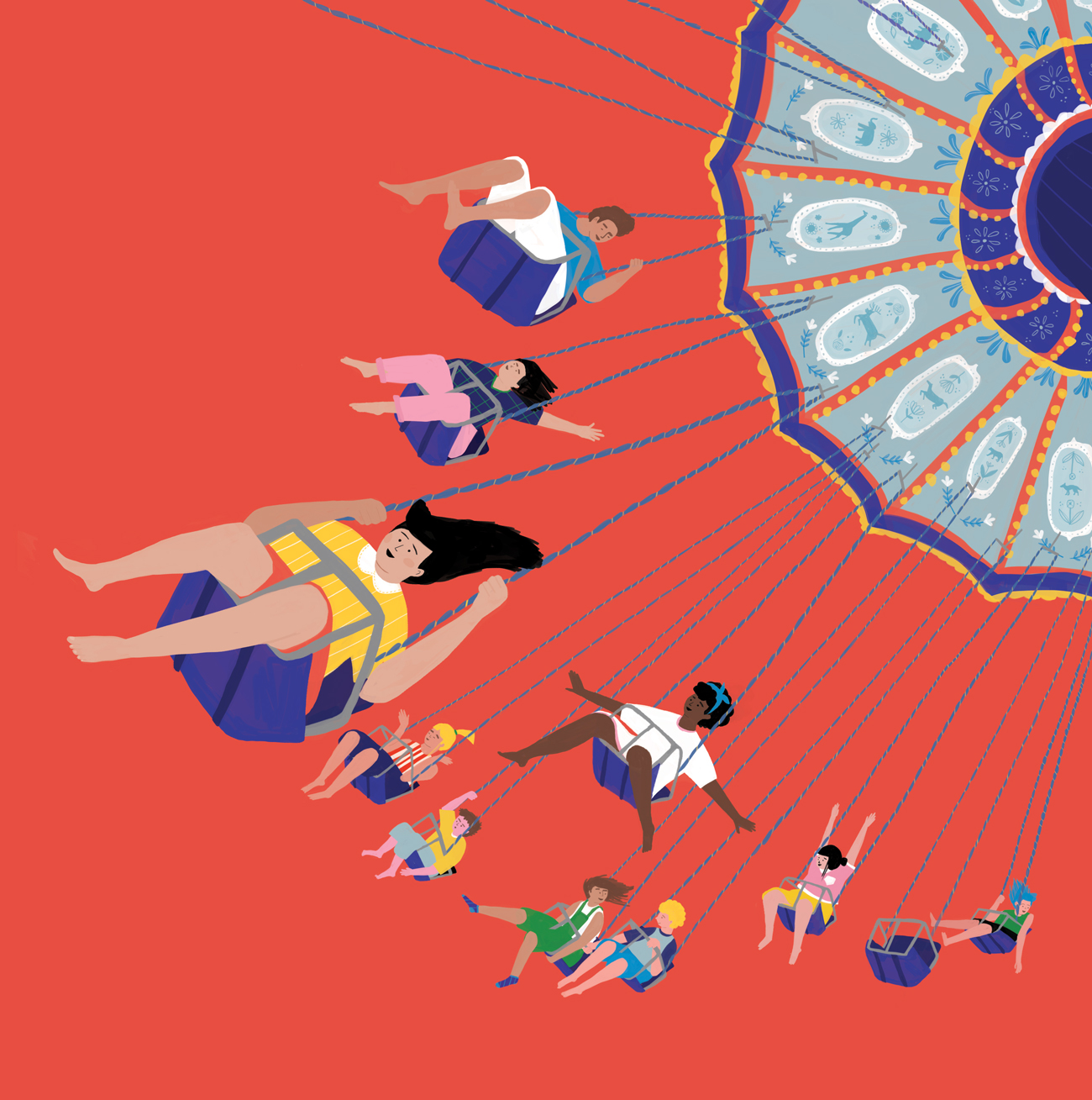 2. Tell us about your aesthetic.
My aesthetic is mostly flat, naive and colorful. I mainly illustrate people. I like to tell stories and different scenes. I try to capture an emotional landscape ranging from sadness to happiness, sometimes conjuring a mix of both. My illustrations are sometimes very busy and full of details, and sometimes very minimalistic.
3. What is your favorite medium and why?
I mainly work digitally, using one or two brushes in photoshop, sometimes I add different textures that I create with acrylic colors. The digital format gives me lots of freedom to play around and not be afraid of mistakes, and also I can use any palette in the world. Also, I love to create animations frame-by-frame in Photoshop. I do draw sometimes by hand, especially with black markers and pen, but I do it mostly in my free time, like when I'm waiting in lines or when I travel.
4. What is your artistic process like?
It really depends on the project, mostly I start with writing and sketching stuff, ideas that comes to my mind. Sometimes I'll start working directly on the computer, shaping and reshaping ideas and compositions directly on the file itself. That way the sketch becomes the art itself. I'll also google around to know more about the subject, if I'm illustrating a specific area, I will go to this place, or if it's too far I will travel with Google Street View.
5. Who and/or what inspires your work?
I get my inspiration everywhere, places I visit, people I meet, things that happens to me, stories I hear, texts I read. I'm also inspired by different artists, like Matisse, and Gauguin, and different illustrators like Aurelius Battaglia, Maira Kalman and Yeji Yun.
6. What role does art play in your life? How does it change the way you view the world?
It was always there in my life. I was always creating. I remember when I was 4, me and my cousin were drawing and cutting paper hamburgers and chips to create our own McDonald's store. For me, art is the best way to communicate.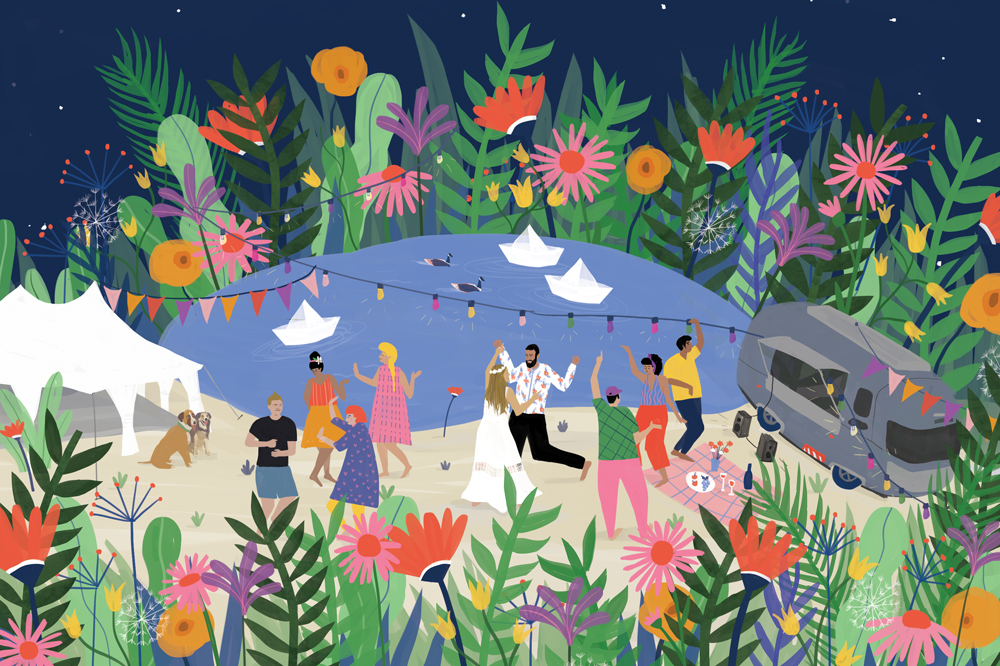 7. Where did you study?
I studied at Bezalel academy of art and design in the Visual Communication department in Jerusalem.
8. Where do you see yourself in five years?
A few months ago I quit my part time job as a designer and started to focus only on my illustration career. I hope to continue developing my illustrations and working both in the children's field as well as the adult field and doing verity of projects, books, editorial, advertisement, packaging, animations, etc.
9. What about in ten?
Continuing to challenging myself with a wide range of projects.
10. What do you hope to achieve with your art?
My aim is to touch people and provoke feelings in them that are both personal and universal and can create a sense of a shared human experience.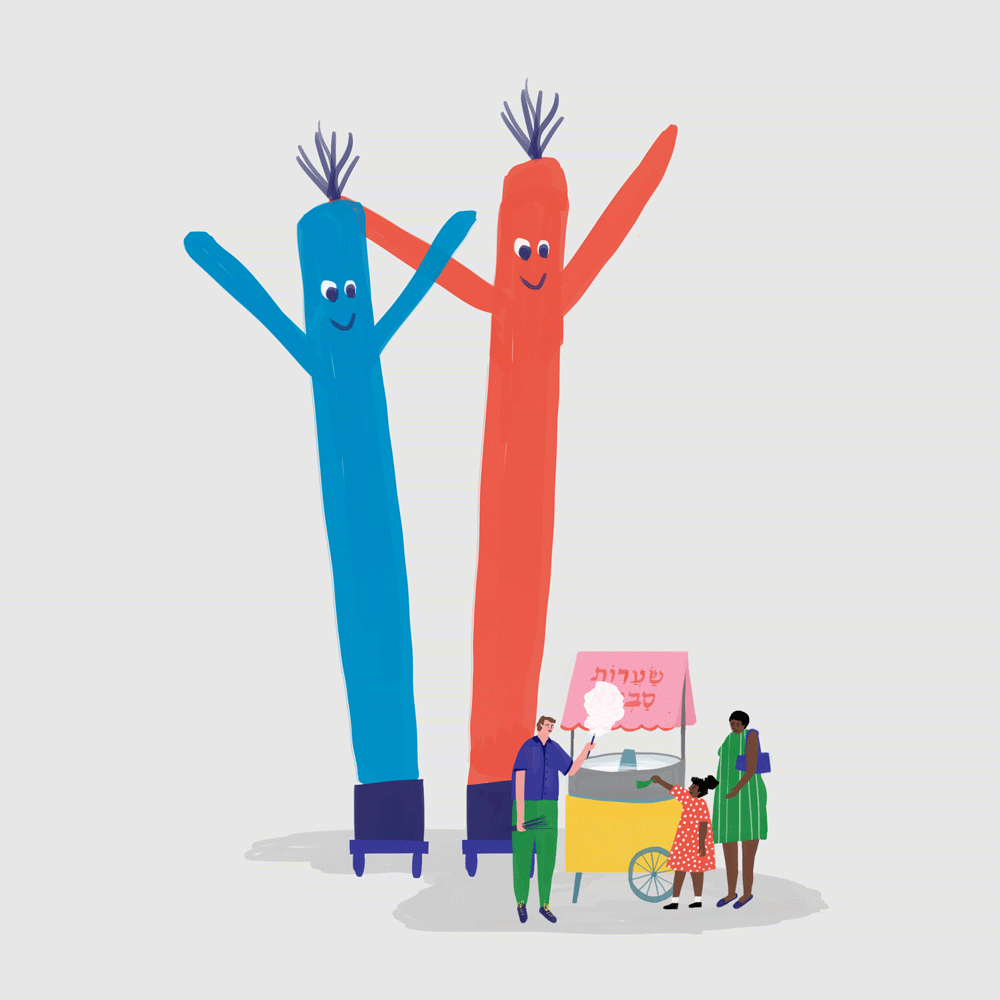 11. Now, tell us a little more about you as a person: what is your favourite food?
If I have to pick one thing it would probably be sandwich croissant, I like the mix between the sweet and sour.
12. Favorite book?
Two children's books which I LOVE- "They all saw a cat" by Brendan Wenzel, and "The day the crayons quit" written by Drew Daywelt and illustrated by the brilliant illustrator Oliver Jeffers. Both of these books have a strong visual point of view that is inherent to the story.
13. Favourite genre of music?
Don't have a specific one, but right now, since my Alma was born I'm listening a lot to children's songs.
14. What are your hobbies?
I love traveling, both in nature and in the city, watching movies, reading books, eating, going to museums.
15. If you weren't an artist, what would you be?
I'm a people person. If I wouldn't draw people I would probably be some kind of a therapist.