Instagram: @memoriabreve
1. What's your story? Where are you from?
Hi, I'm Marianna, both an illustrator and graphic designer from Italy.
I like to believe that through illustration art I could be or become anyone or whatever I want. On the opposite side, with graphic design I stay focused on reality, learning new things day by day.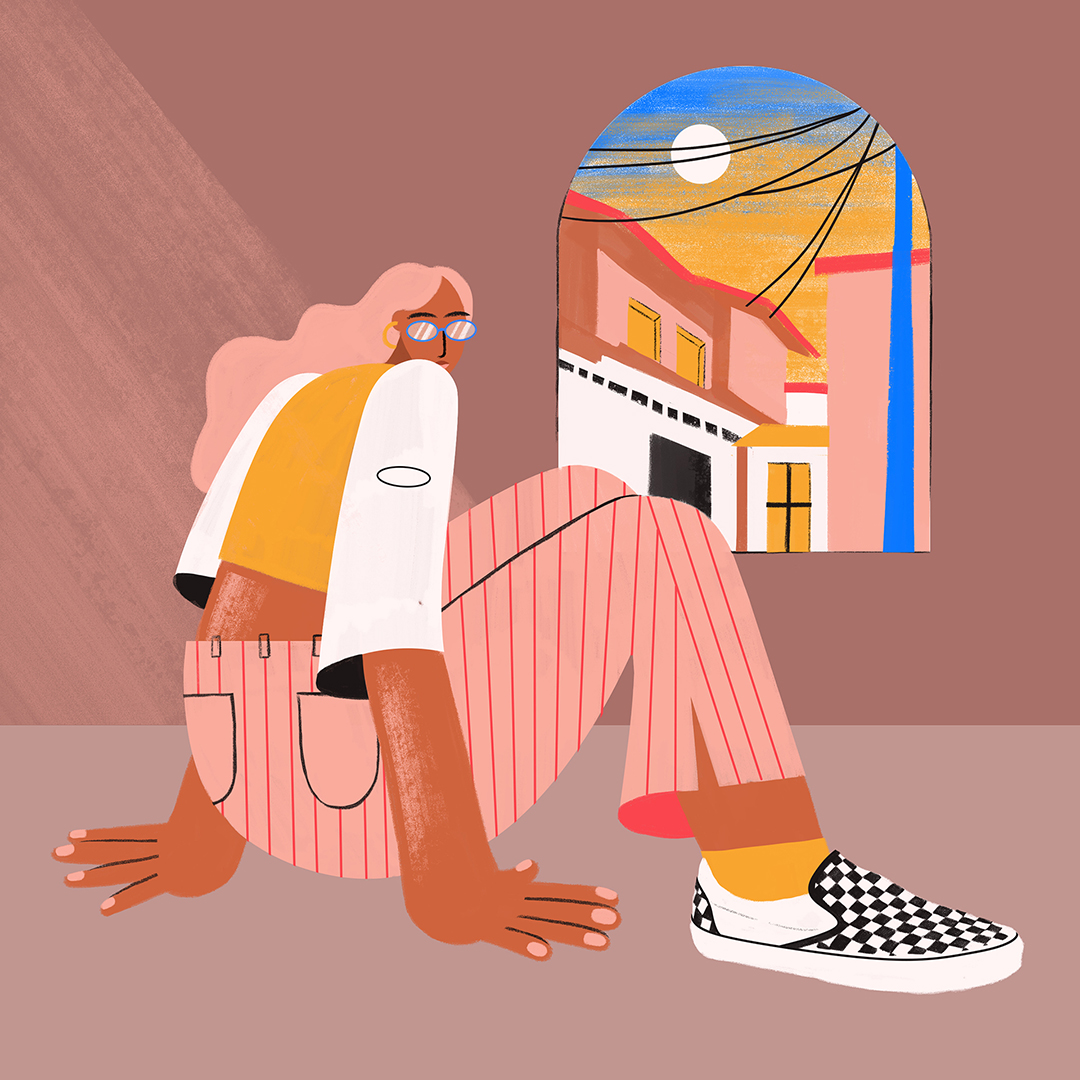 2. Tell us about your aesthetic.
The characters I normally choose for my illustrations are mostly feminine, as if they were all my alter egos. First of all, I try to define lines and shapes, which should be harmonious and mutually coordinated. I like to experiment by using colors and textures, giving to my artworks that "human" component they need to become more alive. I have an obsession with glasses, so my characters are often myopic (just like me!).
3. What is your favourite medium and why?
I mostly create illustrations starting with a pencil sketch, then I put it on photoshop (I use Illustrator for more geometric artwork), I add flat colors and only at the end textures and shadows. I love adding textures, because they give illustrations an analog touch.
4. What is your artistic process like?
I call myself an accurate observer of the reality, so I have always been attracted by people or situations around me: for example, a girl walking by with her greyhound in front of my house, or the lyrics of a song that I'm listening to in a particular moment of the day. I try to transform them into a form of art.
5. Who and/or what inspires your work?
Along with glasses, two others things that I truly like are sneakers and hairstyles. The female characters appearing in my illustrations often wear the shoes I would love to have and they sport haircuts I would have never the guts to! As I said before, I'm attracted by people in general, by their acting, by the way they can make me feel. I hope I'm being able to convey all these feelings using my illustrations.
6. What role does art play in your life? How does it change the way you view the world?
Art has changed how I see things. As an illustrator and graphic designer I have a flair for the transformation of reality into basic shapes.
Everything is art, everything can be turn into art and that is always a surprise for me.
7. Where did you study?
I attended "Istituto Italiano Design" in Perugia and I graduated in communication design.
8. Where do you see yourself in five years?
I hope I will be in Rome or Milan with a rewarding and satisfying job in a graphic and illustration studio, surrounded by people that can inspire my illustrations.
9. What about in ten?
In Berlin, with a lovely crazy haircut.
10. What do you hope to achieve with your art?
I hope to be able to give to people feelings, whether good or bad. I hope that my illustrations do not leave you indifferent.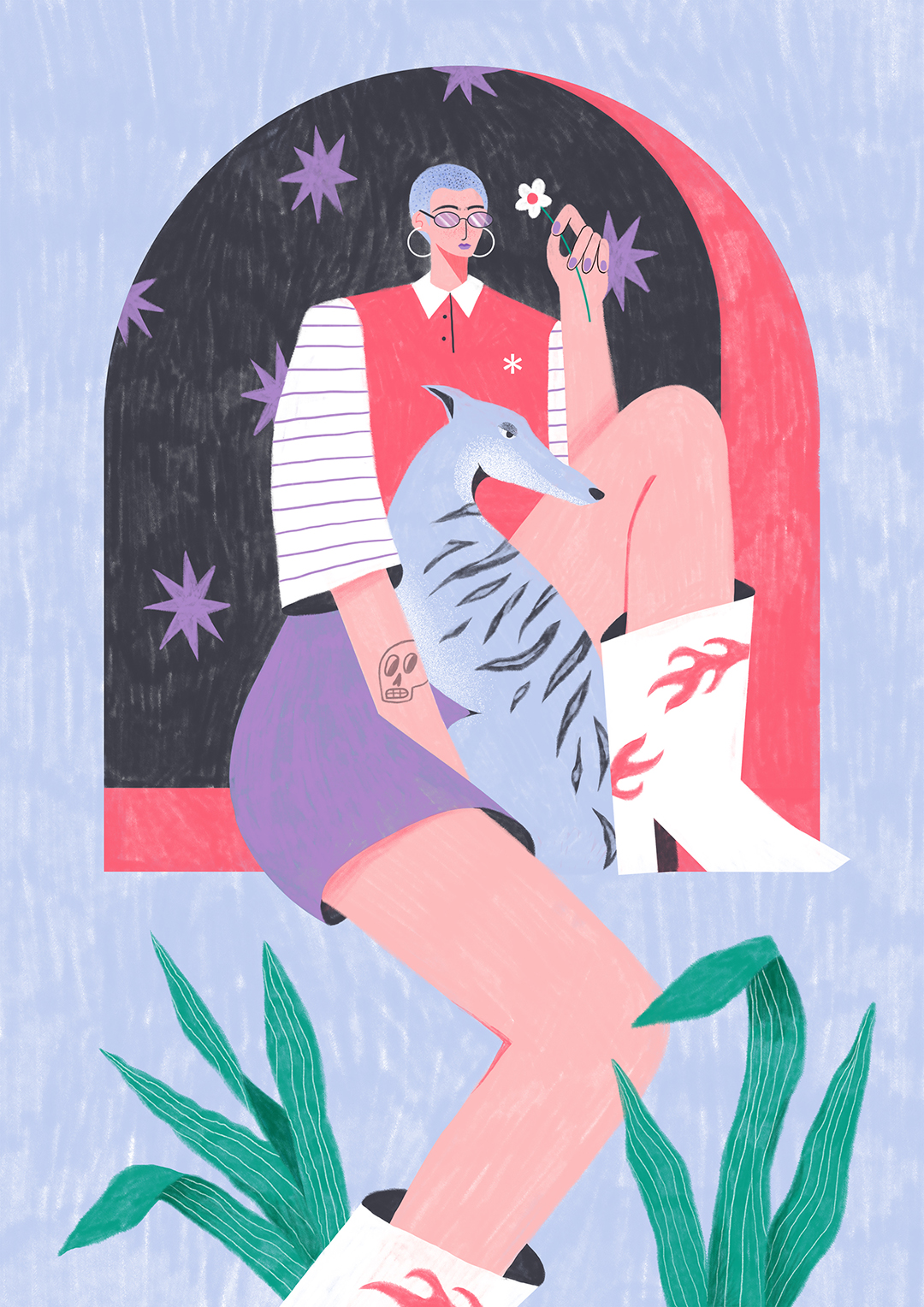 11. Now, tell us a little more about you as a person: what is your favourite food?
Carbonara. I'm in love with carbonara.
12. Favourite book?
I don't know, actually. I love fantasy books and graphic novels. Recently I've read "Quando tutto diventò blu" by Alessandro Baronciani, an italian illustrator.
13. Favourite genre of music?
I usually listen to indie rock music. I love listening to blues or classic punk while I'm working.
14. What are your hobbies?
Definitely going to concerts, of course! I love the vibes and the connection between me and all the other people around me, even the ones you have never met before.
15. If you weren't an artist, what would you be?
Probably an hairstylist, even if I think they are artists on their own as well!