Instagram: @meneerheirman
Website: www.meneerheirman.com
1. What's your story? Where are you from?
Heyoo, I'm Xerxes Heirman, a freelance illustrator from Belgium. I do a pretty wide range of creative work on a daily basis. It ranges from illustrating for animations to editorial work to branding related projects. I work under the name 'Meneer Heirman'. Meneer means 'sir' in Dutch. I really love the ring to the name because it sounds super serious, while the work I make is.. not.. so.. serious. For the last 5 years I've been living and working in Ghent, a cosy city in Belgium. Most of my friends live here, so I have always a good time.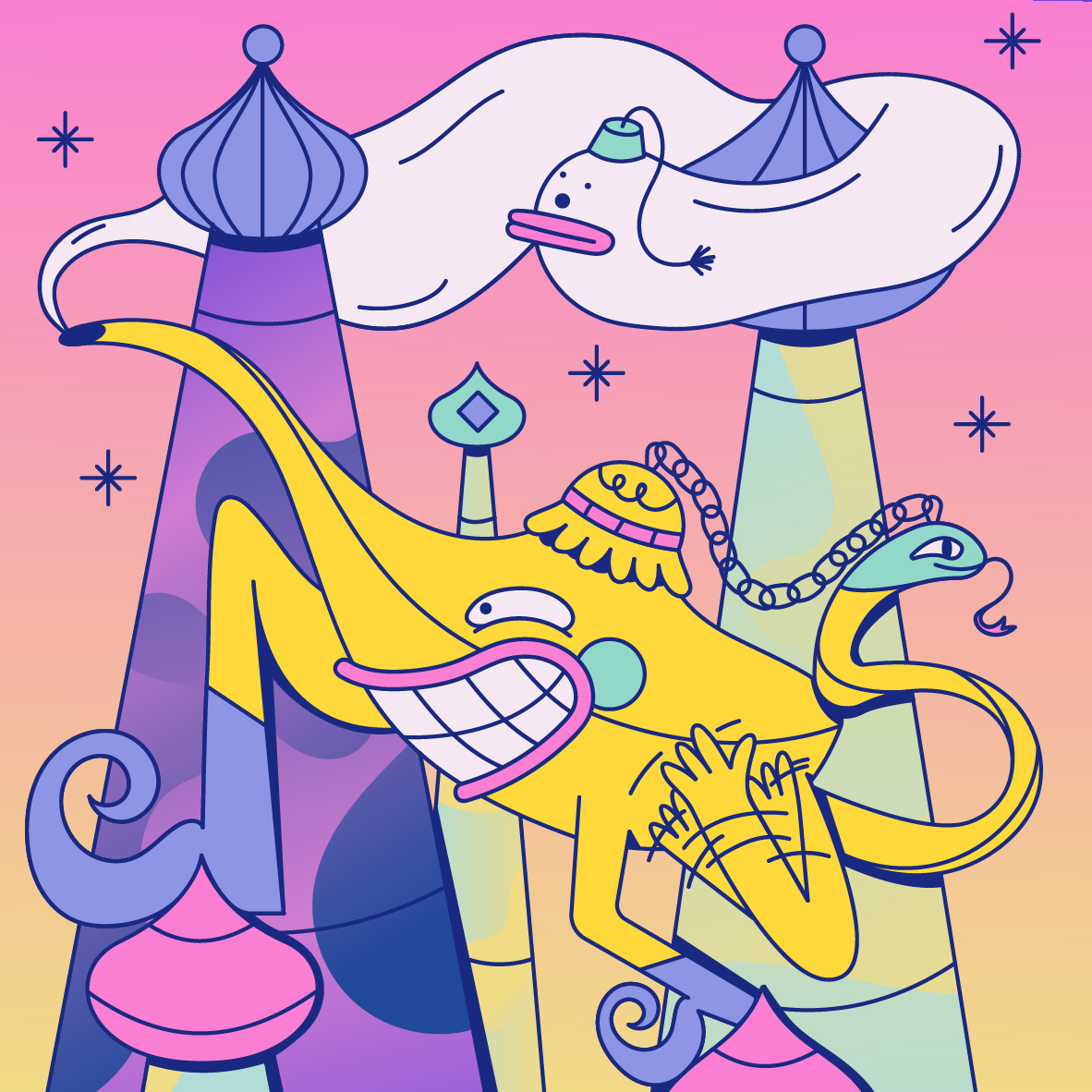 2. Tell us about your aesthetic.
My style is playful, a bit weird and overall not super complex. I don't really care for realism and seriousness, I like things that are goofy and funny.
Most of my work feature weird and silly characters. I can't imagine my work without those characters. Color is also a important part of my aesthetic. I like my colors to be bright and striking. I love to create dirty and naughty things, but I always try to give them a cute or funny look instead of something gross.
3. What is your favourite medium and why?
Most of the time I work digital, I've become really used to work in illustrator and I really feel it fits my style perfectly.

Although I like to take a break from the computer and do more tactile projects. During the covid-19 lockdown I started a mirror project. It's still a work in progress. I've been thinking to pick up painting as well, I'm really curious to see my style in paintings and experiment with the format.
4. What is your artistic process like?
When I start a new project, I always start by researching a little - ,not too much because I want to save room for my own fantasy and ideas. Then I start sketching until I have something that really satisfies me.

When translating the sketch to the final artwork it changes so much. I can't help it, but I keep adding details and other stuff.
5. Who and/or what inspires your work?
I get inspired by some many things. I love the work of Charles Fréger, especially his portraits of the different communities of the world are stunning. The costumes that they wear are absolutely amazing.

Toys are also a big part of my inspiration. When I visit a thrift shop, I'll always check the toy section first.

And of course, Japan! Since I visited the country in 2017 I fell in love with it.
Everything looks so much fun, and also a lot of weird stuff, I love weird stuff.
6. What role does art play in your life? How does it change the way you view the world?
It makes the world a brighter place. For example my living room is completely covered in prints and toys. I really love to be surrounded by those things. It gives us a chance to exit reality for a while and enter a fantasy world that has been created. A bit like books.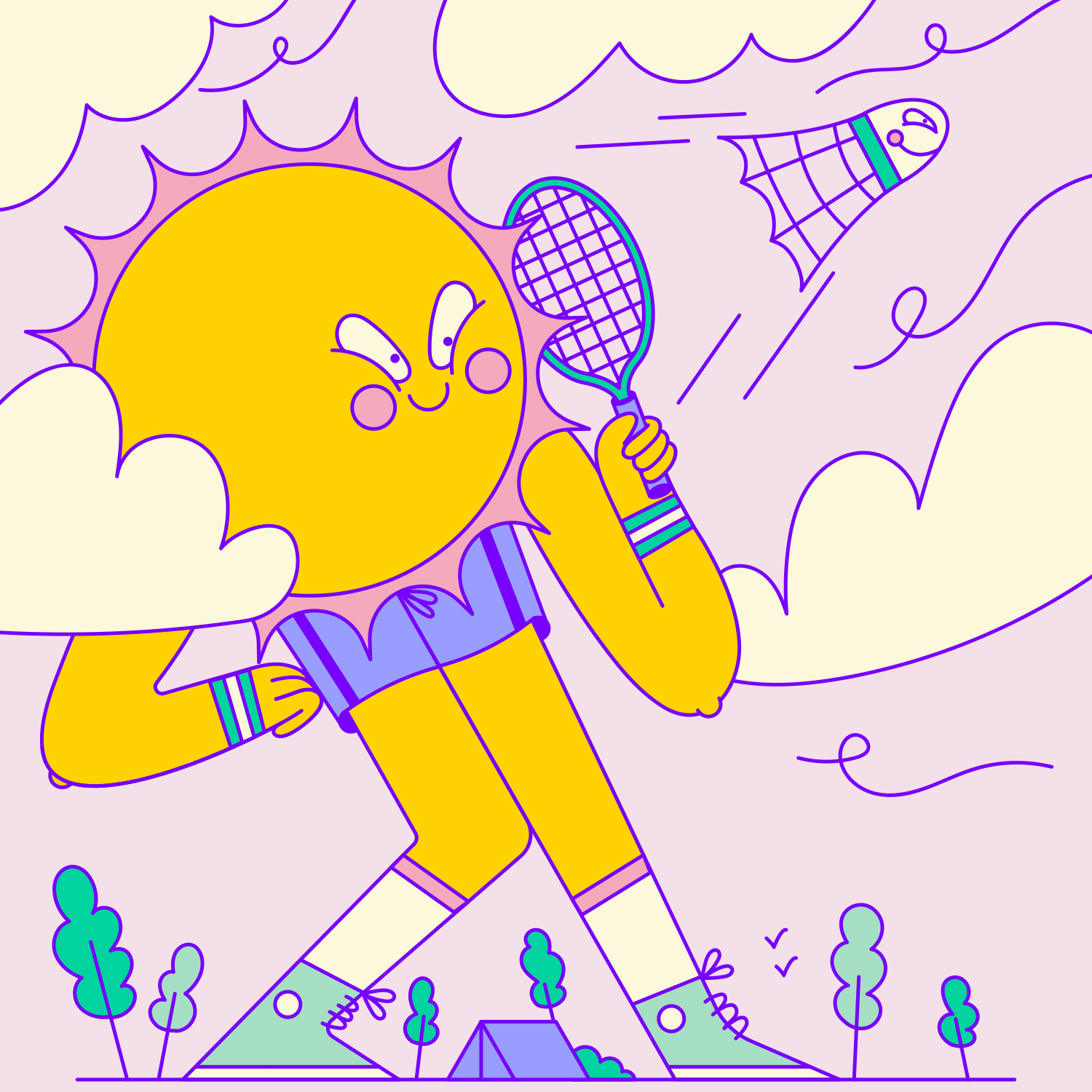 7. Where did you study?
Fun fact: I never studied illustration. I never thought I would ended up as an illustrator. After studying Visual design at LUCA School of Arts in Ghent I started working at a local creative studio where I did mainly film related projects. After a few years I came to the conclusion I really disliked that and I wanted to do something else. I started to illustrate in my spare time and yeah, now we're here. Never been so happy.
8. Where do you see yourself in five years?
Tough question. I really live my life day by day, so I guess not much different then now. A thriving freelance career as an illustrator filled with (only) cool projects. Yes please!

Opening an illustration studio with friends would be cool.

Maybe buy a house, get a dog. Probably not going to happen within 5 years, but man I would love to design my own toy.
9. What about in ten?
Everything that didn't happen within 5 years, please happen now haha. Probably getting a second dog. Hopefully the first one is still alive.
10. What do you hope to achieve with your art?
Add some color to my surroundings, since the world can be a gray place. Especially during these times.

And if my goofy art makes some people laugh, that's just great.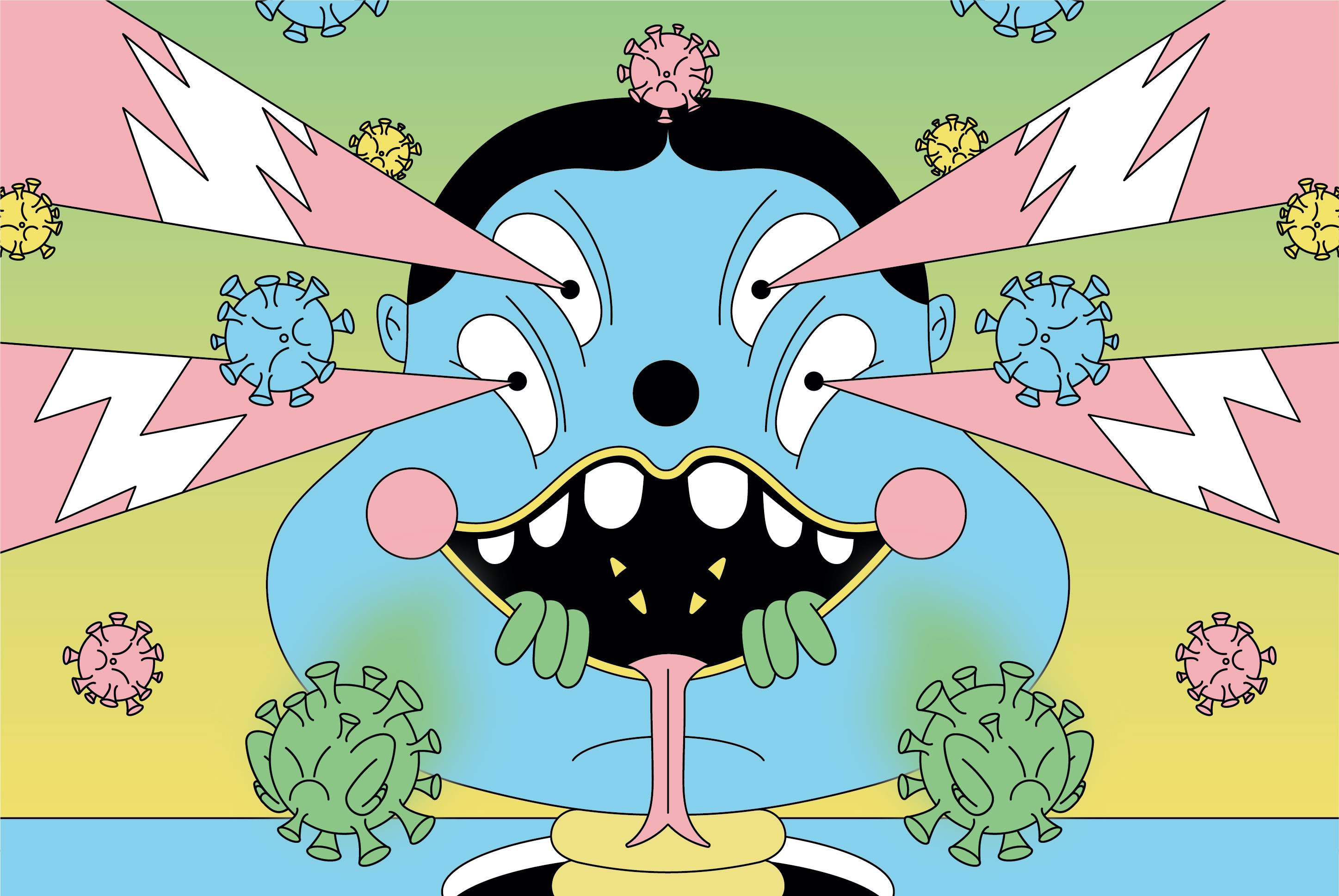 11. Now, tell us a little more about you as a person: what is your favourite food?
Ramen, no doubt. It's really the perfect food for every occasion. It can be the perfect lunch or dinner. But also if you're having the worst hangover ever. There are still so many different ramen styles that I want to taste.
12. Favourite book?
Uhhh, this is a hard one. I've been reading comics/graphic novels for a loooong time, so choosing one specific book is impossible haha. But if I really have to Comic/graphic novel > Invincible series, Book > The Catcher in the Rye
13. Favourite genre of music?
It really depends on the mood. Beginning the day with Jazz and ending it with trash metal, and I probably have hiphop playing during lunch.
14. What are your hobbies?
Obviously everything related to illustration like reading graphic novels. I also collect (weird) vinyl toys.

I'm also a huge movie geek. I love watching them and talking about them with friends.

Not really a sports guy, except for soccer.

Not really a hobby, but I love to grab beers with friends.
15. If you weren't an artist, what would you be?
Then I would love to have my own shop. Selling a combination of weird Japanese & vintage toys. Or just a shop with weird stuff.