Instagram:
@merkyminck
Website:
www.merkminck.com
1. What's your story? Where are you from?
I was born in British Columbia, Canada where I have spent the majority of my life so far building forts, running around the bush, and trying to convince friends into buying into my ridiculous ideas, adventures, and artistic ventures.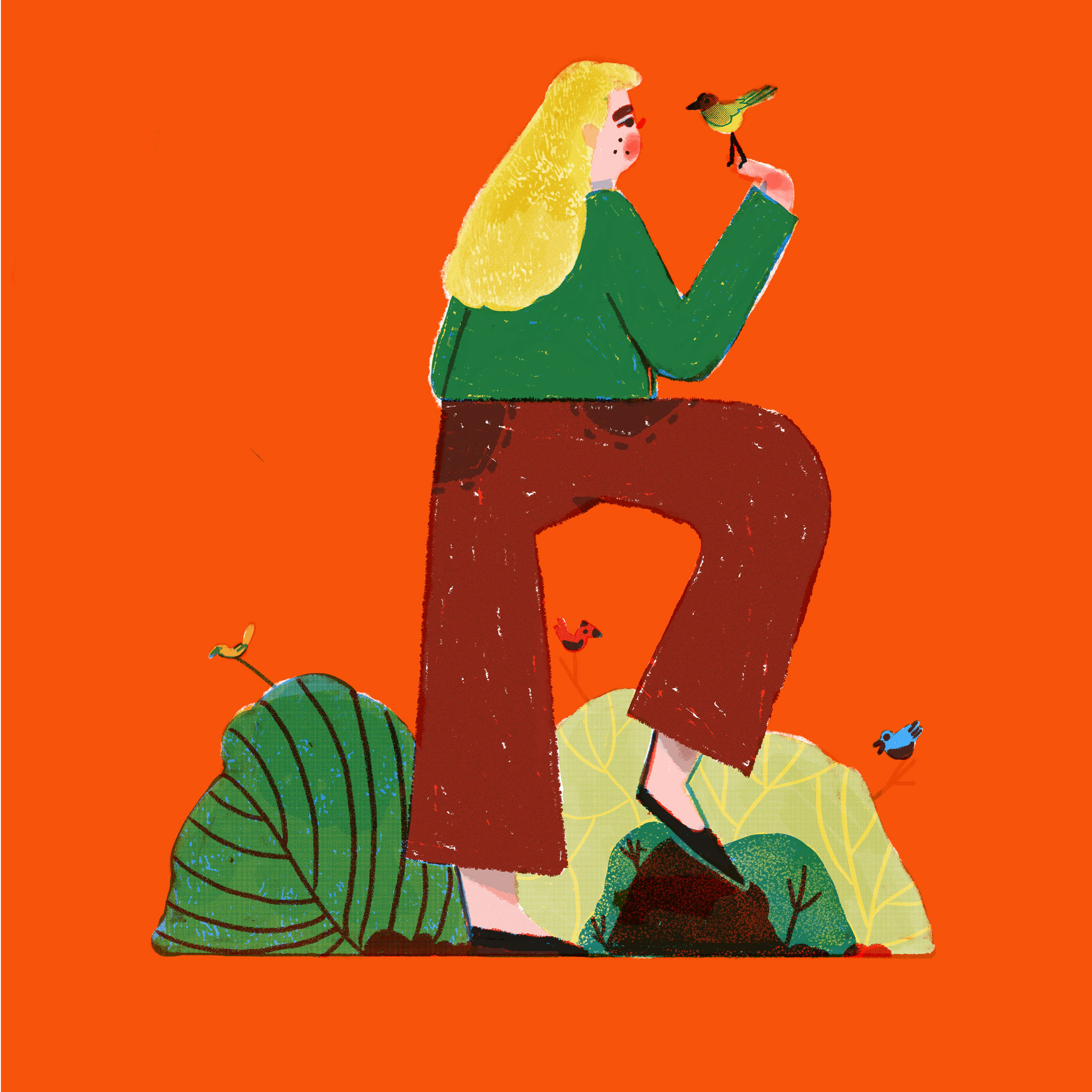 2. Tell us about your aesthetic.
I would say my aesthetic is a strategic mess….
3. What is your favourite medium and why?
Hmm. I'm not sure I have a favorite medium, of course, I like digital because it is very easy to clean up a mistake and you save yourself a lot of trouble by not ruining the paper. That being said I'm just as happy scribbling on paper as I am carving something out of wood! I just like making things !!
4. What is your artistic process like?
I like spontaneity and experimentation. I am definitely not a planner, though I desperately wish I was. I usually go into working with no plan or idea and I just fart something out.
5. Who and/or what inspires your work?
Well, there are so many cool artists out there who make great stuff. I really love Phoebe Wahl and Brett Stenson. I try my best to not google too much otherwise I get a bit too absorbed in what great stuff they are capable of and I end up trying too hard to be someone else. My main inspiration comes from being outside, riding my bike, and being around the people I love. Nothing recharges the soul like playing in some dirt with friends !!
6. What role does art play in your life? How does it change the way you view the world?
I feel as if I define my worth through art a bit. Which I'm not sure is healthy... If I go through a dry spell where I'm not making a lot I feel really really terrible, however, I think it's really important to recharge and not always be forcing things out, so in the future, you can make things that feel good. Being an artist has changed the way I move through the world for sure! The way I dress, the way I decorate my home, and how I choose to behave are all a reflection of the art I make and the art I consume. It also helps me see the beauty in things that I might not have noticed prior to really becoming absorbed with art.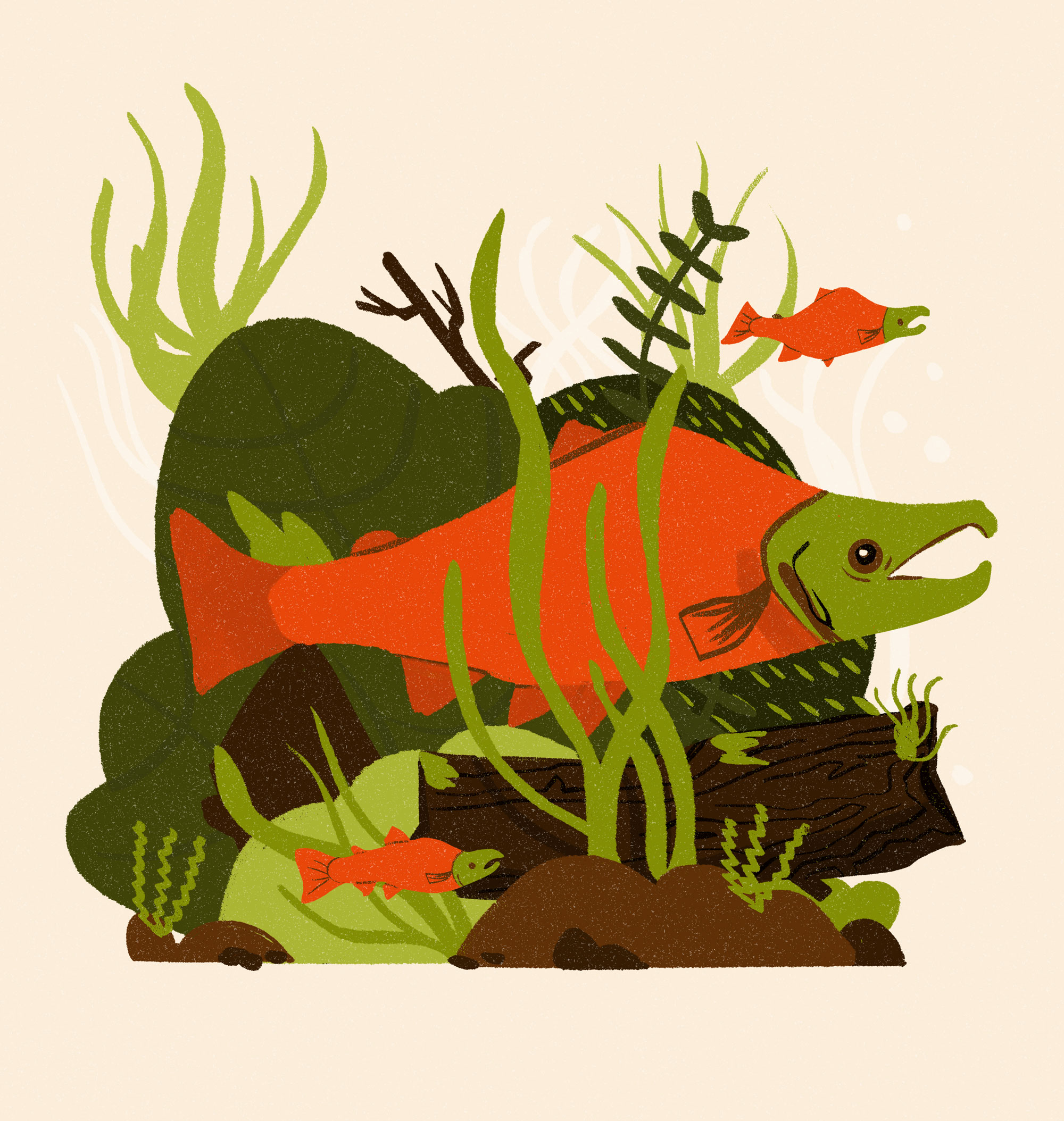 7. Where did you study?
I went to a little college in Nelson, BC. It isn't a full-on art school but the two year program I took let me grow and learn in a self-directed style in one of the most beautiful places around.
8. Where do you see yourself in five years?
In five years I would like to have a piece of property with a home that I have built surrounded by great flower gardens and plots of land full of food. Within the tiny home of my creation will be a nice cozy little studio with big windows and shelves for all the things I have collected. Hopefully, out the window there will be dogs and chickens and bunnies running around. I would be very happy in five years if I have a job that allows me to make art because I love it. That doesn't necessarily mean I need to be working as an illustrator or a designer. I think I want to be doing art because it brings me joy not because a client needs 10 more revisions.
9. What about in ten?
In ten years I would be very happy with the same as my five year plan. Hopefully more dogs and chickens. I would really love to have a studio space where other artists and I can put on courses and teach people the things that I have had to learn on my own(or on youtube)!
10. What do you hope to achieve with your art?
I would like to create things that help other people love the things that I love. I think I'm constantly like " Hey!! Look at this tree I love, please love it too."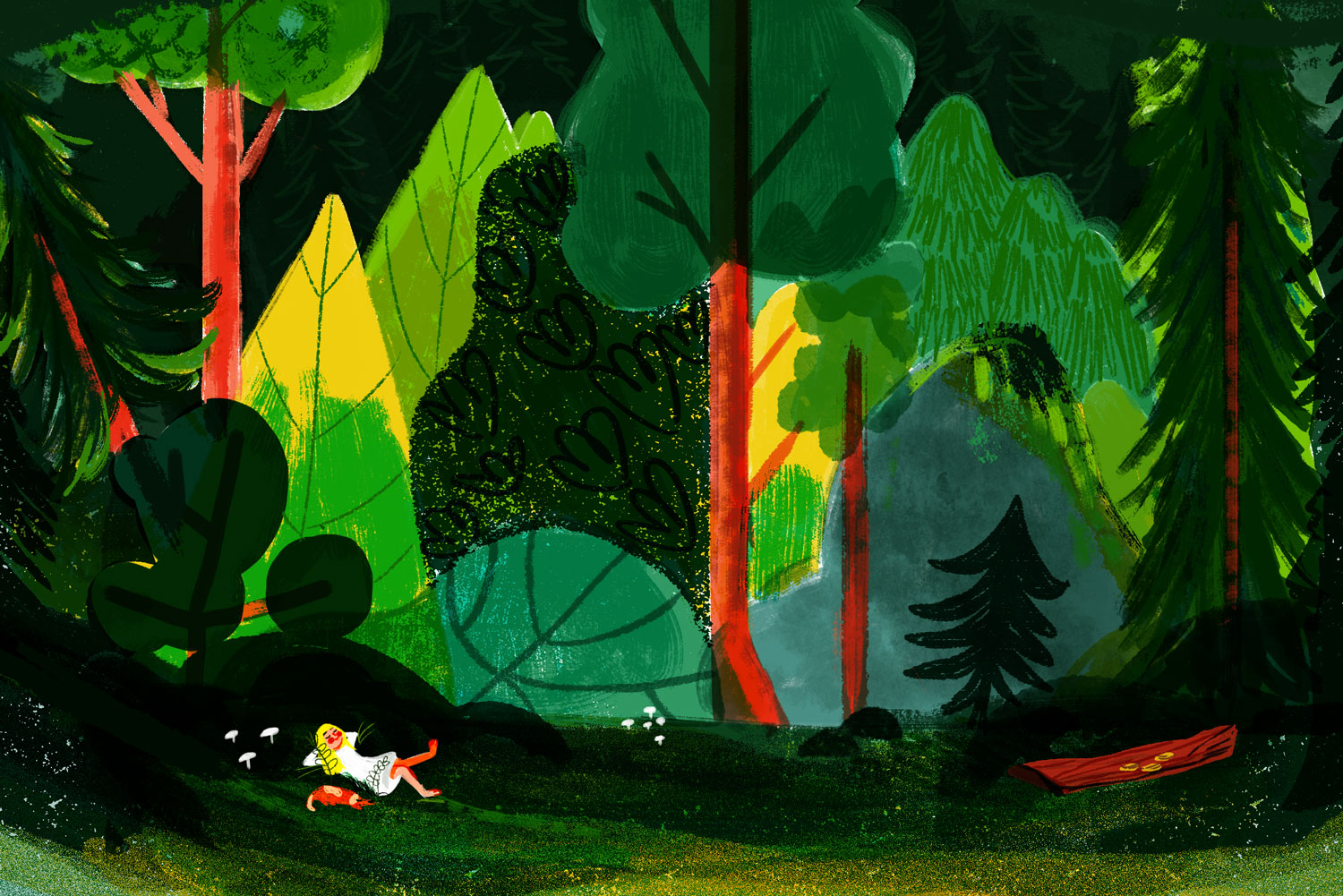 11. Now, tell us a little more about you as a person: what is your favourite food?
Well, I am a tall gangly person. I really talk a lot and I have a very loud and annoying voice. I'd like to think that most of the time I am a happy go lucky person who likes to dance while making my favorite food: popcorn. I like most people really love dogs (specifically wiener dogs) and I am a fantastic procrastinator and general all-around lazy person.
12. Favourite book?
My favourite book is The Secret Garden.
13. Favourite genre of music?
My favourite genre of music is whatever genre Florence and the Machine and Grimes inhabit. I think my dad called it annoying space fairy music when he told me to turn it off in the car at age 15.
14. What are your hobbies?
I really love biking, hiking, skiing, sewing, quilting, meandering around places with tall trees, and most importantly I like eating popcorn competitively.
15. If you weren't an artist, what would you be?
If I wasn't an artist I would be a biologist or ecologist that goes out into the forest and checks in on the wildlife to make sure that everything is balanced and healthy.