Instagram:
@milenamilakillustration
Facebook:
www.facebook.com/milenamilakpl
Website:
www.Milenamilak.com
1. What's your story? Where are you from?
Hello! I'm Milena Milak - born in Poland. Lived in Liverpool, England - a city I consider my second home! Since April last year I've been in wonderful Barcelona where I babysit by teaching English and art but mainly trying to be a full time freelance illustrator. Before coming here I spent over a year living in a backpack wandering around Europe. Barcelona was kind of a blind shot (one way ticket soft of cliche) but seems like I will stay here for some time. I currently try to learn how to think in three languages which causes my brain to exercise a lot on a daily basis (especially since my Spanish is light years away from perfect)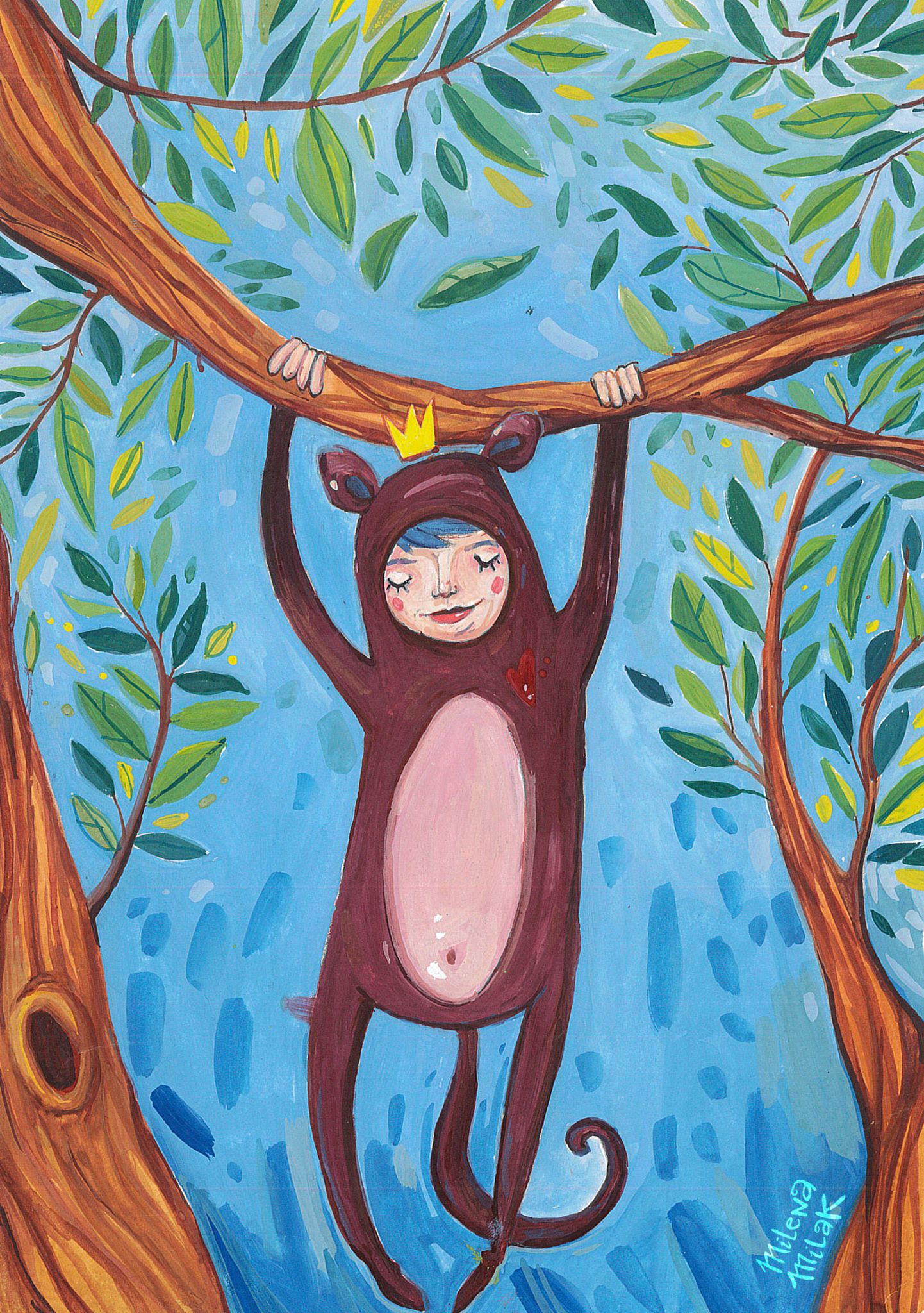 2. Tell us about your aesthetic
I love children book illustration and that's the aesthetic I follow but I'd like to think I'm able to combine both children and grown ups world in one. I love princesses, dreamy landscapes, space and spaceships, magical creatures, superheroes and ordinary people in unusual situations. I also love putting a cheeky smile on my characters' faces!
3. What is your favourite medium and why?
I love traditional painting techniques and after packing my stuff in a backpack and leaving Poland watercolours have been my favourite medium, such a portable and light thing to carry!
4. What is your artistic process like?
I sketch like a maniac, using every piece of paper I can find. And by every I mean random magazines pages, letters and envelopes, napkins, flyers, cardboard boxes etc. I struggle a bit too much with being a perfectionist sometimes so taking a break to have a fresh perspective on what I'm working on is quite essential. Always a good excuse to make a new cup of coffee or sneak a cookie from the kitchen cupboard as well!
5. Who and/or what inspires your work?
Everyday heroes - people with an ability to find magical moments in their daily routine. Also those who despite rough moments in their lives managed not to become bitter and cynical. Batman, because he's doesn't have any superpowers yet is one of the greatest superheroes.
6. What role does art play in your life? How does it change the way you view the world?
I think it gives a certain type of sensitivity that can be both a positive and negative feature. I focus on the positive side and appreciate the constant need of searching for beauty and magic.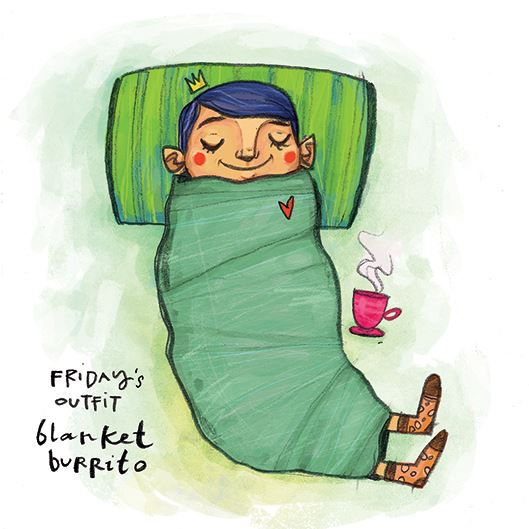 7. Where did you study?
I never did study art at university but I took some private classes in Poland.
8. Where do you see yourself in five years? Working in an agency?
Doing awesome children books that kids would love to put on their pillow next to their head before going to sleep! That's what I did with my favourite books anyway. I also want to learn how to do animated movies and publish my graphic novel.
9. What about in ten?
I wanna speak few languages fluently and travel the world doing art.
10. What do you hope to achieve with your art?
A recognisable style, both visually and regarding the content. Doing things that are considered valuable.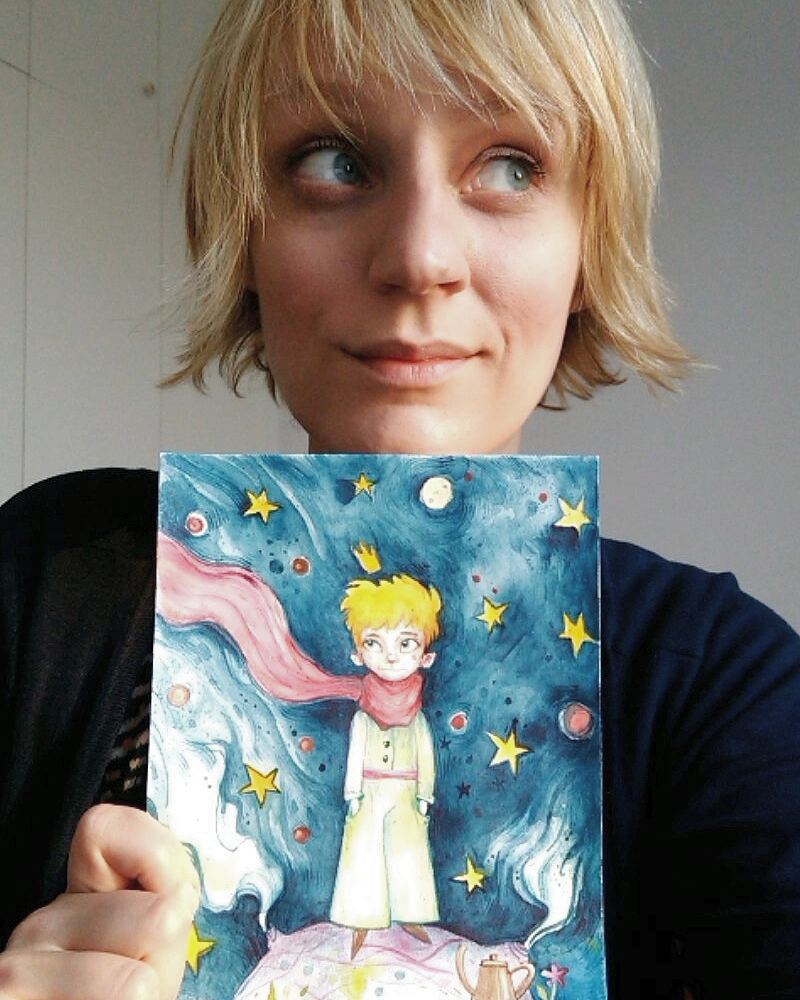 11. Now, tell us a little more about you as a person: what is your favourite food?
I could eat breakfast food all day. It genuinely upsets me that I can't order breakfast food anytime during the day. Porridge is my friend and I love making crepes for my friends. Eggs for life! (but only from happy hens). My day can't be too bad if I had cake at some point.
12. Favourite book?
Astrid Lindgred's books, Little Prince, Unbearable lightness of being
13. Favourite genre of music?
Impossible to choose just one favourite. My taste is extremely eclectic - I'm currently in my David Bowie phase again mixed with Sugar Man OST and Moderat.
14. What are your hobbies?
Cinema, traveling, yoga, food (I consider eating my hobby, yes!), reading random Wikipedia articles, Batman
15. If you weren't an artist, what would you be?
A scientist.