Instagram:
@milkybaby4u
Website:
www.milky-baby.com
1. What's your story? Where are you from?
Hi! I'm Wooyoung Kim (nickname Milkybaby), an illustrator and animator based in Seoul, South Korea. I grew up in a small family of loving art and travel so that I could make my own view of the world. I thought that I had various ups & downs, but It was nothing compared to parenthood. After I became a mother, I began to think deeply about motherhood and my life as a woman. I created my own family characters to depict my thoughts in art. My artistic style has also changed friendlier and brighter.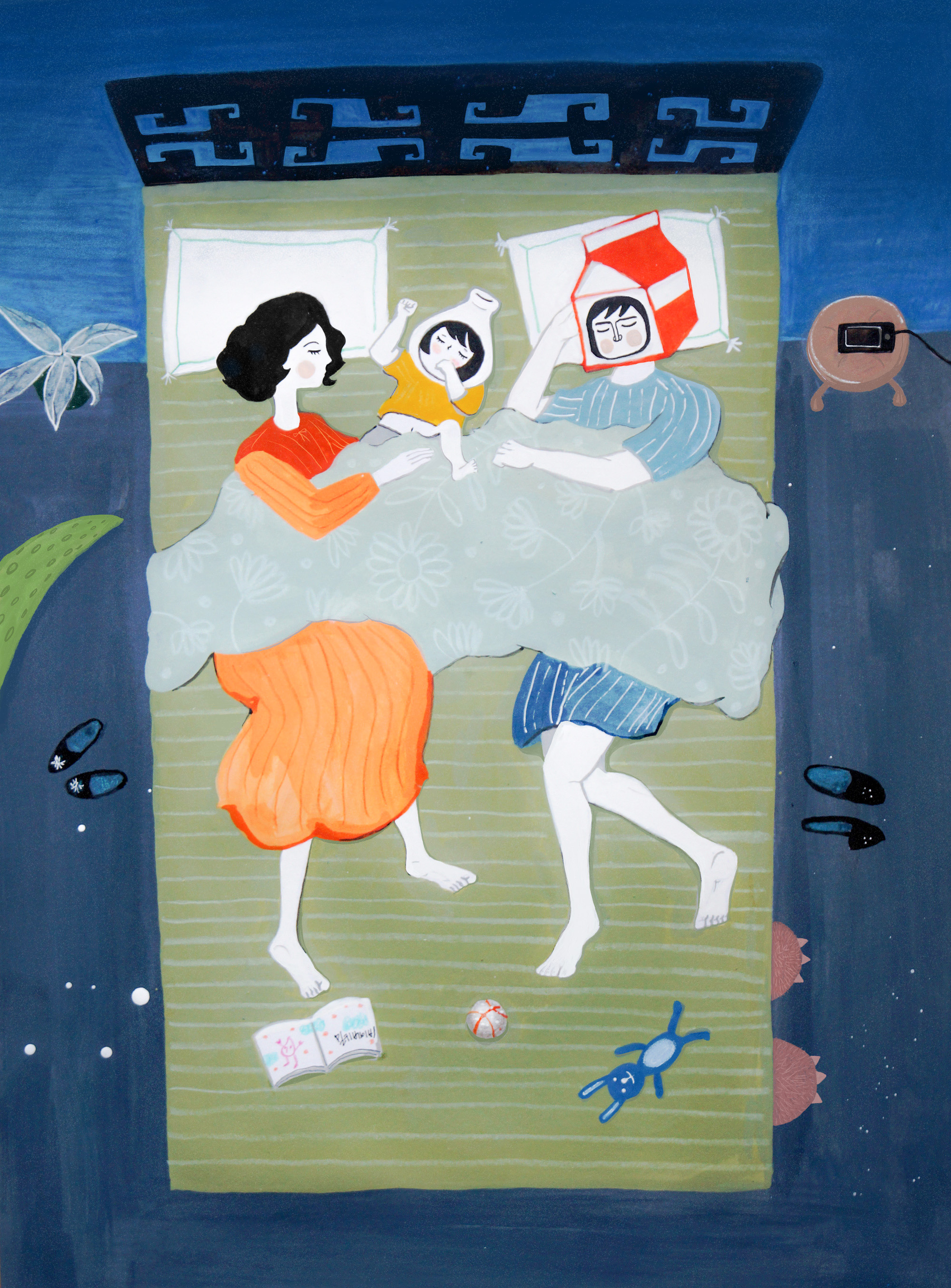 2. Tell us about your aesthetic.
I'm addicted to calm Asian beauty in patterns, colors and forms. Especially, I obsessed with the curves & lines of the Korean alphabets 'Hanguel' and the color of traditional Korean house, 'Han-ok'. Korea is a gold mine of inspiration with its 5,000 years history and culture. So I enjoy selecting elements to put in my art. I often visit Korean Palaces near my house to find new ideas and also go on art trips to Japan, Taiwan and other countries.
3. What is your favourite medium and why?
I prefer acrylic paint more than any other medium because I can express my feelings delicately by controlling the thickness of the paint. I also use color pencils and making collages with stamps, masking tape, and unique paper I find on trips. The video work is done by cutting out hand-drawn illustrations. I work as a designer for the biggest digital app company in Korea, so I want my personal work aimed at creating that 'analog' look and feel. It's really fun to go through analog and digital work like this.
4. What is your artistic process like?
I usually think about meaning and story first then sketch in my notebook. After I decide the concept according to the subject, I research references and inspiration, and the work begins! This process is the same whether it is commercial work or my personal work. If it's personal, it takes more time to organize my thoughts.
5. Who and/or what inspires your work?
My muse is my four year-old daughter. I learn from her creative, pure thinking structure. One of my works, "Together, Separately" is about the relationship between parents and children, which is something I always think about. If I were single, I might look at the world differently. I focused on communicating with contemporary parents who deal with same topics. I'm also inspired by the comments from them through social media. If you are a parent, you may be concerned with making a better environment that kids can live well. I'm interested in city design that makes humans happy, and eco-friendly. I made a stop-motion animation titled 'Art Makes Life Better' after I visited a restored town in Japan. I was inspired by the process of transforming old things into better ones by art. Recently, I look into the art and life of modernized Korean women 7-80 years ago who struggled with proving themselves in a restricted society like I feel I'm doing today. I like to deal with women's desires and values through my work continuously.
6. What role does art play in your life? How does it change the way you view the world?
When you become a parent, there are endless obstacles that you have to overcome. In my case, I felt strong emotions, like joy and sadness, and I started to express these feelings through my paintings. It began to gain popularity, and I was comforted by the sympathy and support of other moms. I created canvas painting that deals with this topic in a compressed way, and I also draw a light webtoon (Milkybaby) occasionally. Recently, I am more interested in social issues than before. I'd like to continue to talk about women's self-esteem, work/life balance, and the city environment where the next generation will grow up happily.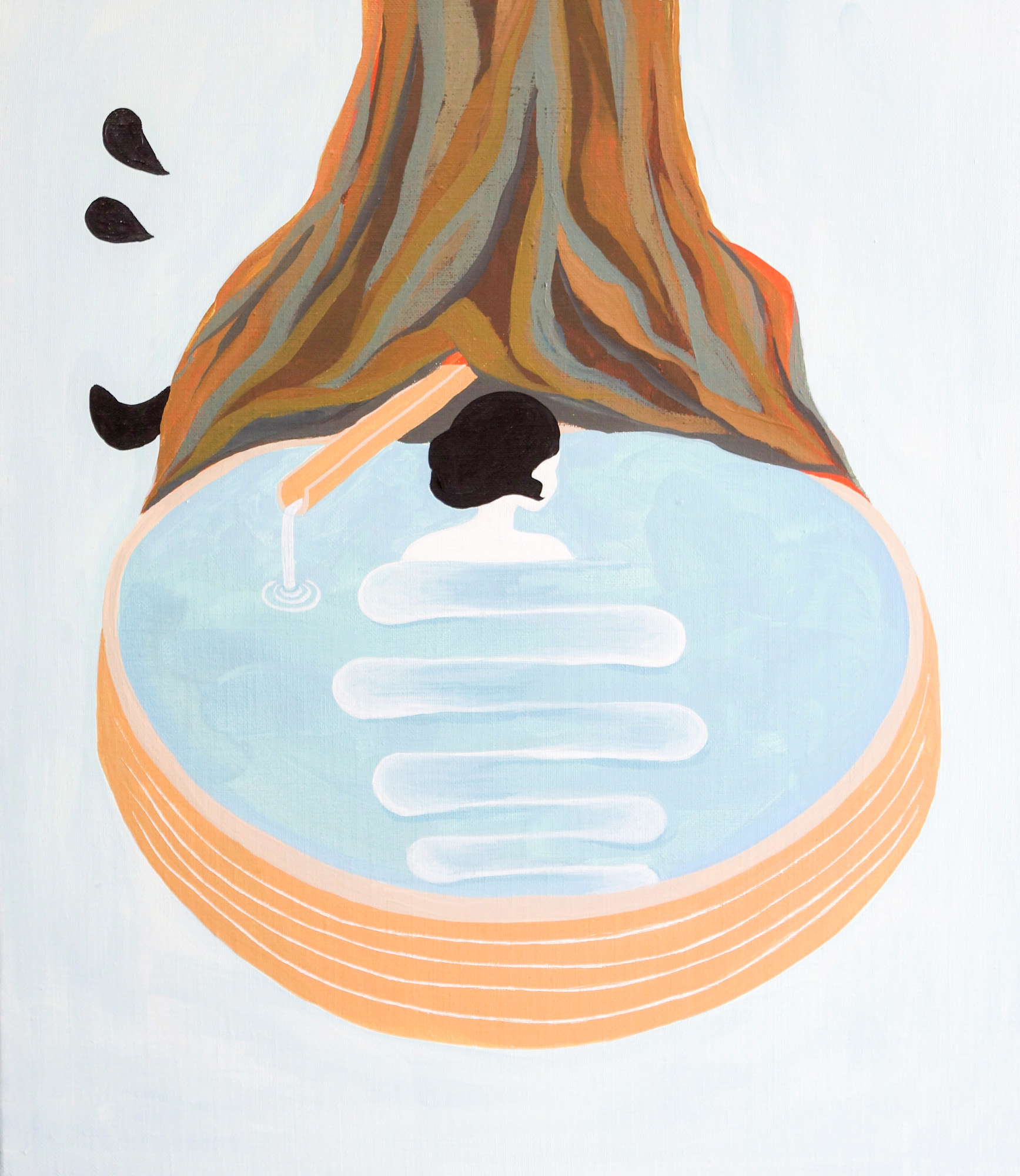 7. Where did you study?
I studied broadcasting and film at Ewha Womens University in Seoul.
8. Where do you see yourself in five years?
I'd like to open my own studio to showcase my new work. A few more of my books will be published and, it would be fun to collaborate with companies that need my art.
9. What about in ten?
I usually only think about 1-2 years ahead, but I will do it even after 10 years. My dream is ageing gracefully, which means not afraid to try new creative works, but stick to my own tastes and be economically independent. Above all, I wish to continue my enthusiasm.
10. What do you hope to achieve with your art?
My work was like a painkiller during my toughest times, and I wanted to do it for others as well. As I worked on it, I became more positive and energetic. Now, I hope my work will be like painkillers and vitamins to others. Through my work, people learn about aspects of living they usually don't think about. It cheers me up when people tell me they "learn" from my work.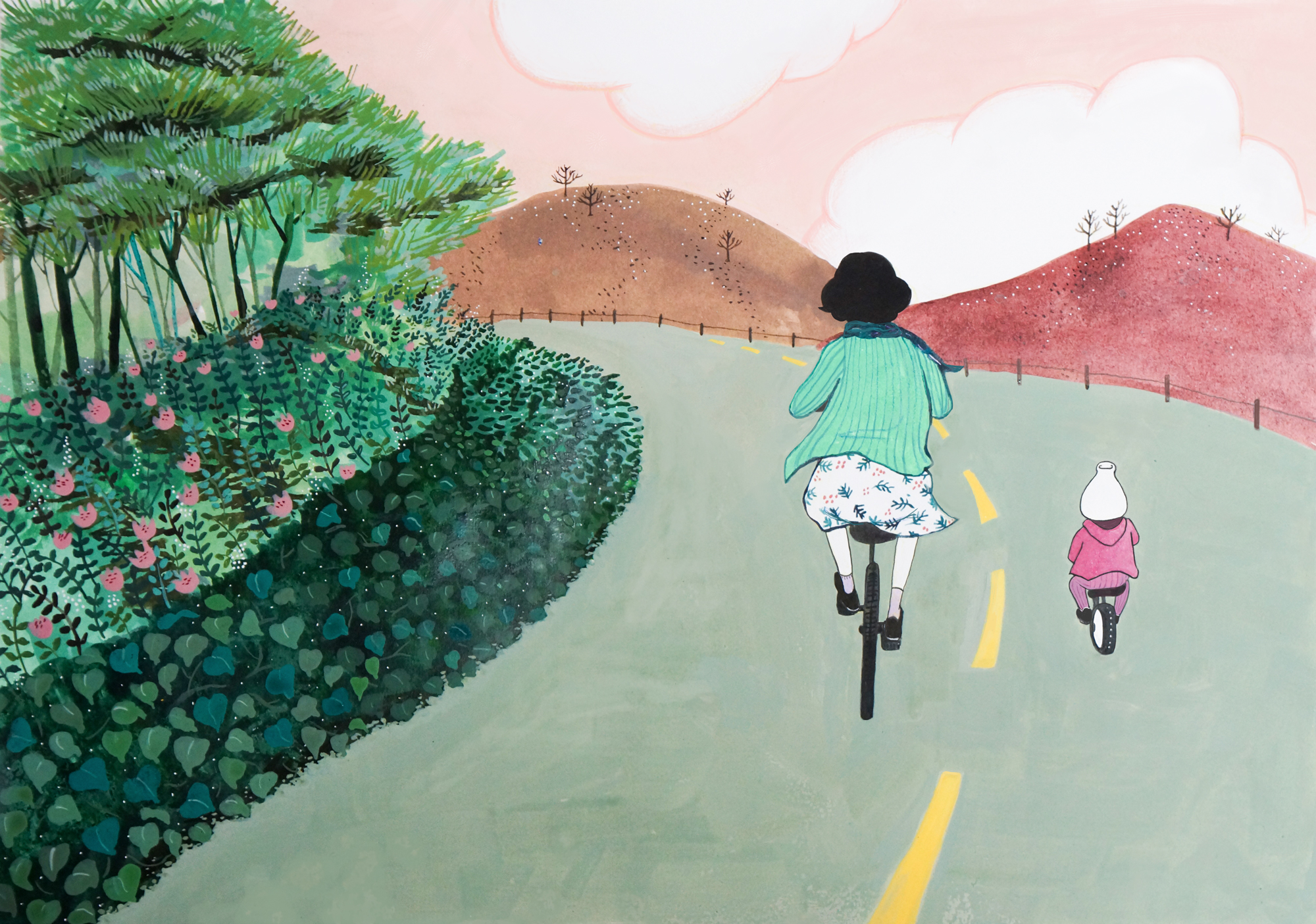 11. Now, tell us a little more about you as a person: what is your favourite food?
I can't eat any meal without kimchi! I love food made with kimchi, like kimchi stew, kimchi fried rice etc. It's definitely spicy, but you're gonna love it.
12. Favourite book?
When my daughter learns to read, I'll recommend Momo written by Michael Ende. It has such a beautiful story and is very meaningful to me. All picture books by Heena Baek, a Korean picture book artist, are also my favorite.
13. Favourite genre of music?
New jack swing is my favorite. I'm a big fan of Prince & Sheena Ringo.
14. What are your hobbies?
I love collecting vintage home goods and stationery. Whenever I discover valuable old things, I want to give my work a timeless quality. It's a hobby that inspires, models, and revitalizes my life.
15. If you weren't an artist, what would you be?
A composer and my daughter's mother.