Instagram:
@milliewoodcock
Twitter:
@millie_woodcock
Dribbble:
www.dribbble.com/milliewoodcock
Website:
www.milliewoodcock.com
1. What's your story? Where are you from?
Hey, I'm Millie. A dog loving illustrator, designer, animator living in Norwich, UK. I work as an animator and illustrator at a studio called Lambda Films. I also do freelance illustration and design work in my own time.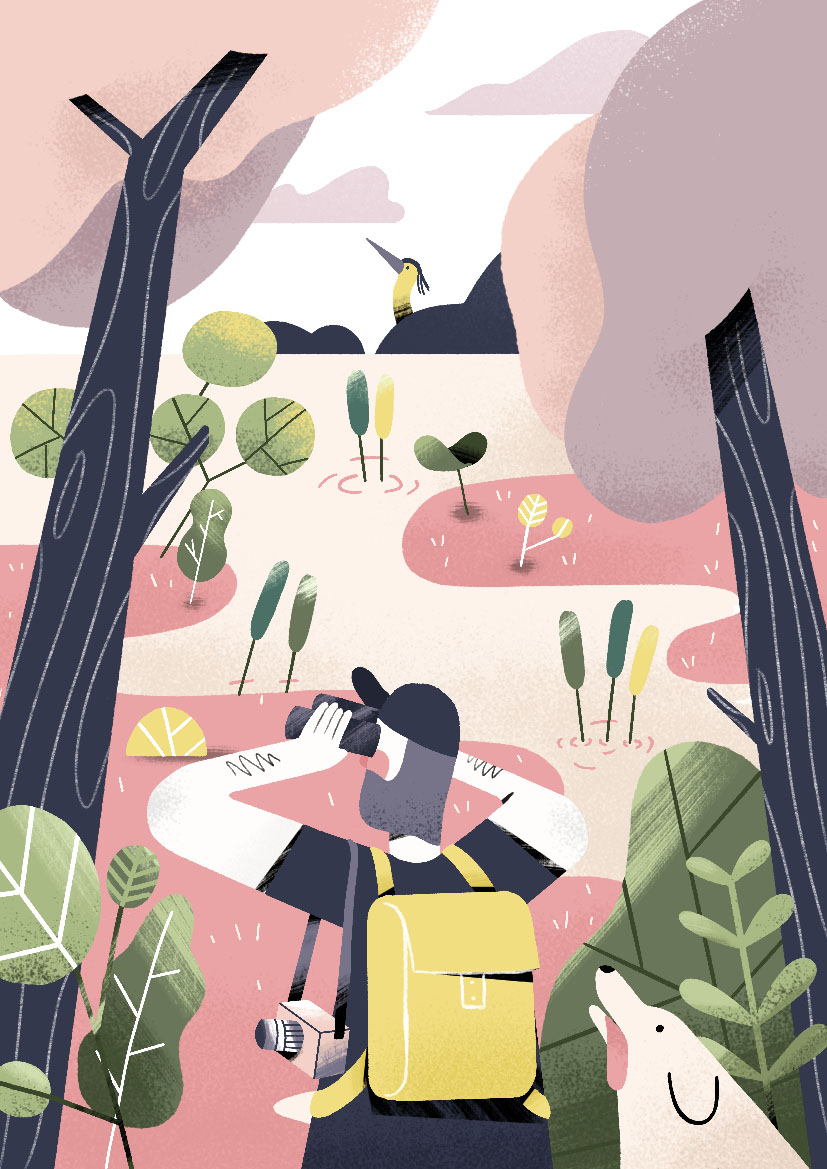 2. Tell us about your aesthetic.
I guess I would describe my aesthetic as bold shapes with texture. I love textures. This tends to be the way I work if I plan on animating the designs. If I'm creating an illustration, I will to be a little less neat and try to experiment more. Oh and I do like to work with a limited colour palette and illustrate the occasional dog.
3. What is your favorite medium and why?
Most of what I do is digital. I enjoy it, and its kind of nice to be able to go back and change things, make mistakes and be able to experiment quickly. I also love to screen print, carve stamps and try to do hand drawn typography.
4. What is your artistic process like?
I'm lucky enough to be in a studio where I have a lot of freedom and creative control over projects. I work on treatments straight through to the final animated piece. This also means that there are a lot of stages to my process. I read through the client brief to understand what they would like. I start by looking at different references through various websites and Pinterest. I then think about a style that would best suit the project. Once there is a script in place I will create character designs, style frames and a storyboard. Animation then begins once we have sign off on the pre-production. With personal illustration pieces, I do a few sketches, experiment with colour. After that, I create the final illustration. Editorial illustration is something I am new to. I first have a read through the article, while reading it I will jot down ideas so I don't forget (yes my memory is that bad). I then sketch these ideas out and send them to the art director for approval. Then its a matter of making the final illustration and making amends if there are any.
5. Who and/or what inspires your work?
There are so many artists, illustrators, designers and animators that inspire me. Instagram is my favourite way of keeping up to date with them all. It's great for discovering new people with amazing work too. The motion design/ animation community is great and so supportive. I also have a big collection of picture books which I love to look through! Travelling and going for walks help inspire my work too!
6. What role does art play in your life? How does it change the way you view the world?
I have loved drawing and art ever since I can remember. It became a big part of my life when I got a hip bone disease when I was 7. I wasn't allowed to walk for a couple of years (or do anything active). So I took to drawing, it helped during hospital trips and also stopped a lot of boredom. I would also watch loads of cartoons like any kid and draw a lot of the cartoon network characters over and over. This inspired me to try to start drawing my own characters. Now illustration and animating is my job, and it makes me view the world differently. I observe alot more. That's why I find getting away from the computer really important too, it helps refresh my brain. Illustration for me is a great way to wind down, relax and make something nice.
7. Where did you study?
I studied BA (Hons) Animation at Norwich University of the Arts
8. Where do you see yourself in five years?
I would love to have improved my skills in animation. Maybe start stepping into an art directing and designing role at Lambda. I would also like to have done a picture book. I'd hope to have a dog by my side too!
9. What about in ten?
I'd hope to be directing a team, while still designing and illustrating on some of the projects.
10. What do you hope to achieve with your art?
It's great to have a skill where I can put messages across in a interesting or fun way. A lot of my work tends to be commercial but I do get to work on other projects that have a bigger meaning. These are usually passion projects that mean something to me or the studio. It's nice to be able to get your audience to feel and think about something important. I also like to make little illustrations that will make people smile.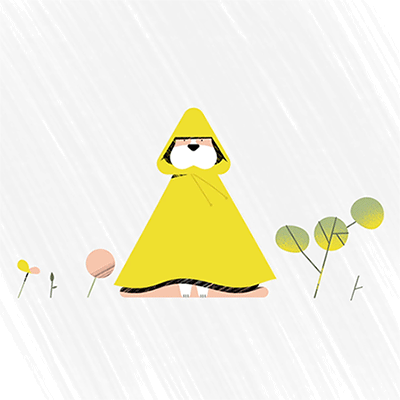 11. Now, tell us a little more about you as a person: what is your favorite food?
Thai Massaman curry…no, lasagne…no, Yorkshire puddings. I can't choose! Kinder buenos is usually my go to for something sweet.
12. Favorite book?
I love picture books, The Hilda Series by Luke Pearson are amazing. Also John Klassen's books are great too!
13. Favorite genre of music?
I can't pick just one genre! At the moment I have been listening to a lot of 'Of Monsters And Men', 'Nathaniel Ratliff & The Night Sweats' and 'Alabama Shakes'.
14. What are your hobbies?
Snowboarding! Unfortunately, Norwich/ Norfolk is very flat, so I take a trip once a year to some real mountains. My favourite mountainous place so far has been Zell am See in Austria. I also like to do crafty things as most of my work is so digital. Sewing, lino printing, screen printing. I would love to take some pottery lessons!
15. If you weren't an artist, what would you be?
This is always an interesting thought for me as I have only ever wanted to draw and create. I do love animals though, so maybe working with animals? Dog trainer?